During my trip to Japan in 2018 I tried several dishes, in this article I would like to share all these dishes that I ate during my stay, whether fast food, traditional cuisine or western recipes. Hope you like this list of dishes.
The purpose of this article is to show the huge variety of foods I ate in Japan, thus showing that there is food for all tastes. I really miss the food there, I can't find anything similar in Brazil, which makes me sad.
Top Japanese Dishes
Let's not talk too much about noodles that I left a category just for them. Usually besides pasta I used to eat a lot of meat and a lot of gyudon. My friend was really into hamburgers so we went to KFC and local restaurants a few times.
Yakiniku It's one of the best places to eat until I got stuck, I went more than three times and one of them was in Hokkaido where I tried mutton. It's a cheap all-you-can-eat carvery where you roast the meat yourself on the grill that you have on your table.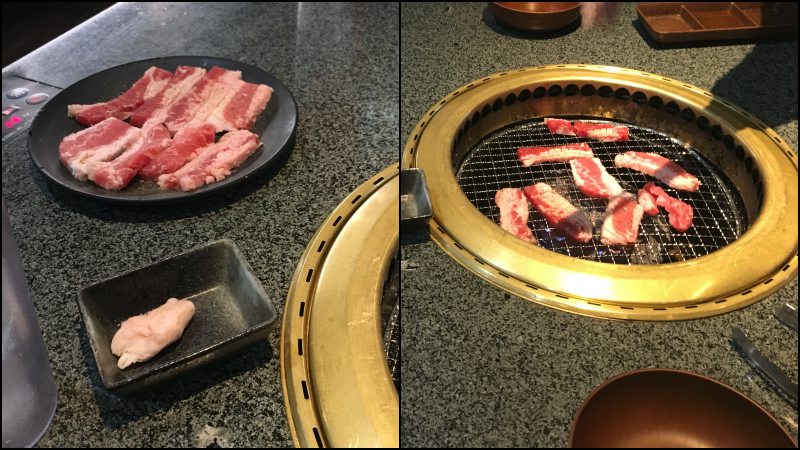 In the photo below we have one of the dishes I ate the most during my trip, soba and gyudon. One of the tastiest and cheapest dishes in Japan. There are variations with other ingredients such as gyudon with cheese and mayonnaise.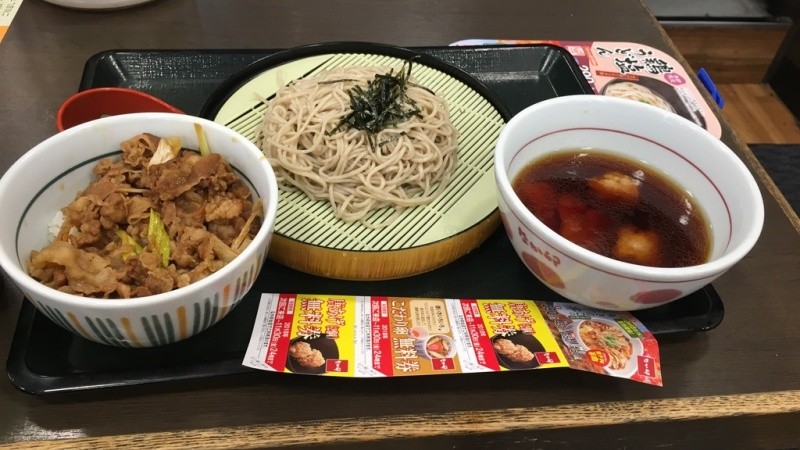 I usually ate karaage for breakfast, konbini skewers. I loved noodles and fried things, I also went to Italian and other cultures restaurants that are common in Japan. Italy, Korea, America, Spain and Germany.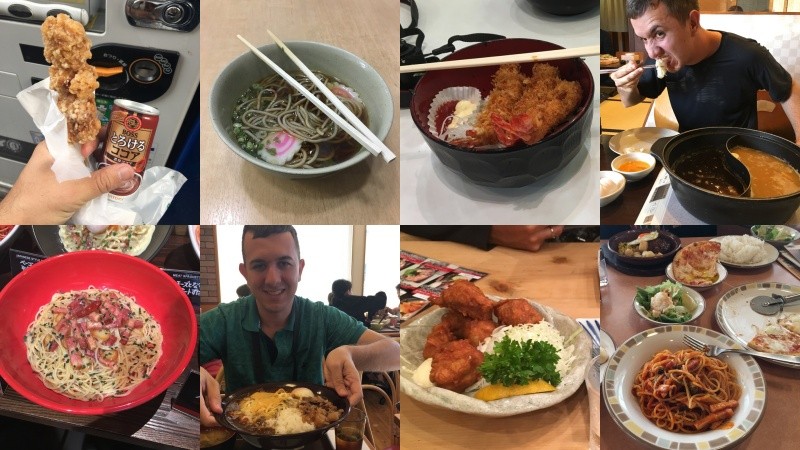 I also tried traditional dishes like oden, shabu-shabu, gyoza, oyakudon and many others. It was really a lot of food, I myself was lost in how to write and show the photos in this article.
See also a video I recorded of some Japanese foods:
The Ramen I ate in Japan
The first time I went to Japan I loved soba and udon, simple and inexpensive dishes consisting of noodles with some side dishes such as tempura flakes. I also loved the somen iced noodles and other variants.
On the first trip I didn't have good experiences with ramen, I believe I have eaten only twice. In the second my vision completely changed, I ate several dishes of ramen and I liked all of them, it's a disappointment not to find them in Brazil.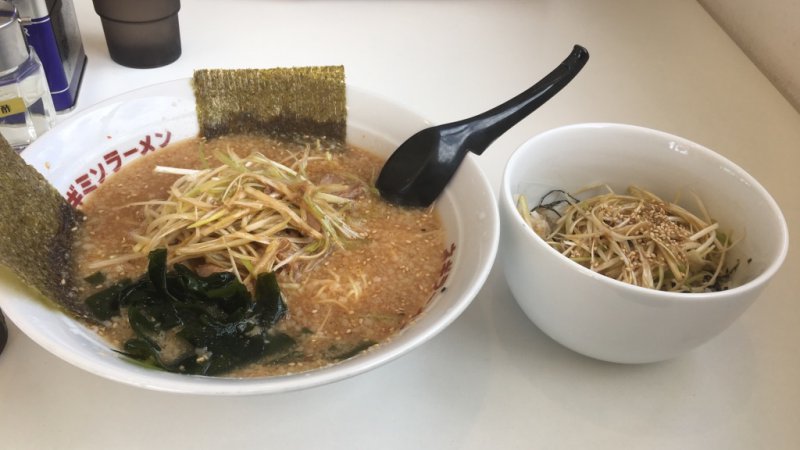 In the photo above we have one of the first ramen I ate in Japan, his sauce was quite thick, it was interesting, I don't remember the type but it was close to Hamamatsu. Some standout ramen was this one full of chashu I ordered in the Izu region.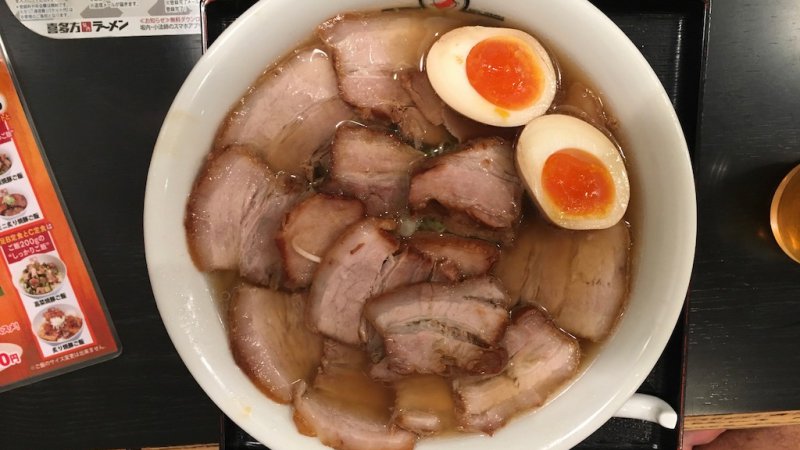 The first ramen below is very spicy, I ate in the region of Sapporo. The second is about tsukemen, where you simply put the noodles inside the sauce of ramen and then eat. This one I ate in Akihabara with Rodrigo Coelho (Coelho in Japan).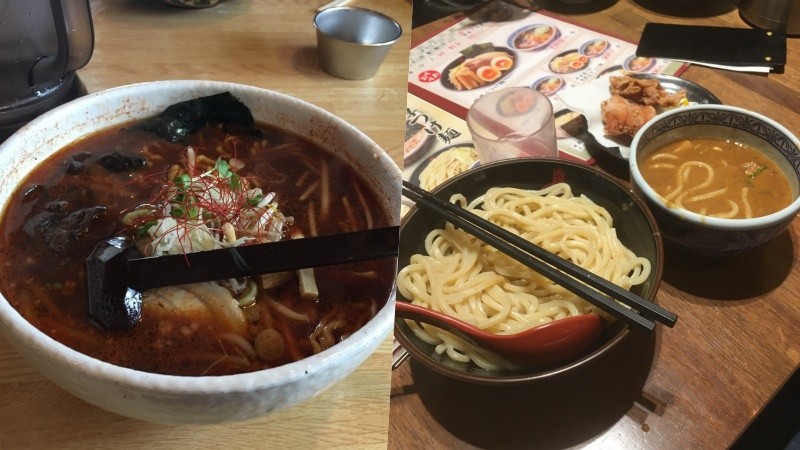 Finally, the best, the famous Black Sapporo Ramen, from a small establishment called Isono Kazuo nearby in Susukino, Sapporo. The place is small, it opens at 22:00, but there is a huge queue of people interested in trying it out.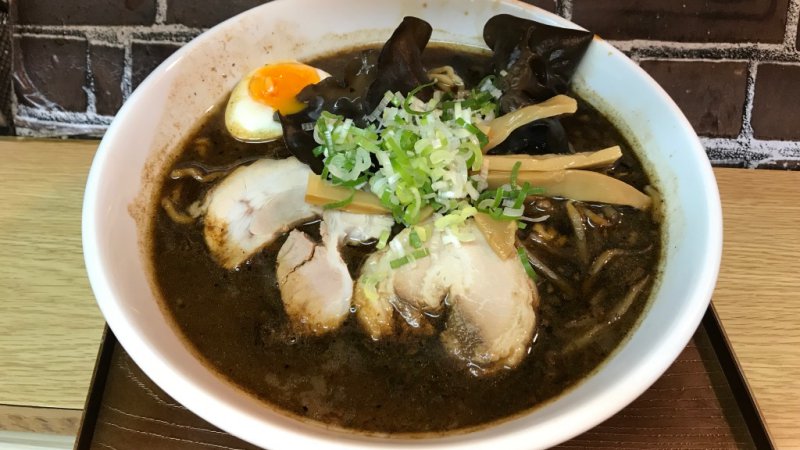 Snacks and Street Food in Japan
I took thousands of photos, so I decided to assemble them into small thumbnails and talk briefly about each of the images. In the first photo starting on the left side we have the famous yakitori, I tried a wide variety, very good.
In the second image we have a kind of corn chips covered with a layer of chocolate (I don't remember the name). Followed by a pie and some donuts. In the second line we have karaage of seasoned konbini and then some sweets from the Mr.Donuts store.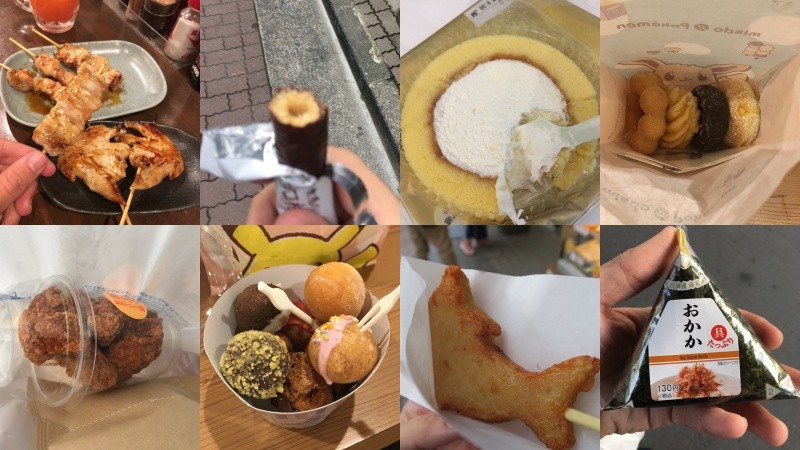 The donuts and candies in the image above I bought using a QR code from a line I got from some friends. In the penultimate one we have a candy in the shape of a fish, I don't remember the taste, but it must be fish, I bought it in the Hakone region. Finally a traditional onigiri.
In the other image we have a traditional hamburger dish from some restaurant I don't remember, followed by probably takoyaki. Then a pretzel from a German restaurant in Hokkaido and then I think snake meat from Little world.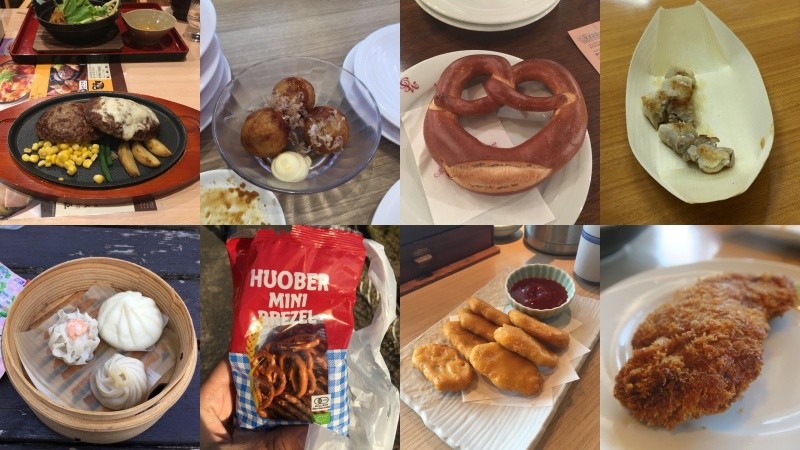 On the bottom row we have some nikuman from Little World, followed by mini pretzels. Finishing the line with some nugets, I don't remember what, and more a kind of tonkatsu or breaded, but I don't remember that it's not pork.
Then we have a type of snack or potato stick served in a yuzu flavored glass (Japanese lemon). A coffee drink along with chocolate covered coffee beans and a simple ice cream. Finally we have a delicious hamburger (I believe).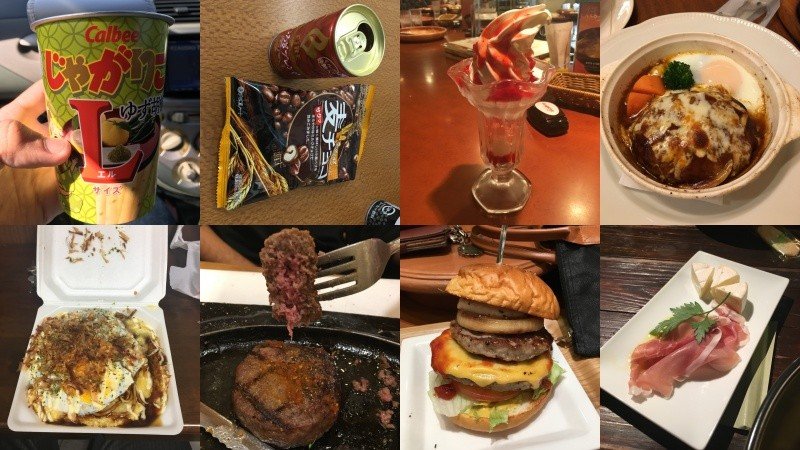 In the first one below we have okonomiyaki, amazing, with macaroni inside. Followed by a delicious burger (I don't remember where) and another Hamburger I believe to be from Hokkaido. Finally I believe it is some meat or smoked salami starter.
These cookies that look like Pão de queijo are actually sweet and have a creamy filling, I tried them on yakiniku, which represents the second photo of the image. Again an image of a hamburger seen before and finally unagidon.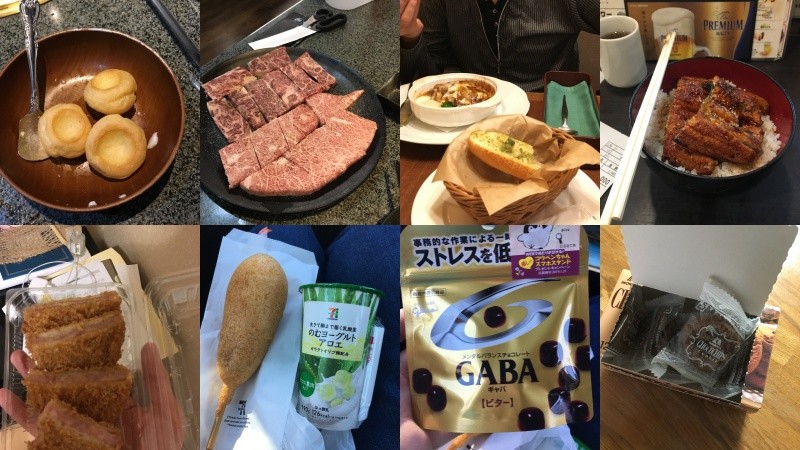 On the bottom line we have a tonkatsu bought in the market, followed by a delicious konbini sausage along with aloe yogurt (yummy). A delicious chocolate called gaba and another type of chocolate I can't identify.
The Craziest Drinks I Had in Japan
During my first trip I took the generally easy to find things like Fanta of peach and melon flavors. On Monday, a friend made me try unusual things like Kiwi and Aloe yogurt.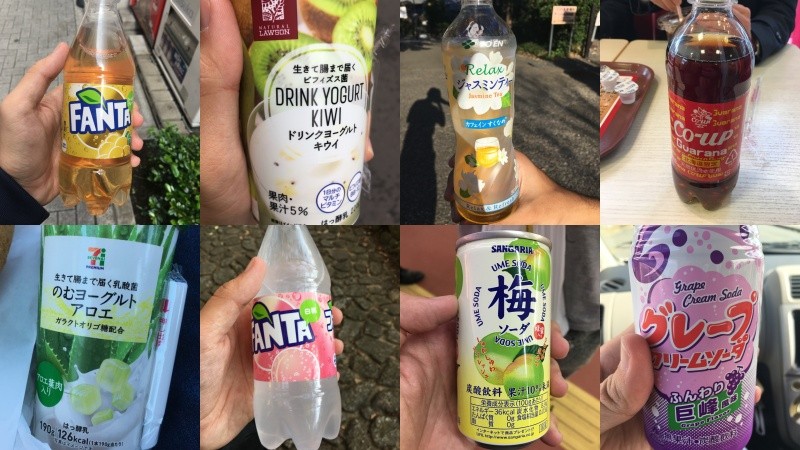 We also tried local drinks like eel-flavored coca cola, Mt Fuji water, plum soda, creamy grape soda, jasmine tea, yuzu (Japanese lemon) tea, and even came across a drink with an alcohol content of 96%.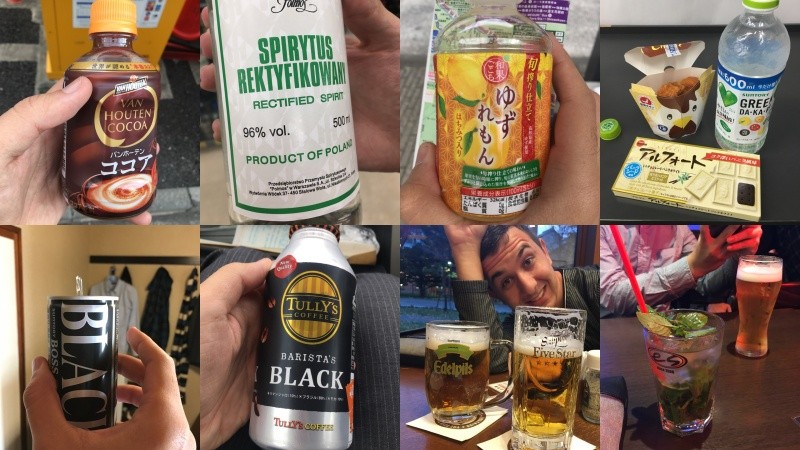 In restaurants I usually had the free drinks which were juice and tea. I also really liked the iced coffee, I miss that in Brazil. I also overdone the milk chocolate coffee from the convenience machines.
We spent a night going in 3 Izakaya, interesting that they serve the drink in a kind of glass that is inside another square wooden glass, thus filling both glasses. It was a very fun and expensive night.