Today we are going to talk about one of the biggest hamburger fast food restaurant chains in the world, the famous McDonald's (マクドナルド). Let's talk about McDonald's in Japan, its origin, snacks, history, differences and curiosities.
McDonald's Origin in Japan
The world's first McDonald's was started in 1940 by the McDonald brothers in San Bernardino, California, United States. Marketing was the "quick service system", factory-style hamburger manufacturing method and self-service mechanism.
In 1967, Den Fujita became enamored with how popular and efficient the restaurant chain McDonald's, so he strove to bring those restaurants to Japan. In Japan McDonald's is called makku [マック] or makudo [マクド].
In July 1971 the first McDonald's opened in a department store in Ginza in Tokyo, it was the first McDonald's in all of Asia. The restaurant has already been opened for the japanese taste launching Teriyaki McBurger and Chicken Tatsuta.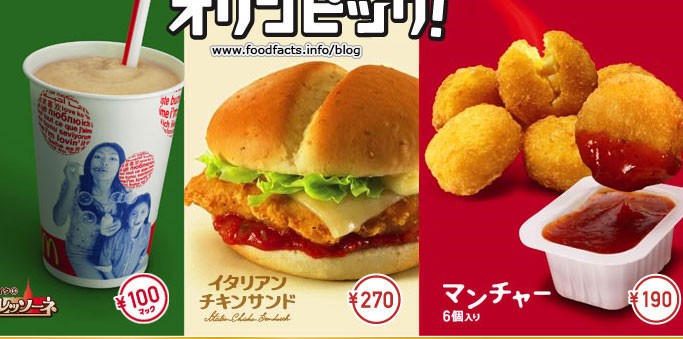 Fujita even said that the Japanese were yellow because they ate only fish and rice. He said they should eat more hamburgers and fries. And after many years and many Japanese inventions, McDonald's is a great success in the Japan making life easier of many people who need to eat something good and quickly.
Currently Japan is the second most popular country for the fast-food chain after the US with over 3,000 restaurants.
Marketing campaign
The same marketing campaigns used in other countries are used in restaurants in Japan. What really sets Japan apart from other countries is its huge range of sandwich varieties and ingredients.
Japan is famous for creating several snacks with diverse and strange flavors to get out of the same, so there were several burgers with seasonal flavors, breakfast, several different drinks and teas, in addition to other products launched in the short term.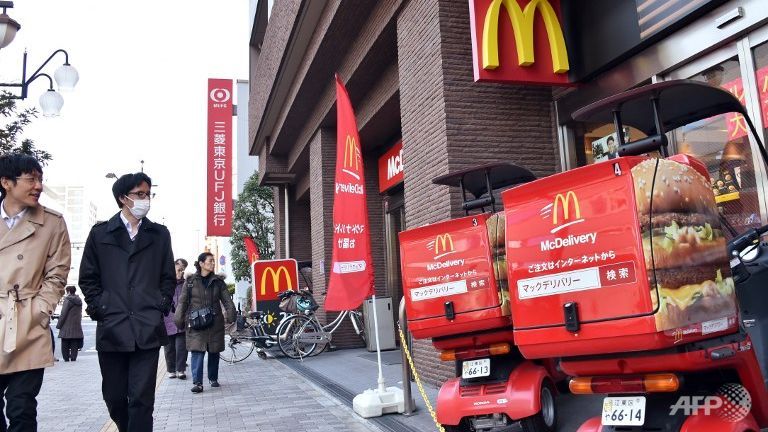 McDonald's is quite popular in Japan for its service and speed. Another thing that makes McDonald's popular is the fact that it has outlets to charge your cell phone. I myself had to go to McDonald's several times with the intention of charging my phone and enjoying buying a snack.
In addition to making several advertisements, references and participation in several films and anime, McDonald's made a marketing campaign with its own animation:
McDonald's in Japan is very cheap, with only 680 yen (15R$) you are able to order a combo with BigMac or any other kind of snack. Below we will talk in detail about McDonald's Prices.
It may even seem expensive for us Brazilians, since 15R$ gives an X-tudo, but 500 yen to japanese It's like spending 5 reais. It is worth remembering that with this price it is possible to eat many different dishes in restaurants in Japan such as under the, gyudon, etc.
Types of McDonald's in Japan
Almost all of the ingredients used at McDonald's are imported from several different countries. McDonald's Japan was also responsible for inventing many different and strange snacks like the chocolate chip potato, avocado burger, bacon potato pie and a giant combo with 4 floors of hamburgers. Among these strange inventions we will mention others for you to know: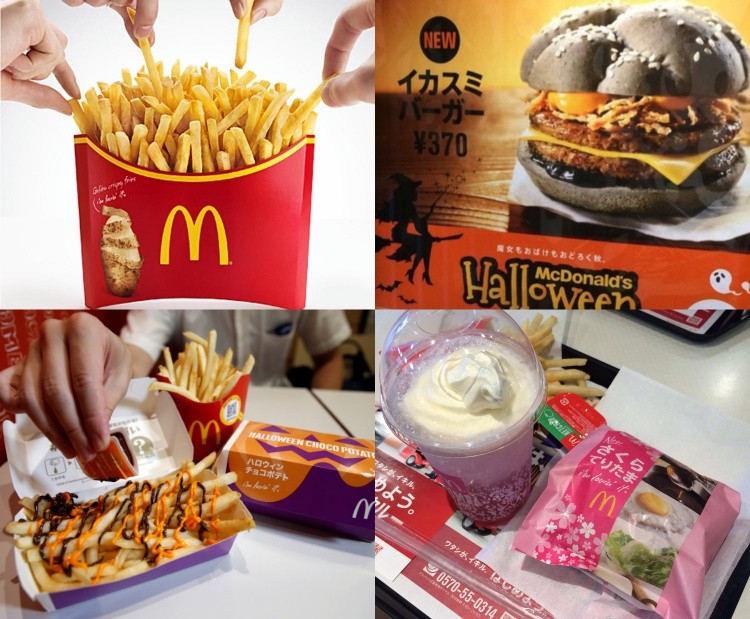 Tatsuta chicken with wasabi and tartare sauce;
Mega Potato – Equivalent to 2 large potatoes;
McNuggets with wasabi or plum sauce;
Karaage – Chicken with tomato and basil powder;
Seasonal Snacks Flavored with Sakura (Cherry Blossom);
Snack with black bread;
Hawaiian Burger;
Gracoro Burger – With a creamy croquette with white sauce, shrimp and pasta;
Chocolate pie in the shape of a triangle;
Grilled fish burger;
Anko Pies – Pie filled with sweet red beans;
French fries seasoned with sakura (cherry tree);
Shakachiki – Crispy breaded chicken with onion and garlic sauces, cheddar cheese or pepper.
McDonald's Pies
As already mentioned, the Anko Pie bean pie, McDonald's in Japan often throws different types of seasonal bakes on its menu. During the inverti he usually launches a chocolate pie, in the summer a strawberry pie, there is also a salty potato and bacon pie. Usually the name of the ingredients is taken followed by pie in English (pie).
These are just a few of the thousands of different types of dishes launched at McDonald's in Japan, the list is quite extensive, we have chosen only the most impactful ones to share with you in this short and quick article. I hope you enjoyed. xD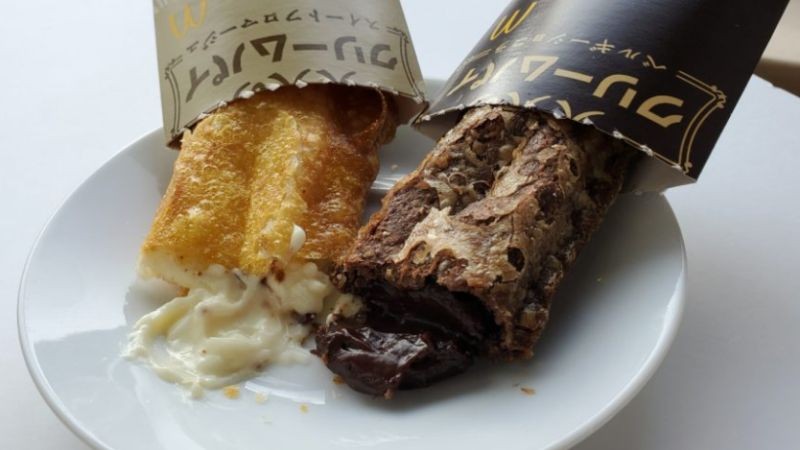 How much does McDonald's in Japan cost?
In Brazil McDonald's had a certain reputation for being rich for its prices, despite the fact that fast-food chains are now more affordable in the country. Still, it's good to point out how affordable McDonald's is in Japan.
A Hamburger costs around 200 yen, while a set of BigMac with potato and soda is around 680 yen. Prices may change depending on the date you are reading the article. If I do the direct conversion with real it may seem unfair in times of high dollar.
The salient point is that with 1 hour of work in Japan you are able to order up to 2 snack combos at McDonalds. While in Brazil about a day's salary is required for this. In Japan McDonald's is popular precisely because it's cheaper.
There may be price and menu changes depending on the region and location. Drinks range from 100 yen to 250 depending on size. In Japan, the abbreviations [S] [M] and [L] are used for small (small), medium (medium) it's big (large).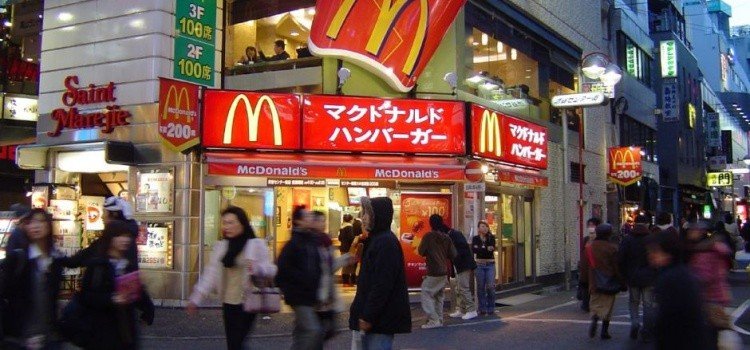 Facts about McDonald's Japan
Since 2006, attempts have been made to extend the opening hours and the number of stores that open 24 hours has increased. However, due to profitability and the difficulty in hiring crew, the number of stores that close 24 hours has increased again.
Several companies have provided WiFi hotspots since the second half of the 2000s to attract customers, and some stores are equipped with energy service points.
Since 2018, McDonald's has been running a "Toy Recycling Project" to collect toys from the happy set from stores across the country to recycle them in used in-store trays.
McDonald's Vocabulary in Japanese
Want to look at McDonald's menu in Japanese without getting lost? Now let's see a list of related words In japanese. Remember to drag the table to the sides in order to see it fully if you are on a mobile device.
Responsive Table: Scroll the table to the side with your finger >>
| | | |
| --- | --- | --- |
| Japanese | Romaji | Portuguese |
| いらっしゃいませ | irasshaimase | Welcome |
| ご注文は | go-chuumon wa | What will you want? |
| お飲み物はいかがですか | o-nomimono wa ikaga desu ka | Something to drink? |
| ビッグマック | biggumakku | Big Mac |
| セット | setto | combo |
| サイズ | saizu | Size |
| ハンバーガー | hanbāgā | Hamburger |
| チーズバーガー | chīzubāgā | cheeseburger |
| てりやきマックバーガー | teriyaki makkubāgā | Terayaki MacBurguer |
| フィレオフィッシュ | fireofisshu | Fish fillet |
| マックシェイク | makkusheiku | MacShake |
| メガマック | megamakku | MegaMac |
Usually when choosing a hamburger, the McDonald's attendant asks if you want the hamburger. setto, and asks what drink. Then you pay and wait for your order number on the screen. Simple and easy… I wish you good experiences at McDonald's in Japan!
McDonald's Japan Snack List
We've already made a list of McDonald's snacks in this article, but just to demonstrate a few of the top snacks. Now let's see an intense and complete list with more than 40 items exclusive to Japan:
American Funky BBQ Beef – 2 pates 100% beef, cheddar cheese, 2 strips of grilled bacon, lettuce, pickles, barbecue sauce, mustard;
American Funky BBQ Chicken – Chicken Patty, Cheddar Cheese, Lettuce, Pickles, BBQ Sauce, Mustard Taste;
Bacon and Lettuce Burger – Beef patty, bacon, lettuce, cheese, yellow mustard sauce;
Bacon and Potato Pie – Pie crust, white cream sauce with potato, chopped bacon and onion;
Beverly Hills Burger – 1/4 100% steak, lettuce, onion, avocado dressing, rich Caesar salad dressing;
Broadway Burger – Bacon, lettuce, peppers, cream cheese sauce, patty, mustard sauce;
California Burger – Patty, special red wine sauce, tomato, lettuce, bacon, Monterey Jack cheese, special breads topped with grated cheese;
Carbonara Chicken – Creamy sauce with black pepper and cheese, chicken, buns cooked with black pepper, scrambled eggs, bacon, mozzarella cheese;
Cheese Aussie Deli: Japan Edition – Thinly sliced pastrami, cheese, lettuce;
Cheese Fondue Chicken – Breads with grated cheese, chicken steak, lettuce, bacon;
Cheese Katsu Burger – Sesame buns, sliced cabbage, cheese cutlet, brown sauce and sweet lemon sauce;
Cheese Tsukimi Burger – Sesame seed buns, 2 slices of bacon, fried eggs, aurora sauce (ketchup and mayonnaise), cheddar cheese, chicken patty;
Chicken Salsa Burger – Tomato, red/yellow/green paprika, onion, parsley sauce, jalapeno cheese sauce, chicken patty, lettuce;
Chicken Tatsuta – Rolls, chicken pate, shredded cabbage, sauce;
Chicken Tatsuta with wasabi and tartare sauce – Chicken Patty with Ginger Soy Sauce, Wasabi Tartar Sauce, Original Steamed Buns, Lettuce;
Demi-glace and Cheese Gratin Korokke Burger – Buns, cheddar cheese, demi-glace sauce, finely chopped onion, cabbage, mayonnaise sauce, croquette au gratin;
Diner Double Beef – Double Steak;
Diner Honey Mustard – Honey mustard sauce, bacon, cheddar cheese, lettuce, special breads, chicken;
Doble Beef Salsa Burger – Tomato, red/yellow/green paprika, onion, parsley sauce, jalapeno cheese sauce, 2 meat crackers, cheese, lettuce;
German Sausage Chicken – Lemon flavored chicken patty, bologna sausage, baked rye bread, dill mustard, kale in vinegar, mozzarella cheese;
Grand Canyon Burger – Sesame Buns, Meatloaf, Cheddar Cheese, Mozzarella Cheese, Egg, Steak Sauce, Onion Sauce, Lettuce, Bun in the Middle;
Hawaiian Burger – Sauce, meat pâté, egg, bacon, cheese, lettuce, special rolls covered with grated cheese;
Hot and Groovy Beef – white cheddar cheese, tartar sauce, lettuce;
Hot and Groovy Chicken – Garlic flavored chicken patty, cheddar cheese, parsley, jalapeno sauce;
Hot Gold Masala: Japan Edition – Chicken, tomato, curry sauce, rolls, lettuce;
Idaho Burger – Potato patty, meat patty, onion flavored bread, bacon, cheese, mustard sauce and black pepper;
Kit Kat and Strawberry Mcflurry – Kit Grains Kat, strawberry sauce, sour cream;
Las Vegas Burger – Patty, sliced beef, onion, cream cheese sauce;
Le Gran Sausage: Japan Edition – Ciabatta, pepper sausage, meat puff pastry, mustard;
Le Gran Tomato: Japan Edition – Ciabatta, steak patty, butter sauce, tomato;
Manhattan Burger – Mozzarella cheese, lettuce, onion, sour cream sauce, pastrami, steak patty;
McDonald's Mega Potato – Potatoes, salt;
McDonald's Salad Marinade Wrap – Tortilla, Tomato, Pepper and Onion Marine Sauce, Cheese;
McDonald's Shaka Shaka Chicken – Shake the chicken to coat it with the powdered seasoning on the package before eating it;
McPork Double – Buns, 2 pork pates, lettuce;
Mega Beef Mac – Sesame buns, 4 meat pates, pickles, cheese, lettuce, bun in the middle;
Mega McMuffin – Buns, fried eggs, 2 pâtés, cheese, ketchup;
Mega Sausage – Bread, mustard sauce, ketchup, sausage;
Mega Tamago – Sesame buns, fried eggs, bread in the middle, sauce with mustard and black pepper, cheese, lettuce, bacon;
Mega Teriyaki Burger – 2 pork pates, 2 sesame buns, 1 bun in the middle, lettuce, cheese, teriyaki sauce;
Miami Burger – Shredded lettuce, tomato sauce, taco meat, rolls, cheese, meat pasta;
Mild Gold Masala: Japan Edition – Chicken, curry sauce, rolls, lettuce, mayonnaise, cheese;
New York Burger – Beef Patty, Monterey Jack cheese, bacon, tomato, lettuce, mustard seed dressing, whole wheat bread;
Sakura Teritama Burger – Pork patty, fried eggs, sakura (cherry blossom) flavored buns, Japanese sakura radish mayonnaise sauce (Sakura daikon);
Sesame Ebi Filet-O Sesame Buns – Sesame Buns, Shrimp Chop, Lettuce, Cheese, Thousand Island Sauce;
Shrimp Salsa Burger – Tomato, red/yellow/green paprika, onion, parsley sauce, jalapeno cheese sauce, shrink pate, lettuce;
Texas Burger – Mustard-flavored BBQ sauce, meatloaf, special 3-layer breads, fried onions, cheese, bacon;
Ume(sower plums) McNugget Sauce – Ume Nugget;
Wasabi McNugget Sauce – Wasabi sauce for Nugget;
Texas Burger 2 – 3 layers of sesame seed buns, beef pate, beans, mustard seed taste, onion, bacon, cheese;
The list below even serves as a recipe for you to create your own McDonald's-style sandwiches. I hope you enjoyed the article, if you did, don't forget to share and leave your comments.