Japan is an archipelago of more than 6,852 islands. There are thousands of interesting islands that tourists need to visit, thinking about that, we wrote this article with 11 Japanese islands for you to visit in Japan.
Read too: Discover all 6,852 islands in Japan
Aogashima – Volcano Island
The most interesting thing is that this island is a volcano within a volcano. Aogashima Island is located south of the Izu Islands, about 358 kilometers south of Tokyo. Its size is only 6 square kilometers and only 165 people reside on the island.
Despite its size, there you will find hotels, hostels and a camping site for visitors. Meals and food will not be missed on this beautiful, deserted island that was the inspiration for the film Kimi no na Wa.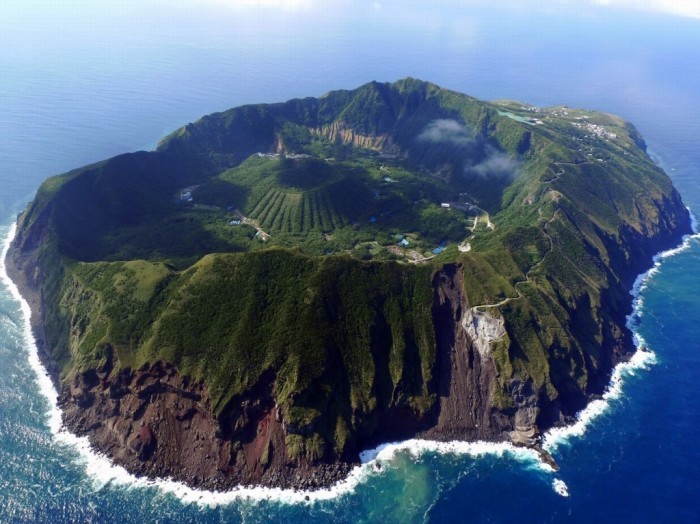 Visitors can take a plane from Haneda Airport (50 minutes) or an overnight ferry to Hachijoujima and then a helicopter or boat to the island. Watch a video below showing a little of the island:
Okunoshima – Rabbit Island
Okunoshima is a famous island in Hiroshima Prefecture. A famous island full of rabbits scattered all over the island, where we can feed and pet them.
It is believed that 8 rabbits imprisoned for experiments on the island were released in 1971 and multiplied. According to reports, there are more than 1000 rabbits freely scattered around the island.
Despite a peaceful image of adorable bunnies hopping around the island, it has a very dark history. In 1929, a factory was built to manufacture chemical weapons and continued to produce chemical weapons until World War II.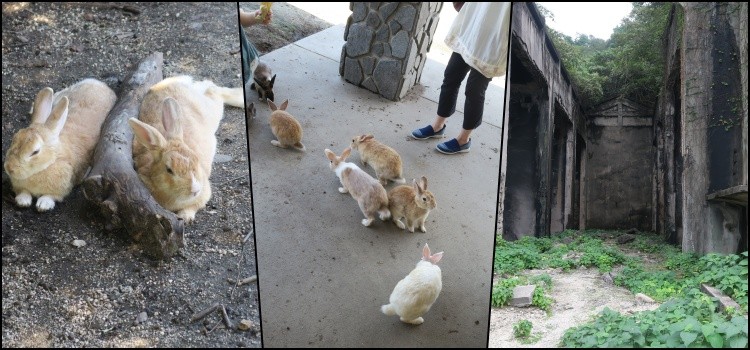 The rabbits were the guinea pigs, visiting the place you can also see several buildings and things that remember the history of the time, including a small museum with a miniature of the island.
If you want to know more read: Okunoshima the island of rabbits.
Gunkanjima (Hashima) – Abandoned Island
Hashima Island is known as Gunkanjima which means Battle Island and is located outside of Nagasaki. She became famous all over the world when she made an appearance in the James Bond movie Skyfall in the year 2012.
In 1886, an undersea coal mine was built, and then closed in 1974, miners and their families lived on the island. They abandoned it leaving everything behind, houses, buildings and schools. Since 2009, tours are organized by several companies.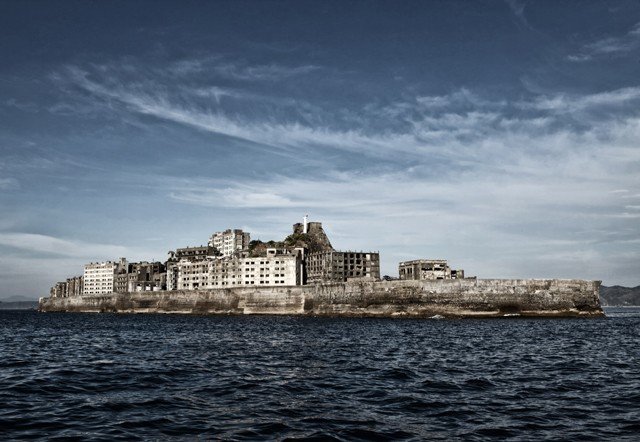 Shikinejima – A tropical island
It's hard to believe there's a tropical island just two and a half hours away from Tokyo. Visitors can hike, camp, snorkel, swim, sunbathe or enjoy the natural hot springs on Shikinejima Island without the need to go to other distant places like Okinawa.
We also recommend reading: The best beaches in Japan to visit in summer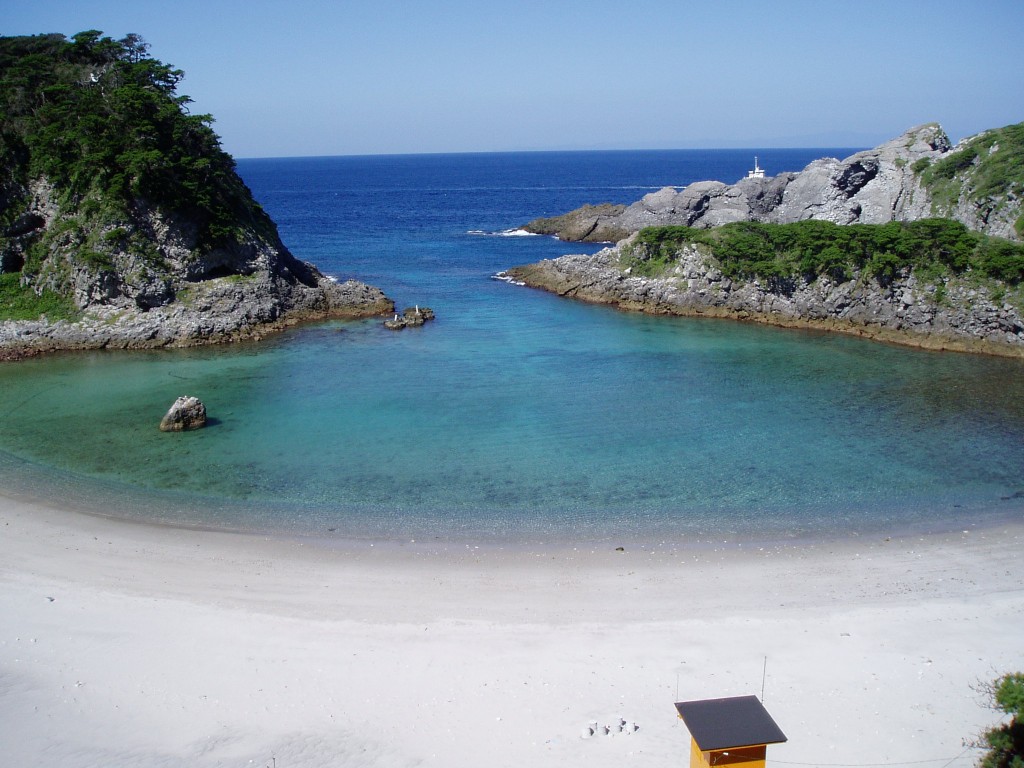 Tashirojima – Cat Island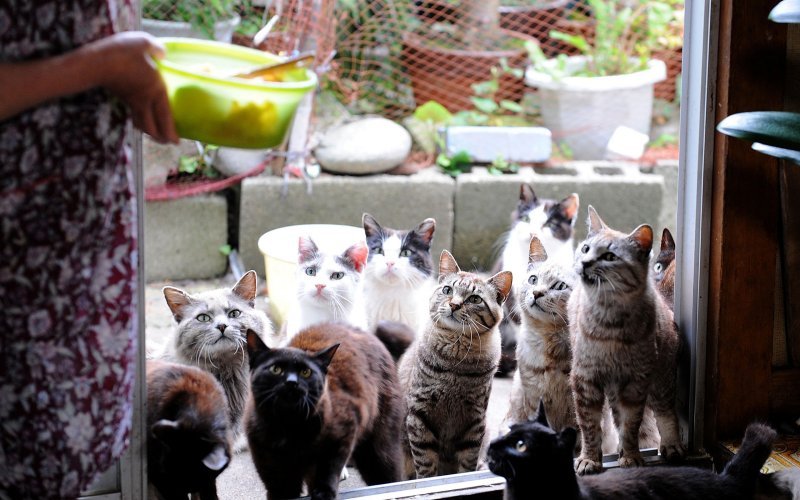 Tashirojima is a small island in Ishinomaki, Miyagi Prefecture in the Pacific Ocean. This island is also known as the island of cats. With only 100 residents on the island, there are more cats than humans.
Dogs are seen as an enemy and are prohibited from living on or visiting the island unless it is a service dog. There are other cat islands scattered across Japan. Only in Japan can we find an island of cats, rabbits, deer and foxes.
Read too: Nekojima – Discover 20 Cat Islands in Japan
Itsukushima Island and Miyajima
 Itsukushima Island, also known as Miyajima, is located in Hatsukaichi and is considered a beautiful tourist destination. Itsukushima means where god resides, this island is famous for its giant floating torii (gate) and a Buddhist temple.
Read too: Meaning of Torii – 5 Biggest Portals in Japan
The island also has other attractions, such as a trail, deer and monkeys roaming freely, souvenir shops, restaurants, matcha ice cream and some temples and shrines.
The island is located in the Inland Sea of Japan called Seto Naikai [瀬戸内海], being a great destination especially in summer with its beaches that surround the Torii. On the island you will also find hot springs and many species of birds and exotic plants.
It is worth spending the whole day on the island, with several other attractions in addition to shrines and temples. On the island you will find an aquarium, deer that roam around the island just like the city of Nara. Not to mention the souvenir shops and restaurants.
We also recommend reading: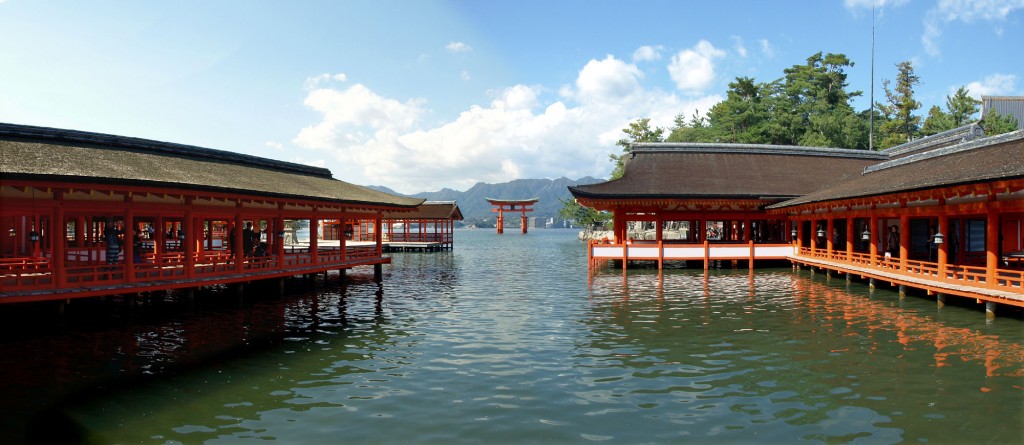 You can reach Itsukushima Island by taking a train (train) that takes 30 minutes and a ferry (cable car) that takes 10 minutes from Hiroshima City, which is just 10 kilometers from the island. The highest point in Miyajima is Mount Misen at 530 meters high.
Yes, it's normal for islands in Japan to end up getting more than one name. Miyajima is the name of the city that is located on the island of Itsukushima, but both are often called by the same name.
There are thousands of Shinto shrines in Japan, but Itsukushima Shrine is recognized as one of the most beautiful and well-preserved, with the finest example of traditional architecture and artistic technique, along with an extraordinary landscape.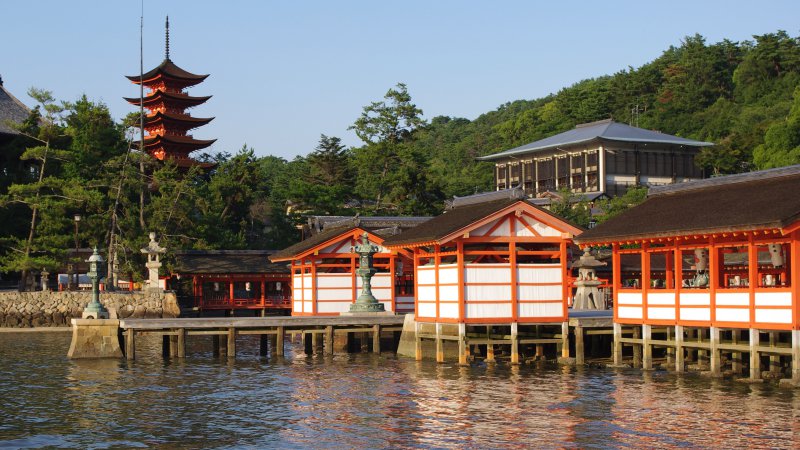 Miyajima's Temple and Torii
As it is built over the bay, it gives the impression that the sanctuary is floating on the water during high tide. It is a fine example of Heian period architecture. During low tide, it is possible to walk to the famous torii gate.
The temple was first built in the 6th century and improved in the 1168's. The great Torii of Itsukushima is part of a Shinto shrine that was also built over water. It has been considered a UNESCO World Heritage Site since 1996.
Some consider Itsukushima Shrine to have been founded in 593, but its existence was only confirmed from 811. During the Heian Period (794-1185) it was called the "Shrine of the country of Aki" dedicated to the Shinto gods of the sea. Ichikishima, Tagori and Tagitsu.
The temple and torii suffered some fires and was rebuilt a few times. The last renovations date back to 1875, but some parts date back to 1200. In addition to the shrine on the beach, another highlight is the Buddhist temple at the top of Mount Misen.
It is good to plan to visit the island when the local tide is high. This gives the impression that the shrine is floating on water!! It is good to visit the island in the middle of the week, as on weekends it can be quite crowded.
There is no way to describe this island very well. We only recommend it as one of the tourist spots for anyone visiting Hiroshima. Hope you enjoyed the article. If you liked it, leave your comments and share with your friends.
Tomogashima – World War II Island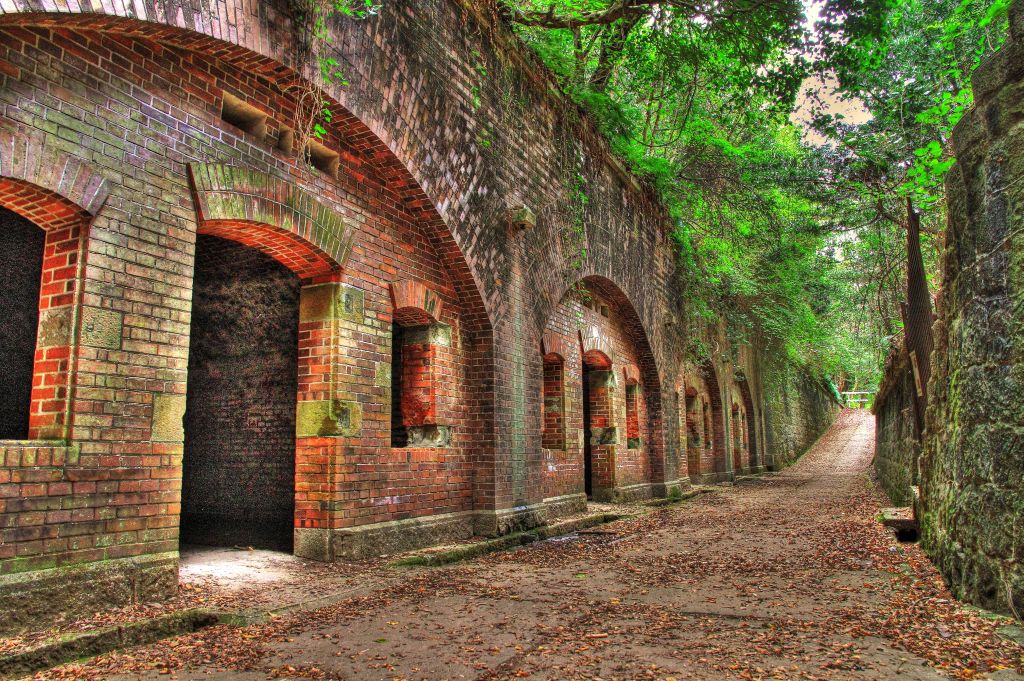 Tomogashima was used as a fortress until the end of World War II and public access was strictly prohibited. It is now part of Setonaikai National Park and people can visit for camping and hiking.
Odaiba – Tokyo's famous artificial island
Odaiba is a very famous artificial island in Tokyo Bay, there you will find some museums, shopping malls, a giant statuette of a robot, a famous onsen, a digital museum and many important places.
Odaiba is one of the most interesting and tourist spots in Tokyo. There are several complete commercials, game centers, a beautiful square for walking. If you want to read more about this great island, read our article about Odaiba.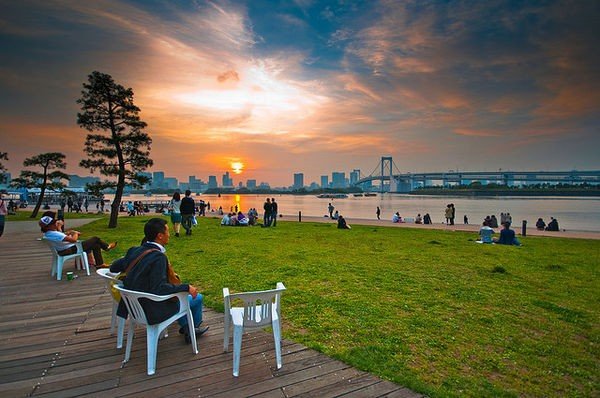 Tsunoshima Island and the Ohashi Bridge
Tsunoshima [角島)] is an island located in Yamaguchi Prefecture. The name Tsunoshima means Island of the Horn, due to the large livestock and the shape of the island with 2 horns. On the island you find a grassy hill with a herd.
To access the island you cross a bridge called Ohashi, one of the longest in Japan that crosses a beautiful cobalt blue sea and makes a gentle arc around another island called Hatoshima.
On the island you will find a lighthouse, several paradisiacal landscapes, parks, fishing villages, campgrounds, beaches and many other things that attract thousands of tourists every year.
To learn more, also read: Tsunoshima Island and the most beautiful bridge in Japan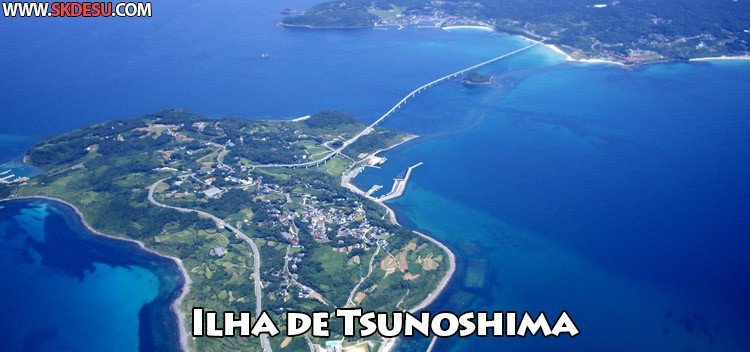 The famous island of enoshima
Enoshima is an island located in Sagami Bay, Kanagawa Prefecture. The island has great beaches and a beautiful view of Mount Fuji. To access you cross a bridge of 600 meters.
Enoshima's attractions are located at the top of the hill, which can be accessed via escalators. On the hill is a Tropical Botanical Garden and the Enoshima Observation Lighthouse.
Read more: Enoshima Island and Padlocks of Love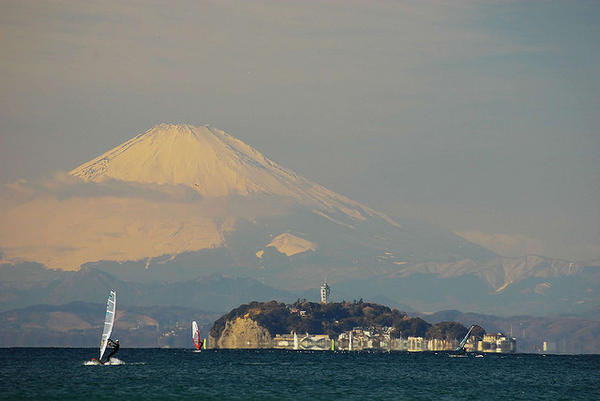 The Little Island of Aoshima in Miyazaki
Aoshima (青島) is a small and beautiful island located south of the beaches of Miyazaki, Japan. The island has an area of 4.4 hectares (10.9 acres) and a height of 6 meters (20 ft).
Aoshima is linked to the mainland by a bridge surrounded by white beaches that surround a subtropical jungle in the center of the island. The shallow water around the island has a geological phenomenon known as Oni no Sentakuita or Devil's Washboard.
Rock formations created by waves and visible at low tide. These perfectly straight lines appear to be something man-made, but they are natural formations that show the great power of nature.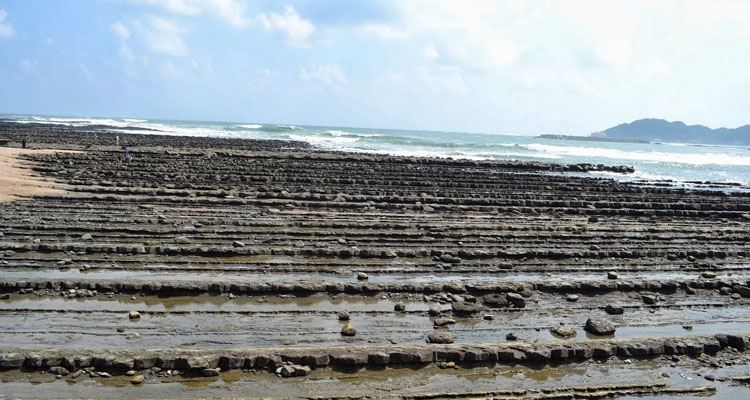 Stroll along the beach around the island, approximately 1.5 km walk, and along the way, you will find small stalls selling souvenirs.
In the center of Aoshima Island there is a shrine, and in the middle of the jungle, there is another small shrine that is said to bring good luck to couples. In the small shrine you can buy clay discs, which are thrown at a target for luck.
Aoshima Island is not to be confused with an identically named island in Ehime Prefecture, known for its cat population. Below we will leave a video of our friend Santana Fonseca, where he shows the beauty of this small island.
These were some of Japan's small, undiscovered islands. I hope you enjoyed the article, if you did, don't forget to share and leave your comments.