What if I told you that there is an island full of rabbits in Japan? There are so many rabbits you can't count. In this article we will talk about the island of Okunoshima rabbits.
Okunoshima [大久野島] is a small island located in Takehara in Hiroshima Prefecture. The site is made up of campgrounds, trails and historic sites. 
The island is also known as "usagi jima" [ウサギ島] which means island of rabbits, due to the numerous wild rabbits that inhabit the island. Fortunately they are docile and have gotten used to humans, making the island a perfect spot for tourism.
The island was initially created with the purpose of developing lethal gases for war, where more than 6 thousand tons were produced, but with the end of World War II, this whole project was abandoned and kept secret, so the island was totally deserted and unknown among people.
The Island has totally changed, now it is possible to find hotels, a golf course and a camping site, you can even swim in the clean water that circulates the island and, of course, play and feel the cuteness of the thousands of rabbits that inhabit the island.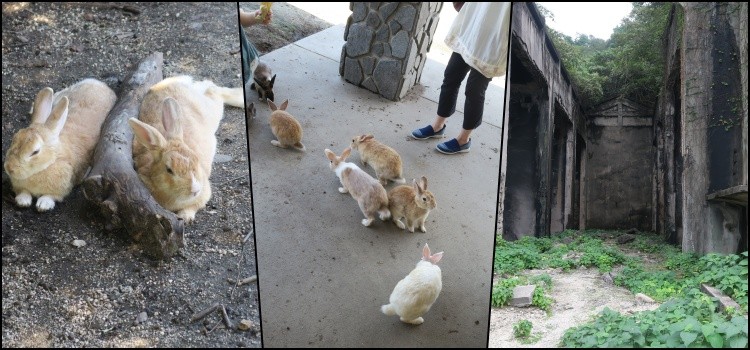 The Okunoshima Rabbits
When the Island was abandoned after World War II, the rabbits that were used to test the effectiveness of chemical weapons were released. However, according to the government, they were destroyed along with the factories, and they claim that the current rabbits present on the island have nothing to do with the ones used in the tests. But probably some must have escaped, and then you know... (2=8=50=200=800=2000=156458468)
It is worth remembering that it is forbidden to hunt these rabbits, including taking animals such as cats and dogs to the island. Japan is full of unique places like the island of cats and village of foxes, in addition to the deer found in Nara.
We also recommend reading:
Poison Gas Museum
The island also has a museum opened in 1988 to show as many people as possible the terrible truths about poison gas. In this museum you can find details about the effect of the gas on the body, and also on people affected, you can see a little of the plant, used equipment, etc.
Trip to Okunoshima – Rabbit Island
In 2016 I had the opportunity to visit this island in person and I found it to be the right tourist spot for those who love animals. It was a quick trip from Osaka to Mihara, I intended to take the Kuro Line, but it would take a while, so I took a bus to Tadanoumi Bay and paid about 600 yen to access the island. Below you can see a video made by me: