You know what it is chibi? Or do you know the very similar stroke style called super deformed (SD)? You probably have already found these 2 drawing styles in some anime or manga. Today we are going to meet some of them.
What does chibi mean?
The word chibi [禿び] literally means small child. In anime, the term chibi is used to refer to features of a drawing in which its head is gigantic, usually equal to or greater than the size of its own body.
This type of trait is usually used to get a sentimental or comical effect, you see a lot in anime scenes where the characters are dressed as an animal or in some funny or uncomfortable situation.
It is mainly used in comedy scenes, but some anime end up applying this technique to the entire work, either to lower the budget or because it is just a nonsense comedy. To learn more, read our article on Chibi and Super Deformed.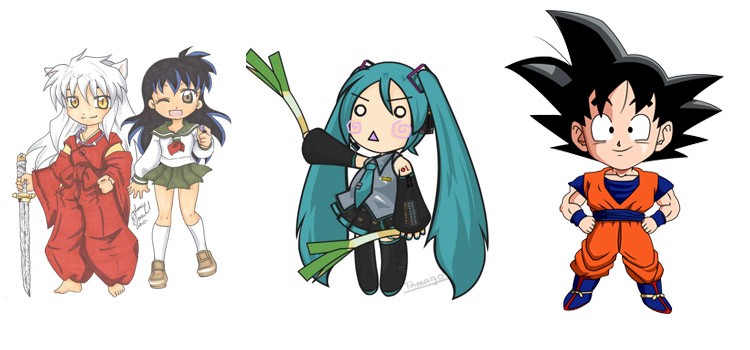 What does Super Deformed (SD) mean?
Super Deformed [SD] is a style of caricature where characters have wider heads and more relaxed features. All this to make the scene comical or save time and work. The word can also be used to refer to chibi.
It is a western word, in Japan it is common to recognize as chibi. Are there differences in traits? Yes, Super Deformed are usually chubby, with less detailed limbs and wider heads, looking like children.
The super deformed are generally used for faster scenes where the characters are with the exaggerated emotions such as anger, happiness, surprise and among others.
This type of technique has the most relaxed features and for this reason they are used in shorter scenes. This style was popularized by franchises such as Dragon Ball and SD Gundam in the 1980s.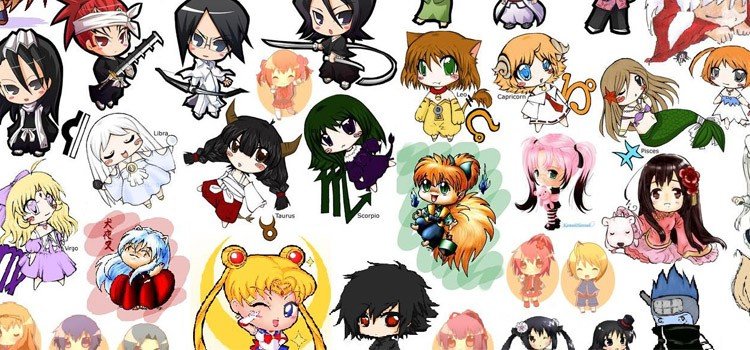 Differentiating Chibi and SD characters
It's not easy to differentiate between a chibi and a Super Deformed. Sometimes it can be easy to differentiate because we can see the deformation in the characters in the case of SD. Generally both can be mixed in the same work.
It is also not easy to identify, but it is obvious that the chibi it is cuter and cuter while the SD is usually more deformed and defective as the name implies. Sometimes an SD has weirder, spiky hair and some quirky things.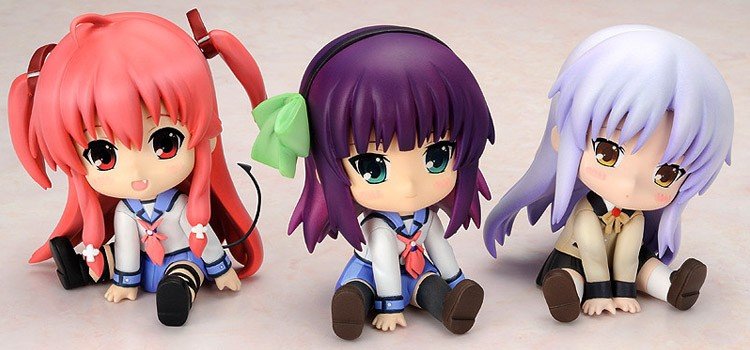 Currently these two types of traits are common in Japan to serve as logos, mascots for stores, signs, companies and even factories to attract the attention of customers or the media. Its greatest popularity is in Japanese animations.
There are also many chibi-shaped action figures that are cheaper than normal and called nendoroid. There are some anime that only use these deformed or chibi traits, even Shingeki no Kyojin received a chibi version.
There are other exaggerated proportions in anime, but they are not considered either chibi or Super Deformed. It is very common for producers to reduce the amount of strokes or not respect the laws of aesthetics and start scribbling to go faster. Very common in anime that are late or comedy.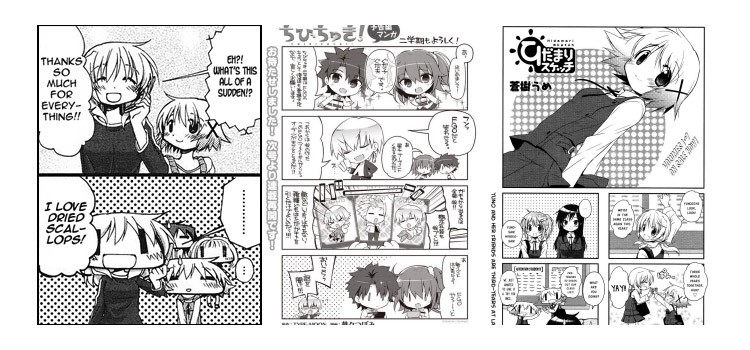 The best Chibi and SD anime
Baka to test to shoukanjuu
Fumizuki Academy is divided into classes ranked based on skills; Class A has laptops, reclining seats and maximum comfort, while Class F is content with a run-down classroom with rotting cushions and rickety desks.
Akihisa Yoshii recently took the entrance exam and finds himself relegated to the humble F class along with many of his friends. Classes can declare war on each other to switch rooms, fighting summoned characters whose strength is their grades.
The 'idiot' students of Class F will try their best to achieve the luxury of Class A, even if it means taking on the entire school in a summoning war! the anime is pure comedy, full of scenes with characters in Chibi and SD.
Hetalia Axis Powers and Worlds Series
The main cast of this anime series are mainly the countries that made up the Axis powers and the Allies of WWII – namely Italy, Germany, Japan, the United States, the United Kingdom, France, Russia, and China.
Hetalia is the junction of the word hectare [レタレ] which means "useless" or "pathetic" in a cute way, along with the word "Italia", satirizing the protagonist of the series. Italy Venezianom, a bright and sweet character, recognized as one of the weakest.
The main plot events take place during the Second World War, but the vast majority of comics take place during other historical events, modern holidays, or at no specific time.
The series often uses satire and lighthearted comedy to reinterpret well-known events as well as less common historical and cultural trivia. The historical, political, economic and military interaction between countries is usually represented with social interactions.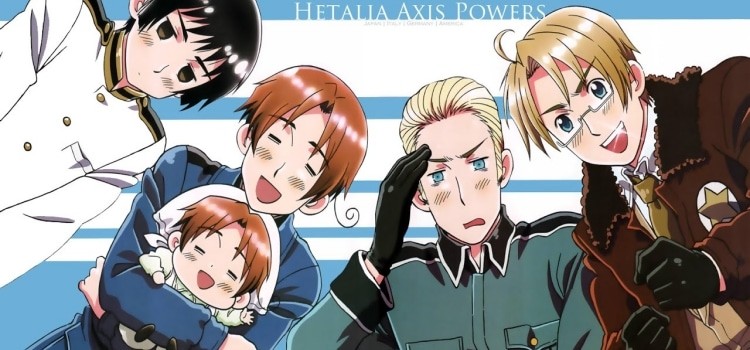 Sora no Otoshimono
A great two-season Chibi-filled comedy anime. Tomoki comes across a scantily clad angel falling from the sky named Ikaros who claims to be his pet, and who is willing to do whatever he says.
Now, Tomoki is able to manipulate panties and do perverted things with ease; but what are the real reasons Ikaros is with him? What other strange things await protagonist Tomoki?
Himouto Umaru-chan
To the rest of the world, Umaru is kind, smart, and a perfect high school student. But her brother, Taihei, knows the truth: at home, she's a bratty, sloppy, lazy girl who eats junk food, plays video games, and throws tantrums.
Now, in addition to working full-time to support his household, Taihei has to cook, clean and shop, while Umaru enjoys his carefree days as a shameless otaku in secret.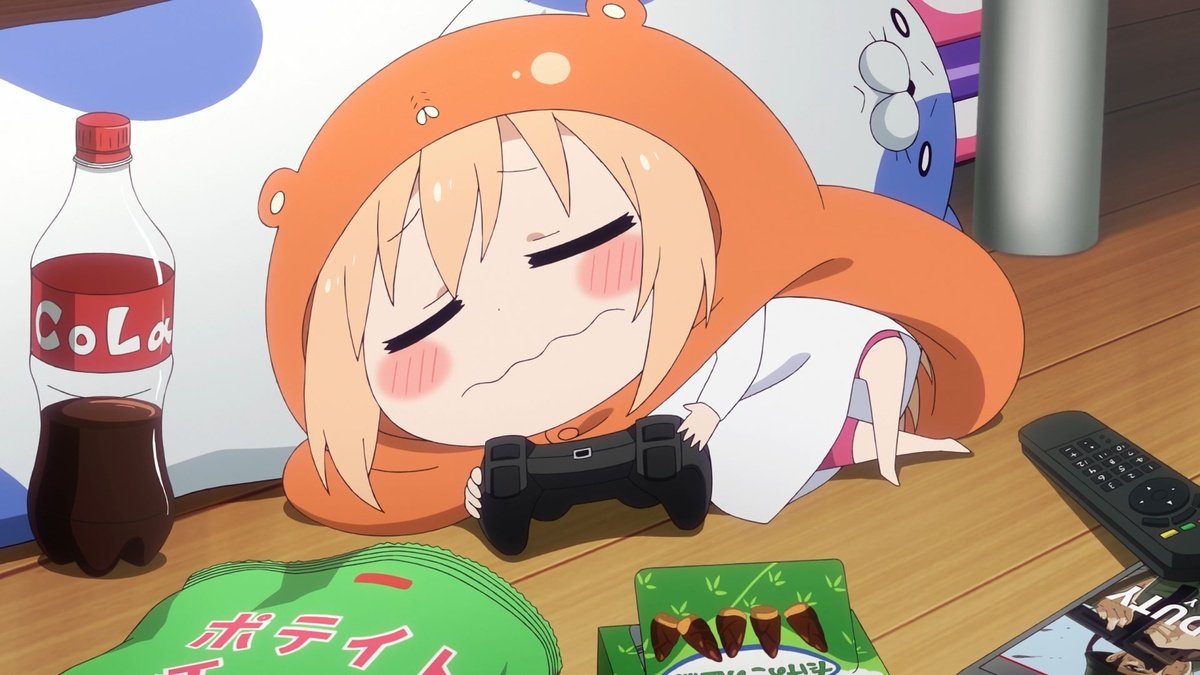 Isekai Quartet
the anime chibi comedy mixes characters from Re:ZERO, Overlord, Konosuba and others isekai anime in a classroom. Despite looking like a generic anime that uses the fame of others, it was quite successful and has already won two seasons.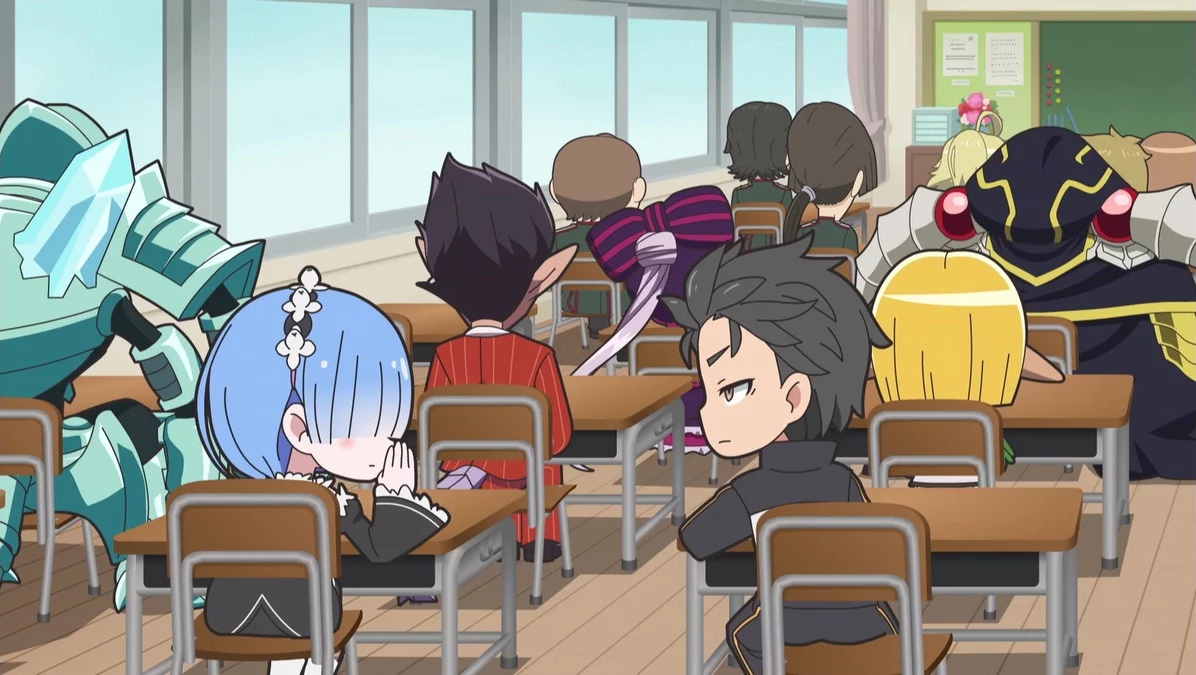 Chibi and SD character products
Characters chibi are cute and they draw attention, I myself have a lot of chibi action figures. Below we will recommend some characters chibi that can be purchased on Amazon Brazil for you to decorate your bedroom or living room.
List of Chibi Manga
We don't have many chibi manga in Brazil, but you can find it in our previous product list. Now let's just display a list of the most popular manga in Japan that use Chibi and SD as traits:
Responsive Table: Scroll the table to the side with your finger >>
| | |
| --- | --- |
| Nome do Mangá Chibi | Year |
| Hachune Miku's Everyday Vocaloid Paradise Manga | 2009 |
| Bungou Stray Dogs Wan! | 2015 |
| Overlord: The Undead King Oh! | 2017 |
| The Bride was a Boy | 2016 |
| Himouto! Umaru-chan | 2013 |
| KonoSuba: Megumin Anthology Aka | 2018 |
| Cry for Me | 2016 |
| Himouto! Umaru-chan S | 2014 |
| Naruto: Chibi Sasuke's Sharingan Legend | 2014 |
| They Say I was Born a King's Little Daughter | 2017 |
| Fairy Tail S: Tales from Fairy Tail | 2007 |
| Angel Beats! The 4-koma: Bokura no Sensen Koushinkyoku | 2009 |
| Full Metal Panic! Overload | 2000 |
| Attack on Titan: Junior High | 2012 |
| Minidura | 2013 |
| One Piece Party | 2014 |
| Bleach 4-koma: Komaburi | 2011 |
| A Certain Magical Indexchu | 2008 |
| Record Of Lodoss War: Welcome To Lodoss Island! | 1995 |
| Moonlight Sculptor 4-koma | 2015 |
| Puchimas! Petit [email protected] | 2008 |
| Metroid: Shounen Ou! Shorts | 1994 |
| Gakuen Psycho-Pass | 2014 |
| Yu-Gi-Oh! D Team ZEXAL | 2012 |
| Mini! KIZNAIVER Theater | 2016 |
| Negiho: Mahora Little Girls | 2010 |
| Moonlight Sculptor 4-koma – Part 3 | 2020 |
| Hamefura x Arte | 2020 |
| Guraburu Jersey Bu! | 2016 |
| Black Clover SD: Asta-kun Mahou Tei e no Michi | 2018 |
| Mini Vanguard | 2011 |
| DD Fist of the North Star | 2010 |
| One Piece Gakuen | 2019 |
| The [email protected] SideM: Wake Atte Mini! Returns | 2018 |
| The [email protected] SideM: Wake Atte Mini! | 2016 |
| Hidan no Aria-chan | 2011 |
| Petit Adonis | 2018 |
| Nora Swipes Right | 2019 |
| Tell Me Your Wish | 2018 |
| Fudanshi Kakumei | 2012 |
| Nyoron Churuya-san | 2008 |
| We Won't Die Easily! | |
| Mini Toji: Shucchouban | 2019 |
| Shobo Nyan | 2011 |
| Moonlight Sculptor 4-koma – Part 2 | 2018 |
| Peleliu: Rakuen no Guernica | 2016 |
| Lucky Star: Boo Boo Kagaboo | 2008 |
| HiGH&LOW g-sword | 2017 |
| Kakegurui Kakkokari | 2016 |
| Koha Ace | 2011 |
| Grimoire of Zero Nano! | 2015 |
| Damekko Doubutsu | 2001 |
| Katatsumuri-chan | 2004 |
| Kanpachi | 2010 |
| P.S. Triple | 2006 |
| Kitsune to Aburage | 2009 |
List of Chibi Anime
Below we will share a list of anime chibi that are on television. Specials are not included OVAs, these follow further down in another subheading. the list of anime chibi is in the most popular order, make good use of it below:
Responsive Table: Scroll the table to the side with your finger >>
| | |
| --- | --- |
| Animes Chibi | Year |
| Baka and Test – Summon the Beasts 2 | 2011 |
| Heaven's Lost Property: Forte | 2010 |
| Hetalia: The Beautiful World | 2013 |
| Baka and Test – Summon the Beasts | 2010 |
| The Royal Tutor | 2017 |
| Isekai Quartet | 2019 |
| Isekai Quartet 2 | 2020 |
| Mahoujin Guru Guru (2017) | 2017 |
| The Wallflower | 2006 |
| Himouto! Umaru-chan R | 2017 |
| Heaven's Lost Property | 2009 |
| www.Working!! | 2016 |
| Poyopoyo Kansatsu Nikki | 2012 |
| BanG Dream! Girls Band Party! Pico | 2018 |
| Himouto! Umaru-chan | 2015 |
| Ninja Girl & Samurai Master 3rd Season | 2018 |
| Ninja Girl & Samurai Master 2nd Season | 2017 |
| Damekko Doubutsu | 2005 |
| Potemayo | 2007 |
| Ninja Girl & Samurai Master | 2016 |
| Maria Holic | 2009 |
| Clean Freak! Aoyama-kun | 2017 |
| Anne-Happy | 2016 |
| Maria Holic Alive | 2011 |
| Binchou-tan | 2006 |
| The [email protected]: Cinderella Girls Theater Climax Season | 2019 |
| Attack on Titan: Junior High | 2015 |
| The [email protected]: Cinderella Girls Theater 2nd Season | 2017 |
| Hinako Note | 2017 |
| Di Gi Charat Nyo | 2003 |
| Hakuouki: Otogisoushi | 2016 |
| Ghost in the Shell: Nyuumon Arise | 2014 |
| The [email protected]: Cinderella Girls Theater 3rd Season | 2018 |
| Di Gi Charat | 1999 |
| Etotama | 2015 |
| Panyo Panyo Di Gi Charat | 2002 |
| The [email protected]: Cinderella Girls Theater | 2017 |
| Yurumates 3D Plus | 2012 |
| Tokyo Pig | 1997 |
| Oh! My Goddess: The Adventures of Mini-Goddess | 1998 |
| Naruto Spin-Off: Rock Lee & His Ninja Pals | 2012 |
| Mini Vanguard | 2013 |
| Bikkuriman | 1987 |
| DD Fist of the North Star | 2013 |
| Hi-sCool! Seha Girls | 2014 |
| BanG Dream! Pastel Life | 2018 |
| Mini Hama | 2015 |
| Yurumates 3D | 2012 |
| Bottle Fairy | 2003 |
| Panda-Z: The Robonimation | 2004 |
| Happy Lucky Bikkuriman | 2006 |
| Kaijuu Girls 2nd Season | 2018 |
| DD Hokuto no Ken | 2011 |
| Mobile Suit Gundam-san | 2014 |
| SD Gundam Sangokuden Brave Battle Warriors | 2010 |
| Bikkuriman 2000 | 1999 |
| Days of Urashimasakatasen | 2019 |
| Gakkatsu! 2nd Season | 2013 |
| Mini Vanguard 2 | 2015 |
| Gakkatsu! | 2012 |
| DD Fist of the North Star II | 2015 |
| Ikemen Sengoku: Bromances Across Time | 2017 |
| Shin Bikkuriman | 1989 |
| Katana Maidens: Mini Toji | 2019 |
| The [email protected] SideM: Wake Atte Mini! | 2018 |
| Lychee DE Light Club | 2012 |
| Tanken Driland: 1000-nen no Mahou | 2013 |
| Chou Shounen Tanteidan NEO | 2017 |
| Ao Oni The Blue Monster | 2016 |
| Alice or Alice: Siscon Nii-san to Futago no Imouto | 2018 |
| Taishou Mebiusline: Chicchai-san | 2017 |
| The Glass Mask Year 3 Class D | 2016 |
| Tenka Hyakken: Meiji-kan e Youkoso! | 2019 |
| Mini Moni Yaru no da Pyon! | 2001 |
| Forest Fairy Five: Fairy Tale | 2017 |
| Forest Fairy Five | 2017 |
| Pugpug | 1998 |
| Girl Gaku. Sei Girls Square Gakuin | 2020 |
| Kaijuu Step Wandabada | 2019 |
| Umayon | 2020 |
List of OVAs, Specials, and Chibi Movies
Now let's see a list of OVAs, specials and Chibi Movies starting with the most popular:
Responsive Table: Scroll the table to the side with your finger >>
| | | |
| --- | --- | --- |
| Nome do Anime Chibi | Year | Type |
| Hetalia: World Series | 2010 | Internet |
| Hetalia: The Beautiful World Especials | 2013 | Special DVD |
| Hetalia: World Series Extra Episodes | 2011 | Internet |
| Melancholy of Haruhi-chan Suzumiya | 2009 | Internet |
| Himouto! Umaru-chan OVA | 2017 | OVA |
| The [email protected] SideM: Wake Atte Mini! Especials | 2019 | Special DVD |
| Hetalia: The World Twinkle Especials | 2015 | Special DVD |
| Black Clover: Petit Clover Advance | 2018 | Special DVD |
| BanG Dream! Girls Band Party! Pico: Ohmori | 2020 | Internet |
| Hetalia: The Beautiful World Extra Disc | 2014 | Special DVD |
| Hetalia: Axis Powers | 2009 | Internet |
| Attack on Titan 3rd Season: Part II Especials | 2019 | Special DVD |
| The Royal Tutor Filme | 2019 | Movie |
| Koro-sensei Q! | 2016 | Movie |
| One Piece: Straw Hat Theater | 2006 | Special DVD |
| Hetalia: The World Twinkle – Surprise Halloween! | 2016 | Special DVD |
| Hetalia: The World Twinkle | 2015 | Internet |
| Tanaka-kun wa Kyou mo Kedaruge | 2016 | Internet |
| The [email protected] SideM: Wake Atte Mini! OVA | 2019 | OVA |
| Miss Kobayashi's Dragon Maid Especials | 2017 | Special DVD |
| Hetalia: Axis Powers Fan Disc | 2010 | OVA |
| Kimi ni Todoke – From Me To You 2nd Season Especials | 2011 | Special DVD |
| Potemayo Especials | 2007 | Special DVD |
| HameFura: Catarina Nounai Kaigi | 2020 | Internet |
| Shakugan no Shana II Especials | 2008 | Special DVD |
| Koro-sensei Quest! | 2016 | Internet |
| Baka to Test to Shoukanjuu: Spinout! Sore ga Bokura no Nichijou | 2011 | Special DVD |
| Overlord III: Play Play Pleiades | 2018 | Internet |
| Shakugan no Shana Filme Especial | 2007 | Special DVD |
| Attack on Titan 3rd Season Especials | 2018 | Special DVD |
| Ninja Girl & Samurai Master Episode 0 | 2016 | TV Special |
| Cells at Work! Especials | 2018 | Special DVD |
| CB Chara Go Nagai World | 1991 | OVA |
| Shakugan no Shana S Especials | 2009 | Special DVD |
| Shakugan no Shana III Especials | 2012 | Special DVD |
| Shakugan no Shana Especials | 2006 | Special DVD |
| Carnival Phantasm: Illya's Castle | 2011 | Other |
| The Testament of Sister New Devil BURST Especials | 2015 | Special DVD |
| Maho-Yome | 2017 | Other |
| Puchimas! Petit Petit [email protected] | 2014 | Internet |
| Manga de Wakaru! Fate/Grand Order | 2018 | Internet |
| Dragon Half | 1993 | OVA |
| Baka and Test – Summon the Beasts 2: Magical Hideyoshi Hideyoshi | 2011 | Special DVD |
| Puchimas! Petit [email protected] | 2013 | Internet |
| My Wife Is the Student Council President! Okusama Gekijou | 2015 | Special DVD |
| Mobile Suit Gundam SEED Character Theater | 2007 | TV Special |
| Overlord: Play Play Pleiades | 2015 | Special DVD |
| Himouto! Umaru-chan S | 2015 | Special DVD |
| Oreimo Animated Commentary | 2010 | Special DVD |
| Overlord: Ple Ple Pleiades Theatrical Version | 2017 | Special DVD |
| Overlord: Play Play Pleiades OVA | 2016 | OVA |
| Overlord II: Play Play Pleiades | 2018 | Internet |
| No Game No Life: Zero – Manner Filme | 2017 | Other |
| Overlord: Ple Ple Pleiades – Clementine Toubou-hen | 2018 | Internet |
| The Testament of Sister New Devil Especials | 2015 | Special DVD |
| Puchimas! Petit [email protected] OVA | 2013 | OVA |
| Place to Place Youchien | 2012 | Other |
| The [email protected]: Cinderella Girls Theater 3rd Season Especials | 2018 | Special DVD |
| Re:ZERO -Starting Life in Another World- Memory Snow – Manner Filme | 2018 | Other |
| Di Gi Charat Summer Especial 2000 | 2000 | OVA |
| Nura: Rise of the Youkai Clan – Jump Super Anime Tour Especial | 2010 | Other |
| Saki Biyori | 2015 | OVA |
| Di Gi Charat Ohanami Especial | 2001 | OVA |
| Symphogear AXZ Especials | 2017 | Special DVD |
| Utawarerumono: The False Faces Especials | 2016 | Special DVD |
| Mini Sengoku Basara Two: Tsukiyo no Katakura-kun | 2010 | Special DVD |
| Susume! Godzilland | 1994 | OVA |
| Barakamon: Mijikamon | 2014 | Internet |
| Re:ZERO -Starting Break Time From Zero- | 2016 | Internet |
| Youjo Shenki | 2017 | Internet |
| Mayoi Neko Overrun! Especials | 2010 | Special DVD |
| Puchimas! Petit [email protected] – Takatsuki Gold Densetsu Especial!! Harukasan Matsuri | 2013 | Special DVD |
| Di Gi Charat Natsuyasumi Especial | 2001 | OVA |
| Mini Sengoku Basara: Chousokabe-kun to Mouri-kun | 2009 | Special DVD |
| Di Gi Charat Christmas Especial | 2000 | OVA |
| The [email protected]: Cinderella Girls Theater 2nd Season (Web) | 2017 | Internet |
| Puchimas! Petit Petit [email protected] OVA | 2018 | OVA |
| Nadia: Secret of the Blue Water Especials | 2003 | Special DVD |
| Hakuouki: Otogisoushi Especial | 2016 | Special DVD |
| The [email protected]: Cinderella Girls Theater (Web) | 2017 | Internet |
| Oreimo 2 Animated Commentary | 2013 | Special DVD |
| Puso Ni Comi: Phantasy Star Online 2 Comic | 2019 | Other |
| Mobile Police Patlabor Minimum: Minipato | 2002 | Other |
| Leave it to Piyoko! | 2003 | OVA |
| Di Gi Charat Tsuyu Especials | 2001 | Special DVD |
| The [email protected]: Cinderella Girls Theater 2nd Season Especials | 2017 | Special DVD |
| Ozmafia!! Especial | 2016 | Special DVD |
| Mobile Suit SD Gundam's Counterattack | 1989 | OVA |
| Danganronpa 3: Monokuma Gekijou | 2016 | Special DVD |
| Sword Art Online II: Sword Art Offline II | 2014 | Special DVD |
| Di Gi Charat Filme – A Trip to the Planet | 2001 | Movie |
| Chiba Pedal: Yowamushi Pedal to Manabu Jitensha Koutsuuanzen | 2016 | Internet |
| Lord Marksman and Vanadis: Tigre and Vanadish | 2014 | Internet |
| Shakugan no Shana: Naze Nani Shana | 2006 | Special DVD |
| Tales of the Rays Theater | 2018 | Other |
| Sword Art Online Filme: Ordinal Scale – Sword Art Offline | 2017 | Special DVD |
| Re:Petit Kara Hajimeru Isekai Seikatsu | 2016 | Internet |
| Sword Art Online: Sword Art Offline – Extra Edition | 2014 | Special DVD |
| Sengoku Basara Filme: 4-Koma Gekijou – Another Last Party | 2011 | Other |
| Beyond the Boundary: Idol Trial! | 2013 | Internet |
| Yurumates | 2009 | OVA |
| Tokyo Ravens Especials | 2013 | Internet |
| A Sister's All You Need Especials | 2018 | Special DVD |
| Symphogear XV Especials | 2019 | Special DVD |
| Toradora SOS! | 2009 | Special DVD |
| Miyakawa-ke no Kuufuku | 2013 | Internet |
| Sword Art Online: Sword Art Offline | 2012 | Special DVD |
| Nyoron! Churuya-san | 2009 | Internet |
| Ghost in the Shell: Arise – Logicoma Especials | 2013 | Special DVD |
| My Wife Is the Student Council President! OVA: Okusama Gekijou | 2016 | Special DVD |
| Super Deformed Double Feature | 1988 | OVA |
| Isekai Quartet Relay PV | 2018 | Internet |
| Attack on Titan Picture Drama | 2013 | Special DVD |
| Symphogear G Especials | 2014 | Special DVD |
| God Eater Rezo Nantoka Gekijou: Episode EX | 2018 | Other |
| .hack//GIFT | 2003 | OVA |
| Macross Delta Especials | 2016 | Special DVD |
| A Sister's All You Need (Web) | 2017 | Special DVD |
| Akame ga Kill! Theater | 2014 | Internet |
| Guilty Crown: 4-koma Gekijou | 2012 | Special DVD |