Hello, in this article I will recommend to you an anime called Danshi koukousei in Nichijou [男子高校生の日常] and also talk about other anime of the same genre, the famous comedy anime nonsense insane and meaningless.
For those who don't know nonsense comes from English and can be translated as "meaningless, nonsensical, absurd or meaningless", Something very close to Western children's drawings, most of them do not follow a story or care about the laws of physics, reality and logic.
Danshi Koukousei no Nichijou
This is one of the most famous and popular comedy anime nonsense of the world. As the name implies, the anime talks about "the daily lives of high school boys".
Synopsis: Tadakuni [忠邦], Hidenori [秀則] and Yoshitake [ヨシタケ] are students at a boys-only school, Sanada North High School. This is a short story about what their daily lives are like as students. Win the basketball tournament? Find true love? You will not find any of this here.
Whether he's sparking random arguments while hanging out with friends, meeting a strange co-worker in a part-time job, or imagination, even letting it run wild on a windy afternoon, we've all experienced the ordinary but true-to show -life. Themes at one point or another. "
&Nbsp; anime consists of 1 season with 12 episodes and 3 eggs. Directed by Shinji Takamatsu, the anime has the genres of Comedy, Shounen and School life. The anime is from the year 2012.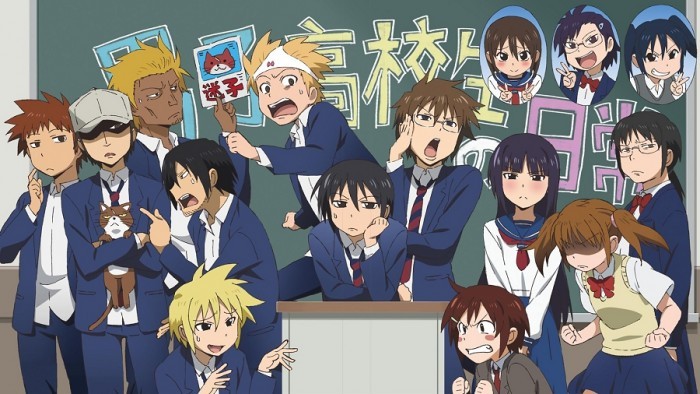 Is it worth watching Danshi Koukousei at Nichijou?
Well, the anime is super funny, fun. It will never bore you. The main characters study at a boys-only school, which makes it difficult for them to get a girlfriend, or something. 
We also have the 'literary girl', which is one of the funniest parts of the anime. At the end of some episodes, the anime also features an extra "episode", the 女子高生は異常, which would be something like "abnormal high school girls". Which would be the opposite of anime. So, if you like to laugh a lot, anime is recommended;)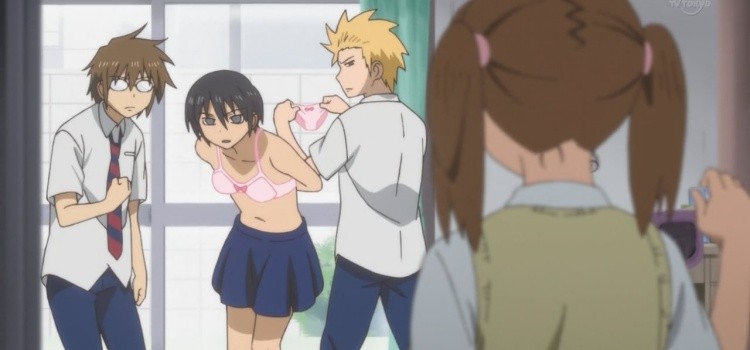 The Best Nonsense Comedy Anime
Of course, we cannot end an article only with the recommendation of Nichijou, there are several other anime of the same style and sometimes even better. Let's see some that you can watch below:
Nichijou - Another anime with a similar name that may confuse some, but this time this anime shows the story of girls who live an unusual life. It even shows a director fighting a deer.
Gintama - One of the most popular comedy anime in Japan, and still dominates the ranking of myanimelist. Anime has many episodes just like Naruto and One piece, and even follows a story with drama and action, but the anime is full of parodies, references and nonsense, fortunately it does not come out of reality as much as some. Gintama tells the story of a group of samurai without rules who live in a futuristic world with aliens.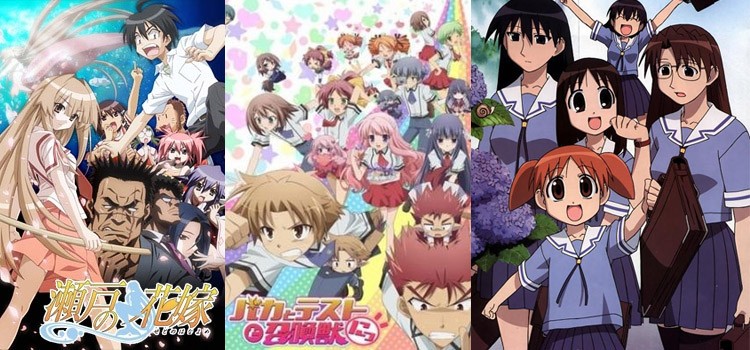 Seto no Hanayome - One of the best comedy anime of all time, where it tells the story of a boy who is forced to marry a mermaid who has a super protective father and head of Mafia.
Baka to Test to Shoukanjuu - A very popular nonsense comedy anime, which tells the story of a dumb class from a college that has a class hierarchy by intelligence. The anime is great and has 2 seasons.
Seitokai Yakuindomo - A comedy anime that uses puns with an erotic sense.
Azumanga Daioh – Another anime that tells the school life of crazy people.
List of Nonsense Anime
Below & a few more anime in a short list in order of popularity.
Haiyore! Nyaruko-san.
Gag Manga Biyori.
Sket Dance.
Joshiraku.
Yondemasuyo, Azazel-san.
Binbougami-ga!.
Gekkan Shoujo Nozaki-kun – Romantic comedy with a little nonsense;
Full Metal Panic Fumoffu.
Crayon Shinchan.
Jinrui wa Suitai Shimashita.
Kill Me Baby.
Arakawa Under The Bridge.
Nisemonogatari.
Mitsudomoe.
Sora no Otoshimono.
Tantei Opera Milky Holmes.
Kore wa Zombie Desu ka?.
My Bride is a Mermaid.
Galaxy Angel.
Sayonara Zetsubou-sensei.
Ouran Koukou Host Club.
Cromartie High School.
Seitokai no Ichizon.
Panty & Stocking with Garterbelt.
GTO (Great Teacher Onizuka) - Very good, has a good plot and rarely has anything nonsense;
Both are comedy anime with meaningless and unrealistic things, but some have a good plot, story and are not so focused on nonsense comedy. I hope this article has helped you to get a good idea of ​​what to watch.