Do you know what Tier List means? Ever heard people making youtube videos or creating Tier List images? In this article, we are going to answer everyone's doubt regarding these favorites lists used both in games and in anime and other areas of life.
Definition - What does Tier List mean?
The Word Tier List can be translated as Tier List. The English word Tier is often translated as layer, rank or system of levels. The purpose of these lists is to share opinion about best characters, but they are never 100% accurate.
These are lists with colored layers separated by Ranking of letters [S+, S, A, B, C, D, E] where a certain item or character is placed in each of the rankings in order to define the strongest or favorites. .
Tier Lists exist in most competitive gaming communities, particularly among fans of fighting games like Street Fighter, Mortal Kombat, and Super Smash Bros.. Professionals in fighting games espouse Tier Lists, but casual gamers often strongly disagree with these lists.
In recent years these lists have become increasingly popular, often being used in a comical or personal way to describe favorite characters, waifus and even favorite foods. Usually these lists end up creating disagreements among the community.
Tier is also considered a worldwide classification standard created especially for Data Centers by the Uptime Institute consortium, a standard accepted in more than 40 countries. It is a line or level of a structure, usually one of a series of lines placed one above the other and successively receding or decreasing in size.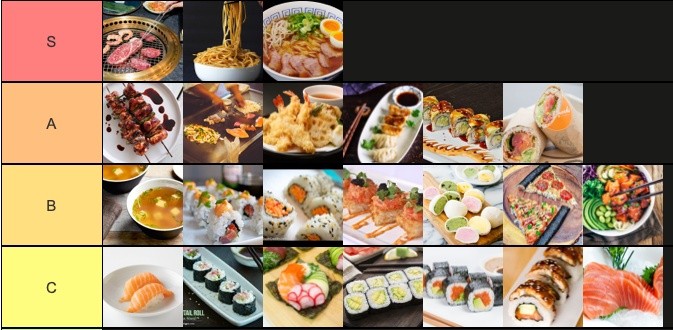 Origin - How did the Tier List come about?
It is not known for sure how the Tier List came about, but it is known that one of the first lists that appeared on the internet was from the game Tekken on March 25, 2005. I believe that it was already common for people to talk about their favorite characters or the best fighters of a certain game.
Four years later, on May 8, 2009, the anonymous user of 4chan posted an Idolmaster List on the Japanese forum. This started to spark the desire to make anime character lists.
On May 17, Urban Dictionary user Yello River set the top tier of the Tier List to "God Tier". They wrote: "Skills that are almost godlike".
The following year, on August 28, 2010, FunnyJunk user Scrumpulate posted a Tier List of college subjects, thus expanding the usage to areas other than games and anime.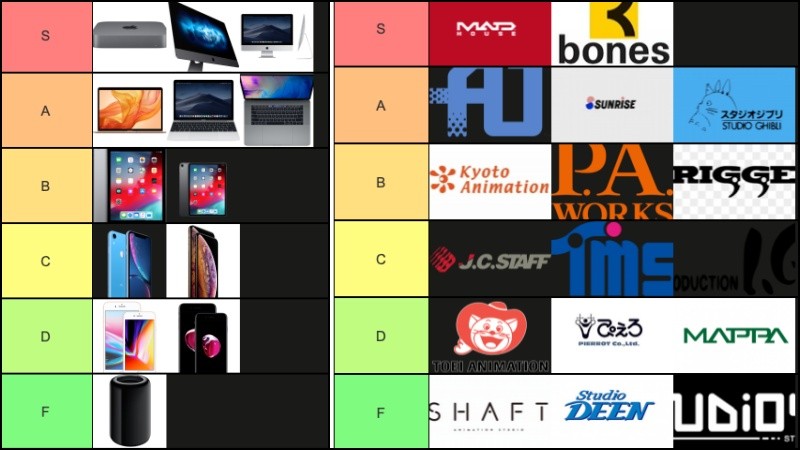 How Do Players View Tier Lists?
Fighting game professionals tend to consider Tier Lists frequently. These lists became popular even in FPS shooting games, MOBA games like LOL and Dota, or hero games like overwatch and Paladins.
When a competitive game receives an update, one question that arises is how changes in the game will affect the tier list. This can also occur with the addition of new characters, skills, or weapons to the game.
Some players tend to use low ranked characters in a Tier List to have certain advantages in some championships. As players are used to playing with the best on the list, others use the worst as an element of surprise and master that character's abilities.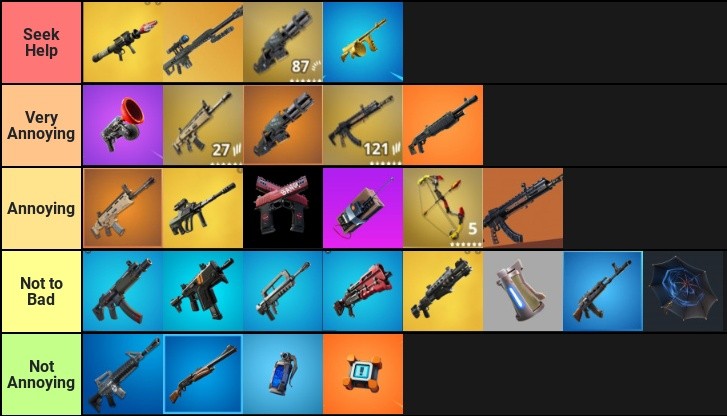 Popular Tier List divisions
Nowadays letter rankings are used a lot to create Tier Lists, but originally there are some divisions that are worth highlighting:
God Tier – The top of the list of levels are usually powerful characters like Gods, in which case fans prefer not to put this type of tier to not compromise the game. They are usually characters that have a power far beyond the others. Some are even banned from championships.
Trash Tier – As the name suggests, they are complete rubbish. The worst of the worst characters, the most hated, the useless ones that shouldn't even exist. Usually some are pissed to see a favorite character played on this list.
top tier – Usually the strongest characters in the game, but not as powerful and abusive as the God Tiers. They are usually S or A Rank on current Tier Lists.
middle tier – Those who can't be good in some ways, can't make it to the top. They are in the middle between Ranking B and C.
Low Tier – These are characters with some serious disadvantages, different from the others that end up being left out. They are usually below Rank D.
Some lists use different classifications like [S+, S-, A+, A, A-]. Others usually put any custom word to sort the layers of a Tier List.
Making Your Own Tier List - How to Create
Nowadays, Ranking from S+ is used up to any letter you want, with S+ being the God Tier or Top Tier. These lists can be created either vertically or horizontally. Usually the lines follow the direction from a traditional table.
Below is an example of a Traditional Tier List: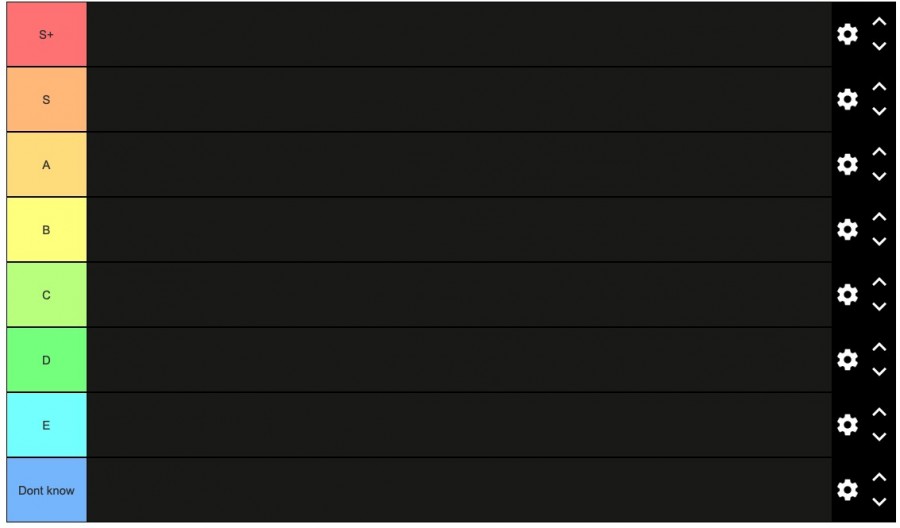 Tier lists can be assembled on sites like:
I usually use the first site from the list above. In it you already have all the images of a certain type of list that you want to create, you can also rename the Rankings to the words you want. Others prefer to create on their own paint or Text Editor, some already use mobile applications.
You can make a silly list or a serious list. To make a serious list that will be used as an influence for others, it is best to know all the characters and not be partial to any of them. Sometimes you like or are used to a certain character, but you will see a popular Tier List on the internet and find him at the bottom of the ranking.
My Tier List
Below I want to share all the Tier Lists I make to share on my website:
Japan's Sights Tier List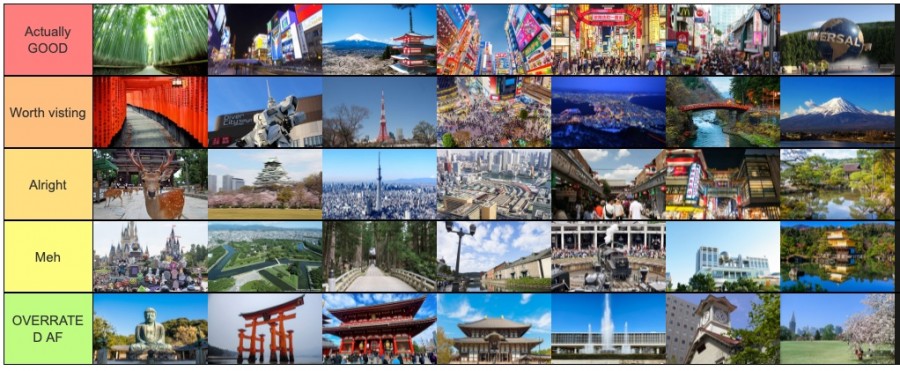 Anime Tier List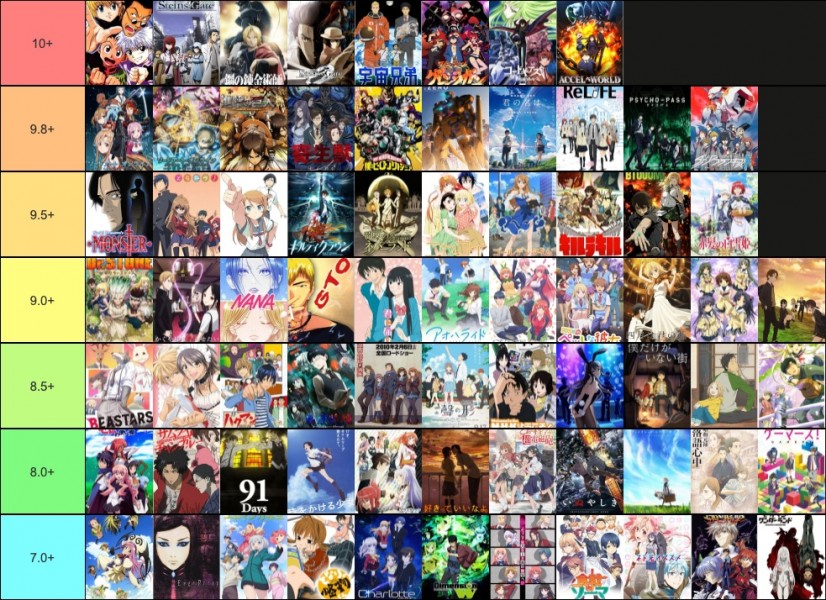 Tier List Favorite Waifus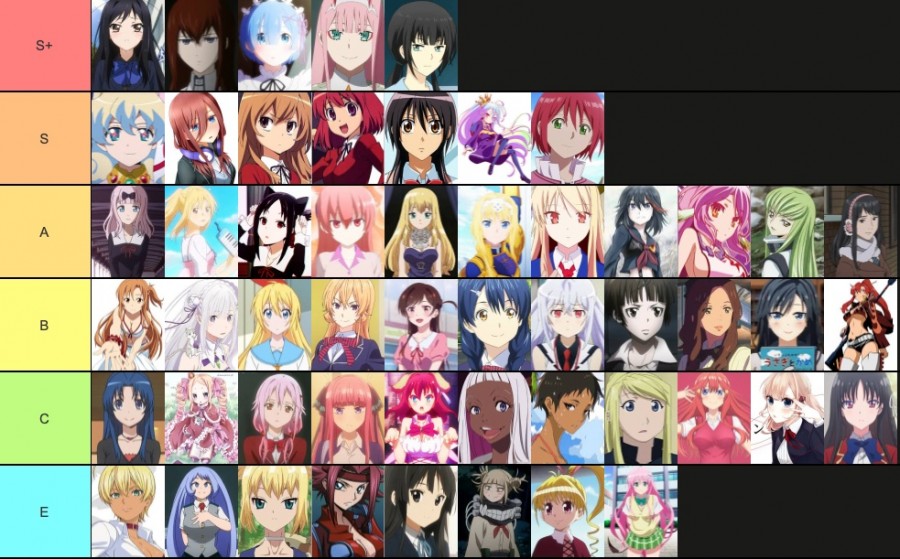 The Internet's Most Searched Tier Lists
What do people usually do Tier List? With that in mind, let's leave below a list of Games, Anime and other things that people most often look for or make Tier Lists:
Genshin Impact
Mobile Legends
All Star Tower Defense
maker
Genshin
Dragon Ball Legends
Tft
anime
adc
Afk Arena
Arena of Valor
Archero
Genshin Impact Weapons
All Star Roblox
Brawl Stars
Bleach
Brawlhalla
Bijuu Shinobi Life 2
Boku No Hero
Brawl Stars 2020
Boruto
Blox Fruits
creator
Clash Royale
Mobile code
Champions Lol
lol
Champions Legion
Tft Comp
lol champions
Danganronpa
DB Legends
Dragon Ball
dota 2
Dragon Ball Fighterz
disney
DB
Epic Seven
Elsword
Exos Heroes
Eternal Return
Elements Shinobi Life 2
Epic Seven Reroll
Ed
Exos Heroes Global
fnaf
Fortnite
Fate Go
Final Fate Td
Fire Emblem Heroes
fighterz
for Honor
ffbe
Grand Chase
Genkai Shinobi Life 2
Guardian Tales
Genshin Impact 1.1
Genshin Impact Reddit
Genkai Shinobi Life 2
Hearthstone
Honkai Impact
hots
hero sing
Hunter X Hunter
haikyuu
Healer Shadowlands
hades
Illusion Connect
Idle Heroes
Identity v
injustice 2
Lol items
injustice
TFT items
idol
Jg
jojo
Games
Jojo Stands
jg s10
Soccer players
Jump Force
jojo parts
Kekkei Genkai Shinobi Life 2
King's Raid
Kof All Star
Kof 2002
Kimetsu No Yaiba
king piece
King's Raid 2020
Kg Shinobi Life 2
lol 2020
LOL
Lost Ark
mid
mlbb
Mk11
Mobile Legends Adventure
Marvel Future Fight
Minecraft
To finish, see a video of how youtubers usually record these Lists in their videos: