In this article I want to introduce you to the "animelon" website, where you can watch anime while watching Japanese, English and romanized subtitles. The site was created with a focus on learning Japanese with anime, it offers some options and tools to help with this purpose, in addition to being a very fast site.
With animelon you can choose which subtitles will appear in the video, you can remove the subtitles in English, put a subtitle in hiragana and even fully in katakana. You can loop a certain phrase and repeat it until you learn it. The site even offers tools for those who create an account and even tests of phrases and vocabulary.
You are not required to register or log in, just access the animelon.com choose the anime and watch it completely for free. Although the site is in English, this does not interfere with your learning. First choose the anime and episode you want to watch. You will find a screen similar to this: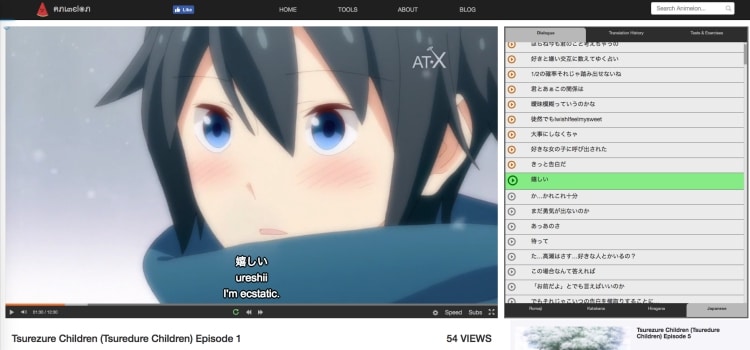 Note that on the left side you will find a box with all the phrases that appear in the episode. Just select the phrase and the video will open at that exact moment. In that same box you can access your history of translations, tests, flashcards and other activities focused on helping you to memorize.
How can Animelon be useful in Japanese?
By clicking on any text of the sentence that appears in the caption, you open a balloon with the meaning of the word in Japanese. If you click on the English word, you open a balloon with the different ways to say that word in Japanese. This tool is incredibly useful for those who want to expand their Japanese vocabulary.
You can also choose the speed at which the video is running, to make it easier to follow the subtitles and the lines of the anime. The best way to learn is using memorization tools like flashcard and typing exercises.
The idea of animelon is passively learning the Japanese language while enjoying anime, being a strong means of Japanese cultural communication. In addition to learning informal Japanese, you will be aware of everyday conversations and japanese life.
The site was created in March 2017 and has not yet gained the prominence it deserves, as this idea is totally genius. What do you think of this idea of learning Japanese with anime? Visit the animelon website and tell us about your experience with this great Japanese teaching tool.
With this site you can even learn specific subjects, perhaps technical words from a football/soccer game by watching Super Eleven. Or maybe scientific terms when watching Dr.Stone, and who knows game words in Death Wall?
How to get Japanese anime subtitles
Maybe you prefer to download the subtitles and put them in the anime downloaded from your computer. Perhaps you yourself want to study the subtitles in text or translate subtitles for portuguese on its own.
In this case, one of the sites where you can find Japanese subtitles is kitsunekko.net. Download the subtitles and study on your own. Hope you enjoyed the article. We appreciate the comments and shares.