Playing Zelda games in the Japanese language? In this article we will share a list of words related to franchise games, including the new Botw and Totk for you to expand your vocabulary and not get lost in the game. 
About Zelda in Japanese
"The Legend of Zelda" is a famous video game franchise that was created by Shigeru Miyamoto and Takashi Tezuka and developed by Nintendo. The first game in the series was released in 1986, and since then has become one of the most iconic and beloved titles in the history of video games.
In Japanese, "The Legend of Zelda" is translated as "ゼルダの 伝説" (zeruda no densetsu). The word "ゼルダ" (zeruda) refers to the main character of the series, Princess Zelda, while "伝説" (densatsu) means "legend". Together, these words represent the essence of the series, which revolves around the legendary adventures lived by the protagonist, Link, in search of rescuing Princess Zelda and defeating villain Ganon.
In each game in the series "The Legend of Zelda", players are transported to the vast fantasy world known as Hyrule (ハイラル - Hairaru). In this world, they take on the role of Link (リンク - Rinku), the hero designed to face great challenges and protect Hyrule from the dangers that threaten him. The player explores Dungeons, solves puzzles, defeat enemies and brings together powerful items to progress in the story.
One of the main features of the franchise is the presence of Triforce (トライフォトライフォス ス - Toraifōu), a sacred symbol that represents divine power. Triforce is composed of three parts: the Triforce of Power, the Triforce of Wisdom and the Triforce of Courage. These elements play a fundamental role in the narrative of the games, with link seeking to bring together the complete triforce to achieve its goals.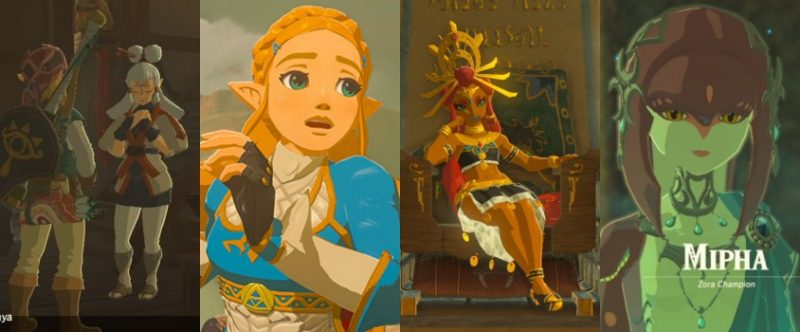 Zelda Breath of the Wild and Tears of the Kingdom
See below for some Japanese words in both franchise games: 
ゼルダの 伝説 (zeruda no densetsu) - The Legend of Zelda
ブレスオブザ ワイルドワイルド (BURESU OBU ZA WAIRUDO) - BREATH OF THE WILD
ハイラル (Hairaru) - Hyrule
トライフォス ス (Toraifōsu) - Triforce
ガノンドロフ (ganondorofu) - ganondorf
プリンセスゼルダ (Purinsesu Zeruda) - Princess Zelda
リンク (Rinku) - Link
シシ カカ ストン ン (Shīkāsutōn) - Sheikah Slate
シシ カセンサセンサセンサセンサセンサ (Shīkāsensā) - Sheikah Sensor
ハイラル王国 (Hairaru ōkoku) - Kingdom of Hyrule
シシ カタワタワタワタワ (Shīkātawā) - Sheikah Tower
カカリコ村 (Kakariko Mura) - Kakariko Village
ゼルダの 像 (zeruda no zō) - Statue of Zelda
シシ カラボラボ (shīkā tail) - Sheikah Lab
カカリコ村長 (Kakariko Mura -Chō) - Mayor of Kakariko Village
ハイリアの 盾 (Hairia no tate) - Hylian Shield
マスタマスタソ ソド ド (Masutā Sōdo) - Master Sword
ハイリア剣士 (Hairia Kenshi) - Hylian Knight
シシ カカ ストン の力 (Shīkāsutōn in Chikara) - Power of the Sheikah Slate
ハト トの かけら (hāto no kakera) - Heart Container
クオリティショップ (Kuoriti Shoppu) - Quality Store
アア マショップショップ (āmā shoppu) - armor store
ポポ ション (pōshon) - Poção
料理 (Ryōri) - Culinary
クック (kukku) - cook
ダンジョン (Danjon) - Dungeon
ボス (Bosu) - Chief
ミニゲ ゲム (minigēmu) - minijogo
パラグライダパラグライダパラグライダ (paraguraidā) - paraglider
シシ カクラフトクラフトクラフト (Shīkākurafuto) - Sheikah Slate Craft
バトル (Batoru) - Battle
クライム (kuraimu) - climbing
ライド (Raiid) - Mount
ヒネリ (HINERI) - Trick
シクロッククロック (Shīku Rokku) - Sheikah Tower Clock
ガガ ディアン (Gādian) - Guardian
モンスタモンスタモンスタ (Monsutā) - Monster
ルル イン (Rūin) - Ruin
シシ カダンジョンダンジョン (Shīkā Danjon) - Sheikah Dungeon
クエスト (Kuesuto) - Mission/Quest
祠 (Hokora) - Shrine
神殿 (Shinden) - Temple
神獣 (Shinjū) - Divine Beast
ガノン (Ganon) - Ganon
インパ (INPA) - IMPA
メファ (MEFA) - Mipha
レイボス (Reibosu) - Revali
ウリッシ (Urisshi) - Urbosa
ダルケル (Darukeru) - Daruk
シダックス (Shidakksu) - Sidon
ピア (sink) - Paya
カネ (Kane) - Kass
シシ ク (Shīku) - Sheik
ベッドル (Beddoru) - Beedle
テラテラテラ (Terā) - Tarry Town
パイ (father) - Pie
ポロ (poro) - Bolson
ハトノ (hatono) - Hateno
カコ コ (Kāko) - Koko
タリタリタリ (Tarī) - Talon
Japanese vocabulary from The Legend of Zelda
Now let's look at more words related to franchise games: 
オカリナの 時間 (okarina no jikan) - Ocarina of time
トワイライトプリンセス (Towairaito Purinsesu) - Twilight Princess
神々 のトライフォトライフォス (kamigami no toraifōsu) - A Link to the Past
神々 のトライフォトライフォス 2 (Kamigami no Toraifōsu Tsū) - A Link Beteen Worlds
マスタマスタコンパスコンパス (Masutā Konpasu) - Master Compass
フックショット (Fukku Shotto) - Hookshot
ブブ メラン (Būmean) - Boomerang
ガストの 剣 (Gasuto no Ken) - Gust Bellows
スピリッツトラック (Supirittsu torakku) - Spirit tracks
フォフォゴトンロゴトンロプ (Fōgoton Rōpu) - Forgotten Rope
ダンジョンマップ (Danjon Mappu) - Dungeon Map
バトルアリアリナ (Batoru Arīna) - Battle Arena
ソウルメダル (Sōru Medaru) - Soul Medal
カカリコ村 の井戸 (Kakariko Mura in Ido) - Kakariko Village Well
魔法の 隠れ家 (Mahō no Kakurega) - Magic Hideout
神秘の 森 (Shinpi no Mori) - Mystical Forest
ハイラル城 (Hairaru Jō) - Hyrule Castle
デクの 樹 (Deku No Ki) - Deku Tree
ゼルダの 守り手 (zeruda in mamoritis) - Guardian of Zelda
グレグレト フェアリフェアリフェアリ (Gurēto Fearī) - Great Fairy