In this article we will share a complete list of gemstones in Japanese, stones that use ideograms and also the ones written in Katakana. If you're wondering how to say diamond, ruby or any other stone in Japanese, this article will answer your questions.
We also recommend reading:
Gemstones in Japanese with Kanji
In Japanese we have many gemstones that have their Japanese version with ideograms, they may not be often used, but their literal meanings and the combination of ideograms matches perfectly with the stone in question.
Between parentheses will be placed a short description of the stone or its literal meaning. Below is a list of gemstones in Japanese with Ideograms:
砥粒 (To-ryu) - Diamond - literally "grain to sharpen" (extremely hard carbon mineral stone)
紅玉 (Kogyoku) - Ruby - literally "red ball" (intense red mineral stone)
青玉 (Seigyoku) - Sapphire - literally "blue ball" (blue or blue-green mineral stone)
翡翠 (Hisui) - Emerald - literally "green stone" (intense green mineral stone)
藍玉 (Raigyoku) - Aquamarine - literally "light blue ball" (light blue or teal mineral stone)
蛋白石 (Tanpakuseki) - Opal - literally "protein stone" (mineral stone with opalescent appearance of multiple colors)
石榴石 (Shakuto-seki) - Garnet - literally "pomegranate stone" (mineral stone of various colors)
紫水晶 (Murasaki-suishou) - Amethyst - literally "purple crystal" (violet or purple colored mineral stone)
黄玉 (Ougyoku) - Topaz - literally "yellow ball" (mineral stone of various colors)
翠玉 (Suigyoku) - Turquoise - literally "light green ball" (blue-green colored mineral stone)
玉 (Tama) - Jade - literally "precious stone" (generic term referring to a wide variety of mineral stones used in jewelry, including jadeite and nephrite)
緑柱石 (Ryokuchuuseki) - Peridot - literally "yellow green stone" (yellowish-green colored mineral stone)
紫紅輝石 (Shikoukiseki) - Morganite - literally "purple pink glowing stone" (pink or purple colored mineral stone)
黄水晶 (Kisuishou) - Citrine - literally "yellow crystal" (yellow or yellowish-orange colored mineral stone)
蒼玉 (Sougyoku) - Blue Topaz - literally "light blue ball" (light blue colored mineral stone)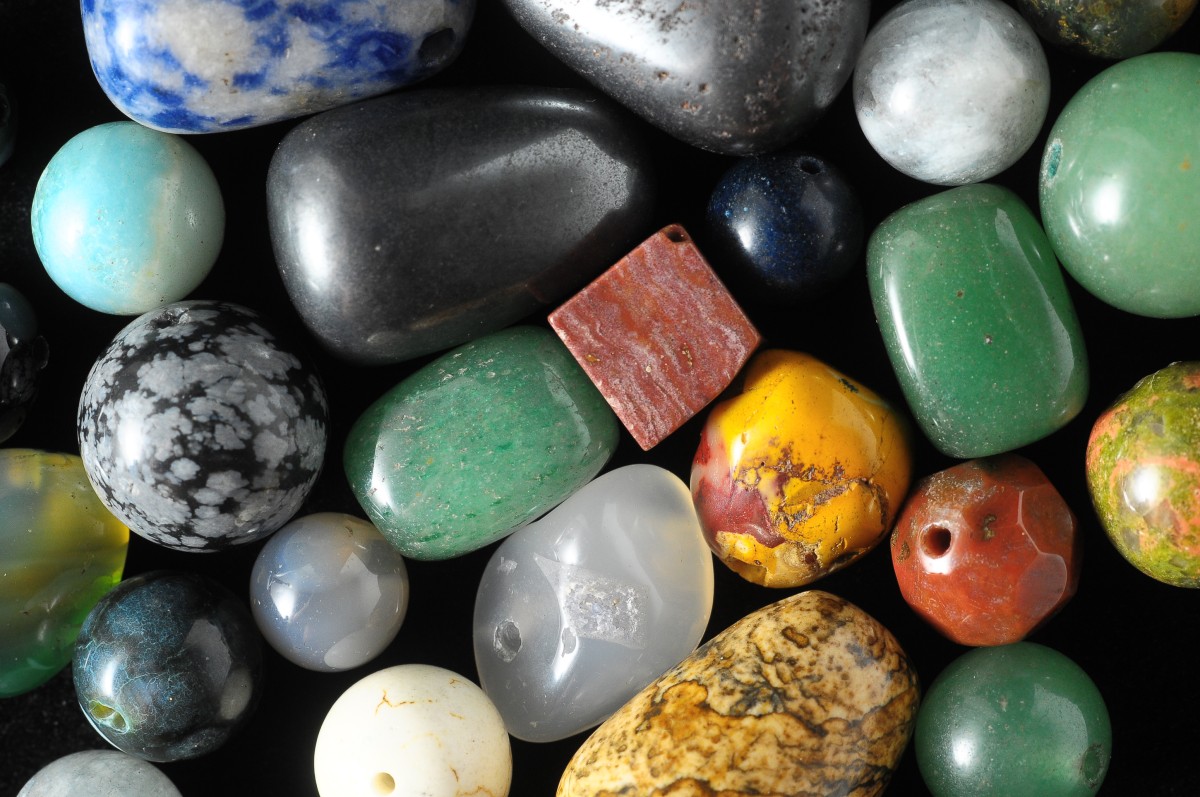 Below are more gems, but without focusing so much on the literal meanings of each ideogram:
紅水晶 (Beni-suishou) - Rose quartz (pink crystal)
葡萄石 (Budou-seki) - Pink Amethyst (grapestone)
黄玉髄 (Ou-gyoku-zui) - Yellow calcite (yellow ball marrow)
赤葡萄石 (Aka-budou-seki) - Rhodochrosite (Red Grape Stone)
黒曜石 (Kokuyou-seki) - Obsidian (shiny black stone)
黄銅鉱 (Oudoukou) - Chalcopyrite (yellow copper ore)
石榴子石 (Sekishizukushi-seki) - Grená (pomegranate stone)
黄玉石 (Ougyoku-seki) - Citrine (yellow ball stone)
芙蓉石 (Fuyou-seki) - Spinel (lotus flower stone)
蛍石 (Hotaru-ishii) - Fluorite (firefly stone)
水晶 (Suishou) - Crystal (water stone)
黒縞瑪瑙 (Kokujiman) - Onyx (black and white striped agate)
碧玉 (Heki-gyoku) - Blue Jade (blue-green gemstone)
瑪瑙 (Mano) - Agate (striped stone)
翠石 (Sui-seki) - Jade (green gemstone)
紫雲母 (Shikunmou) - Lepidolite (purple mica)
瑠璃 (Ruri) - Blue glass (cobalt blue glass)
雲母 (Unmou) - muscovite (transparent mica)
蛇紋石 (Jamon-seki) - Jasper (snake stone)
赤銅鉱 (Sekidoukou) - Red chalcopyrite (red copper ore)
黒柘榴石 (Kokuzetu-ringou) - Black garnet (black gemstone)
翠鷲石 (Suijuu-seki) - Turquoise (blue-green gemstone)
紫水晶 (Murasaki-suishou) - Amethyst (purple crystal)
白玉 (Byakugyoku) - White Jade (white gemstone)
黄水晶 (Ki-suishou) - Yellow quartz (yellow crystal)
玉鉱 (Gyokkou) - Spodumene (jade ore)
玉簾石 (Gyoku-rensui) - Serpentine (jade curtain stone)
藍玉髄 (Ai-gyoku-zui) - Lapis lazuli (blue ball marrow)
珊瑚 (Sango) - coral (coral)
紅珊瑚 (Beni-sango) - Red coral (red coral)
玉蜀黍 (Gyoku-shokoshu) - Opal (colored gemstone)
茜石 (Akane-seki) - Garnet (carmine stone)
碧玉髄 (Heki-gyoku-zui) - Jadeite (blue-green ball pith)
葉蝋石 (Yourou-seki) - Chrysoberyl (leaf wax stone)
紅玉 (Beni-gyoku) - Carnelian (red jade)
緑柱石 (Ryoku-chuu-seki) - Actinolite (green spine stone)
白雲母 (Byaku-unmou) - White muscovite (white mica)
蒼玉 (Sou-gyoku) - Gray Jade (gray gemstone)
緑玉髄 (Ryoku-gyoku-zui) - Vesuvianite (green ball marrow)
瑠璃色 (Ruri-iro) - Cobalt Blue (cobalt blue color)
碧翡翠 (Heki-hisui) - Green jade (blue-green jade)
赤瑪瑙 (Aka-mano) - Carnelian (red agate)
黄水晶 (Ki-suishou) - Yellow quartz (yellow crystal)
青金石 (Seikin-seki) - Lapis lazuli (blue fish stone)
虎眼石 (Kokyan-seki) - Tiger's Eye (Tiger's Eye Stone)
赤銅鉱 (Sekidoukou) - Red chalcopyrite (red copper ore)
翡翠 (Hisui) - Jade (green jade)
黒耀石 (Koku-you-seki) - Magnetite (black shiny stone)
緑柱石 (Ryoku-chuu-seki) - Actinolite (green spine stone)
石榴石 (Seki-shi-zu-ishi) - Garnet (pomegranate stone)
黄緑石 (Ou-ryoku-seki) - Peridot (yellow-green gemstone)
紫蛇紋石 (Murasaki-jamon-seki) - Purple Jasper (Purple Snake Stone)
赤金石 (Akakin-seki) - Pyrite (red gold stone)
真珠 (Shinju) - Pearl (pearl)
紅瑪瑙 (Beni-mano) - Red carnelian (red agate)
翡翠玉 (Hisui-dama) - Jadeite (green jade gemstone)
白金石 (Hakkin-seki) - Kyanite (white gold stone)
沙漠玫瑰 (Sabaku-barahana) - Desert Stone (desert rose)
赤水晶 (Aka-suishou) - Red quartz (red crystal)
瑪瑙色 (Mano-iro) - Agate (color) (agate color)
緑青石 (Rokushou-seki) - Malachite (blue-green stone)
玉髄 (Gyoku-zui) - Spodumene (jade marrow)
翡翠石 (Hisui-seki) - Jadeite (green jade gemstone)
青水晶 (Seisui-shou) - Blue quartz (blue crystal)
赤紅石 (Sekikou-seki) - Hematite (red stone)
紅雲母 (Beni-unmou) - Red muscovite (red mica)
葉石 (You-seki) - Chrysoberyl (leaf stone)
黒曜 (Koku-yo) - Obsidian (black stone)
紅緑石 (Beni-ryoku-seki) - Epidote (red and green stone)
青金魚石 (Seikin-gyo-seki) - Sodalite (blue fish stone)
白玉髄 (Byaku-gyoku-zui) - White Jade (White Jade Ball Marrow)
玉 (Tama) - Gemstone (jade, gemstone)
瑪瑙髄 (Mano-zui) - Agate with veins (agate pith)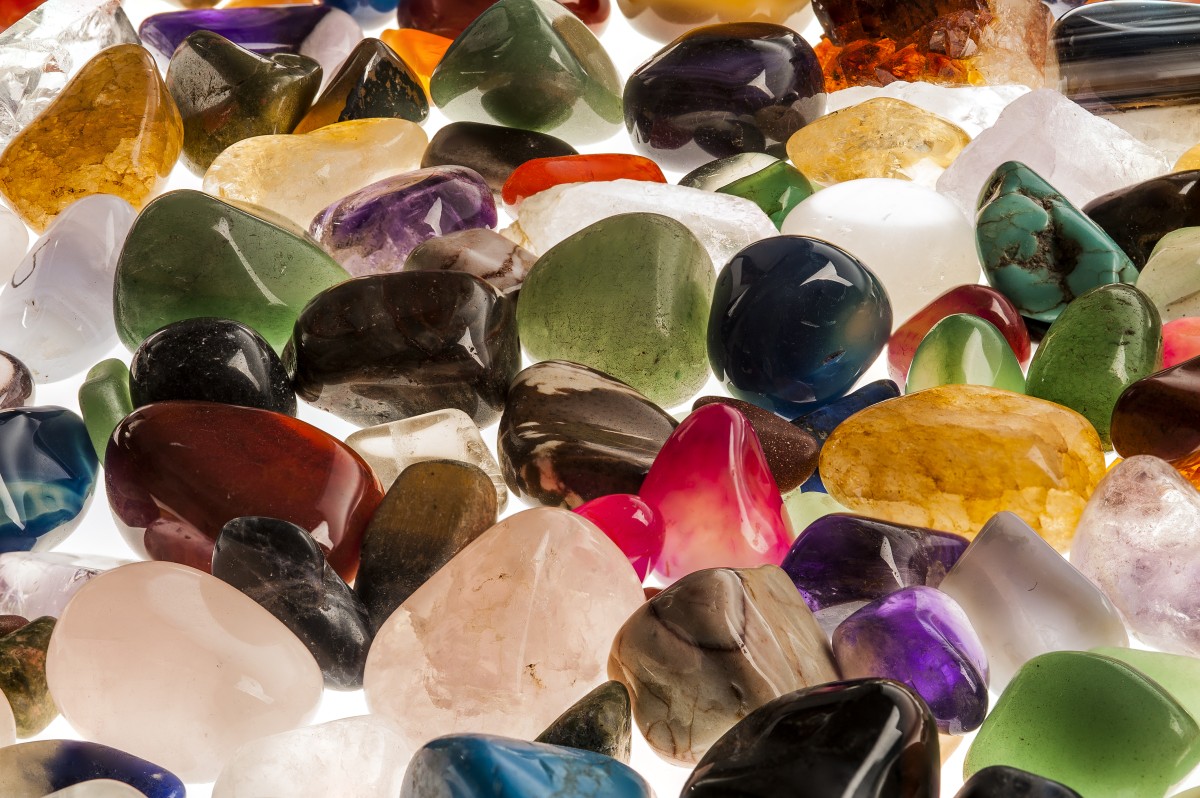 Precious Stones in Japanese with Katakana
Below is a list of gemstones commonly written in Katakana that have been imported from other languages:
ダイヤモンド (daiyamondo) - Diamond
ルビー (rubii) - ruby
サファイア (safaiya) - sapphire
エメラルド (emerarudo) - emerald
アクアマリン (akuamarin) - aquamarine
オパール (opaaru) - opal
ガーネット (gaanetto) - grenade
アメジスト (amejisuto) - amethyst
トパーズ (topaazu) - topaz
ターコイズ (taakoiizu) - turquoise
ジェード (jeedo) - jade
ペリドット (peridotto) - peridot
モルガナイト (moruganaito) - morganite
シトリン (shitorin) - citrine
ブルートパーズ (buruutopaazu) - blue topaz
ムーンストーン (muunsutoon) - moon stone
サンストーン (sansutoon) - Sunstone
アイオライト (aioraito) - iolite
ラピスラズリ (rapisurazuri) - lapis lazuli
アンバー (anbaa) - amber
タンザナイト (tanzanaito) - tanzanite
カーネリアン (kaanerian) - carnelian
ペリドット (peridotto) - peridot
スピネル (supineru) - spinel
クォーツ (kuootsu) - quartz
オニキス (onikisu) - onyx
ルチルクォーツ (ruchirukuootsu) - rutilated quartz
ヒスイ (hisui) - jadeite
サドルジャスパー (sadorujasupaa) - sardius jasper
ブラックダイヤモンド (burakkudaiyamondo) - black diamond