Have you ever wondered if the names of elements in Japanese? In this article you will see all the elements of the periodic table in Japanese called genso shuuki-hyou [元素周期表] i.e. periodic table of the elements.
The Japanese Color Periodic Table contains all 118 element atomic numbers, symbols, Japanese names and atomic masses. The colors show the different groups of elements.
Genso no Shuuki-hyou – Origin of the Elements
Names of elements in Japanese can be native, Chinese (Sino-Japanese), or European (gairaigo). She mainly employs katakana to transliterate the names of elements from European languages such as German, Dutch, Latin and English.
Although most elements written in Japanese are similar to Chinese, some were invented later to describe properties or characteristics of the element. They were mainly introduced around the 18th century in Japan.
Did you know that the periodic table has a chemical element named after Japan? Nihonium or Nipnium is the first element to be discovered by Japanese scientists. Element number 113 discovered by Kosuke Morita and his team.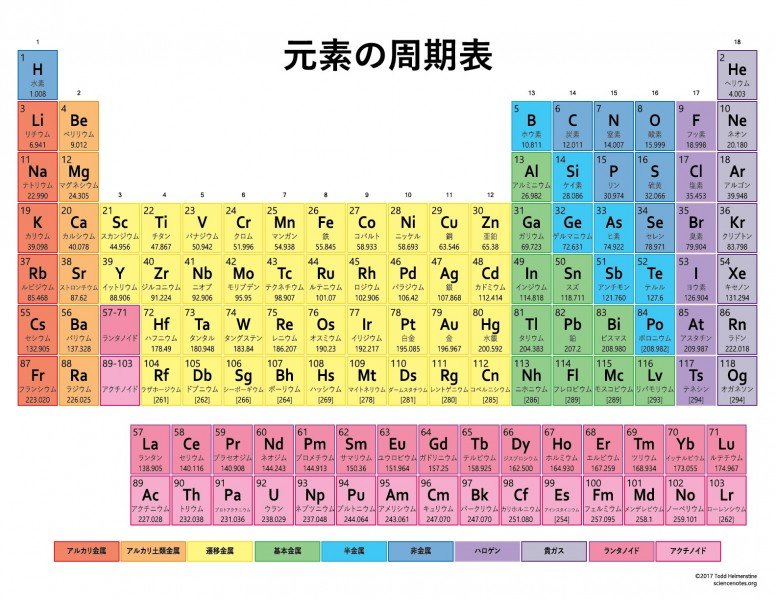 List of periodic table elements in Japanese
This table is a list of elements in Portuguese and Japanese organized by atomic number. The Romaji column has the Japanese pronunciation, while the last column has the Latin word.
If you are on a mobile device, please move the table with your finger to the side to see the other columns (there are 6 columns). There are no bugs, the table is fully manageable with a finger to the corners.
Responsive Table: Scroll the table to the side with your finger >>
| | | | | | |
| --- | --- | --- | --- | --- | --- |
| Number | Símbolo | Português | Japanese | Romaji | Latim |
| 1 | H | Hidrogênio | 水素 | Suiso | Hydrogenium |
| 2 | He | Hélio | ヘリウム | Heriumu | Helium |
| 3 | Li | Lítio | リチウム | Richiumu | Lithium |
| 4 | Be | Berílio | ベリリウム | Beririumu | Beryllium |
| 5 | B | Boro | ホウ素 | Houso | Borium |
| 6 | C | Carbono | 炭素 | Tanso | Carbonium |
| 7 | N | Nitrogênio | 窒素 | Chisso | Nitrogenium |
| 8 | O | Oxigênio | 酸素 | Sanso | Oxygenium |
| 9 | F | Flúor | フッ素 | Fusso | Fluorum |
| 10 | Ne | Neônio | ネオン | Neon | Neon |
| 11 | Na | Sódio | ナトリウム | Natoriumu | Natrium |
| 12 | Mg | Magnésio | マグネシウム | Maguneshiumu | Magnesium |
| 13 | Al | Alumínio | アルミニウム | Aruminiumu | Alumen |
| 14 | Si | Silício | ケイ素 | Keiso | Silicium |
| 15 | P | Fósforo | リン | Rin | Phosphorus |
| 16 | S | Enxofre | 硫黄 | Iou | Sulphur |
| 17 | Cl | Cloro | 塩素 | Enso | Clorum |
| 18 | Ar | Argônio | アルゴン | Arugon | Argon |
| 19 | K | Potássio | カリウム | Kariumu | Kalium |
| 20 | Ca | Cálcio | カルシウム | Karushiumu | Calcium |
| 21 | Sc | Escândio | スカンジウム | Sukanjiumu | Scandium |
| 22 | Ti | Titânio | チタン | Chitan | Titanium |
| 23 | V | Vanádio | バナジウム | Banajiumu | Vanadium |
| 24 | Cr | Cromo | クロム | Kuromu | Chromium |
| 25 | Mn | Manganês | マンガン | Mangan | Manganum |
| 26 | Fe | Ferro | 鉄 | Tetsu | Ferrum |
| 27 | Co | Cobalto | コバルト | Kobaruto | Cobaltum |
| 28 | Ni | Níquel | ニッケル | Nikkeru | Niccolum |
| 29 | Cu | Cobre | 銅 | Dou | Cuprum |
| 30 | Zn | Zinco | 亜鉛 | Aen | Zincum |
| 31 | Ga | Gálio | ガリウム | Gariumu | Galium |
| 32 | Ge | Germânio | ゲルマニウム | Gerumaniumu | Germanium |
| 33 | As | Arsénio | ヒ素 | Hiso | Arsenicum |
| 34 | Se | Selénio | セレン | Seren | Selenium |
| 35 | Br | Bromo | 臭素 | Shuso | Bromum |
| 36 | Kr | Criptônio | クリプトン | Kuriputon | Krypton |
| 37 | Rb | Rubídio | ルビジウム | Rubijiumu | Rubidium |
| 38 | Sr | Estrôncio | ストロンチウム | Sutoronchiumu | Strontium |
| 39 | Y | Ítrio | イットリウム | Ittoriumu | Yttrium |
| 40 | Zr | Zircônio | ジルコニウム | Jirukoniumu | Zirconium |
| 41 | Nb | Nióbio | ニオブ | Niobu | Niobium |
| 42 | Mo | Molibdénio | モリブデン | Moribuden | Molybdenum |
| 43 | Tc | Tecnécio | テクネチウム | Tekunechiumu | Technetium |
| 44 | Ru | Rutênio | ルテニウム | Ruteniumu | Ruthenium |
| 45 | Rh | Ródio | ロジウム | Rojiumu | Rhodium |
| 46 | Pd | Paládio | パラジウム | Parajiumu | Palladium |
| 47 | Ag | Prata | 銀 | Gin | Argentum |
| 48 | Cd | Cádmio | カドミウム | Kadomiumu | Cadmium |
| 49 | In | Índio | インジウム | Injiumu | Indium |
| 50 | Sn | Estanho | スズ | Suzu | Stannum |
| 51 | Sb | Antimônio | アンチモン | Anchimon | Stibium |
| 52 | Te | Telúrio | テルル | Teruru | Tellurium |
| 53 | I | Iodo | ヨウ素 | You moto | Iodum |
| 54 | Xe | Xenônio | キセノン | Kisenon | Xenon |
| 55 | Cs | Césio | セシウム | Seshiumu | Caesium |
| 56 | Ba | Bário | バリウム | Bariumu | Barium |
| 57 | La | Lantânio | ランタン | Rantan | Lanthanum |
| 58 | Ce | Cério | セリウム | Seriumu | Cerium |
| 59 | Pr | Praseodímio | プラセオジム | Puraseojimu | Praseodymium |
| 60 | Nd | Neodímio | ネオジム | Neojimu | Neodymium |
| 61 | Pm | Promécio | プロメチウム | Puromechiumu | Promethium |
| 62 | Sm | Samário | サマリウム | Samariumu | Samarium |
| 63 | Eu | Európio | ユウロピウム | Yuropiumu | Europium |
| 64 | Gd | Gadolínio | ガドリニウム | Gadoriniumu | Gadolinium |
| 65 | Tb | Térbio | テルビウム | Terubiumu | Terbium |
| 66 | Dy | Disprósio | ジスプロシウム | Jisupuroshiumu | Dysprosium |
| 67 | Ho | Hólmio | ホルミウム | Horumiumu | Holmium |
| 68 | Er | Érbio | エルビウム | Erubiumu | Erbium |
| 69 | Tm | Túlio | ツリウム | Tsuriumu | Thulium |
| 70 | Yb | Itérbio | イッテルビウム | Itterubiumu | Ytterbium |
| 71 | Lu | Lutécio | ルテチウム | Rutechiumu | Lutetium |
| 72 | Hf | Háfnio | ハフニウム | Hafuniumu | Hafnium |
| 73 | Ta | Tântalo (tantálio) | タンタル | Tantaru | Tantalum |
| 74 | W | Tungstênio | タングステン | Tangusuten | Wolframium |
| 75 | Re | Rênio | レニウム | Reniumu | Rhenium |
| 76 | Os | Ósmio | オスミウム | Osumiumu | Osmium |
| 77 | Ir | Irídio | イリジウム | Irijiumu | Iridium |
| 78 | Pt | Platina | 白金 | Shirogane | Platinum |
| 79 | Au | Ouro | 金 | Kin | Aurum |
| 80 | Hg | Mercúrio | 水銀 | Suigin | Hydrargyrum |
| 81 | Tl | Tálio | タリウム | Tariumu | Thallium |
| 82 | Pb | Chumbo | 鉛 | Namari | Plumbum |
| 83 | Bi | Bismuto | ビスマス | Bisumasu | Bismuthum |
| 84 | Po | Polônio | ポロニウム | Poroniumu | Polonium |
| 85 | At | Ástato | アスタチン | Asutachin | Astatum |
| 86 | Rn | Rádon (Radônio) | ラドン | Radon | Radon |
| 87 | Fr | Frâncio | フランシウム | Furanshiumu | Francium |
| 88 | Ra | Rádio | ラジウム | Rajiumu | Radium |
| 89 | Ac | Actínio | アクチニウム | Akuchiniumu | Actinium |
| 90 | Th | Tório | トリウム | Toriumu | Thorium |
| 91 | Pa | Protactínio | プロトアクチニウム | Purotoakuchiniumu | Protactinium |
| 92 | U | Urânio | ウラン | Uran | Uranium |
| 93 | Np | Ne(p)túnio | ネプツニウム | Neputsuniumu | Neptunium |
| 94 | Pu | Plutônio | プルトニウム | Purutoniumu | Plutonium |
| 95 | Am | Amerício | アメリシウム | Amerishiumu | Americium |
| 96 | Cm | Cúrio | キュリウム | Kyuriumu | Curium |
| 97 | Bk | Berquélio | バークリウム | Bakuriumu | Berkelium |
| 98 | Cf | Califórnio | カリホルニウム | Karihoruniumu | Californium |
| 99 | Es | Einsténio | アインスタイニウム | Ainsutainiumu | Einsteinium |
| 100 | Fm | Férmio | フェルミウム | Ferumiumu | Fermium |
| 101 | Md | Mendelévio | メンデレビウム | Menderebiumu | Mendelevium |
| 102 | No | Nobélio | ノーベリウム | Nouberiumu | Nobelium |
| 103 | Lr | Laurêncio | ローレンシウム | Rourenshiumu | Lawrencium |
| 104 | Rf | Rutherfórdio | ラザホージウム | Razahoujiumu | Rhuterfordium |
| 105 | Db | Dúbnio | ドブニウム | Dobuniumu | Dubnium |
| 106 | Sg | Seabórgio | シーボーギウム | Shibougiumu | Seaborgium |
| 107 | Bh | Bóhrio | ボーリウム | Bouriumu | Bohrium |
| 108 | Hs | Hássio | ハッシウム | Hasshiumu | Hassium |
| 109 | Mt | Meitnério | マイトネリウム | Maitoneriumu | Meitnerium |
| 110 | Ds | Darmstácio | ダームスタチウム | Damusutachiumu | Darmstadtium |
| 111 | Rg | Roentgénio | レントゲニウム | Rentogeniumu | Roentgenium |
| 112 | Cn | Copernício | コペルニシウム | Koperunishiumu | Copernicium |
| 113 | Nh | Nipônio | ニホニウム | Nihoniumu | Nihonium |
| 114 | Fl | Fleróvio | フレロビウム | Furerobiumu | Flerovium |
| 115 | Mc | Moscóvio | モスコビウム | Mosukobiumu | Moscovium |
| 116 | Lv | Livermório | リバモリウム | Ribamoriumu | Livermorium |
| 117 | Ts | Tenesso | テネシン | Teneshin | Tennessine |
| 118 | Og | Oganésson | オガネソン | Oganeson | Oganesson |