Continuing now with the second part of the sweets and places of the Japanese series Kantaro: The Sweet Tooth Salaryman which is available on Netflix for you to watch.
Now we will see the last 6 episodes indicating the candy, which is usually the name of the episode and "headline", plus any that were mentioned.
Don't forget to visit part 1 which shows the locations and candies that appeared in the first 6 episodes by clicking the link below:
Kantaro: The Sweet Tooth Salaryman – Sweets and Places – Part 1
Kantaro: The Sweet Tooth Salaryman – Sweets and Places – Part 2 (This article)
Kantaro: The Sweet Tooth Salaryman
Following the same way of presenting each sweet and place in the first part. You will see a short description of each candy, store name in the respective episode plus link to Google Maps.
The goal is not to know the recipe to learn how to prepare them, but that you know the name to research about or even visit in person. when you go to japan.
Episode 7 – Savarin
Unlike the other episodes, it is focused on Kanako Dobashi who, after seeing a review of a candy on the blog, wants to taste it. By coincidence, her boss invites her to try to win new customers and she will pass by the cafeteria.
English cake
There are several types, sizes and fillings, but in general you will find it in the rectangular shape. Its main ingredients are butter, margarine, candied fruit, etc.
Store: Patisserie Gondola 【ゴンドラ】
Place: Chiyoda, Tokyo, Japan
Mame-Daifuku 【豆大福】
Many Japanese sweets are made with adzuki bean paste (anko) as a filling, but this Daifuku version adds soy, mixing it together.
Store: Tsuruse 【つる瀬 本店】
Place: Bunkyō, Tokyo, Japan
Savarin
Almost finishing the work Toru, Dobashi's boss, invites her to go to a cafe, but she decides to take the opportunity to visit another cafe that has savarin.
As usual, this sweet can vary and the ingredients most found in your recipe are brioche dough, syrup, rum, whipped cream, crème anglaise as a filling, etc.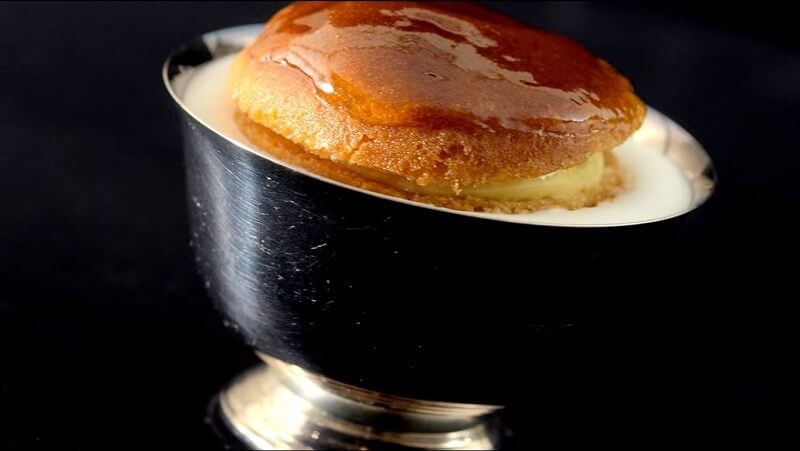 lemon financier
At the same coffee shop, Dobashi buys some to take to work. Similar to a small cookie, we have it in the most diverse flavors, in this case it goes butter, egg whites, lemon, almond flour, etc.
Store: 【カフェ ルシェルシュ】 Café Recherche – (Permanently closed on 9/22/2019)
Place: Yokohama, Kanagawa, Japan
Episode 8 - Ohagi
On his day off, Kantaro fulfills a request/favor his boss asked him to do. He asks you to take care of his son while he goes on an appointment. As his main objective in life is to taste the best sweets, he already has in mind which one and where he is going to buy it.
Ohagi 【おはぎ】
Similar to mochi, it is made with glutinous and non-glutinous rice (where he bought it) usually plus other ingredients like vanilla bean paste, flowers like yaezakura, seaweed salt, coconut, lemon peel, walnut, etc. This bakery has a wide variety of flavors.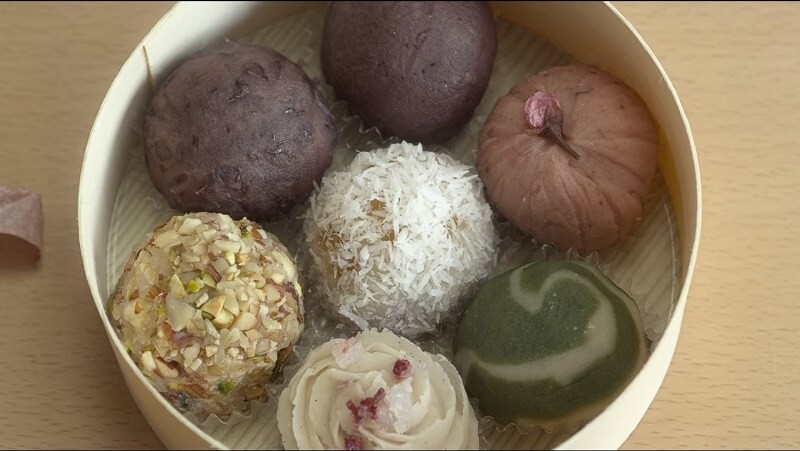 Store: Takeno to Ohagi【タケノとおはぎ】
Place: Setagaya, Tokyo, Japan
You may have noticed that most Japanese sweets are anko, which is made from adzuki beans, right? It has some variations in name and preparation. like koshian and tsuban.
Episode 9 – Eclair
Before even starting to eat Kantaro receives a call from his mother asking to sleep at his house and at the same moment he starts to panic. She is a dentist and has always forbidden him to eat any kind of candy in his childhood, and this turned out to be one of the reasons that triggered his fanaticism in his adult life.
Sweet Lip (Sweet Gloss)
Before his mother arrives, he feels that he has a low level of sweets/glucose and, as he is always prepared, he takes a sweet lip that is nothing more than a mitsuame, made with caramelized sugar and malt syrup, and rubs it on your lips.
Store: Ameya Eitaro 【あめやえいたろう 新宿伊勢丹店】
Place: Shinjuku, Tokyo, Japan
Éclair de caramelo e chocolate
As he couldn't eat, having to run home, he ended up asking them to pack for the trip. After his mother sleeps he eats both flavors in front of her to make a tantrum.
Also known as stuffed bomb, it is made with caramel cream, sugar, guerande salt, butter, wheat flour, chocolate, etc.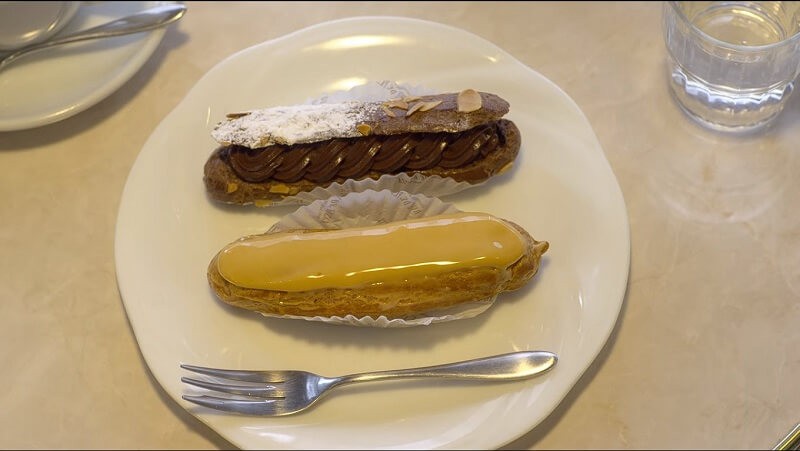 Store: Rue De Passy 【リュードパッシー】
Place: Meguro, Tokyo, Japan
See too:
18 Wagashi – Japanese desserts
Yogashi Japanese Confectionery Course
Episode 10 – Caramel Pudding
As it is not customary to work late, the office staff is surprised that he has not left at the time he always does. Before you go your boss gives you a donut you forgot to eat that day.
After everyone leaves he plans to eat what he calls night candy (夜スイーツ – Yoru suitsu). His plan doesn't work out when his boss comes back and asks him to come along and socialize.
almond tofu
While the fraternization takes place, Kantaro smiles at the guests, but inside he only thinks about the pudding. Before they finish, his boss asks for dessert, almond tofu, and makes him sway, but even so, he resists the "temptation". Its main ingredients are almond milk or cream and agar-agar.
The restaurant he goes to next is Italian and, in addition to Neapolitan pizzas, it offers the most diverse sweets of Italian origin and also makes a good caramel cream. He names three and eats the main one.
Tiramisu
This is the first one he mentions and it's made with champagne biscuit, coffee, cream cheese, etc.
gelato
similar to ice cream, but with the difference of being always fresh, produced daily, and less greasy than a conventional one. It also generally uses natural ingredients.
affogato
Another Italian dessert made with vanilla gelato and most often served with hot espresso. There are variations, but in general these are the main ingredients.
Caramel Pudding (Caramel Pudding)
Firmer than a conventional pudding made with egg yolks, sugar, vanilla, milk, whipped cream, etc. The specific pudding of this restaurant has a larger size, 20 centimeters, than the ones usually made.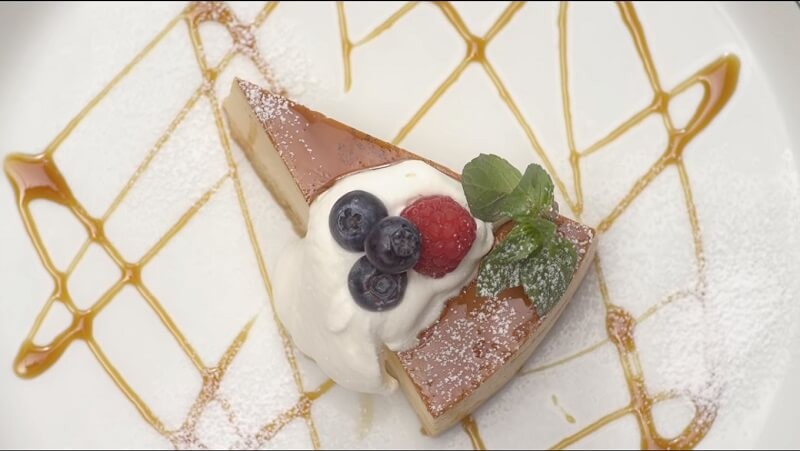 Store: ESSE DUE 【エッセドゥエ】
Place: Minato, Tokyo, Japan
Episode 11 – Chocolate
Unlike the other episodes, there will be a store specializing in chocolate that he will visit to taste the options offered by the owner.
mom daifuku (豆大福)
Once again Dobashi fails to awaken Kantaro's "instinct" by offering him a taste of mame daifuku bought at Tsuruse, as he had already left for his routine of visiting bookstores. Daifuku adds one more name depending on the region it was made in. In this case, azuki beans or soybeans are mixed in mochi.
Cocoa seed and juice
Upon arriving at the store accompanied by a co-worker Kentaro Ito (伊藤健太郎) who had already found out about her sweet-tooth escapades during her visits in episode 4, but was neutralized by Kentaro also knowing his secret. This juice is made from the pulp extracted directly from the fruit. Then Ito himself tastes the cocoa bean and compares with cassis.
Chocolate
With a good variety of cocoa available in the store from various parts of the world, such as Ghana, Haiti and other countries, seeds from Vietnam were chosen for them. Chocolate bars were made on the spot and only sugar is included.
Chocolate fondant pie
Not content with just tasting this chocolate bar, he orders the store's "popular attraction", the specialty sweets (スペシャルスイーツ). The special sweet of the day was the chocolate fondant tart that is made from Haitian cocoa (he describes that this one has amazake smell), almonds, Javanese long pepper, ganache, chocolate ice cream and caramelized honey tuile.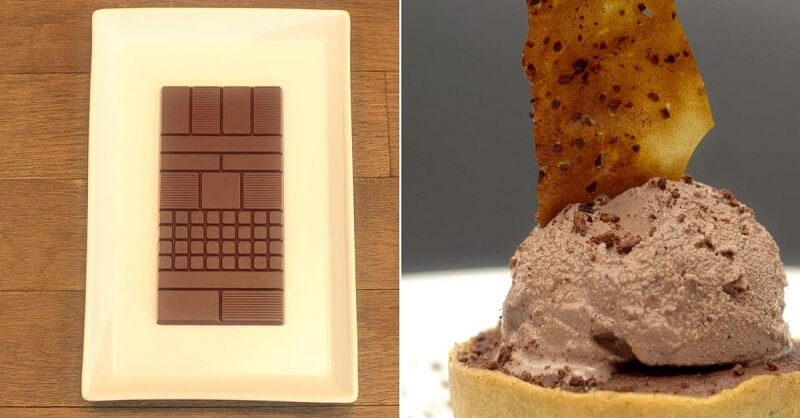 Store: Minimal Tomigaya 【ミニマル 富ヶ谷本店】
Place: Shibuya, Tokyo, Japan
Episode 12 – Mont Blanc
In this final episode, he cites a previously mentioned sweet and place plus two places that are pastry shops that famous artists have already recommended. They are:
Roasted chestnuts
In addition to trying roasted chestnuts, you have the option of choosing to have them prepared in the "kanro". The method of preparation is to remove the rind and skin, cook and then soak in the syrup for some time.
Mont Blanc Hitomura
This restaurant is specialized and serves everything based on chestnuts. O mont blanc premium hitomura it has a different preparation than the standard one because it doesn't use liqueur or flavorings and goes with meringue around it.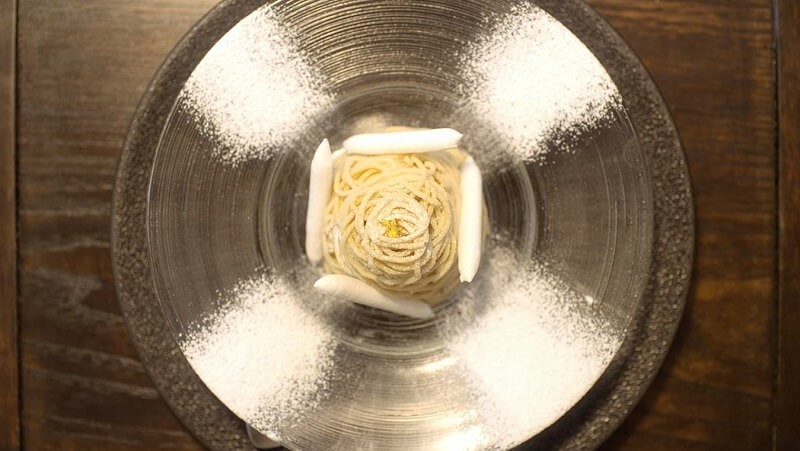 chestnut pie
This is the last candy closing the first season of this Japanese series. Kantaro buys chestnut tarts (which is very rare on his part) to give to the people in his office. As the name says, it goes chestnut, flour, butter, etc.
Store: Waguriya 【和栗や】
Place: Taito, Tokyo, Japan
closing song
Do you know what the credits song is? it's from the band Itowokashi and the name is ice cream. Check it out in the player below:
And so ends Kantaro Ametani's adventures/crazies, tasting the most diverse sweets in stores throughout Tokyo.
It probably won't have a second season (it doesn't have enough material), but what could happen is that there will be a original material created especially for the series as with anime (dreaming is free:) ).
Don't forget to share to let more people know about the sweets and sights of Tokyo city that are featured in Kantaro: The Sweet Tooth Salaryman!
https://skdesu.com/en/japan-product/