The dream of many, especially otakus, is to visit the neighborhood of Akihabara [秋葉原] the world's largest electronic and otaku center. Also known for being the largest sales center for games, computers, electronics and products related to anime and manga.
During my travels to Japan in Tokyo, I always stay in the Akihabara neighborhood. This Guide aims to help you have a good experience in Akihabara and discover all its possibilities.
I want to advance by saying that if you imagine Akihabara as a neighborhood full of people dressed as anime characters, you will be disappointed!
About Akihabara Neighborhood
akihabara (秋葉原) is a famous neighborhood in the district of Chiyoda located in Tokyo. Akihabara is a true home for the otaku! The name akihabara is an abbreviation of akibagahara (秋葉が原) which means "Autumn Leaves Field". This neighborhood also receives an affectionate abbreviated nickname: akiba.
In this technological paradise you can find absolutely everything:
Maid Cafés and other themed cafés;
Card Game Stores
Console stores and old games;
Computers and parts;
Cameras and accessories;
Manga, eroge and dōjinshi;
Anime, action figures, clothes, all kinds of themed stuff;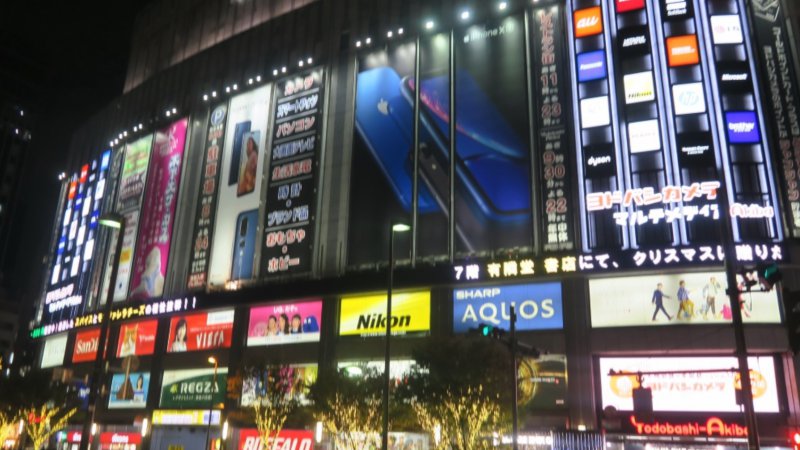 It is also possible to come across thousands of Cosplayers, Itasha, Giant Robots and thousands of banners and items scattered around, spreading the culture otaku.
It is possible to find the famous cafe and even members of the group AKB48 composed of 48 young and beautiful girls, who sing and dance using cosplay and fancy clothes. Not to mention thousands of other shows, events and conventions that take place in this neighborhood.
It is also one of the biggest places of pachinko, which is equivalent to casinos, arcade style, but instead of betting money, you bet for gifts and other anime products, games, etc. There are other places like Game Centers, Karaoke and other leisure centers that surround the neighborhood.
On weekends and holidays avenues such as Chuo Dori are closed and turn into a wide boardwalk for concerts and a stage for young people to present their cosplays, where they take pictures with visitors and friends.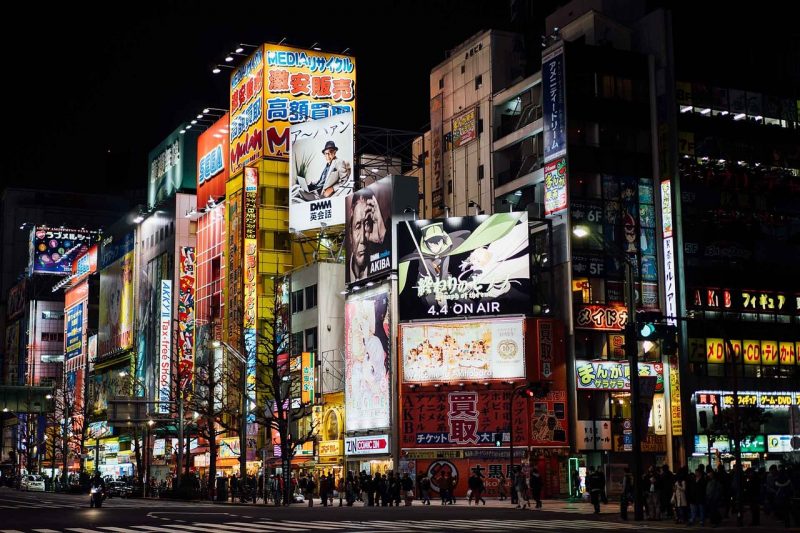 Arriving in Akihabara
It was around 7 pm I arrived at Akihabara station towards my hotel and took the opposite way, seeing for the first time what this neighborhood is like. I just saw stores and high school girls and maids on the street. I realized that I was going the wrong way and came back crossing a prominent avenue that is close to the station that separates Akiba from the neighborhood where my Hotel was.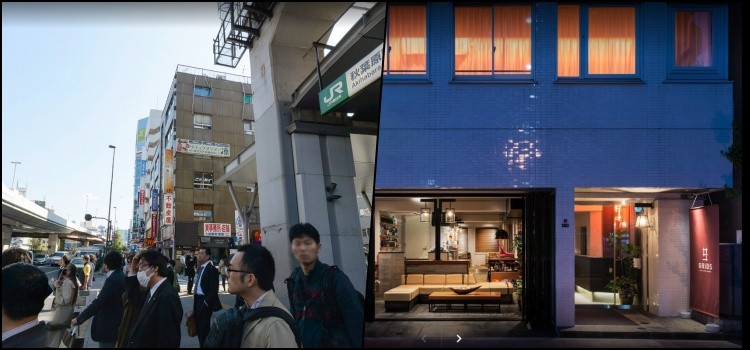 It was summer, I ended up in the rain, I arrived at my Hotel (GRIDS HOSTEL AKIHABARA) all wet, and I was served very well with a towel. Every morning when I left my Hostel I would buy a smoothie or drink at the vending machine and go towards the Akihabara neighborhood and I used to buy a nikuman at the konbini or go to the bakery next to the station called come from France.
I remember that next to this bakery there was a pharmacy and also the biggest electronics store in Akihabara the Yodobashi Kamera. It was a neighborhood, there wasn't much to do other than walk around the anime stores and be scared by the prices of shirts that exceed 6,000 yen. There was a 7-story building that I liked to climb that was full of stores, if I'm not mistaken, it's the NHK radio station.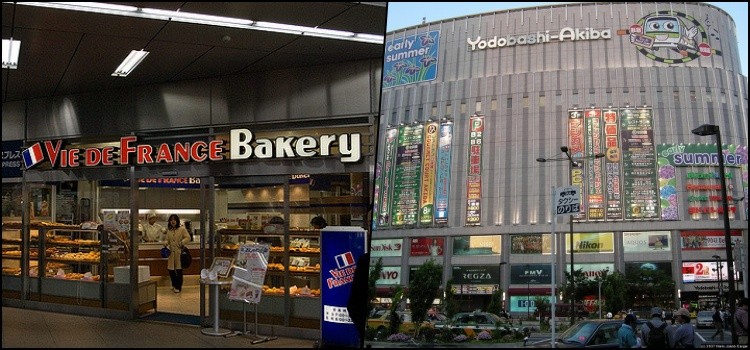 Experiences in Akihabara
During my stay in Tokyo, practically every day I walked around the akihabara neighborhood. In some moments I met with the group of Japanese Online Program to walk around the neighborhood. I remember that some strangers approached us inviting us to dinner at a restaurant located in a building.
Don't fall for it, these foreign hunters promise a good and cheap meal, but then end up charging absurd prices. We already knew that, we are smart, but it was difficult to stop their insistence. The other day a woman called me to her store and ended up making me buy 2,000 yen worth of souvenirs that weren't even worth 500. Stupid of me, since I was treated well and I can't refuse things.
My stay in Akihabara was not as interesting as people think. I didn't go to any night parties, nor did I know people to help me explore the place. The most I did was go to a Maid Cafe with a friend from the Japanese Online Program class. It was an interesting experience though, man. You can read more in our article about Maid Cafe.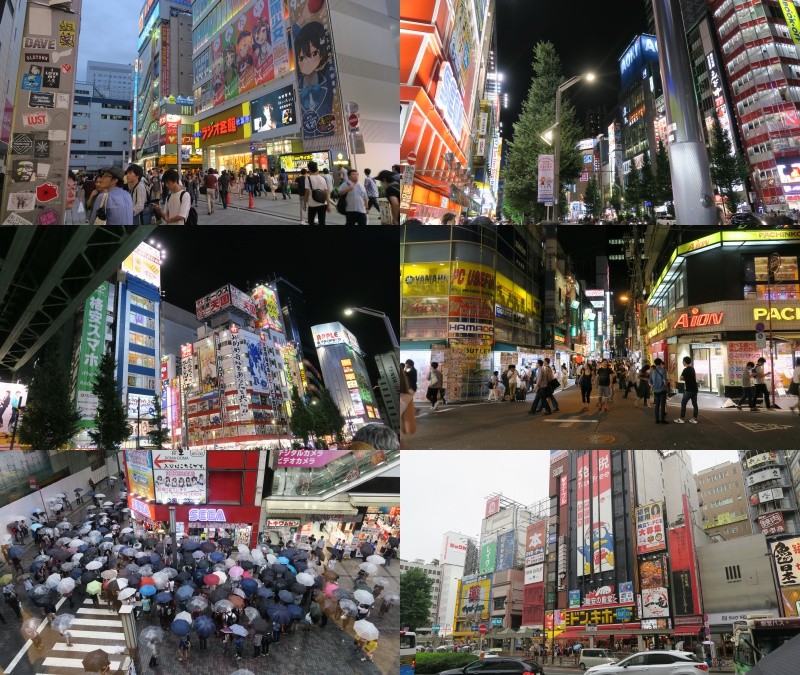 My disappointments in Akihabara
This neighborhood is really wonderful, with thousands of stores and products, but I personally found everything expensive. Had anime shirts costing as much as 10,000 yen. Action figures vary their prices according to the popularity of the anime, etc.
Another thing that disappointed me a little was the fact that I didn't meet many cosplayers during my stay. I found many maids but few cosplayers. Even though it's a wonderful neighborhood, I recommend used stores in japan, for you to buy manga and action figures. Since Akihabara's products are priced for the japanese salary.
Some neighborhood locations stand out like Softmap, yodobashi, maidreamin, mandarake, Animate and many others. It is worth mentioning the Sega game center and the Kaikan radio which is a large mall, they stand out on the main street at the exit of Akiba station. It is worth remembering that you don't have to go to Akihabara to find these main stores, most of them are present in several cities and neighborhoods.
Have you ever visited the Akihabara neighborhood? Tell us your experience in the comments and share with your friends.
Videos about Akihabara