Ryokan [旅館] are Japanese inns that maintain the tradition of inns from the Edo Period. In this accommodation, everything is traditional, from its structure to even the customs and environment.
Among the traditional aspects of the Ryokan we have its construction, garden, rooms, bedding, onsen, food and others. It's like traveling back in time and experiencing the charm of old Japan.
This accommodation has been a great gem of relaxation popular with the wealthy for hundreds of years, today there are affordable Ryokans as well as chic and traditional inns that offer countless experiences at a premium price.
We also recommend reading:
How are the ryokan?
There are different types of Ryokan, varying greatly in terms of size, cost and style. Some are small family establishments with few rooms, while others are large, with hundreds of rooms.
Guests sleep in rooms named after flowers, on a futon on Tatami, wearing traditional Yukata. Everything at Ryokan is in harmony with nature. Unfortunately, this experience can be expensive.
Rates include breakfast and typical dinner, served in the room. Many have collective or private hot springs, which makes it a perfect place to spend your honeymoon with your loved one.
The doors are sliding, the entrance is relatively large, with sofas and chairs for guests to sit and chat. The food served is usually traditional Kaiseki.
Read too: Kaiseki: The Japanese Art of Food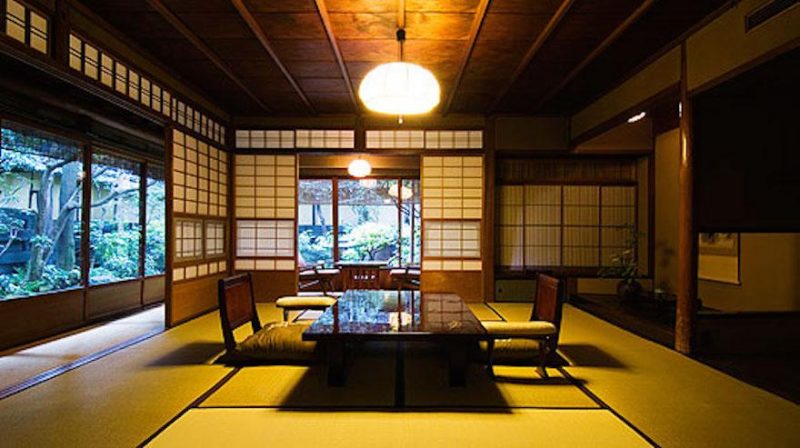 Traditions at Ryokan
Yukata is an indispensable piece in Ryokan and Onsen, which in these traditional houses can even be mixed baths. In some inns they usually offer several Yukata prints.
It is very common to wear this garment after showering at the Onsen, it is also quite common to go out with this garment in the middle of the night. These guesthouses offer an enormous landscape and gardens, in addition to their beautiful architecture.
Meals are typical dishes with different colors, textures and flavors, served on fine Japanese crockery and ceramics that delight guests.
In addition to typical dishes such as tempura and sashimi, local specialties from the region are served. For breakfast, also traditional, rice, fish and Misoshiru (soybean noodle soup) are usually served.
Finally, there is a whole welcoming atmosphere that makes guests feel at home. It's a unique cultural experience! each inn has its differentials, so it is difficult to describe what a Ryokan can offer.
We also recommend reading: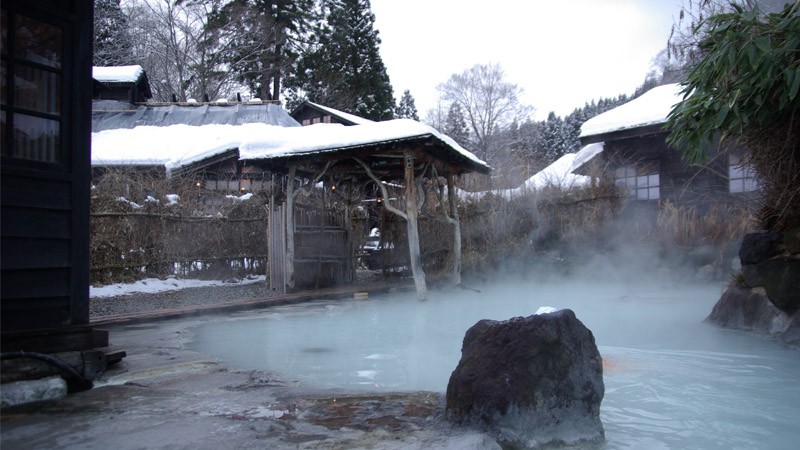 How much does a Ryokan cost?
Generally, a Ryokan can have a daily rate of up to 100,000 yen (3,000 reais). It all depends on the location, popularity and service involved. It is possible to find 10,000 yen, but they are usually in the 30,000 range;
There are inns that are very similar to a ryokan, they even offer onsen, but they don't have all that charm and tradition. These places can usually be found for even less than 5,000 yen.
You can also meet one without having to stay there. Usually some are open to the public due to the onsen. I myself went to a mixed onsen in izu where accommodation was only 19,000 yen.
Although it seems like a hefty price tag, it's worth remembering that yukata attire, onsen, kaiseki food, and room service are involved. Generally, just the onsen in these mountains and open forests, cost over 3,000 yen.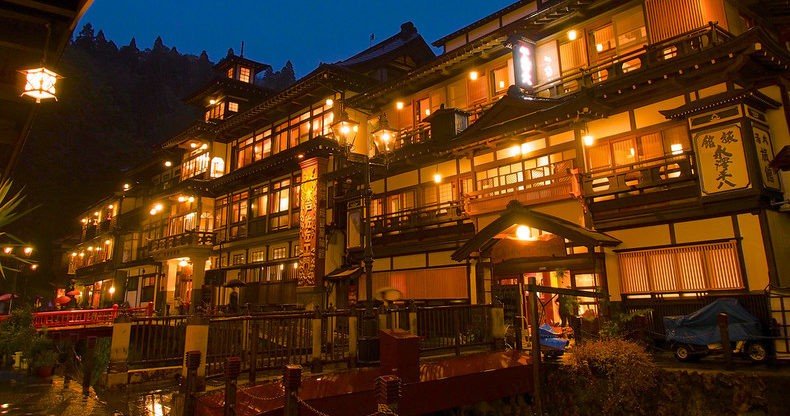 Minshuku and Pensions – Alternative accommodation
If you don't want to spend a lot of money but want to experience traditional Japanese accommodation, we also recommend Minshuku [民宿] or traditional family guesthouses.
They are cheap alternatives where the rooms usually follow the same style as a Ryokan, you can usually also find the same services offered in these places cheaper.
Pensions tend to have a higher cost than a Minshuku, families who inherit or have a large Japanese-style house often create their own accommodation. It can be an even better experience to stay in a guesthouse.
Depending on the location, you may have direct contact with the family or residents of the place. Maybe it's a good option to make friends and get to know a little about Japanese culture.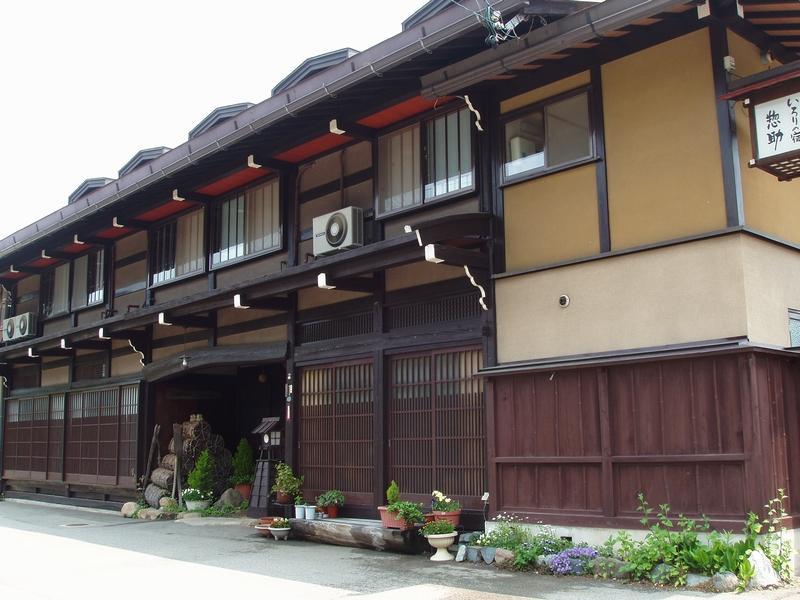 Tokyo's Best Ryokan
Try staying at a traditional Japanese inn (ryokan) without breaking the bank. All of these ryokans mentioned in this article welcome foreign visitors and can be easily booked online.
homeikan – An authentic ryokan located right in the center of Tokyo. Rooms feature traditional furniture and there is even a Japanese garden.
Ryokan Eishinkan – This family-run ryokan underwent a total renovation in 2011. It is located right in the center of Tokyo, so there are numerous attractions within walking distance, including Akasaka Palace and Shinjuku National Garden.
Ryokan Asakusa Shigetsu – A family-friendly ryokan adjacent to the Nakamise-dori traditional shopping arcade and Senso-ji Temple. It has Japanese and Western-style rooms, and a large public bath on the top floor.
Sukeroku-no-Yado Sadachiyo – All rooms have the traditional tatami style and private bathroom. There are also two large public baths, one made of cypress wood and the other made of black granite. Japanese antiquities are on display to recreate the atmosphere of the samurai era, and Senso-ji Temple is just a few minutes' walk away.
Sakura Ryokan – Close to Ueno Park and Asakusa Senso-ji Temple – two of Tokyo's most popular tourist attractions. It is located in a quiet residential neighborhood that still retains much of the atmosphere of old Tokyo.
Ryokan Asaksua Mikawaya Honten – Just a 1-minute walk from Senso-ji Temple in Asakusa, and right next to the historic Nakamise-dori shopping street, this ryokan makes a great base for sightseeing. It has traditional tatami-matami rooms with en-suite bathrooms.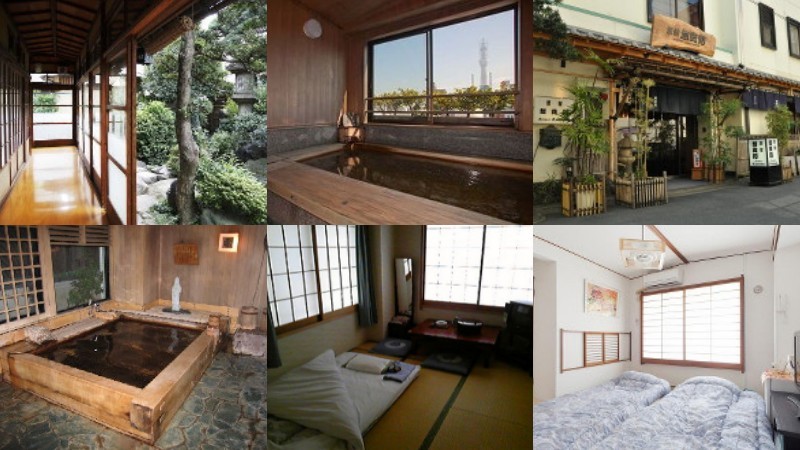 Ryokan Kamogawa Asakusa – Located in downtown Asakusa, it is just a 30-second walk from Nakamise-dori, where you can buy traditional Japanese souvernirs, and a 5-minute walk from Senso-ji Temple.
Chiyoda Inn – This modern ryokan has both Japanese and Western-style rooms. It is located north of central Tokyo, which makes it a good base for exploring the city.
Shin-Okubo Sekitei – All rooms in this elegant modern hotel are Japanese-style and en-suite. It is very close to Shinjuku.
Hotel Fukudaya – Just a 15-minute walk from Shibuya Station, this ryokan is perfectly situated for Tokyo's fashion, nightlife and youth scene. Harajuku, Daikanyama and Ebisu are just a 15-minute walk away.
Ryokan Maizuru – Located north of downtown Tokyo, all rooms have futons and tatami rugs, and there's a small Japanese garden. A Japanese-style bath is available for private use.
Ryokan Fuji – A friendly family-run ryokan, conveniently located for central and eastern Tokyo. The spacious bedrooms have traditional tatami rugs and are en-suite. Western and Japanese-style breakfast is available.
Kyoto's Best Ryokan
Now let's see the most accessible Ryokan for foreigners in the Kyoto region:
Nagomi Ryokan Yuu – This ryokan is a great choice if you want to experience Japanese culture. You can try on an antique kimono and participate in a tea ceremony. Rooms are Japanese style with futons in an 80 year old location.
Ryokan Hirashin – A modern ryokan located downtown. Nijo Castle and the Gion Geisha district are both a 20-minute walk away. Traditional rooms have en-suite bathrooms, and there are also large public bathrooms available.
Uoiwa Ryokan – Located directly opposite the world heritage site Nishi Honganji Temple, this ryokan features authentic Japanese cuisine. It has en-suite rooms and a large public bath.
Kyoto Watazen Ryokan – Pontocho and Gion geisha districts are both within a 15-minute walk. Some of the Japanese-style rooms are en-suite, but all guests have access to the large, traditional baths.
Guest Inn Chita – This ryokan is located opposite the Higashi Honganji temple. The owners offer a service where you can try out a Yukata and take pictures.
Ryokan Wajimaya – A cozy and welcoming ryokan run by a family. It is just a 3-minute walk from Higashi Honganji Temple and close to other important sights. Rooms are spacious, and there is a Japanese-style bath.
Daiya Ryokan – Located in the heart of Kyoto, Higashi Honganji Temple and Nishi Honganji Temple are just a 3-minute walk away. The surrounding area comprises streets built in the Taisho and Showa eras, and is full of gift shops and interesting sites.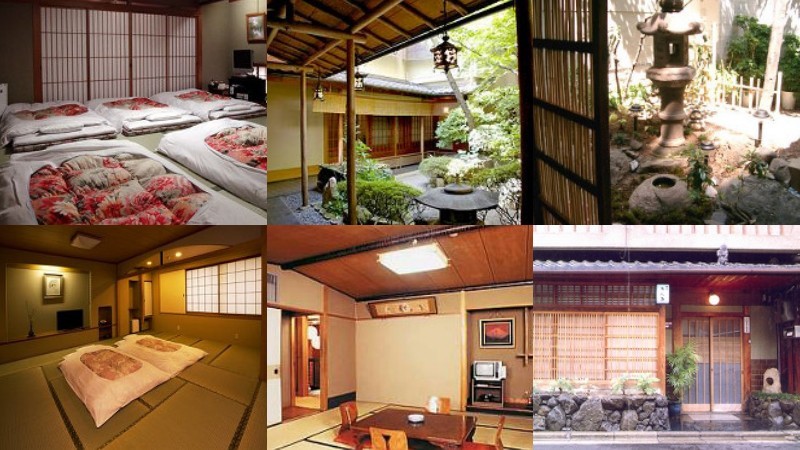 Ryokan capsule – The two most unique styles of Japanese accommodation are capsule hotels and Ryokan, and you can experience both at the same time in the only Ryokan capsule in the world.
Ryokan Seiki Station – A friendly family-run ryokan with en-suite Japanese-style rooms. It's in a very convenient location, really close to Kyoto Station.
Ryokan Sanki – Ryokan Sanki is over 100 years old, and is built in the traditional Kyoto style. A stay in one of its Japanese-style rooms gives you the opportunity to savor the atmosphere of ancient Kyoto.
Gion Maifukan – Located in Gion which is famous for its geisha, this ryokan is just a two-minute walk from Yasaka Shrine and is surrounded by temples. It has Western and Japanese style rooms and a roof terrace.
Ryokan Sakanoue – A luxurious traditional ryokan just a one-minute walk from Yasaka Shrine and four minutes from Kodaiji Temple. It has an attractive garden and serves traditional Kaiseki cuisine. Rooms have futons and Japanese-style wooden bathtubs.
Seikoro Ryokan – A luxurious ryokan with exquisite kaiseki cuisine that is served in your room. Traditional rooms have futons and Japanese-style wooden bathtubs. Higashi Honganji and Sanjusangendo temples are both a 15-minute walk away.
Hotel Honnoji – This ryokan is just a few minutes' walk from the Geisha Gion district, and is close to Nijo Castle and the Imperial Palace. It features Japanese-style rooms with futons and gigantic public bathrooms.
Guest House Itoya Kyoto – A guest house in a traditional wooden house with shared dorms (female only) and double rooms. This is the place to come and experience the atmosphere of ancient Kyoto first hand.
Read too: Geisha – Who are they really? History and Curiosities
Videos about Ryokan
To finish the article, we will leave some videos about this traditional Japanese accommodation for you to take a look at. We appreciate the comments and sharing.
Video Showing the beauty of this traditional hosting:
Video of a tourist, Juliana Goes