Bunkasai [文化祭] are school festivals that take place in autumn around October and November in all schools and universities in Japan. The objective is to present the school to parents, prospective students and residents of the neighborhood through various attractions that the school's own students organize.
The word Bunkasai is simple and derives from the characters [文化] which means culture followed by [祭] which comes from matsuri and means festival. 
Bunkasai or School Festivals are held to showcase student learning, as a recreational diversion as well as a means of social interaction. Former students often take the opportunity to visit the schools they studied.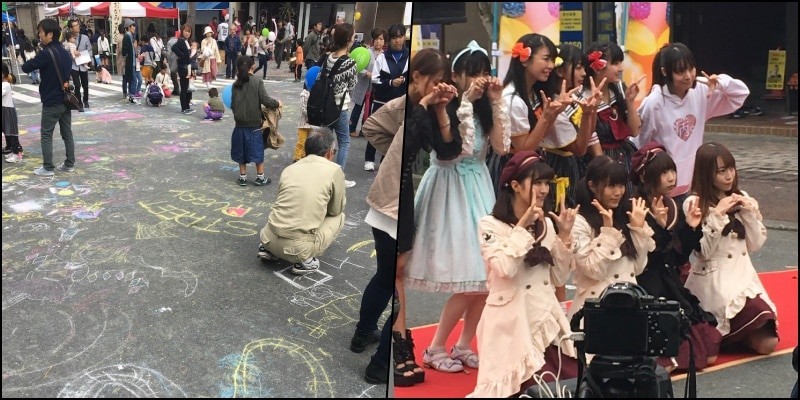 Food is served in stalls and some classrooms or gyms are converted into temporary restaurants or cafes. Dances, songs and plays are performed by volunteers or by school clubs.
How are School Festivals held?
In advance, the students of each room decide what they will present during the School Festival. Music, theater, dance, literature and sports clubs also prepare to give presentations or plan something special for the event.
Even the University all students are required to participate in Bunkasai, it is an event that falls on the school grid. Those who don't do presentations or things like that, help in another way, like in the preparations for the event. It is practically the students who do all the work at school.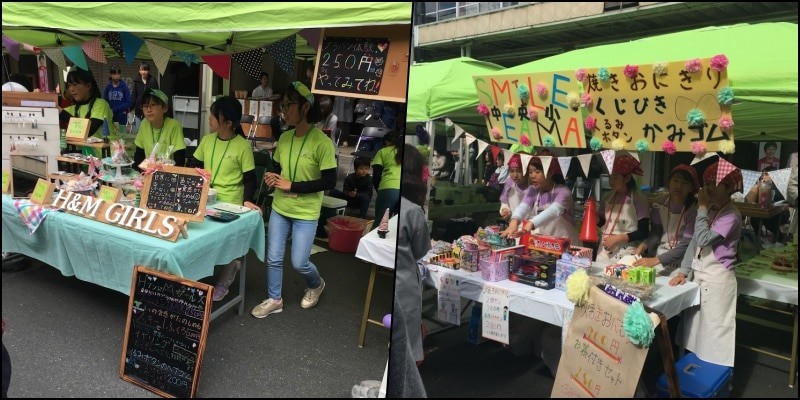 The most impressive thing about Japanese festivals is the dedication of students in preparation. All of this takes a great deal of effort, time, and energy. These are weeks of preparation and training for a few hours of presentations.
School festivals are so popular that they always appear in anime and manga. It's rare to watch an anime that takes place at school without coming across the annual bunkasai event where we see students and clubs getting ready and holding the event.
Different Bunkasai names
In addition to the traditional and generic name Bunkasai, some schools use other names for their festival. Depending on the class or course there are already other pre-defined names:
Responsive Table: Scroll the table to the side with your finger >>
| School | Translation | Japanese |
| --- | --- | --- |
| Nursing school | daily life exposure | Seikatsu-happyō-kai (生活発表会) |
| kindergarten | daily life exposure | Seikatsu-happyō-kai (生活発表会) |
| Primary school | Literary Arts Exhibition | Gakugei-kai (学芸会) |
| Primary school | learning view | Gakushu-happyō-kai (学習発表会) |
| College (Elementary) | cultural festival | Bunka-sai (文化祭) |
| High School (Middle | cultural festival | Bunka-sai (文化祭) |
| University | university festival | Daigaku-sai (大学祭) |
Another popular school festival is called Undokai, a competitive festival which is not always open to the public and involves different competitions and different sports between classes. Likewise, students are advised to prepare for that big day in advance.
My Experience on Culture Day
Many schools have their school festival around November 3, a Japanese national holiday called Bunka no Hi [文化の日] culture day. Festivals always take place on a Saturday or Sunday, sometimes both days.
I'm not sure if it was a school festival of bunkasai, but on Culture Day in Kakegawa Prefecture, near the station, a big matsuri and many tents belonged to elementary students and other classes.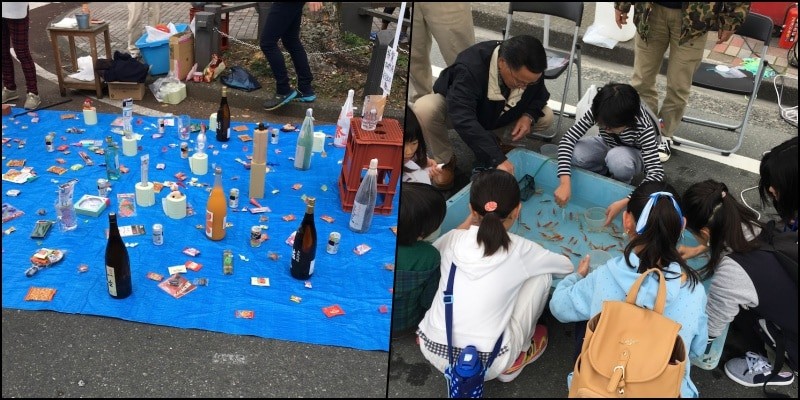 It was a very fun matsuri, in the beginning there were some Cosplay Idols singing while the festival stretched out along the avenue full of food stalls, games of chance and workshops where children and parents did woodwork.
There was also a massage tent, a baby run, kids drawing with chalk on the floor, and an avenue that probably belonged to an elementary school, full of uniformed kids working and selling food to visitors.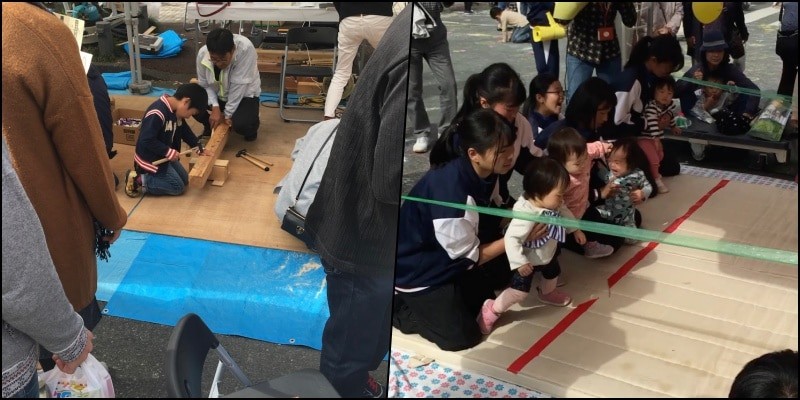 my experience in a university bunkasai
I had the opportunity to visit the University of Otemae Bunkasai in the Kansai region and wanted to share my experience. At first I was a little disappointed that the festival was at a University, where there would be no one with school uniform.
University Bunkasai are also called daigaku-sai [大学祭] and are usually smaller and less fun because they are not mandatory for students, unlike elementary and high school that are part of the school grid. Not to mention that things at Universities are more serious.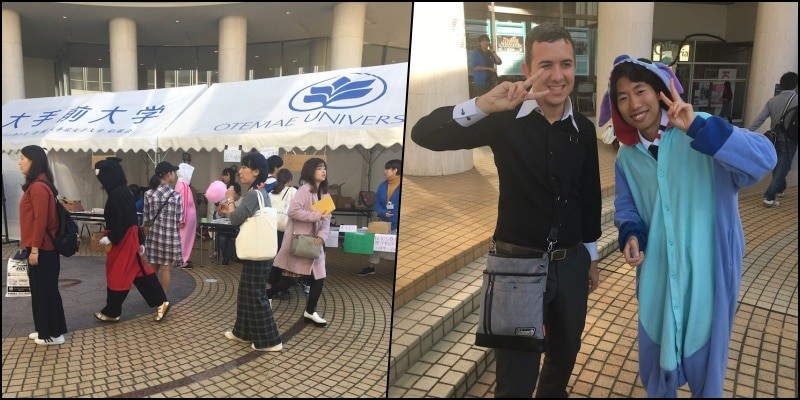 The festival itself looked very simple and small, with a stage outside where students sang surrounded by food stalls. In the rooms there were more exhibitions of things related to the courses than the university offered.
It's not like the anime full of themed and fun rooms, because it was a University and not high school. Luckily there was a really fun room full of cosplayers, posters, and a ton of drawings made by the room organizers, free for us to pick up and draw.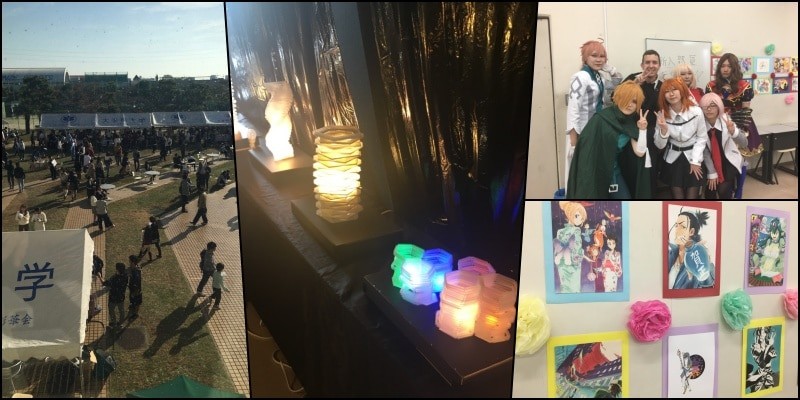 In the rooms we find exhibitions related to the courses of the University, involving architecture, manga, archaeology, international relations, psychology and others.
I was together with other friends, so I didn't have the opportunity to enjoy the whole festival. The most fun was the show taiko which takes place in one of the 3 Halls of the school. It was a 30-minute presentation with a group of students that you can follow a little below:
Bunkasai are really fun and you can have a unique experience in each one. Not everyone will be able to appreciate Japanese customs, but if you want to blend in and delve into Japanese traditions, visit a Bunkasai.
If you're in Japan during Autumn, just google for weekend bunkasai dates and you'll end up finding an upcoming event. Hope you enjoyed the article! If you liked it share and leave your comments!