Although we do not have this custom here in Brazil, in Japan it is a common practice to visit a hot spring. At onsen, as they are called in Japan, are relaxing, and because of the country's culture, it's almost a tradition for them to bathe in these places.
Of course, you don't want to relax in warm water. And the best, a water that is good for health. It must be wonderful, of course it's good not to exaggerate, after all, we're still human and hot water can make you dizzy and cause you to faint, but whatever.
The fact is that if you are going to visit Japan, you cannot forget to visit a good hot spring. And this list is here to help you when choosing the best one to visit. A list of some of the best hot springs in Japan.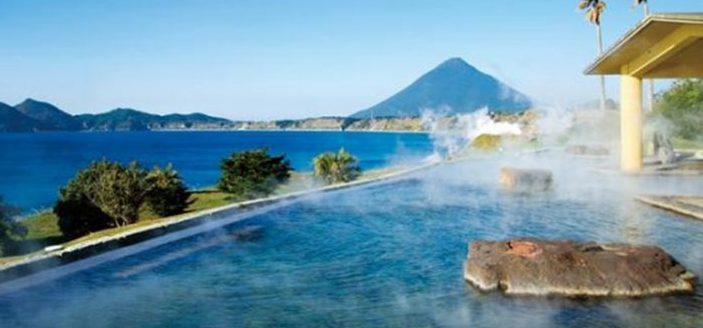 Ibusuki Onsen – Heat from the volcanic sand
Ibusuki Onsen (指宿温泉) is a group of hot springs in eastern Ibusuki, Kagoshima. This group includes Surigahama Onsen, Yajigayu Ons, and Nigatsuden Onsen. There are nearly 1,000 hot springs gushing at 50-60℃, but sometimes temperatures can reach 100℃.
The main attraction of Ibusuki Onsen is the bath in the sand (Sunamushi). Visitors wear a Yukata and are buried up to their necks in volcanic sand. The weight and heat of the sand (about 50 to 55 °C) stimulates blood circulation, and in about 10 minutes, the entire body starts to sweat. It's a pleasant and relaxing feeling for all ages.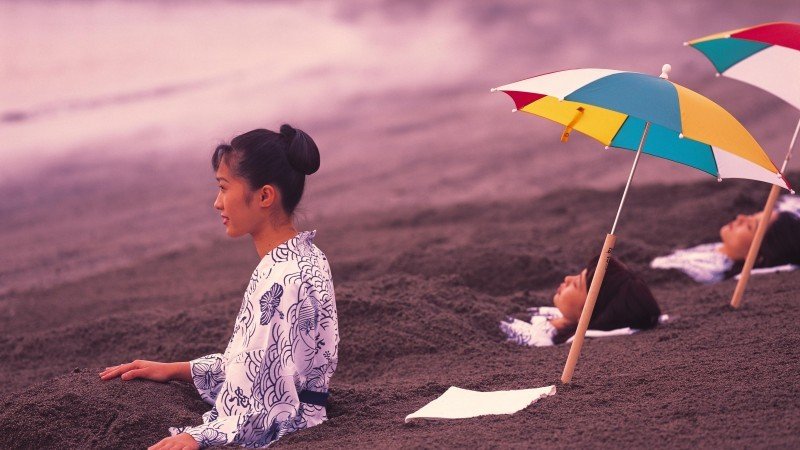 In addition to bathing in the sand, as in any onsen, you can enjoy the hot springs and take that relaxing bath in the hot springs. Another attraction present in Ibusuki Onsen is the foot bath and sauna. There are more than 15 Onsen in Ibusuki City.
Nearby in Nagasakibana there is also a theme park "Flower Park Kagoshima", with 400 different types of plants for you to enjoy each season. There you can also enjoy delicious shows and shows presented by orangutans and flamingos.
Below you can see a video showing some of Ibusuki Onsen and the sand bath.
Nishiyama Onsen Keiunkan
The hotel Nishiyama Onsen Keiunkan it is considered the oldest hotel in the world. It is located in Hayakawa, Yamanashi Prefecture, Japan. So entering the Guinness book, with more than 1300 of activity.
The onsen hotel has remained in the same family for over 50 generations. Serving from ancient samurai to modern tourists. Let's get to know a little more about the oldest hotel in the world in operation.
Fujiwara Mahito a Japanese aristocrat in 705 AD founded this hotel. It was well known at the time as a resort, because of the natural hot springs. This attracted many visitors from many different regions. Serving as a stay for both bureaucrats, shoguns (Emperor general who commanded the army) even for samurai entourages.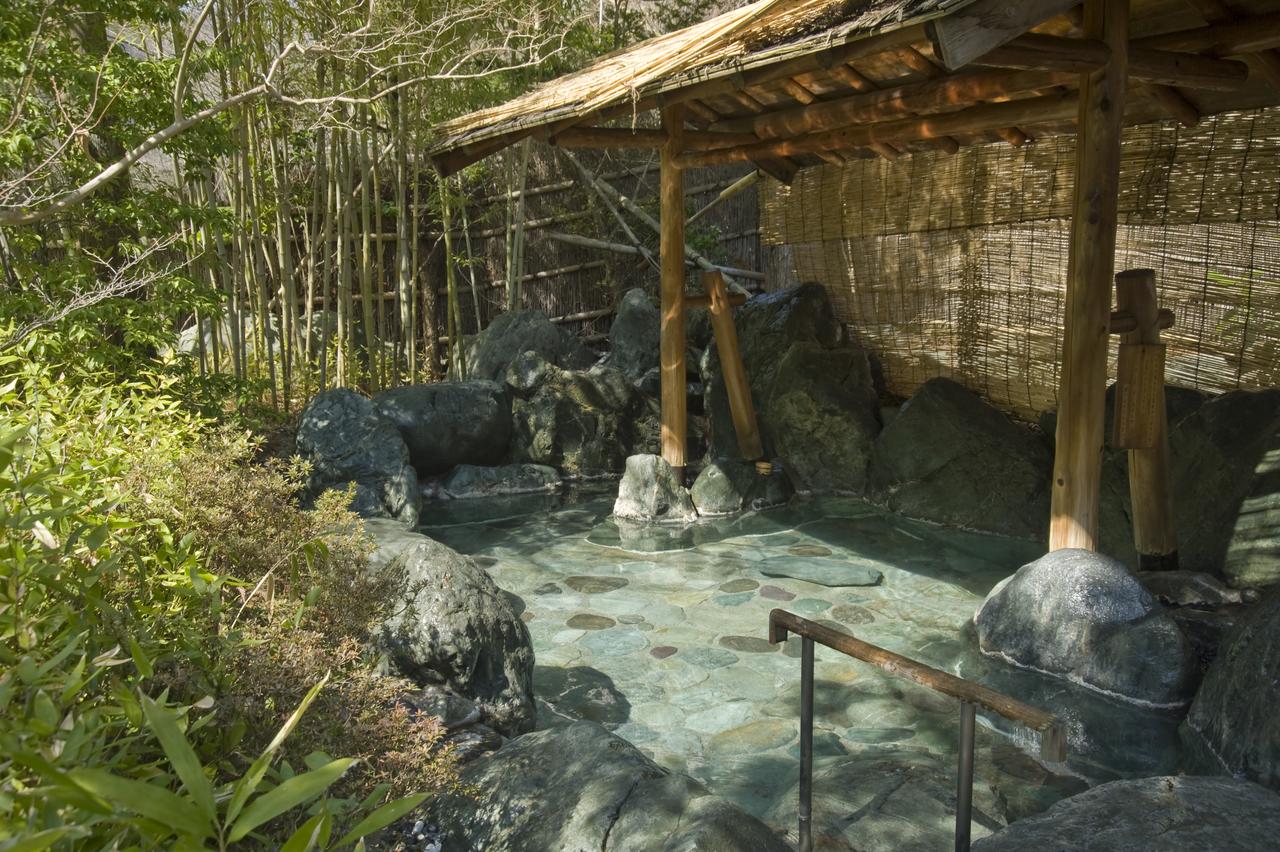 From the beginning, the establishment has been passed down by the founding family over time. Until then, 52 generations who care for and operate the inn are gone. And over time, each generation slowly modernized it. Today the place has become a luxury four-star hotel.
A major renovation took place in 1997, but its appearance has remained largely unchanged. The hotel has around 35 rooms and can accommodate up to 130 guests. It is available for those who wish to stay in air-conditioned rooms, a platform for viewing the moon and stars, outdoor baths and even karaoke.
Even with all the modernities introduced, the establishment keeps traditions alive like the traditional tatami mats. In addition to a restaurant, which serves typical local foods such as koshu meat on the menu.
Other highlights of Nishiyama Onsen Keiunkan are the attractions around it, such as Mount Fuji and the Jigokudani Monkey Park. Rooms range from 30,000 to 60,000 yen.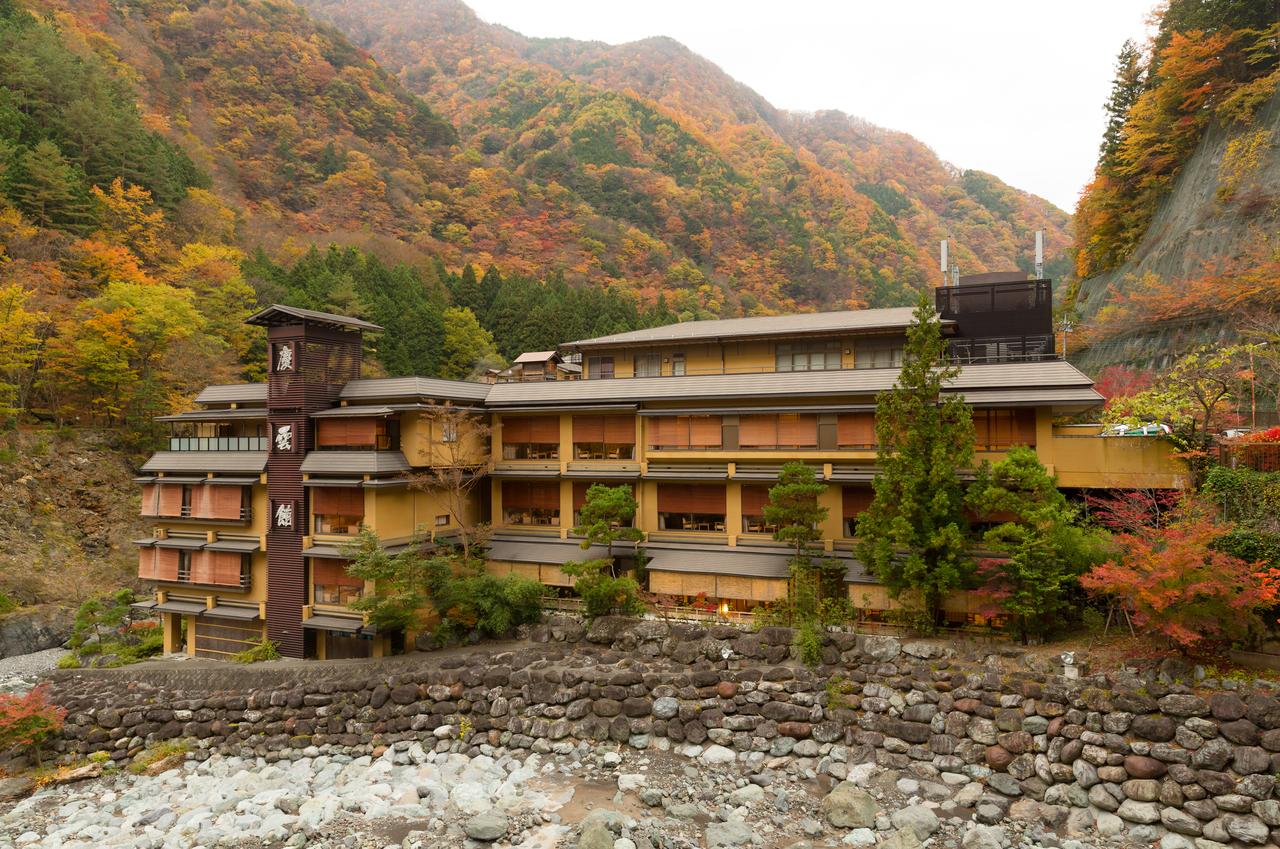 Kusatsu Onsen
Kusatsu is considered the first hot spring in Japan and is possibly one of the regions that contains the most famous hot springs. It is located in Gunma, north of Tokyo. It beat thousands of other hot springs and took first place in the 31st ranking of the 100 best hot springs in Japan.
It is the fifteenth year in a row that Kusatsu has claimed first place, an impressive feat given the sheer number of hot springs in Japan. As this region is located in the mountains, it is also famous for welcoming visitors to ski in winter and for welcoming people who enjoy hiking.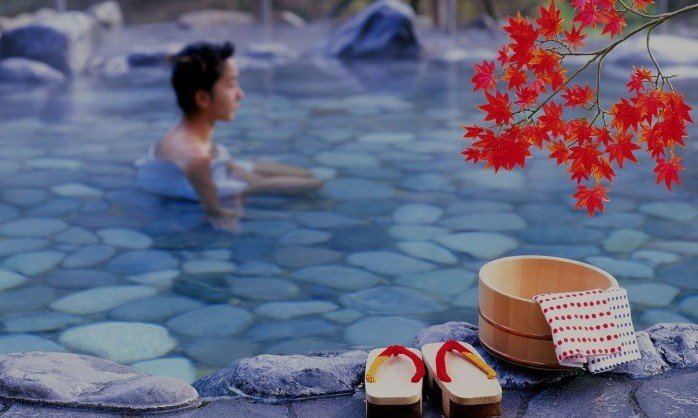 Kusatsu is well known for the quality of its hot springs, and as they have a large volume, they are able to supply water to other regions as well. There is a symbolic installation called Yubatake (hot water field), which is one of the main hot springs in the place.
This hot spring area is very lively. You can visit several hot springs for free and also enjoy shopping at variety stores. There are nice resort inns, hotels and cafes around the city.
Hakone hot spring
It is one of the most popular hot spring areas. It is located just an hour and a half from Tokyo by car or train. There are many spa facilities that you can easily go to and many shops to buy souvenirs.
Along the two rivers called the Hayakawa River and the Sukumogawa River, there is a wide variety of historic and well-established accommodation styles or purely Japanese home style.
You can also stay at one of the many ryokan or resort hotel nearby, as many of them include their own private hot spring. Ryokan are traditional Japanese lodgings, where you sleep on a futon, on the tatami and breakfast and typical dinners are included.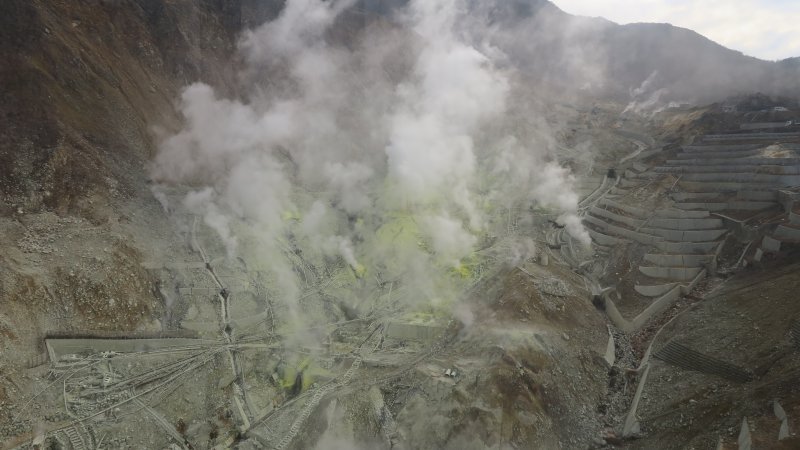 Beppu Onsen
It is located in Oita in the east of southern Japan's main island, Kyushu. The town of Beppu in Oita is home to eight main hot springs, collectively known as Beppu Hatto ("hatto" literally means "eight waters"), each equipped with public restrooms and ryokan with bathing facilities.
Together, the city's eight hot springs produce more water than any other hot spring resort in Japan. There is a famous tour called Beppu Jigoku Meguri (Beppu Hell Tour) in which visitors can see different types of Jigoku hot springs.
Among them the Inferno do Mar, Inferno da Lagoa de Sangue, Inferno da Lagoa Branca and Inferno do Tornado. At the end of the tour, visitors can even have their special eggs that are steamed or boiled in hot spring water.
In addition to the great abundance of its waters, the other highlight of the Beppu hot springs is their variety – as well as more conventional hot water baths, bathers can also enjoy the benefits of more unusual dips in sand baths, mud baths and steam baths. .
In addition to bathing in the traditional hot spring, bathers can enjoy sand baths, in which it is possible to cover themselves with naturally heated sand; steam baths; and mud baths.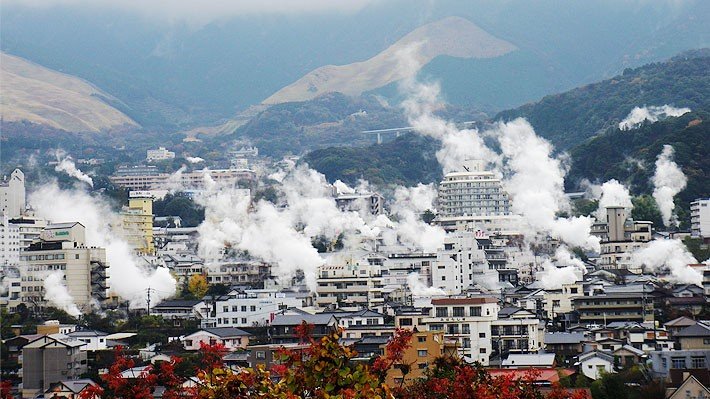 Yufuin Onsen
Surrounded by the mountains of Kyushu (southern Japan), the most prominent sight from this onsen is the twin peaks of Mount Yufu, which draw a stunning outdoor picture. Yufuin, about ten kilometers inland from Beppu, is a pleasant rural town.
During your stay, you can delight in the many boutiques, art museums and cafes in the city centre. It's a beautiful area to take a walk during the day. Yufuin is surrounded by traditional landscapes of rustic farms and peaceful rice paddies.
Bathing and sightseeing are the two main activities in the city and many travelers visit Yufuin just to stroll around the city during the day. There are ryokans scattered throughout the city, many of which open their onsen to guests during the day.
In many polls it was voted the best hot spring in the Kyushu Mountains. The accommodations are located in the countryside for visitors to enjoy even more fantastic scenery and an unforgettable stay.
As Yufuin is located near a much larger and busier hot spring area called Beppu, Yufuin is a great choice for those looking for a beautiful hot spring resort area that is a little less touristy.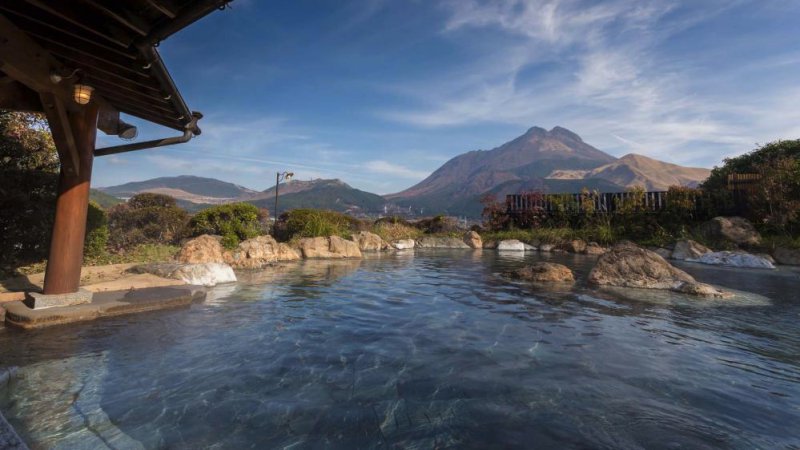 Noboribetsu Onsen
Noboribetsu is considered the best hot spring resort on the northern island of Hokkaido. A large amount of water supplies the city's various types of hot springs in a volcanic valley above the city that has earned the nickname Jigokudani ("Hell's Valley") for its spectacularly active volcanic scenery.
A curiosity, the water and steam that come out of the numerous crevasses and crevices in the valley are so hot that they were once said to be inhabited by oni, demons or Japanese ogres. It was believed that only demons could survive the sweltering temperatures of the valley and the harsh environment.
The waters in their thermal baths contain sulfur and hydrogen sulfide, which are known to make the skin smoother and lighten the skin, as well as iron, which lessens fatigue. The minerals in the water paint the surrounding landscape, making it quirky to say the least.
Hokkaido is a beautiful travel destination for both its stunning scenery and delicious local cuisine. When in Hokkaido, you should definitely stop at some hot spring area in the region.
There are nine types of hot springs in Noboribetsu, each with unique properties. For example, there are sources of sulfur, which are known to help with chronic bronchitis, hardening of the arteries, and chronic dermatitis. There is also a source of iron that is known to help with anemia and chronic eczema.
In the area, it is still possible to visit a historical park, a bear park and a marine park. It is a stunning place to visit in spring with the cherry blossoms.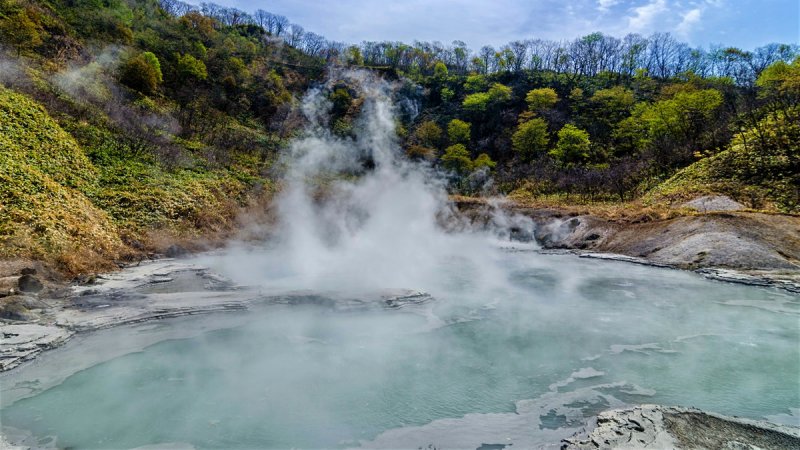 Did you choose your hot spring?
Of course, these aren't even close to being all the onsen in Japan. The country has a lot of onsen, whether artificial or natural with these listed. But the point is that you can't miss visiting one of them.
Hot spring is a registered trademark of Japan. Maybe because it's a tradition, or because the country is rich in these natural beauties, we don't know for sure. However, what we do know is that tourists from all over the world come to Japan exclusively to visit Japan's hot springs.
So, take advantage of this list to organize your travel schedule, and visit a hot spring.