In this Guide we will see everything about the Japanese Heroes of the Tokusatsu series. You will learn the origin and history of the genre, the main films, series and curiosities. We will also recommend where watch tokusatsu online and which are the best of their kind.
It is likely that you have already watched or know a movie, series or character of the Tokusatsu genre. In the past, the genre involved any type of film production that made use of a lot of special effects.
But, it is currently more recognized through the superhero movies and series produced in Japan. Always with a lot of special effects, martial arts, super powers, armor, giant robots and much more. Series like Godzilla and Super Sentai are considered Tokusatsu.
The History of Tokusatsu
It all started in 1954, when the first production of the genre was produced, the movie Gojira, known to the world as Godzilla. The film became one of the biggest hits of the time and a worldwide symbol to this day. Subsequent productions followed the film's popularity and imitated the model of giant monsters known as Kaijus.
The first real superhero came only in 1958, called Guekkou Kame, which also became a big hit at the time. This work opened the door to other series of heroes such as 1959's 7-Color Mask and 1960's National Kid.
It was after these that the most striking features such as heroes or groups of heroes, weapons, machinery, costumes became Tokusatsu's trademarks. It is believed that all this was a response to the increase in disclosures of foreign heroes such as Superman, Captain America and others in Japanese territory.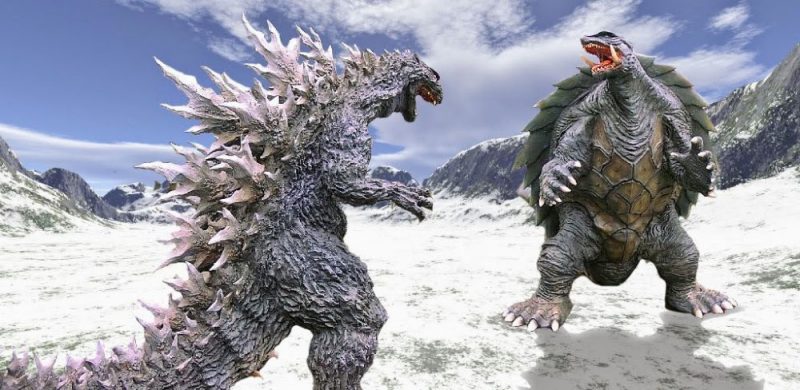 The Rise of Ultraman and the Giant Heroes
In 1995, a Japanese director named Eiji Tsuburaya founded his own production company, Tusuburaya Procuctions, and launched his first TV series, Utra Q. In the following year, he created one of the best-known characters of the genre, Ultraman. The series of this character had 39 episodes, and ended up becoming a symbol of tokusatsu and Japan. In 1967, another great success appeared, Ultraseven, which had better effects than its predecessor and a more adult and well-made plot.
But the competitor TOEI, launched in the same year the series Giant Robo, which also became very popular. The first TV series of its kind in color, Masked Ninja Red Shadow, is also produced. This series provoked a revolution in pyrotechnic effects and CG effect, having a high investment. This contributed to the creation of the Kyoday Heroes genre, or Giant Heroes.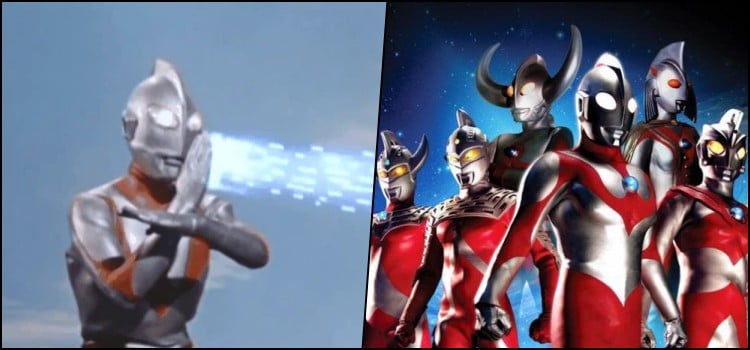 But in 1970 Eiji Tsuburaya, creator of Ultraman dies. Becoming a great loss not only for the tokusatsu genre but also for world cinema. However, that same year, another strong name appeared, the talented artist Shotaro Ichinomori. He presented to TOEI his story called Skullman, created and designed by him. But the character of the story was far from the standards of the time, leading to the project not being very well accepted. Therefore, after some changes, the first series of a new genre of tokusatsu, Kamen Rider, appeared.
Kamen Rider and the Supersentais
The new story created by Shotaro told the adventures of a man, half human, half grasshopper, who fought against an evil organization, mounted on his motorcycle. Even with a simple plot, the series worked very well, having a total of 98 episodes for TV, with great audiences.
In 1973, another series of the franchise was created, Kamen Rider V3, repeating the success of the previous series. Shotaro, also worked on new series like Jinzou nobody kikaider and Akumaizer, two other great classics.
It is also worth mentioning the series produced by P-Productions, such as Magma Taishi from 1966 and its biggest hit Spectreman from 1971, which still followed the standards of the giant robot genre. In 1972, the series Kaiketsu Lionmaru appeared, another great success, which resulted in two other series created in the same model as the first.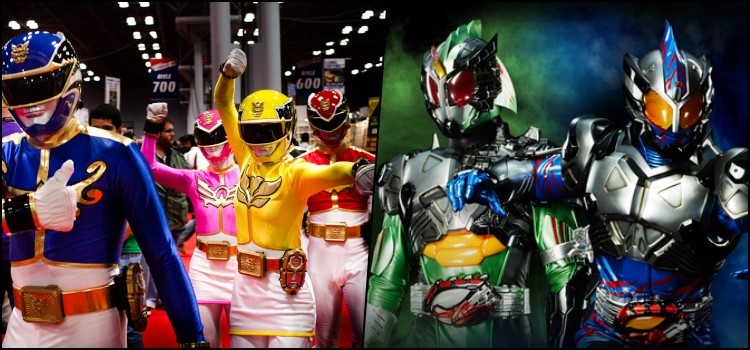 In 1975, TOEI and Shotaro revolutionized the genre again with the release of Himistsu Sentai Goranger, which told the adventures of five colorful warriors. Goranger had 84 episodes and from that series came another genre, Sentai.
The next Sentai series appeared in 1978's Battle Fever J. It grew out of a partnership between TOEI and Marvel Comics. In Battle Fever J, there was the first appearance of a giant robot that was used to defeat enemies. This feature became a trademark, and from there, the genre became known as Super Sentai.
Another series was produced by the partnership between Toei and Marvel, this was the Japanese Spider-Man series, called Supaidâ-Man. The reception and performance of the series was not expected, ending this partnership.
Metal Heroes are born
In the 80s, many other series debuted with Ultraman 80, continuing the Ultraman saga. Other super sentais are also produced like the Kamen Rider Super 1 and Tayou Sentai Sulvuncan. But again TOEI in 1982 starts another Tokusatsu genre: the metal hero, having as first series Uchuu Keiji Gyaban. Innovations such as metallic armor, gigantic spaceships, swords and laser weapons were part of the new features of the metal hero franchise.
The following year, the hit Uchuu Keiji Sharivan appeared and in 1984 it was the turn of Uchuu Keiji Shaider. These were very successful with the public at the time. Also in 1984 appeared another series of the Kamen Rider franchise called KAMEN RIDER ZX. But taking advantage of the Metal Heroes' fame, Shotaro releases Seiun Kamen Machineman and Kyodai Ken Bycrossers. In 1986 other series supersentai returned to fame as Dengeki Sentai Changeman and in 1986 the famous Choushinsei Flashman.
The Metal Hero genre continued on with the 1985 debut of our beloved series KYOJO TOKUSOU JUSPION, or jaspion. Even not reaching the success expected by TOEI, Jaspion became world famous even here in Brazil. Another company in 1988 called Toho Company, creates the metal hero series Dennou Keysatsu Cybercops.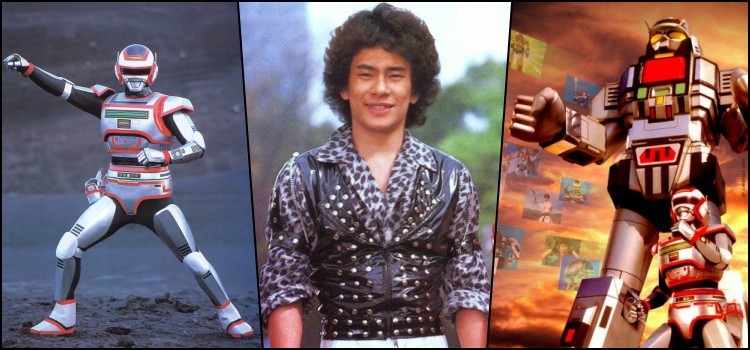 Tokusatsu today and those known in Brazil
Many other hits and sub-genres have emerged over time, it's not possible to name them all. Proof of so much popularity, is that until today many new series of the genre being released and produced. More current series like Ultraman Zero, Uchu Sentai Kyuranger, Kamen Rider Ex-Aid, Hurricane Polymar continue the legacy of tokusatsu. It is even noteworthy that the Power Rangers series, which is very well known to us, clearly came from the super sental series. But that topic is for another article.
Here are some Tokusatsu that were broadcast in Brazil:
Changeman Lightning Squadron;
Giant Warriors Goggle Five;
Star Command Flashman;
Defenders of Light Maskman;
The Incredible Ninja Jiraiya;
Metaller;
patrine;
Solbrain;
Kamen Rider Black RX;
Ultraman;
Ryukendo – Madan Warriors and many others;
Where to Watch Tokusatsu Online?
As these series are not common on television these days, where can we watch these classics? Fortunately they are on several streaming sites available in Brazil, mainly on Amazon Prime. You can also watch some of these series on Netflix, Crunchyroll and others.
Virtually every classic Tokusatsu is available on Amazon Prime. If you want to subscribe to Amazon Prime, use our link by clicking here. In addition to the TV shows, you also have a music app, books and free shipping on Amazon Brazil.
You can also watch Tokusatsu for free on Youtube via the official channel Toie Tokusatsu World Official. Another alternative is the official Sato Company channel called Tokusatsu TV.
Of course, in addition to these alternatives, you can simply look for people who upload episodes on youtube or make them illegally available on series websites. But I still believe that the best alternative is subscribe to Amazon Prime.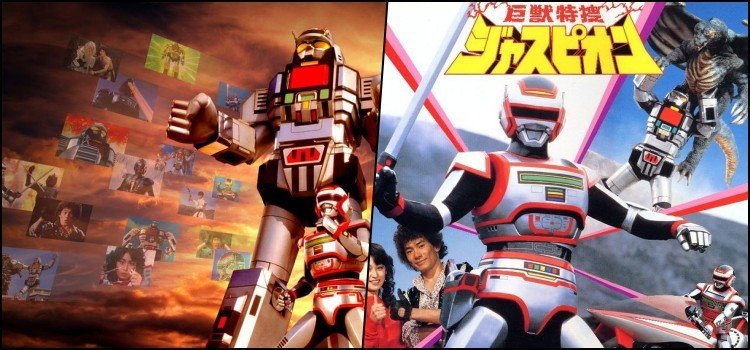 The Best Tokusatsu on Amazon Prime
As mentioned, Amazon Prime has been invaded by the tokusatsu, there are thousands of them available on Great Prime Video. In fact Amazon has its own Tokusatsu called Amazon Riders, but unfortunately it is not yet available in English.
Tokusatsu Classics on Amazon Prime
Jiraiya: The Incredible Ninja [1988] – Toha Yamashi is a disciple and adopted son of Tetsuzan, representative of the Togakure ninja clan. To defend the location of Pako, a gift from the heavens considered the treasure of the century, Toha must face ninjas from all over the world and stop them from using this great power for evil.
The Fantastic Jaspion Season [1985] – Jaspion is an orphan raised in the universe by the prophet Edin. When the galactic prophecy announces that the demon Satan Goss intends to conquer all planets, he recruits the boy to face the threat and protect peace in the milky way.
Jiban Steel Police [1989] – Police officer Naoto Tamura sacrificed his life to defeat one of the Biolon organization's monsters, but was reborn as the Steel Policeman Jiban, going on to fight the evil group led by Doctor Jean Marie.
Clip: National Kid Season [1960] – Stronger than current scientific weapons, overcome the impossible, dominate the world of the Fourth Dimension and fight for world peace and justice, the National Kid arises to defend everyone from any threat.
Ultraman Orb Season [2019] – Naomi Yumeno (Miyabi Matsuura) has had the same recurring dream since she was little: visions of a giant of light facing a giant monster. Her dreams spark an interest in paranormal phenomena, and she starts a website on the subject called "Something Search People" with her friends Jetta Hayami (Naoto Takahashi) and Shin Matsudo (Hiroaki Nerio).
Amazon Riders – Fourth installment in the Kamen Rider series, it focuses on Haruka and Jin: one domesticated, the other wild. The show introduces us to these contrasting Amazon Riders. The mindsets of various characters inevitably draw the viewer deeper into the mystery of this dramatic story.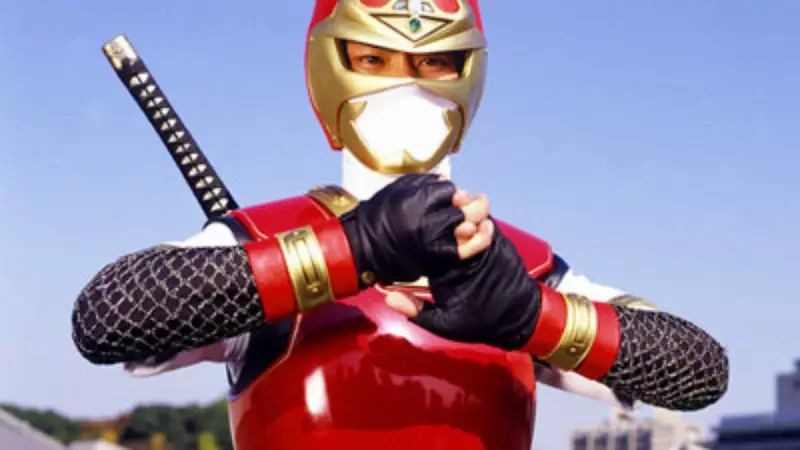 Super Sentai Tokusatsu on Amazon Prime
The series that I will list below are from Super Sentai, that is, a group of heroes usually separated by colors that have abilities and can evolve into giant meka. Hope you like these squads below:
Star Command Flashman – Five children are kidnapped but they are saved by the people of Planet Flash and, for 20 years, they were raised and trained among them. When the group discovers the ruthless leader threatens to invade Earth, Jin, Dan, Go, Sara and Lou team up to stop him, forming the Flashman Star Command.
Changeman Lightning Squadron – Five members of the Defenders of Earth army are bathed in Earth Force and each acquire the powers of a densetsu-ju, which is a legendary animal: Dragon, Griffin, Pegasus, Mermaid and Phoenix.
Crunchyroll's Best Tokusatsu
On Crunchyroll you can find some Tokusatsu from the Ultraman series.
Ultraman Geed – Geed is the son of Ultraman Belial, the first evil Ultra Warrior who debuted in the 2009 movie "Mega Monster Battle Ultra Galaxy". It is the story of a young Ultra Warrior who, carrying the DNA of an infamous father, struggles to become a hero of justice.
Ultraman X – When the Ultra Flashes of the sun cover the land, Sparkdolls that were hiding underground and in the sea are transformed into monsters. To deal with the sudden emergence of alien invaders, humanity arms itself with super-science machines and creates the Xio Defense Team.
Ultraman Orb – Naomi Yumeno (Miyabi Matsuura) has had the same recurring dream since she was little: visions of a giant of light facing a giant monster. Her dreams spark an interest in paranormal phenomena, and she starts a website on the subject called "Something Search People".
In addition to these we have Ultraman Gaia, Ultraman Nexus, Ultraman the Next – Movie, Ultraman Max Library and Ultraman Meblus.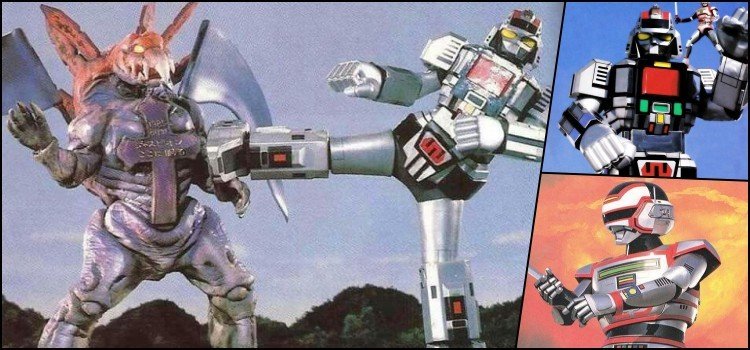 Netflix's Best Tokusatsu
Netflix is another streaming service that has some Tokusatsu and Japanese series, not to mention countless anime and dramas. Unfortunately, those looking for classic Japanese tokusatsu will be disappointed with Netflix, where we have more anime and movies.
We have some Ultraman and Godzilla anime, classic and faithful tokusatsu, but it is a different format from the usual fans. You can find other anime that fit the genre or mode of the tokusatsu, but that's just it.
On Netflix we don't find so many Japanese tokusatsu, but a lot of American Super Sentai and Tokusatsu. Those famous Japanese copies made by Americans like the famous Power Rangers. We will list these series below:
Vr Troopers;
Beetle Borgs;
Power Rangers – Ninja Steel;
Power Rangers – Time Force;
Power Rangers – Samurai;
Power Rangers – Super Samurai;
Power Rangers – Dino Thunder;
Power Rangers – Megaforce;
Power Rangers – Ninja Storm;
Power Rangers – Jungle Fury;
Power Rangers – Wild Force;
Power Rangers – Super Mega Force;
Power Rangers – Mystic Force;
Power Rangers – Dino Charge;
Power Rangers – Dino Supercharge;
Power Rangers – Zeo;
Power Rangers – Turbo;
Power Rangers – Rescue;
Power Rangers – Galaxy;
Power Rangers – RPM;
Power Rangers Fierce Morph;
Mighty Morphin Power Rangers;
Mighty Morphin Alien Rangers;
Toei Company's Tokusatsu
You who like anime or tokusatsus have certainly watched some production by Toei Company. It is considered and treated as one of the pioneers in Japanese film and animation productions. The studio was founded in 1957. And many of its productions have become popular all over the world. Sailor Moon, One Piece, Dragon Ball, Saint Seiya and Kamen Rider are all produced by Toei.
Famous names like, Osamu Tezuka, Hayao Miyazaki, Isao Takahata started showing their work in this studio. Other famous studios like Topcraft, Studio Ghibli, Mushi and Doga Kobo, came out of the big Toei studio. The Japanese studio was responsible for boosting some genres, such as Kamen Rider, Mecha and Mahou Shoujo. Soon these works became copyright and sales material, which became best sellers.
A little bit of the history and success of Toei Company
The studio was originally founded in 1948, with the name Japan Animated Films. But nothing produced at that time became popular or successful. In 1956, the Toei company bought the studio, and gave it the name we know today. In the beginning, the studio mainly did TV commercials. This boosted the company, and in 1957 Toei built in Ochanomizu, Tokyo, his own studio. At that time Disney was on the rise, with animated films, and this aroused the interest of the Japanese studio.
Toei's first animated feature film was in 1958. This one was called The Legend of the White Snake , which was inspired by a Chinese legend. The film received good reviews and praise, and was even heavily exported. As early as 1959, another film was produced, Magic Boy, based on the story of a ninja legend from Japan. But even so, Disney was still Toei's biggest competitor.
In 1963 there was an explosion of imported cartoons, and these had considerable success on Japanese TV. Taking advantage of this, Toei produced its first animated series that same year, called Wolf Boy Ken. This anime achieved great success in Japan. Therefore, the production of animations ended up becoming the focus of the company, leaving aside even films in production. It was then that in 1968, using monsters from Japanese folklore, the famous anime appeared. Gegege no Kitarô.
The Japanese Went Crazy About Giant Anime Robots Majinga Z in 1972, which basically founded the Mecha genre. Toei in 1978 capitalized on the success of Star Wars and released films with the "space" genre, such as Galaxy Express 999 and Captain Albator. The golden age began in 1980, as Dragon Ball, One Piece, Digimon, Goldorak and Sailor Moon. Many of these were and still are internationally successful. Today Toei is one of the biggest, most famous and richest companies in the field producing and making a lot of money today.
Works by Toei Company
Throughout its life Toei has produced thousands of tokusatsu, TV series, movies and anime. Nothing better than ending the article by showing a list of some of his works:
The list below has tokustasu series and movies or similar:
1958 – Gekko Kamen
1959 – Nana Iro Kamen – First Toei Company tokusatsu
Yusei Oji
1960 – National Kid
1961 – Uchuu Kaisoku-sen
1967 - Kamen no Ninja Aka Kage - Toei Company's first color tokusatsu
Captain Ultra
Giant Robo (Giant Robot)
1971- Kamen Rider
Suki! Suki! Mahou Sensei
Chojin Barom 1
Henshin Ninja Arashi
Jinzo Ninguen Kikaider
Kikaider 01
Robotto Keiji
inazuman
Himitsu Sentai Goranger – First Sentai
akumaizer 3
Uchuu Tetsujin Kyodyne
The Kagestar
ninja captor
1978 – Spiderman
Battle Fever J – First Super Sentai
Denshi Sentai Denjiman
Taiyou Sentai Sun Vulcan
Dengeki Sentai Changeman
Kyojuu Tokusou Juspion (Jaspion)
Sekai Ninja Sen Jiraiya (Jiraiya)
Choujuu Sentai Liveman (Bioman 3)
Kidou Keiji Jiban (Steel Police Officer Jiban)
Kousoku Sentai Turboranger
Bishoujo Kamen Poitrine (Patrine)
Kyouryuu Sentai Zyuranger – (Power Rangers)
Janperson
Gosei Sentai Dairanger
Ninja Sentai Kakuranger
Choriki Sentai Ohranger
Choukou Senshi Changerion
Seijuu Sentai Gingaman
Tetsuwan Tantei Robotack
Moero! Robocon
Pretty Guardian Sailor Moon
Mahou Sentai