Looking for a list of anime with a dragon? Want to meet the most famous dragons in anime? Looking for manga with characters that are dragons? This article will present the best dragon anime of all time.
Dragons are huge and powerful serpentine mythological creatures, often seen as being magical in nature. These anime focus on impact of dragons – whether they are reinvented, extinct or living and breathing alongside humans, and can feature dragons as main characters.
Kobayashi-san Chi no Maid Dragon
Miss Kobayashi is an ordinary office worker who lives a boring life, alone in her small apartment - until she saves the life of an endangered female dragon.
The dragon, named Tohru, has the ability to magically transform into an adorable human girl (albeit with horns and a long tail!), she will do anything to repay her debt of gratitude, wants Ms. Kobayashi likes it or not.
With a very persistent and loving dragon as a roommate, nothing is easy, and Ms. Kobayashi is about to explode! One of the most popular comedy anime of all time.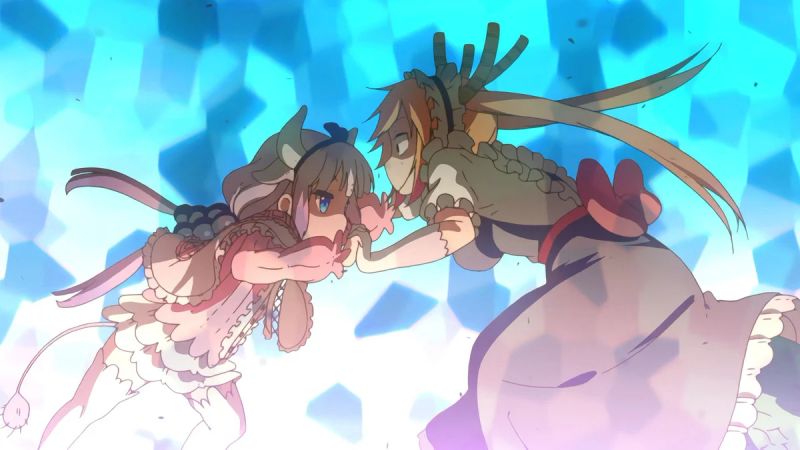 Gate: Jieitai Kanochi nite, Kaku Tatakaeri
In August 20XX, a gate suddenly appears in Tokyo's Ginza district, releasing a portal where dragons, monsters, medieval knights, and other fantasy beings come from another world and wreak havoc on Tokyo.
The Japanese Defense Force takes action against these monsters and pushes them back to the "Gate". The Third Reconnaissance Team is sent to the "Special Region" led by officer (and otaku) Youji Itami.
On their travels, they are joined by a beautiful elf who is a survivor of the dragon's fury and guides the group through the dangerous new world. The anime is quite popular and has at least two seasons.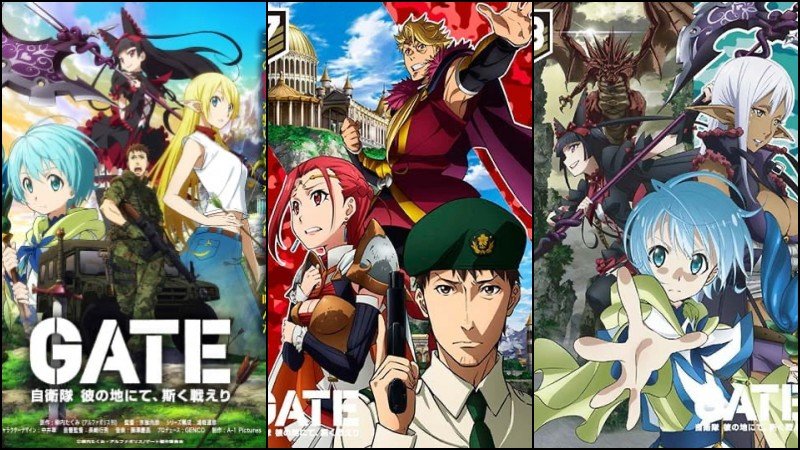 Dragon Pilot: Hisone & Masotan
Dragon Riders is an anime that is available on Netflix in English. Straightforward and innocent, Hisone Amakasu is a rookie of the Self-Defense Force who works at Gifu Air Force Base in Self Defense Force.
She was struggling with the fact that she sometimes unintentionally hurt people with her innocent words and decided to join the Air Self-Defense Force in hopes of keeping some distance from people.
That decision led to a fateful encounter that profoundly changed her life. It was the "OTF" dragon hiding in the base and chose Hisone as its pilot. When he ascended to the sky with Hisone, his fate as a dragon pilot was decided. Dragons are said to hold a key to the future of the world.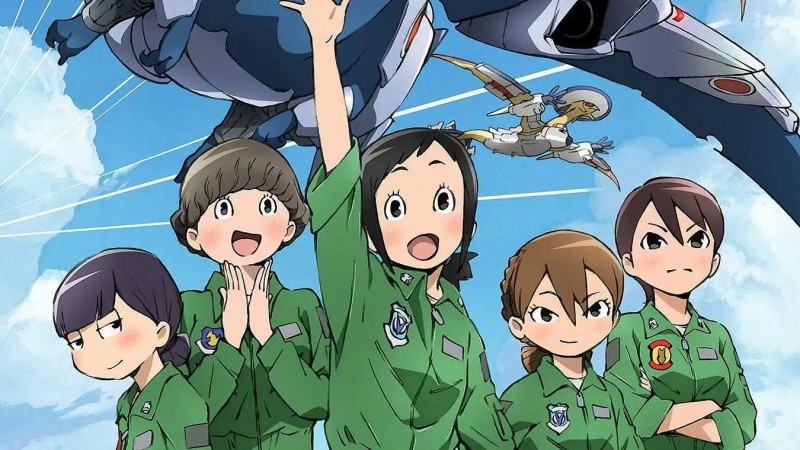 Cross Ange: Tenshi to Ryuu no Rondo
Angelise is the first princess of the Misurugi Empire. She is the celebrated ruler of the Empire until one day she discovers the shocking truth that she is a "Norma" - an irregular being who cannot use "Mana" and is treated as "things" rather than people.
Having her name taken from her, Ange isolates herself on a remote island. There, she encounters a group of Norma women who spend their days hunting dragons that have come to invade. Themes such as death, torture, abuse, martyrdom and human cruelty are addressed in the anime.
An anime has somewhat outdated traits and clings to some traditional japanese clichés, but it also features characters with genuine depth and feelings, has a bit of mecha and follows satisfying details for Berserk fans. You shouldn't play in the first few episodes!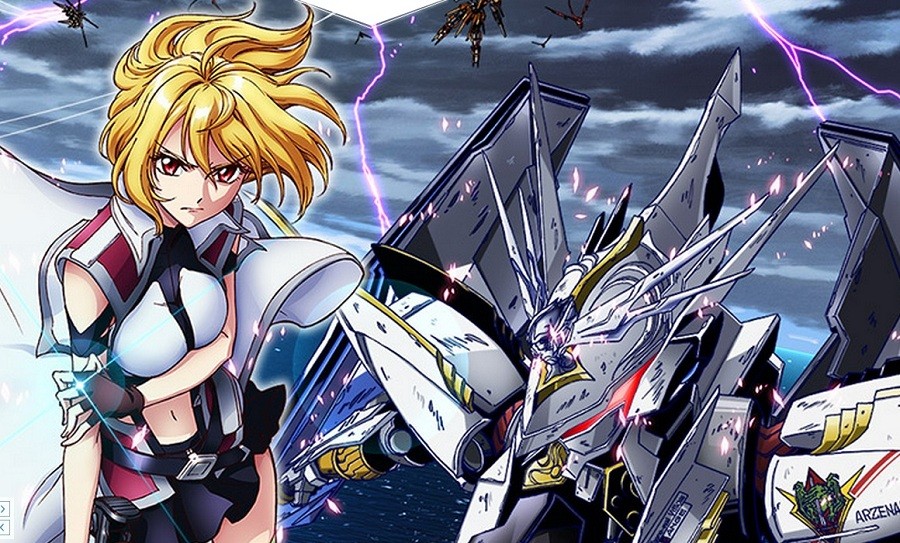 Kuutei Dragons – Drifting Dragons
The Quin Zaza drain ship soars through the skies, hunting dragons that lurk in the clouds. A single big catch means full coffers and all the meat they can eat, while failure means an empty wallet and an even emptier stomach.
Join us as we record the crew's grand adventures, chasing dreams of the sky, dragons and gourmet cuisine! This anime takes inspiration from Monster Hunter and Guns of Icarus, bringing an interesting new fantasy world to the table that feels adventurous in nature, which is rare to happen in anime.
Drakers are like sailors, living in big airships. This anime is very beautiful and magnificent, it never shy away from showing the scale of the world, the Dragons and the ships. Everything in this anime is huge and beautiful. Each new Dragon introduced is just a sight to behold.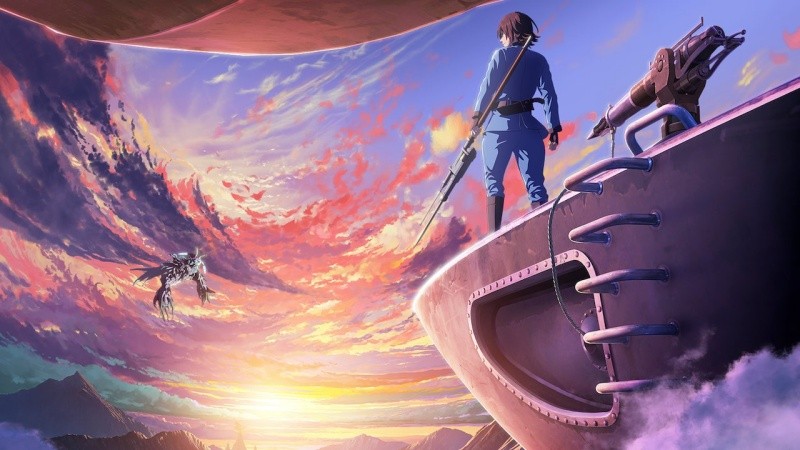 Ryuu no Haisha (Movie)
Also known as The Dragon Dentist (2017). The story takes place in Dragon Country. Nonoko is a newly appointed dentist and your mission is to protect the dragon, the guardian of the country, from tooth decay bacteria.
One day, in the midst of increasingly fierce battles with the neighboring country, Nonoko finds in the dragon's tooth an unconscious boy soldier from the enemy country.
His name is Bell, and he was resurrected from within the tooth by the dragon - a supernatural phenomenon that legend says occurs before a great disaster. As Nonoko and Bell endure a series of fierce battles, they eventually learn to accept their fate.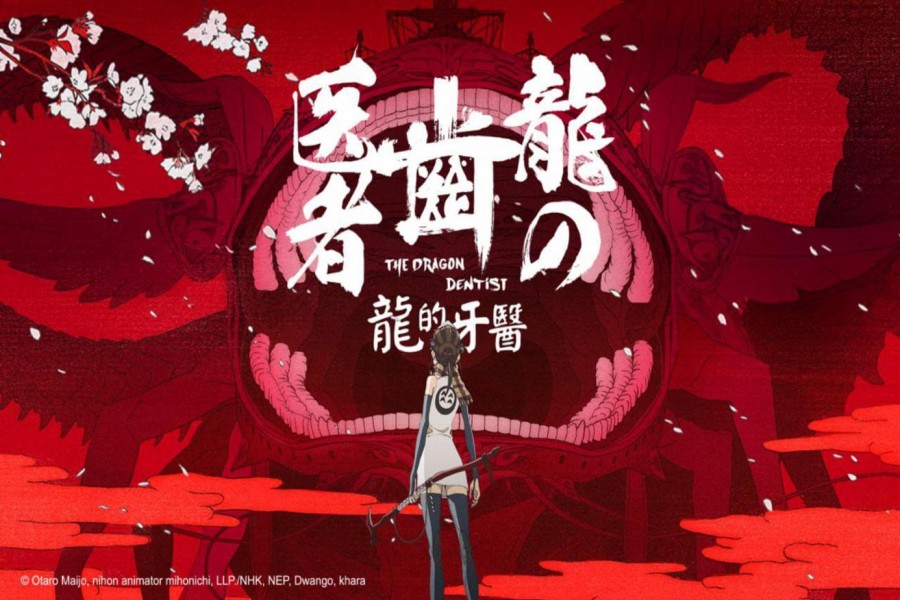 Dragon Anime Honorable Mentions
Wakfu – Despite being a French anime, its features are somewhat reminiscent of anime, its story and approach is also very similar to Japanese works. The story is based on a tactical MMORPG game that was part of my childhood and its predecessor Dofus. The animation has 3 seasons and is available on Netflix, it has one of the best villains of all time (Nox).
Dragon Ball - Despite not having a focus on dragons, if I don't quote this anime here someone crucify me.
Tales From Earthsea – Tales from Earthsea, a great medieval dragon movie with stylish traits Studio Ghibli which is available on Netflix.
Some others are:
Dragounaut – The Resonance;
Fairy Tail – It has many notable dragon characters;
Blue Dragon;
Zero no tsukaima;
List of Anime with Dragons
Below we will leave a complete list of anime with dragons with their year of release, including OVAs and Movies. The list is sorted by the most popular. Remembering that there are many other anime that have dragon characters, something that is part of Japanese culture.
Responsive Table: Scroll the table to the side with your finger >>
| | | |
| --- | --- | --- |
| Miss Kobayashi's Dragon Maid | TV | 2017 |
| GATE (2016) | TV | 2016 |
| GATE | TV | 2015 |
| Ne Zha | Movie | 2019 |
| Miss Kobayashi's Dragon Maid: Valentines and Hot Springs! (Please Don't Get Your Hopes Up) | DVD Special | 2017 |
| Rage of Bahamut: Virgin Soul | TV | 2017 |
| The Dragon Dentist (2017) | TV Special | 2017 |
| Burn the Witch | Movie | 2020 |
| Dragon Nest: Warriors' Dawn | Movie | 2014 |
| Dragon Pilot: Hisone & Masotan | TV | 2018 |
| Miss Kobayashi's Dragon Maid Specials | DVD Special | 2017 |
| CrossAnge: Rondo of Angels and Dragons | TV | 2014 |
| Drifting Dragons | streaming | 2020 |
| Orphen | TV | 1998 |
| The Dragon Dentist | streaming | 2014 |
| Kemono Michi: Rise Up | TV | 2019 |
| Dragon Crisis! | TV | 2010 |
| Dragon Half | OVA | 1993 |
| Dragonaut: The Resonance Special | DVD Special | 2008 |
| Mahoujin Guru Guru Movie | Movie | 1996 |
| Taro the Dragon Boy | Movie | 1979 |
| Nezha Nao Hai | Movie | 1979 |
| Dragon Drive | TV | 2002 |
| Dragonar Academy | TV | 2014 |
| That Time I Got Reincarnated as a Slime: Veldora's Journal | TV Special | 2019 |
| Legend of the Millennium Dragon | Movie | 2011 |
| Dragonaut: The Resonance | TV | 2007 |
| Mysteria Friends | TV | 2019 |
| Sohryuden: Legend of the Dragon Kings | OVA | 1991 |
| Blue Dragon: Trials of the Seven Shadows | TV | 2008 |
| Legendz: Tale of the Dragon Kings | TV | 2004 |
| Oraa Guzura Given | TV | 1967 |
| gestalt | OVA | 1997 |
| Dragon Slayer: The Legend of Heroes | OVA | 1992 |
| Leviathan: The Last Defense | TV | 2013 |
| Inishie no Megami to Houseki no Ite | streaming | 2014 |
| Kosuke and Rikimaru: Dragon of Konpei Island | OVA | 1988 |
| Serendipity the Pink Dragon | TV | 1983 |
| Capricorn | OVA | 1991 |
| Pleasant Goat and Big Big Wolf Movie 4: Mission Incredible – Adventures on the Dragon's Trail | Movie | 2012 |
| Dragon Century | OVA | 1988 |
| Oraa Guzura Given (1987) | TV | 1987 |
| Dances with the Dragons | TV | 2018 |
| happy forest | web | 2015 |
| It's My Life | OVA | 2019 |
| Panzer Dragoon | OVA | 1996 |
| Journey of LONG | TV | 2019 |
| Dragon Goes House-Hunting | TV | 2021 |
| Miss Kobayashi's Dragon Maid S | TV | 2021 |