In this article, we are going to see a complete list of Love Triangle anime and some love polygons (more than three people involved). Generally most of romance-focused anime has some kind of triangle, even if it is small or brief.
A love triangle is a set of interconnected romantic relationships between three people. These anime focus on the trials and tribulations of characters who may, at first, be in love, uninterested, or completely oblivious, as they unravel their feelings, make their choices, and try to win their loved one's heart.
Golden time - Triangle with memory loss
Tada Banri is a newly admitted student at a private law university in Tokyo. However, due to an accident, he lost all of his memories. In Golden Time we have several triangles from the first episode when the protagonist falls in love at first sight with Kouko who appears as the bride of his friend who doesn't like her.
When he finally manages to win over Kouko, in the meantime we see several couples suffering problems with their feelings, rejections and other triangles. In the case of the main couple, soon a new protagonist named Linda appears, keeping a secret and feelings for Banri.
The anime has a very mature theme as it takes place in the university, in it we even find references to Brazil. An anime from the same creator as Toradora which we also recommend (he has a love triangle and is as famous as Golden Time).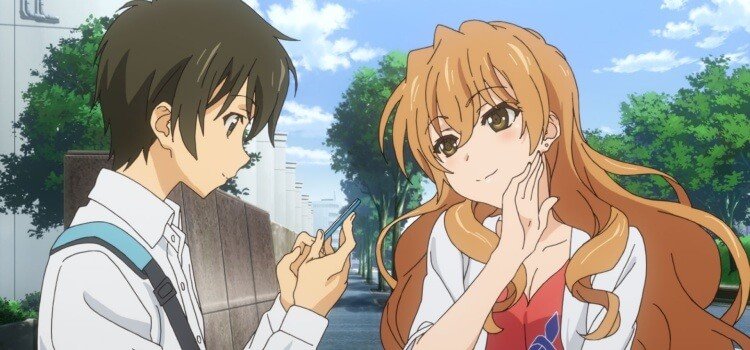 Sakurasou No Pet Na Kanojo
Kanda Sorata is a high school boy who lives in the Sakurasou dormitory, said to be a "dorm for the school's 'problem' students. Sorata meets a strange girl and artist named Shiina Mashiro and sees that he needs to help her get used to the hectic daily life.
In the anime, the love triangle in question is between the protagonist, Shiina Mashiro and her childhood friend Nanami Aoyama. The anime has a very interesting plot involving future, life decisions, romantic feelings, one of the funniest anime I've watched.
There is romantic interest from other protagonists as in the case of the energetic Misaki who is in love with Jin who shows no interest and goes out with other girls, can this be counted as a love triangle too?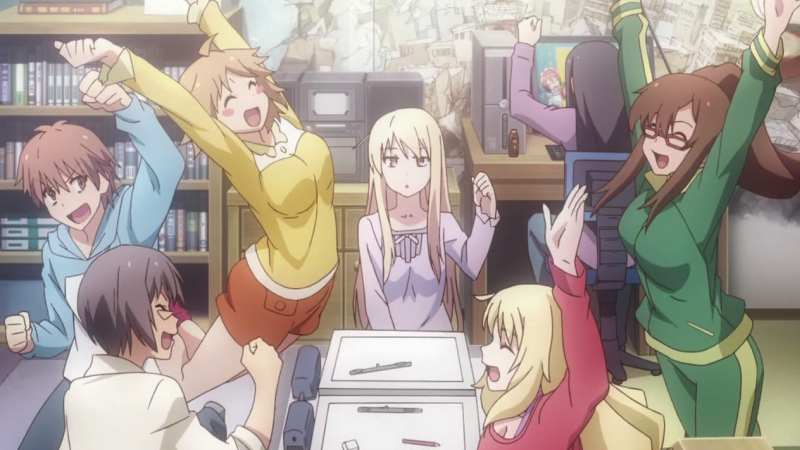 Kokoro Connect
This anime tells the story of a group of students who face bizarre situations that involve switching bodies with their classmates, some turning into babies and other strange situations that test the bond of friendship between them.
What seems like an unpleasant supernatural phenomenon leads to an emotional connection between Himeko, Taichi and Iori. The trio begins to learn each other's secrets and feelings, which leads to some complications within the group and a love triangle.
A very fun and exciting anime that doesn't hide behind clichés and a generic script like the vast majority. an anime slice of life that holds you from beginning to end through its exciting and curious story.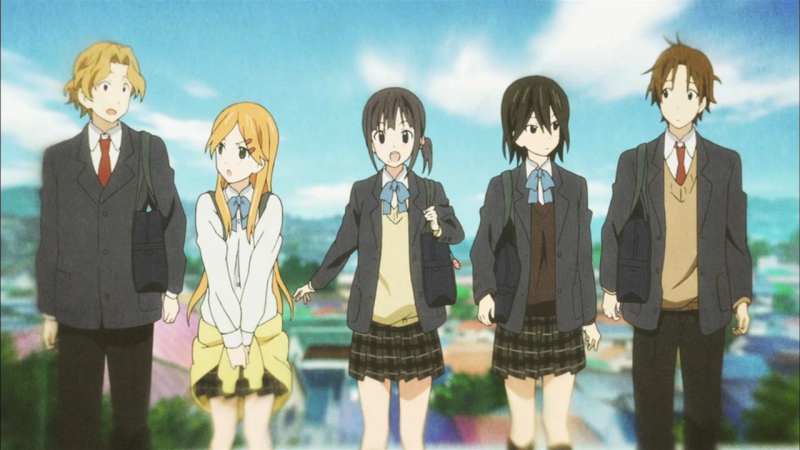 The artigo is still half finished, but we recommend opening it to read the following later:
White Album 2
At first it looks like a generic anime school club of music, but the pace of romance and love triangle of this anime takes many by surprise. In this anime, the protagonist has to choose between a famous and rich singer and pianist.
This anime brings an absurd sadness at the end, because the protagonist doesn't seem to understand his feelings. The anime also shows what can happen when you don't take action right away when you're inside a triangle.
The anime's soundtrack is good, despite the number 2, it's not a second season, it's a new anime with new characters, based on a Visual Novel. Probably the first White Album is another love triangle, but I never watched it to give an opinion and be sure of that.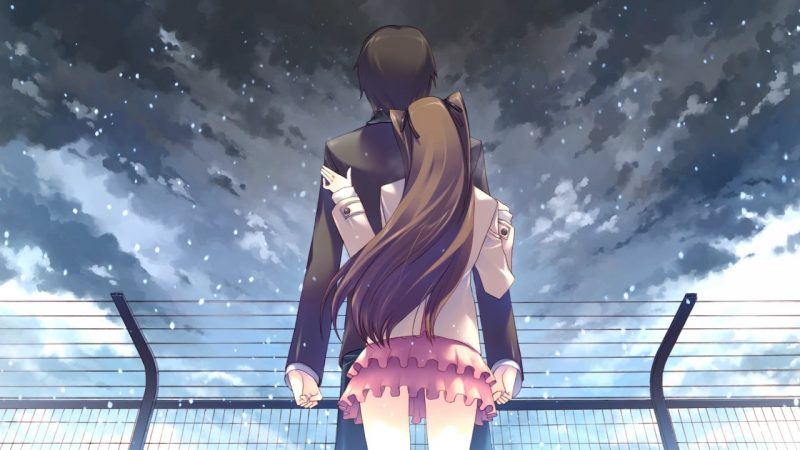 Yahari Ore no Seishun... Oregairu
The famous complex comedy anime Oreigairu from the beginning presents a complicated love triangle that lasts for long 3 seasons (mainly for those who waited to be adapted) between a super funny antisocial boy, a happy girl and a depressed one.
The anime tells the story of an antisocial teenager named Hachiman Hikigaya, who is forced by his teacher to join the "service club", where he meets Yukinoshita, a difficult girl to deal with, and together they have to solve several other people's problems.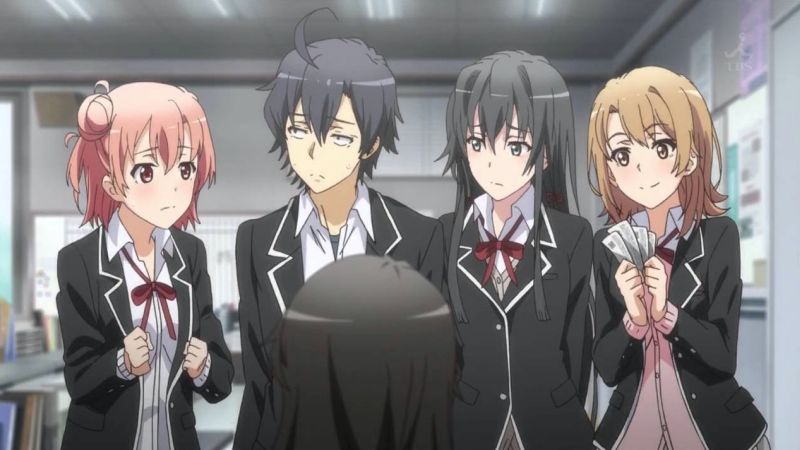 Nagi no Asukara - The Loving Heptagon
The anime shows a human civilization that lives entirely in the deep ocean, divided from other humans living on the surface. The anime shows young people who need to move to surface school.
The anime features many interesting themes like racism, society, prejudice and others. This anime is not a simple love triangle, but a Heptagon where 7 young people fall in love with the wrong person creating the biggest FriendZone chain of all time.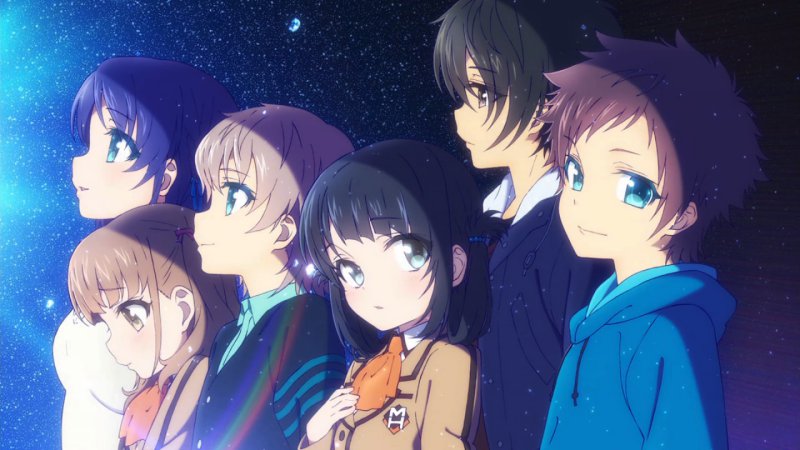 Gotobun no Hanayome - The Quintuplets
Here we have 5 girls who are twin sisters in love with a boy, childhood secrets and lots of fumbling with a dash of ecchi. An anime that took many by surprise and gained a fame that even I didn't expect.
Here we have a protagonist who needs to teach the 5 sisters to study, since the intelligence of only one has been divided into five. The big problem is that these girls don't want to be taught, which causes a tremendous amount of work for our protagonist.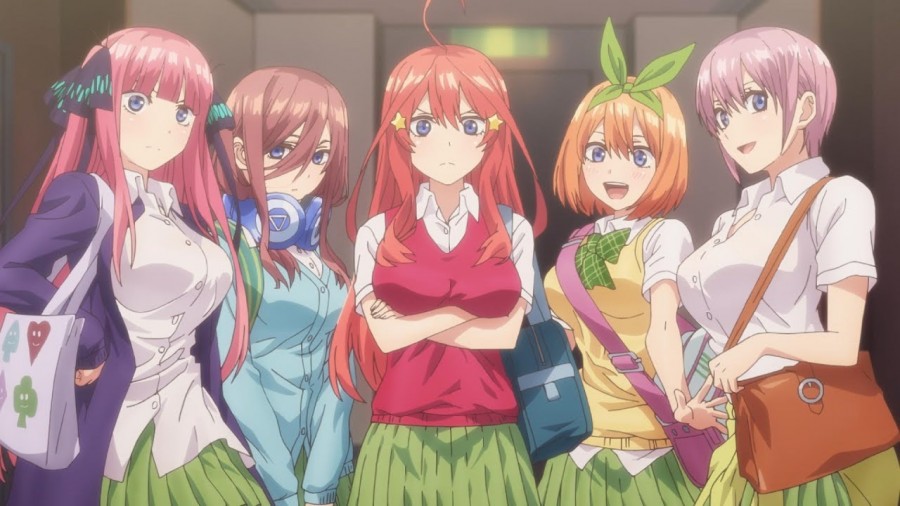 Videos about Love Triangle in Anime
List of Anime with Love Triangle
Below we will share a complete list of love triangle romance anime with their year of release ordered from best to least popular.
Responsive Table: Scroll the table to the side with your finger >>
| | | |
| --- | --- | --- |
| Fruits Basket 2nd Season | TV | 2020 |
| Fruits Basket 1st Season | TV | 2019 |
| Chihayafuru 3 | TV | 2019 |
| Chihayafuru 2 | TV | 2013 |
| Shouwa Genroku Rakugo Shinjuu | TV | 2016 |
| Kids on the Slope | TV | 2012 |
| nana | TV | 2006 |
| Chihayafuru | TV | 2011 |
| Honey and Clover II | TV | 2006 |
| School Rumble: 2nd Semester | TV | 2006 |
| Macross Frontier | TV | 2007 |
| Tsukigakirei | TV | 2017 |
| A Lull in the Sea | TV | 2013 |
| Macross Frontier Movie 2: Sayonara no Tsubasa | Movie | 2011 |
| Blue Spring Ride | TV | 2014 |
| ef - a tale of memories | TV | 2007 |
| Kokoro Connect | TV | 2012 |
| Super Dimensional Fortress Macross | TV | 1982 |
| Bloom Into You | TV | 2018 |
| School Rumble | TV | 2004 |
| Maison Ikkoku | TV | 1986 |
| Fruits Basket | TV | 2001 |
| Golden Time | TV | 2013 |
| Macross Frontier Movie 1: Itsuwari no Utahime | Movie | 2009 |
| To Love Ru: Darkness 2nd OVA | OVA | 2016 |
| To Love Ru: Darkness OVA | OVA | 2012 |
| To Love Ru: Darkness 2nd | TV | 2015 |
| To Love Ru: Darkness | TV | 2012 |
| Super Dimensional Fortress Macross: Do You Remember Love | Movie | 1984 |
| Aoi Bungaku Series | TV | 2009 |
| Macross Plus Movie Edition | Movie | 1995 |
| White Album 2 | TV | 2013 |
| Honey and Clover | TV | 2005 |
| Macros Plus | OVA | 1994 |
| Kimagure Orange Road: I Want to Return to That Day | Movie | 1988 |
| touch | TV | 1985 |
| New Kimagure Orange Road: Summer's Beginning | Movie | 1996 |
| ORSUKI: Are you the only one who loves me? | TV | 2019 |
| The Vision of Escaflowne | TV | 1996 |
| Motto To Love Ru | TV | 2010 |
| True Tears | TV | 2008 |
| Scum's Wish | TV | 2017 |
| To Love Ru OVA | OVA | 2009 |
| Kimagure Orange Road | TV | 1987 |
| Fushigi Yugi: The Mysterious Play | TV | 1995 |
| Princess Nine | TV | 1998 |
| Kimagure Orange Road OVA | OVA | 1989 |
| Gokinjo Monogatari | TV | 1995 |
| Rumbling Hearts | TV | 2003 |
| Love Hina Again | OVA | 2002 |
| To Love Ru: Multiplication - Mae kara Ushiro kara | OVA | 2017 |
| Natsuyuki Rendezvous | TV | 2012 |
| Sing "Yesterday" for Me | TV | 2020 |
| Domestic Girlfriend | TV | 2019 |
| Da Capo II Second Season | TV | 2008 |
| Marmalade Boy | TV | 1994 |
| Just Because! | TV | 2017 |
| We Were There | TV | 2006 |
| Urusei Yatsura Movie 3: Remember My Love | Movie | 1985 |
| To Love Ru | TV | 2008 |
| Anonymous Noise | TV | 2017 |
| Delta macros | TV | 2016 |
| Video Girl AI | OVA | 1992 |
| Aoki Densetsu Shoot! | TV | 1993 |
| Please Twins | TV | 2003 |
| Kirarin Revolution | TV | 2006 |
| A Town Where You Live (2014) | OVA | 2014 |
| Ceres, Celestial Legend | TV | 2000 |
| candy boy | web | 2008 |
| I''s Pure | OVA | 2005 |
| Peach Girl | TV | 2005 |
| Gokinjo Monogatari Movie | Movie | 1996 |
| Love and Lies | TV | 2017 |
| No-Rin | TV | 2014 |
| A Town Where You Live | TV | 2013 |
| Canvas 2 ~Niji Iro no Sketch~ | TV | 2005 |
| Kashimashi: Girl Meets Girl | TV | 2006 |
| Tales of a Street Corner | Movie | 1962 |
| Touch Movie 1: Sebangou no Nai Ace | Movie | 1986 |
| Magical Angel Creamy Mami | TV | 1983 |
| Attack No. 1 | TV | 1969 |
| To Heart: Remember My Memories | TV | 2004 |
| Love and Lies OVA | OVA | 2018 |
| Slow Step | OVA | 1991 |
| To Heart | TV | 1999 |
| 801 TTS Airbats | OVA | 1994 |
| Mizuiro Jidai | TV | 1996 |
| Hikari no Densetsu | TV | 1986 |
| Natsu and no Tobira | Movie | 1981 |
| If I See You in My Dreams | TV | 1998 |
| I's OVA | OVA | 2002 |
| Psychic Academy | TV | 2002 |
| School Days | TV | 2007 |
| Sakura Diaries | OVA | 1997 |
| Ai Shite Night | TV | 1983 |
| sequence | OVA | 1992 |
| Love to Lie Angle | TV | 2018 |
| Boku wa Kono Mama Kaeranai | OVA | 1994 |