There are several ways to get discounts with train tickets and shinkansen in Japan. Some buy daily or seasonal passes, others buy it online in advance, but what many are unaware of are the famous stores called Kinken Shop (and others) that can be found near major train stations or tourist attractions.
At Kinken Shop [金券ショップ] are stores that resell tickets and coupons for a lower price (about 5%) for trains, buses, shinkansen, cinema, restaurants, gift cards and tourist attractions such as Disney and Universal. In addition to Kinken Shops, you will find discount stores with different names or franchises such as Daikokuya Shop, Kounan Ticket, Sun Ticket, Marutoku Ticket, Yasui Ticket and Tokai Ticket.
In some of these stores you can sell old tickets and buy tickets using your credit card. Most of the time they don't have any information in English or another language besides Portuguese, but it is possible to buy discounted tickets through vending machines that you can find in front of these stores or in strategic places.
Some train lines give high discounts that provide savings of up to 30% or sometimes even more. These Japanese discount stores usually open at 9:00 am or 10:00 am and close at 6:00 pm or 7:00 pm. There are also discounts and extra tickets for a certain time or date.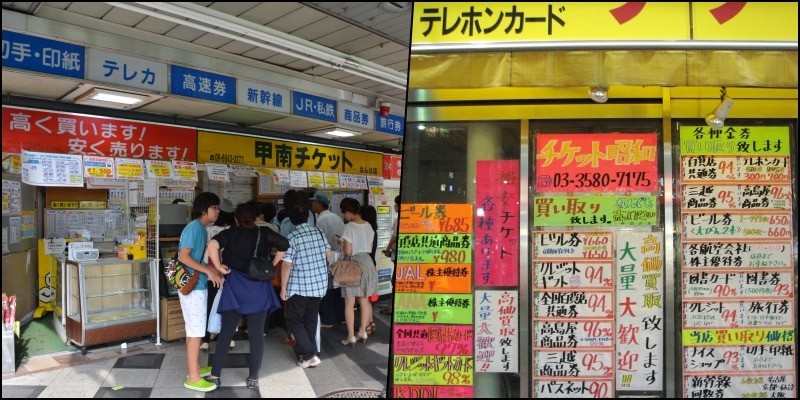 Japan discount stores tips
When looking for a discount store or cheap ticket, you need to understand that there are different types of trains and tickets, some are:
fuutsu – They are normal tickets for common and local trains;
Jisa or Hirudoki – These are tickets that work in the afternoon, usually from 10:00 to 17:00;
DoNichi or Kyuujitsu – These are weekend tickets;
Shinkansen – They are bullet trains, usually the tickets have an expiration date;
Unlike regular tickets, tickets purchased at discount stores cannot be refunded if you do not arrive at the destination station. One of their advantages is that they have a longer expiration date than common coupons that usually last only the day of purchase.
I made a lot of use of discount stores in Japan, I bought a Kakegawa to Disney via Shinkansen + the Tokyo to Mihara stretch for just 6,000 yen. The regular price is usually more than 8,000 yen. I had about 2,000 yen of savings (70 reais) with this discount.
If you're buying tickets or coupons for anything local or famous, try looking for a Japan discount store and save. Movie tickets can be up to half price if purchased at some of these discount stores.
Whenever you travel, look for a Discount Store located near the stations and get your discounts. What did you think of this tip? Did you like the article? We look forward to hearing your comments and shares. Finally, let's leave some extra information for you to research:
https://www.daikokuya78.co.jp/index_en.html