Trust, honesty and a sense of collectiveness are common in the land of the rising sun. Mujin Hanbai (無人販売) is a great example of japanese honesty, where vendorless market stalls are scattered across Japan. In this article, we will try to understand how these mujin hanbai works and some curiosities you didn't know.
If you still don't know what it is Mujin Hanbai, are small stalls set up on the side of the road or even in the city, where fruits are packed and offered for sale. The person goes to the place, takes the fruit and puts the money in a box, and nobody wants to steal the money or the fruit. To understand more, watch the video below:
Japan is far beyond vending machines scattered across the country in remote places. These unattended stalls are a great example of honesty, integrity and trust!
Market stalls without vendors in Japan
In many parts of Japan, mainly inland, there are people who are very busy taking care of their artisan farms. To sell, they prepare a strategic point with a large circulation of vehicles, they make a simple stand and put their products to sell in a kind of self-service.
With no salesperson present, the customer takes what he wants and puts the value in the box. It's amazing how no one steals the money or products from the place. If it was in Brazil, they would even take the tent! I'm not ashamed to say this, we need to compare and reason how much our society needs change. Japan is the example!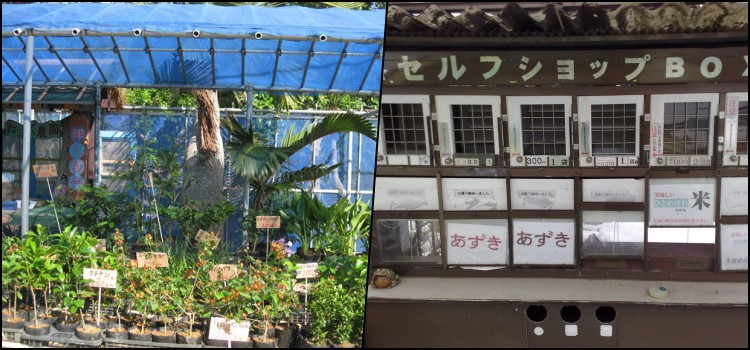 These stalls usually sell fruits, flowers, vegetables, leaves and other craft products in the range of 100 yen (about 1 USD). The products sold are of good quality, but they are not suitable for sell in markets due to color, weight and aesthetics. To avoid waste, the Japanese put these products to be sold at a low price in mujin hanbai.
Does Mujin Hanbai always work?
This does not mean that all Japanese people are honest. The seller has no guarantee of his products and money other than relying on the honesty of unknown customers. Even in places with little traffic, the Japanese show their honesty by paying and taking the product correctly.
While this is common in Japan, being honest in Brazil is a laughing stock. There have already been cases of theft involving these market stalls without sellers. In July 2017, 3 Vietnamese were taken by the police for stealing 3 watermelons from a small shop with no salesman. Even if it seems easy to steal vegetables, the dishonest always splinters in countries like Japan.
Not all salespeople are confident of leaving their sale alone. Some create security systems, automatic machines, coin cabinets, or leave notices appealing to people's consciences. It is worth remembering that in some Asian countries, these vendors without sellers are also common.
You can see the address of several mujin hanbai in the Nerima region of Tokyo via the website: 
There are thousands of other stalls with no vendors scattered throughout Japan. Have you who lives in Japan ever bought from them? What is your opinion about these sales? Wouldn't it be wonderful if this works in Brazil? We appreciate the comments and shares. We recommend reading other related articles below: