The stores of 100 yen or Hyakuen Shoppu [100円 ショップ] are typical Japanese stores that are very similar to the old 1.99 stores in Brazil. There you can buy everything for 100 yen, which is approximately one dollar.
In these stores you can find a huge variety of products. From household items, stationery, clothing, electronics to edibles. Normally everything offered in the store costs 100 yen.
But smaller items are sold in multiples of 2 or 3 per 100 yen. Some stores also sell items for more than 100 yen, but these are well identified. But generally these items expensive are still cheap compared to other stores.
The 100 yen stores in Japan
The stores can also be called Hyakkin [百均], most of its products are processed foods, cosmetics accessories, crockery, kitchen utensils, daily necessities, stationery and others.
Low-priced products such as small drinks and sweets sell several pieces for 100 yen. The store is elaborately designed to make people buy on impulse. Most of its products are made in China or other countries.
They range from simple department stores in small corners of the city to multi-storey stores in malls. There are even chain stores that adhere to certain standards. 4 of the main ones are Daiso, Can-Do, Seria and Watts.
Only of the 4 giants, there are more than 5500 stores available in Japan, varying in size and options. In fiscal 2012 alone, these stores handled more than 550 billion yen.
In 100 yen stores you can find stationery items, tools, clothes, towels, household items, kitchen and garden items, toys and leisure. There are thousands of options for you to redecorate your home or apartment!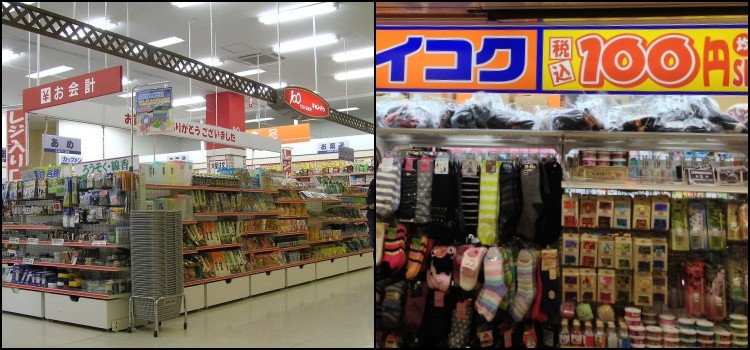 What are the best 100 yen shop?
THE daiso [ダイソー] is the largest 100 yen store chain in Japan. There are more than 2900 stores in the country and 1400 abroad. If you are looking for a wide variety of products in one place, Daiso is the right place. Many even say that everything necessary for human survival is found in this chain of stores.
Other store franchises are Can-Do (キャンドゥ) with over 930 stores in Japan. They are well known for being easy to navigate, making life a lot easier for customers and tourists. The store's branded products "Of! STARS" are highly sold and praised. Another important factor is the elegant atmosphere, and the wide variety of new items displayed weekly.
The last one we are going to mention is the chain of stores called It would be 100-Yen Shop (セリア). This chain of stores has a strong reputation among 100 yen stores. Much is owed to their training, organization and beautiful products. Its concept is to offer a variety of products aimed at more refined and demanding tastes.
There are other own 100 yen stores and chain stores such as: Le Plus, Natural Kitchen, Lawson and Meets. In addition to the 100 yen stores there are other variety stores that sell for different fixed prices like 300 yen. We can mention stores like 3coins and Asoko.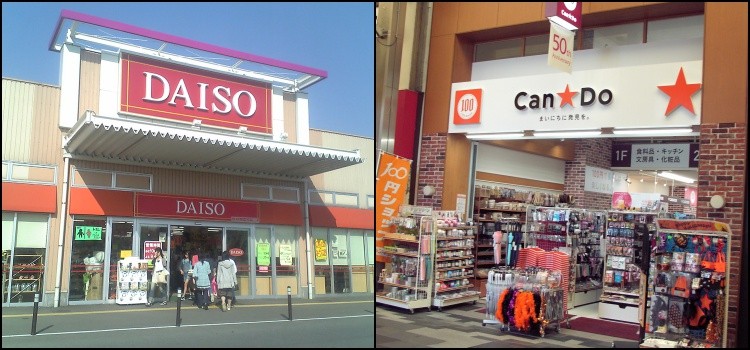 The 100 yen stores are all over Japan, there you can find an endless variety of items, trinkets and even food.
History – How did the Hyakuen Shop come about?
The idea of "selling products at a uniform price" was popular in the Edo period from 1722 to 1723 in Japan. Over the years, some food stores and other products such as Bunmise, Hachibunya, Shibunya and Matsuya Kuremonoten (now Matsuya) emerged.
Before 100 yen, in the Meiji Period we had the "10 sen store" expanded all over Japan by Takashimaya. It is believed that this store was inspired by the "10 cent store" in the United States. 10 without it was the fractional version of the yen, ie 10 cents.
Over the years, several stores emerged, increasing their value to 20 sen and 50 sen. At that time, 10 sin it was equivalent to 180 yen today. To understand more about this subject, we recommend reading about the yen history.
After the war in 1952 stores like Takashimaya and Marutaka were relaunched, but with time their names changed and their fixed-price format ceased to exist. It was around 1960 that the fixed value of 100 yen was established.
At that time, purchases for 100 yen were limited to special events that took place weekly. These events were successful as they are in supermarkets and other stores. Nowadays there are still special days in the 100 yen stores themselves that give some discount as a tax rebate of 10%.
In March 1985 Akira Matsubayashi, the founder of Life Co. opened the first 100 yen fixed store in Kasugai City, Aichi Prefecture. After that, Hirotake Yano, the founder of Daiso Sangyo ("Daiso") opened the first permanent store in 1991.
After the bubble, with the recession and deflation, the number of stores increased rapidly. In the 2000s, groceries-centric 100 yen convenience stores emerged. Among them we had the Kukyu Plus and "SHOP99".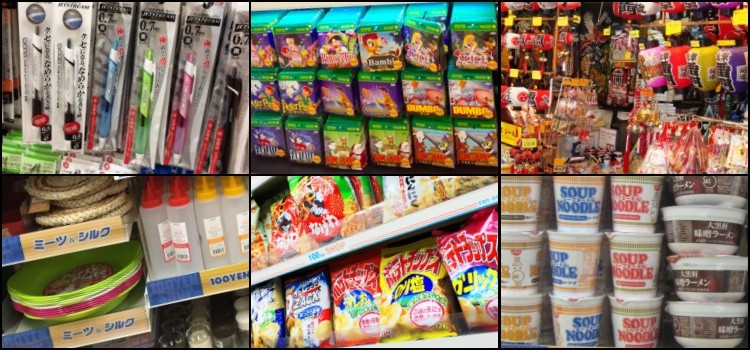 Daiso – The biggest 100 yen shop
Daiso has around 3,300 stores in Japan and around 2,000 stores in 26 countries and regions around the world. This one is quite successful among tourists, for the ease of finding them. At Daiso you will find everything, utensils, tools, stationery and food.
Initially, it operated an outdoor mobile store in the parking lot of a supermarket. Products were bought from wholesalers for 70 yen and sold for 100 yen. After complaints from a customer, the founder changed his focus.
After this complaint, Hirotake Yano decided to focus on the quality of his products, even buying products for 98 yen and selling them for 100 yen. Daiso gained a reputation for quality among the others, this made the company become the largest in the business.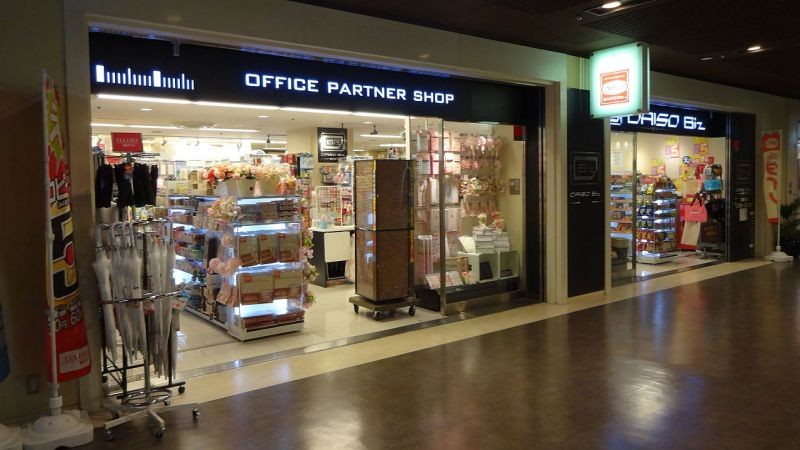 Other 100 Yen Stores
There are several other stores hyakuen apart from the 4 big celebrities that we saw earlier. Even the Lawson convenience chain has its Lawson Store 100 store, in addition to having integrated the famous SHOP99.
We also have am/pm and 99ichiba stores called mini play. There are 300 yen stores like 3COINS, CouCou, Illusie300, Lattice and THREEPPY. There was even a 1000 yen store called Senkin World.
Of the big 4, some stores had the names of Silk, Watts and Meets that were bought by Watts. Le Pru joined Can-do in 2007. Daiso has collaborated with Aoyama, Speed and Orange. There must be other mergers and stores that we don't know about.
100 yen Local Stores
There are small local stores that are named after 100 yen, but there are also local regional stores that can be found in a certain region of Japan. Check out some of these popular local stores:
Responsive Table: Scroll the table to the side with your finger >>
| | |
| --- | --- |
| Japanese | Romaji |
| ワールド企画 | wārudokikakun |
| なんじゃ村 | nanjamura |
| 100円ショップポピア | 100-en shoppu popia |
| THE 100 STORES | THE 100 STORES |
| 100えんハウスレモン | 100-en hausu remon |
| 百円コンビニユーエスマート | hyaku-en konbiniyūesumato |
| ナチュラルキッチン | nachuraru kitchin |
| ひゃくえもん | hyaku and mon |
| FLET'S | flet's |
| 得得屋 | Tokutoku-ya |
| ダイコクドラッグ | daikokudoraggu |
| 100きんランド | 100 kin rando |
| 100円ショップ サンボックス | 100-en shoppu sanbokkusu |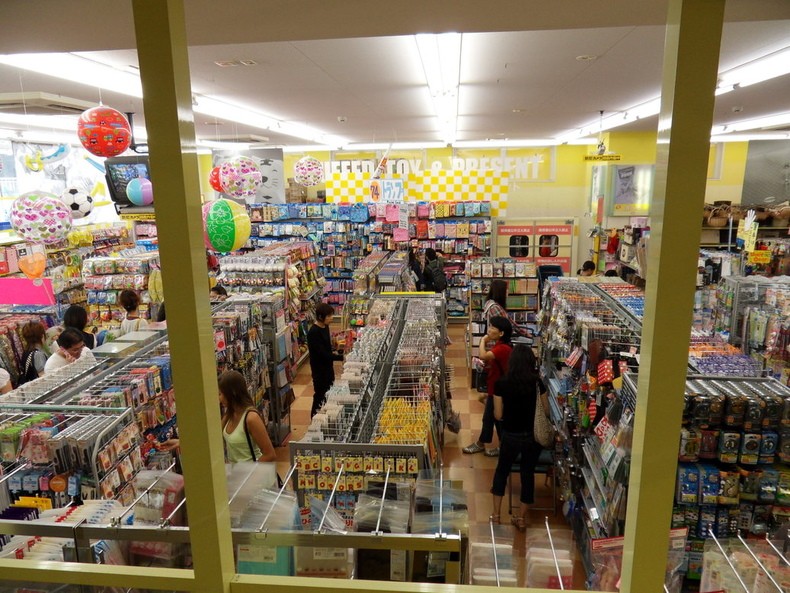 What to buy in a 100 yen store?
The stores have a huge variety of unique handcrafted products, varied packaging for gifts, household items, confectionery sweets, among many others. All 100 yen stores in Japan offer many products practical and elegant. So many products for the home, to make everyday life easier or to fill your suitcase with memories.
By Kevin: When I was in Japan I visited several 100 yen stores and I can remember some things that I bought or that caught my eye:
Headphones;
telephone cases;
Sweets and snacks;
Stickers, stamps and seals;
Socks, ties and belts;
shoes, envelopes and containers;
Spices, hats and bags;
There are so many things that I even bugged when trying to make this list...;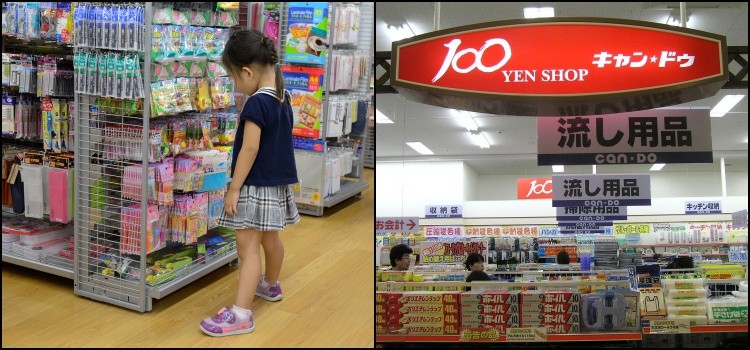 The stores featured in this article offer similar products, but each has a different style, so it's worth visiting them all if you're touring Japan. But of course, there are many, many other stores distinct from these. Have you ever visited any of these stores? I would like to visit? Tell us your experience in the comments.
When visiting a 100 yen store you will be totally lost and undecided on what to compare. You will spend hours choosing products and you will empty your wallet in no time. See other places in Japan that will make you lose yourself with the incredible varieties: