Ever heard of Banana Milk? Banana Milk is a banana-flavored milk product first created in South Korea and now sold in many countries. Today we are going to see curiosities, origin and history about this Korean drink.
We also recommend reading:
Natural Banana Milk
It is worth mentioning that there is also vegetable banana milk that does not contain milk in its composition. Banana Milk can be made from just ripe bananas, water, and other optional ingredients like coconut milk, sugar, or powdered milk.
It has a pale yellow color and a sweet, mild banana flavor. It is a vegan or lactose-free alternative to cow's milk, and can be used in a similar way in cooking recipes.
The history of banana milk is unknown, but it is likely that it was developed long ago in regions where bananas are grown.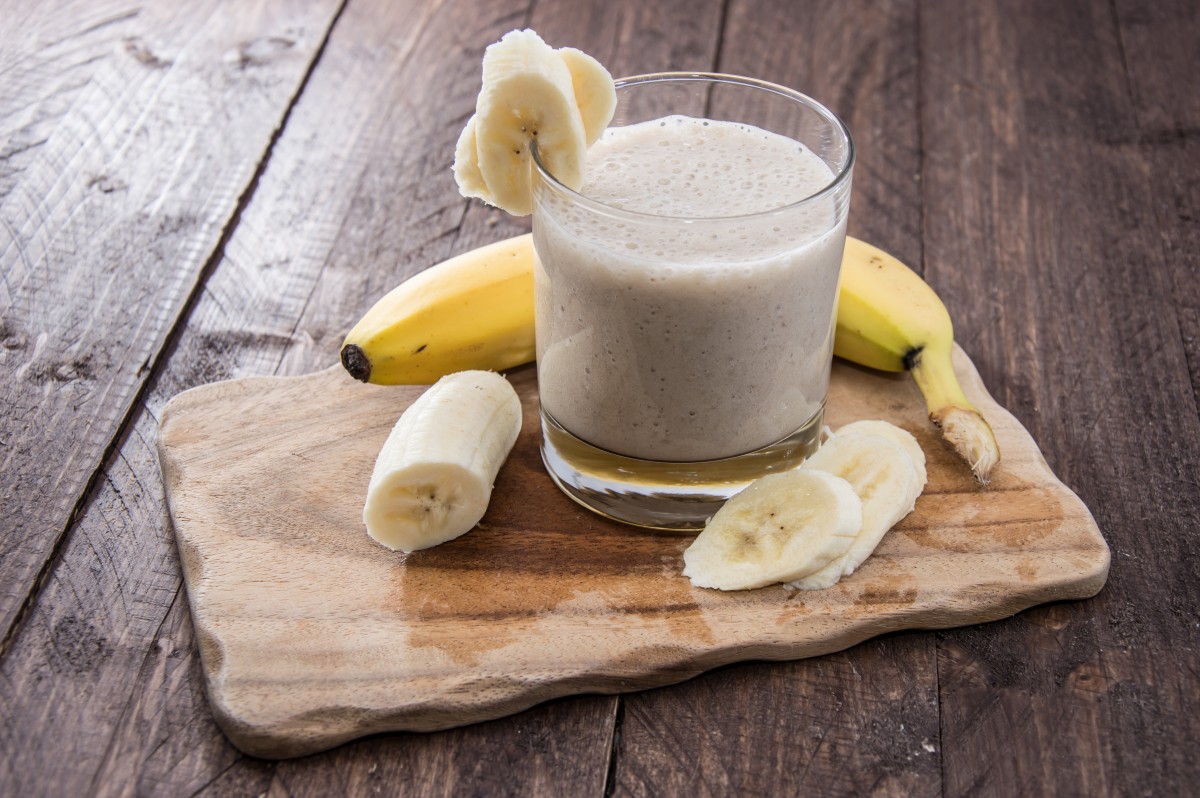 Binggrae's Banana Milk
Binggrae's Banana Milk was first produced in 1974 and has never left the top of the charts, with an average of 800,000 units being sold a day. It was the first single milk product to surpass 100 billion won in sales and profits.
The story of Banana Milk is surprising, in the 60s, the Korean government sought to increase milk consumption in the country, but milk was rare and expensive, and many children felt stomach ache when consuming it.
Then, Binggrae launched Banana Milk, a banana-flavored processed milk, which was very popular among children and students, as banana was a rare and expensive fruit in South Korea.
A curious fact is that at launch, Banana Milk did not contain bananas in the mixture, but a mixture of vanilla extract and other ingredients. Nowadays the product is obliged to contain 1% of banana in its composition.
The product is so famous that during the 1997 Asian Financial Crisis, Binggrae was able to increase Banana Milk sales by launching sales packages at low prices.
Banana Milk packaging is known for its easy-to-carry and iconic design, comparing to the iconic Coca-Cola bottle. Its design was inspired by moon jars called Moon Jar, traditional in Korea.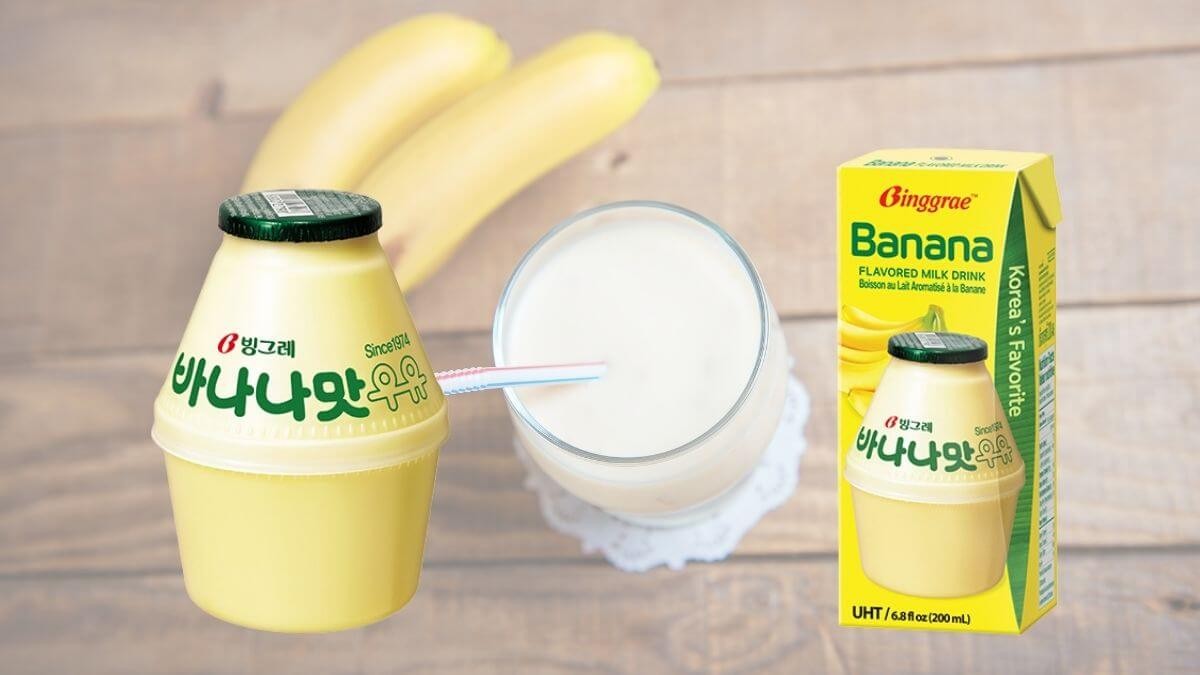 Alternatives to Banana Milk
Besides the original banana milk flavor, there are other flavors available like: chocolate, vanilla, caramel, strawberry and other fruity flavors.
There are other products similar to Binggrae Banana Milk. These include other brands and varieties of banana milk, as well as other flavored vegetable drinks. Some are:
Banana Almond Milk: It is a vegetable drink made with almond water and banana flavor.
Banana coconut milk: It is a vegetable drink made with coconut water and banana flavor.
Banana soy milk: It is a vegetable drink made with soy milk and banana flavor.
Banana smoothie drinks: These drinks are usually made with a blend of fruits and vegetables, and may contain milk, plant milk or water as a base.
There are other brands that produce Korean banana milk besides Binggrae. For exclusivity, there are changes in composition, name or packaging. Some of the brands include:
Lotte: One of the largest food and beverage companies in South Korea.
Namyang: One of the leading dairy companies in South Korea.
Maeil: Another major dairy company in South Korea.
Paldo: One of the largest food and beverage manufacturers in South Korea.
Vitasoy: Company from Hong Kong, which manufactures vegetable drinks.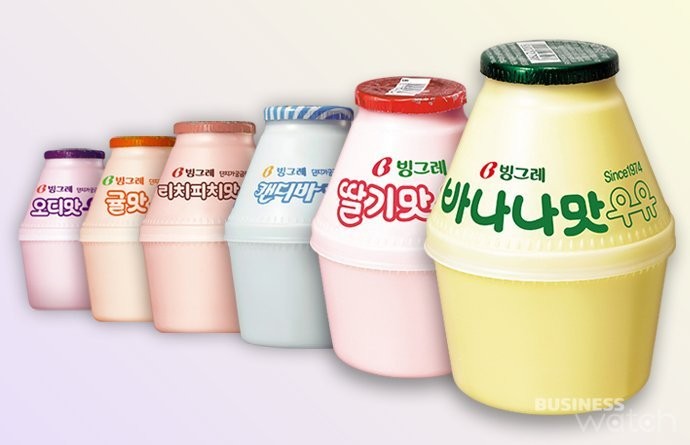 The artigo is still half finished, but we recommend opening it to read the following later:
Banana Allergy Monkey
Oh My Girl is a South Korean band formed in 2015 by WM Entertainment, the group consists of 8 members and "Banana Allergy Monkey" is one of the hit songs of their career.
The name and lyrics of the song have a relationship with banana milk, and even use a play on Korean words "Banana" and "Allergy" that relate the joy of drinking banana milk.
The song is a romantic comedy and is an example of how banana milk is popular and recognized in Korean culture and how it is used as a reference in Kpop music.
Where to buy Korean Banana Milk?
Korean Banana Milk can be found in convenience stores, supermarkets, shops and shopping areas specializing in Korean products, usually in countries with Korean communities.
If you don't live near a Korean community, there are a few options for buying Korean banana milk online, but these may vary based on your location. Some options include:
E-commerce sites specializing in Korean or Asian products.
Reseller sites such as Amazon and eBay where you can find sellers who import Korean banana milk from Asian countries.
Binggrae official website.
Sites like Tiendamia, Aliexpress and GMarket;
It is important to note that availability and prices may vary depending on your location and, in some cases, you may be required to pay additional import and shipping fees.