In today's article, I'm going to introduce some apps that I use to learn Japanese on Android, iOS, and even the late Windows Phone (which is usually also available on Windows 10 Store) phone and tablet.
All apps below are free, some may have paid content. They were apps that I chose and use to learn, mandatory apps that must be installed on cell phones of Japanese students.
Japanese Memorization Apps
Anki and the like
Android; iOS; Windows; web
Anki is a very famous spaced memorization site. You can download the app for desktop or mobile devices, or use some other app that plugs into its API to access word decks that help with memorization and review.
Some use the app to learn new words, but I advise using it only to review content you've already learned or are at your level. It works in an elaborate way, displaying cards that you need to review at the right time.
On iOS its version is paid, as it is the only one officially developed. Fortunately there are alternative versions that connect to the API and are even superior, such as ankiapp, Quizlet and other applications with the same purpose of spaced memorization.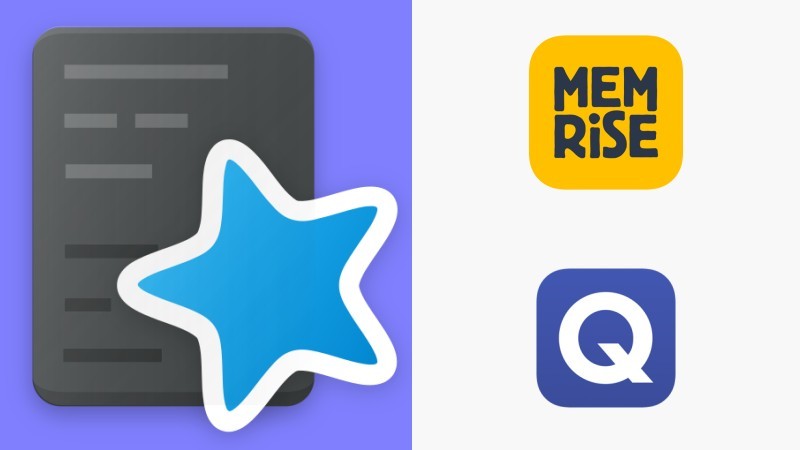 memory
A famous app, which supports multiple languages. Now he teaches Japanese in a very practical way, even bringing in native voices and using a great memorization system. It has a pro version.
Japanese Kanji Study
Application in English focused on the study of kanji, super complete and well organized, with systems that will help you to memorize the kanji. The app has more than 6 thousand kanji.
Japanese Lesson Apps
Obenkyo
One of the most famous Japanese apps for smartphones, it is very complete, it has exercises, flash cards, quizzes to help you memorize words, kanji and even phrases. He has the option to draw, in addition to taking basic classes on Japanese grammar.
It is available in English, has explanatory articles and lessons. One of the most famous Japanese apps of all time. Unfortunately it is not available for iOS. You may even find similar or similar apps, but it's not the same.
The app is simple, it has a memorization system, questions, a small dictionary, kana, kanji and other Japanese lessons that you can find on any website, including our Suki Desu website.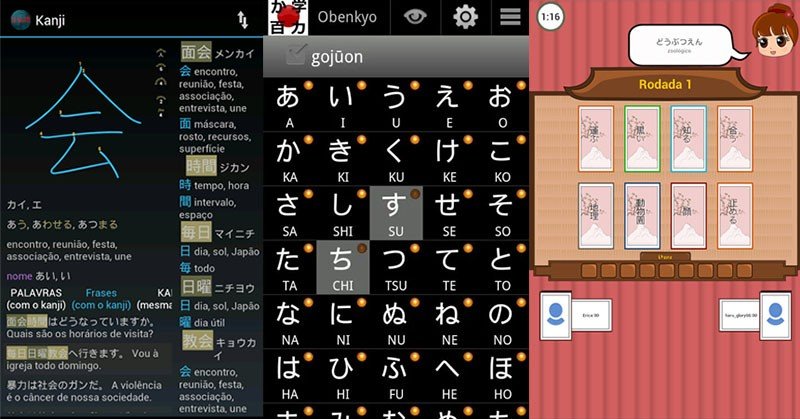 JA Sensei – Learn Japanese
Complete package to learn Japanese! JA Sensei offers easy-to-understand Japanese lessons and various interactive exercises to learn Hiragana, Katakana, Kanji, Japanese vocabulary, Japanese phrases for your travels, numbers, verbs, etc.
Take audio, multiple-choice, self-assessment or drawing quizzes (draw kanji to answer questions!) to memorize your learning.
Japanese course - NHK 1
This app compiles the entire NHK Japanese course into one app, so you can listen to the audios and study. Japanese course will also help you to understand Japanese culture and basic letters. There are more than 50 audio lessons.
Let's Learn Japanese: Beginner FREE
Although it seems simple, it is one of the most useful applications, it comes with great tests, flashcards, and with a huge vocabulary, one of the most complete applications. I haven't seen its paid version yet, but this is already a wonderful app.
There are thousands of other apps, but these 4 are the ones I use the most, the most important ones that shouldn't be missing on your phone, these are my recommendations, I hope you make good use of all the apps mentioned above.
Japanese Dictionary Apps
Tenjin and Jisho – Japanese Dictionary
Tenjin is a free offline Japanese dictionary with no ads. It focuses on displaying relevant data about words, kanji, examples and grammar points in a simple, clear and elegant way. Tenjin makes suggestions, searches as you type, and shines at getting the user to the data they want.
In my opinion it is one of the best dictionaries for android, because it is in English. Unfortunately it's just a dictionary, and it doesn't have all the words you can imagine, if you know English you should use the jigsaw puzzle Jisho that has everything.
The jisho is the best Japanese dictionary available, there are thousands of APIs and applications that access such a dictionary on the WEB or even an offline version. The word jisho literally means dictionary, so look for such apps for your phone.
Tango Master
The most complete application to study Windows Phone, with which it is possible to locate Kanji using radicals, comes with a shiritori tool. (Write words starting with the last letter of the previous one).
It also has a Super Complete Dictionary, classes, articles, tests, pronunciation of words and kanji, writing and strokes. This is a real online dictionary, its only negative and because it is English, but think positively, you learn 2 languages.
Japanese Games Apps
Kanji Karuta
A game that helps in memorizing words and Kanji. he is like the game karuta, which instead of using poems, uses simple kanji words. The good thing is that the app is in English and you can compete online.
The object of the game is to look at the hiragana word and pick up the letter with the same word, but written only in the dark kanji! The kanji in the game are all kanji from the Japanese Language Proficiency Exam Level 4 (JLPT N4). That's 181 kanji combined into 245 words!
The iOS version is different, but you can easily find different Karuta and Japanese games on the Apple Store. I don't have details about such games, but the description I made is specific to Android.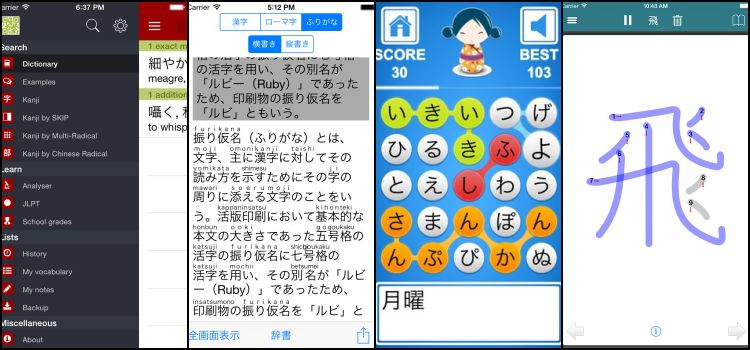 Other Games apps are:
Japanese Dungeon: Learn J-Word;
Other Apps for iOS and Android
漢字筆順Q – Japanese Kanji Stroke Order – Totally free application, with ads that allows you to study kanji, their reading, meaning, how to write them and the order of strokes;
Learn Japanese with 50 lessons – Application that has the NHK course in audio for you to study. Learn the N5 and various dialogues and vocabulary to fully prepare for your trip to Japan;
Imiwa? – Very popular English and Japanese dictionary;
Nihongo – Japanese Dictionary – One of several English dictionaries found in the apple store. Great for those who want to learn 2 languages at the same time;
Simple Furigana – This application allows you to place furigana on web pages and in texts. It also transforms texts for vertical reading;
Learn Japanese – Manabu Academy – Learn Japanese with Manabu Academy in a fun and intuitive way, Hiragana, Katakana to more complex sentences, which in an easy to understand way Manabu Academy helps you learn Japanese!
JClass: Learn Japanese – Learn Japanese with Yui, using different methods, learning by JLPT levels, with medal system, quiz, dictionary, etc;
Kanji Connect – A little game where you connect kanji to form words. Very good for learning kanji reading and vocabulary;
HelloTalk – A messenger app that allows you to chat with native people who speak Japanese and other languages;