Today, I want to talk about Japanese stationery. Let's also take advantage and leave a list of words related to stationery in Japanese. A list of school supplies, office supplies, and stationery.
Stationery in Japan is a very important part of the culture, as students often spend the whole day at school, also participating in various artistic activities. Japan is also a country full of offices that has not yet completely abandoned paper for computers.
Japan is also famous for its kawaii, which makes stationery brands in Japan invest in stickers, colored ribbons, notebooks and a wide variety of products.
We also recommend reading:
Where to find stationery in Japan?
In Japan you can easily buy some stationery at convenience stores or 100 yen stores. There are stores specializing in the sale of these products that can be found by the names:
Bunbouguya [文房具屋];
Bunguten [文具店]
The above words refer to stores that sell stationery products (the first one is more used). The words Bungu [文具] and Bunbougu [文房具] refer to stationery products.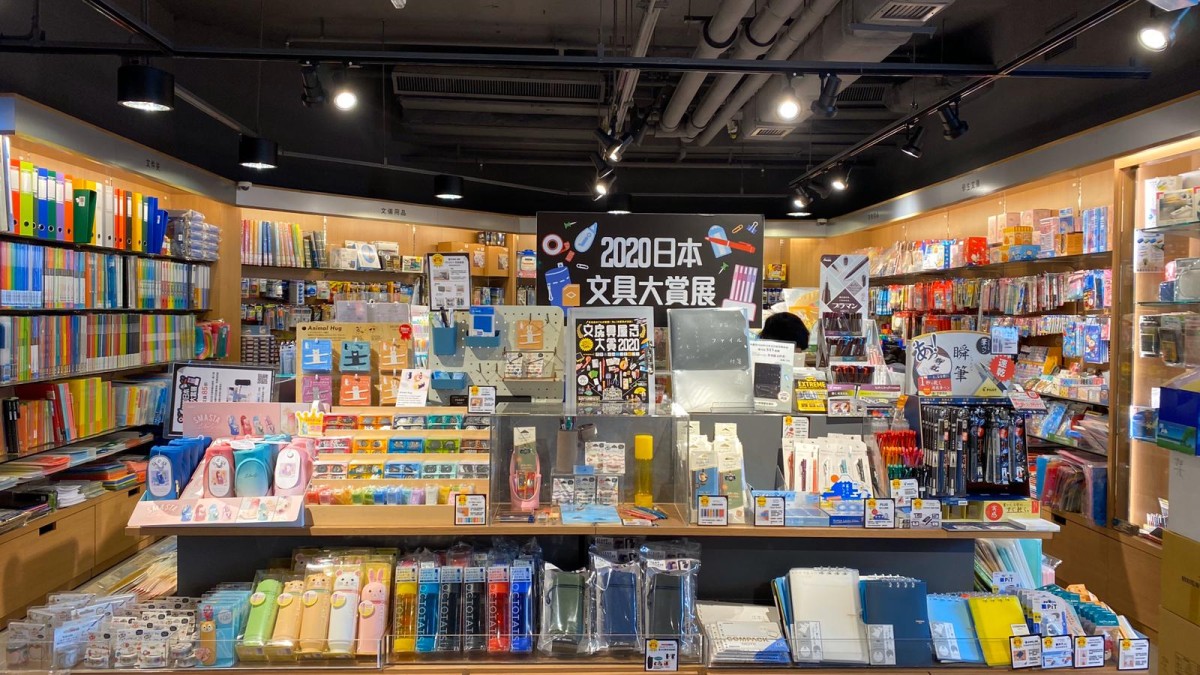 Brands that manufacture Stationery in Japan
One of my favorite Japanese stationery brands is Midori. It manufactures a wide range of products, from notebooks and pens to washi tapes and planners.
I love their simple and elegant designs and their products are always of excellent quality. Another great thing about Midori is that they have a wide range of products at all price points.
Another Japanese stationery brand that I love is Kamio. It manufactures lovely stickers, washi tapes and other paper-related products. I especially love your animal-themed drawings.
Kokuyo is one of the most popular stationery brands in Japan, and for good reason. They make high quality products that are both stylish and practical.
Zebra is another Japanese stationery brand known for its pens and pencils. Their products are high quality and reliable, making them a great choice for anyone in need of a reliable writing tool. : Pilot is another Japanese stationery brand well known for its pens
We recommend reading: Discover the amazing Japanese Washi Tape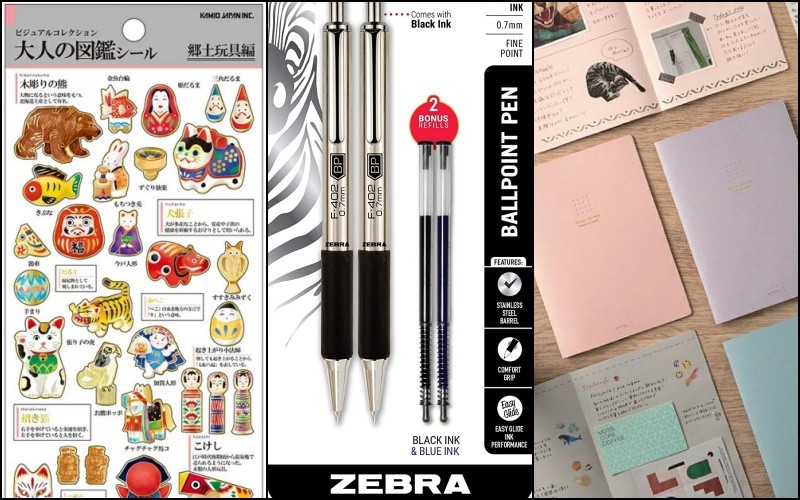 Japanese Stationery Vocabulary
Below we will see a list of Japanese words related to stationery. Objects and stationery, school materials, office supplies and others.
We also recommend reading: Japanese Classroom Objects - School Objects
| | | |
| --- | --- | --- |
| Meaning | Japonês | Romanização |
| Adhesive / Glue | 接着剤 | secchakuzai |
| stapler | ホッチキス | hocchikisu |
| Pin/Pull | 画鋲 | gabyou |
| Eraser | 消しゴム | keshigomu |
| File | ファイル | fairu |
| stationery, box | 手文庫 | tebunko |
| Notepad | 用箋 | yousen |
| notepad / memo pad | 手帳 | techou |
| Compass | コンパス | konpasu |
| Notebook | ノート | no-to |
| electronic calculator | 電卓 | dentaku |
| Calendar | カレンダー | karenda- |
| Pen | ペン | pen |
| pen and ink | 筆墨 | hitsuboku |
| Ballpoint pen | ボールペン | bo-rupen |
| Fountain pen | 万年筆 | mannenhitsu |
| Switchblade | ペンナイフ | pennaifu |
| Stamp / Seal | 印鑑 | inkan |
| Card | 段ボール | danbo-ru |
| Easel | 画架 | gaka |
| Paper clip | クリップ | kurippu |
| Paste / Glue | 糊 | nori |
| box cutter | カッターナイフ | katta-naifu |
| diary / diary | 日記 | nikki |
| rubber band | 輪ゴム | wagomu |
| Bookbinder | バインダー | bainda- |
| Envelope | 封筒 | fuutou |
| Pencil Case / Box | 筆箱 | fudebako |
| Pen's case | ペンケース | penke-su |
| Label / Receipt | 付箋 | fusen |
| writing tool | 筆記用具 | hikkiyougu |
| Scotch tape | マスキングテープ | masukingute-pu |
| Adhesive tape/adhesive tape | セロテープ | serote-pu |
| packing tape | ガムテープ | gamute-pu |
| fabric tape | 布テープ | nunote-pu |
| Correction Fluid / Liquid Paper | 修正液 | shuuseieki |
| awl | 穴あけ器 | anaakeki |
| Crayon | クレヨン | kureyon |
| Chalk | チョーク | cho-ku |
| Globe | 地球儀 | chikyuugi |
| ruler | 定規 | jougi |
| Clip | ホッチキスの針 | hocchikisu no hari |
| Clip | ステープル | sute-puru |
| Image / Drawing / Painting | 絵 | e |
| Pencil | 鉛筆 | enpitsu |
| sharpener pencil | 鉛筆削り | enpitsukezuri |
| Colored pencils | 色鉛筆 | iroenpitsu |
| Pencil case | シャープペンシル | sha-pupenshiru |
| Book | 本 | hon |
| note book / notepad | メモ帳 | memochou |
| Highlighter | マーカー | ma-ka- |
| permanent marker | 油性ペン | yuseipen |
| permanent marker | 油性マーカー | yuseima-ka- |
| Painting/coloring materials | 絵の具 | enogu |
| writing material | 筆記具 | hikkigu |
| office supplies | 事務用品 | jimuyouhin |
| Table | 机 | tsukue |
| Palette | パレット | paretto |
| Paper | 紙 | kami |
| Colored paper | 色紙 | irogami |
| Copier paper/photocopy paper | コピー用紙 | kopi-youshi |
| drawing paper | 画用紙 | gayoushi |
| writing paper | 便箋 | binsen |
| Folder | フォルダー | foruda- |
| brush tool | 絵筆 | efude |
| brush for writing | 筆 | fude |
| White board | ホワイトボード | howaitobo-do |
| blackboard | 黒板 | kokuban |
| Lead Refill | 替え芯 | kaeshin |
| Stamp | 切手 | kitte |
| scissors | 鋏 | hasami |
| protractor | 分度器 | bundoki |
| vermillion | 朱肉 | shuniku |