This dish is delicious and with affordable ingredients. The way to make this dish is taught by Soma himself, in the first episode of the anime. Here we leave it in writing with some explanations so you don't get lost and prepare the delicious roasted (Pork) Bacon.
Performance: 4 servings
Preparation time: 3:30h to 4h
Ingredients
For the mashed potato
8 small or 6 medium potatoes (can be English potatoes or asterisk);
100g of dried shitake cut into small cubes;
2 medium onions, cut into small cubes;
Salt and black pepper to taste;
2 tablespoons of olive oil;
To cover the puree
2 packages of 250g bacon, sliced into strips
Rosemary sprigs to taste
for the final sauce
1/2x dry red wine
40g salted butter
1 teaspoon of sugar
necessary utensils
laminated paper
String
Toothpick (if needed)
Baking tray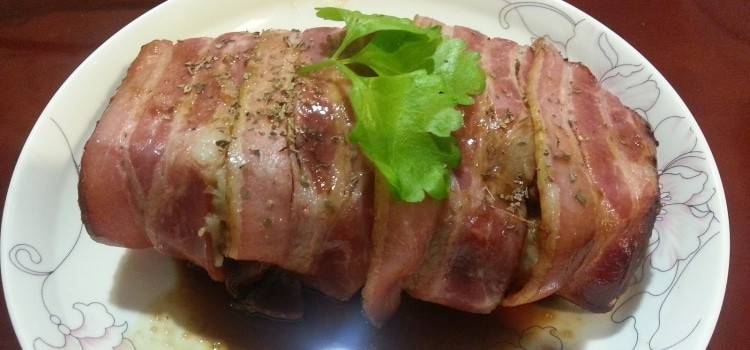 Way of doing
Preheat your oven to 200°C
start with the puree
Wash the potatoes using a brush;
Cut the potatoes into 4 parts. And steam until soft but firm;
Remove the shell by hand. Mash the potatoes using a potato masher. Reserve;
In a pan, sauté the onion and shitake in olive oil, until the onion is slightly translucent. Add salt and pepper to taste;
Mix the sauté and the potatoes. It should turn into a firm dough. If your potato is soft, add one to two tablespoons of wheat flour or breadcrumbs;
Open a piece of laminated paper, place the potato mass and make a cylinder;
Bacon montage
Open the paper with the potato dough. Wrap with bacon on top. Turn it upside down and keep covering
Tie everything together with string, along with the rosemary sprigs;
Cover with foil. Bake in the oven for 1 hour;
After 1 hour, remove the foil and continue baking until the surface is golden brown;
When it's almost done, start making the final sauce;
for the sauce
In a pan, place the wine and sugar;
When it starts to boil, add the butter. Turn off the fire;
Remove your bacon from the oven and drizzle with the sauce. Serve immediately!
You can try other anime recipes in the articles below:
(Article written by Anna Clara Cabral)