Active since 1998, and currently formed by Kohshi Asakawa (vocal), Keigo Hayashi (vocal), Takeshi Asakawa (guitar), Gotou Koutarou (down) and Hiroshi Iwasaki (drums), FLOW is one of the best known and loved Japanese bands by Brazilians. If you haven't had the opportunity to meet her yet, here are 5 reasons why you should be interested in listening to her music and becoming one of her millions of fans.
1 - Musical style
FLOW's style can be defined, in general, as a mixture of pop and rock, but it is possible to find in some songs (such as days, video below) a hip hop footprint, that is, the band appeals to different tastes.
Their sound is extremely captivating. The instrumental part is one of those that makes the heart flutter along with the beats, and the lyrics inspire strength and courage, as well as dealing with romantic feelings.
2 – The vocalists
There are rare bands that have such great harmony between vocalists as FLOW. Keigo and Kohshi have beautiful, well-tuned voices that blend beautifully in every song, as we can hear in this cover they made of 1/3 No Junjou Na Kanjou, one of Siam Shade's most beautiful songs:
The smoothness of Keigo's voice is the perfect match for Kohshi's powerful voice < 3
3 – Songs for various anime
As mentioned before, FLOW is one of the best known bands by Brazilians. The reason? Several of his songs were used as openings and endings for anime, the most famous of which, without a doubt, is Go!!!, the energetic 4th opening of Naruto.
In addition to being chosen to play in two more Naruto openings (Re:member and sign), can also be heard in other anime like Code Geass, Beelzebub and Samurai Flamenco. I believe that one of their greatest honors, however, was the opportunity to record Cha-la Head Cha-la (originally performed by Hironobu Kageyama) and the previously unreleased HERO for the movie Dragon Ball Z: Battle of the Gods in 2013.
FLOW has already participated in so many anime openings and endings that, in 2011, they released the album FLOW ANIME BEST, which brought together all the band's songs present in anime so far. After this CD they have already been in so many other anime that soon it will be possible to launch a new volume of this collection.
4 – Shows in Brazil
To the delight of Brazilian fans, Flow has been to Brazil on four occasions, in 2013, 2014 and 2015. In these three years, the band was the main attraction at events in São Paulo (Ressaca Friends and Anime Friends) and, in 2015, also by six other Brazilian cities.
I was lucky enough to be able to attend all their shows in São Paulo and I became even more in love with the band. The songs were played with the same quality that we heard on the recordings and with a contagious animation. All the members were super friendly, read a few sentences in English, wore the national team's shirt and said they were very happy to be in front of that huge audience, which lives on the other side of the world. I've been to other shows by eastern bands and in them, I saw the same thing as in these three Flow shows: a great respect for the fans, something that, as the news shows us, not every artist has!
The video below shows Ryuusei, one of the songs in which there were more interactions with the audience.
Aware that a large part of his success in Brazil comes from the dissemination of his songs through anime, Keigo didn't miss any opportunity to cause a furor by relating them to the songs played, making each otaku feel gifted for being able to sing and get emotional. when remembering your favorite anime.
A very cool point I found about the FLOW presentation here was the ticket price. On average, tickets for Ressaca or Anime Friends cost R$ 40.00 and Hotzone, a ticket sold separately that allows the buyer to watch the show very close to the stage, also costs R$ 40.00, that is, for only R$80.00 you can see the FLOW from the "VIP Area", a MUCH cheaper price than you would pay in any other international show.
The band will definitely return to Brazil in the next few years, and for those who enjoy it, it's really worth seeing them live.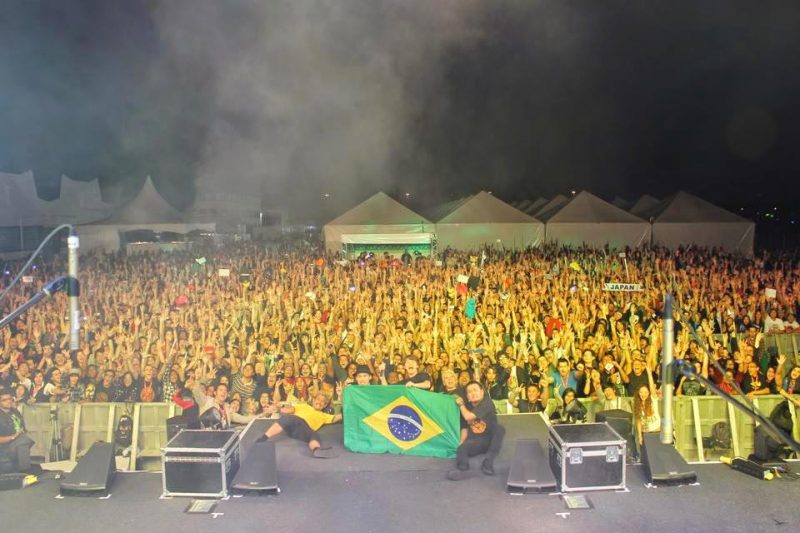 5 - Take
Takeshi Asakawa, the band's guitarist, had special appearances in the shows held in São Paulo, which made the audience go wild. Amusingly, Take appeared with various glow-in-the-dark accessories, struck a mean pose, joked with the audience for several minutes and even threw some of his shiny objects to the lucky otakus who watched them. For sure, Take's show was one of the coolest and funniest moments of the show and also another demonstration of the sympathy of this band.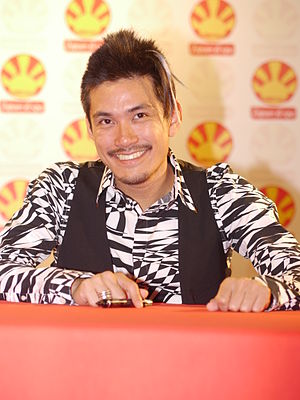 These were just some of the reasons why this band deserves a chance to be heard. Hope I convinced some of you :)
More posts about J-Music will come in the future!