In this article, we are going to talk about one of the biggest stores and electronics chain in all of Japan, the famous Yodobashi Camera [ヨドバシカメラ] where you can find toys, video games, computers, cameras and other electronic equipment.
We also recommend reading:
The history of Yodobashi Camera
The Yodobashi company started in 1960 as Fujisawa Shashin Shokai and changed its name to Yodobashi Camera in 1974. Its first store was established in 1975 in Shinjuku. In the year 1989 she created the "Yodobashi Point Card".
See too: Point Card - Get to know Japan's Point cards
There are more than 23 stores across Japan with more than 5,000 employees. Most of these stores are located in Tokyo, so it is not as popular in other parts of Japan that only have one store.
Stores are always located near a train station, as a great strategy to attract customers. The company also sells products over the internet, being the second largest seller of online products in Japan, second only to Amazon.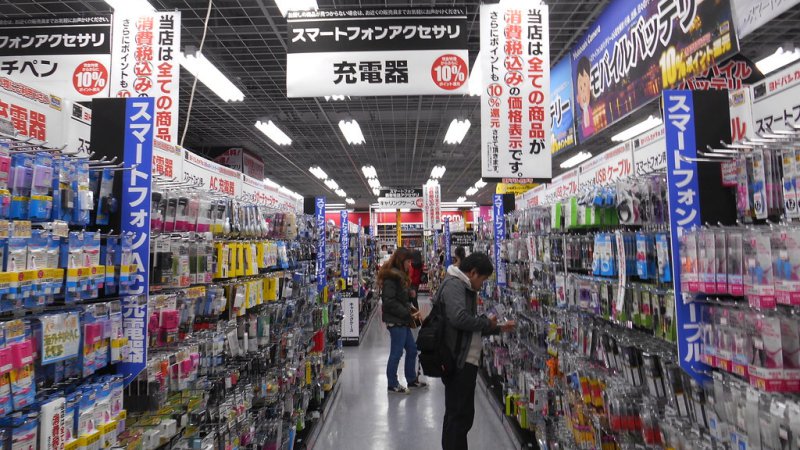 The Yodobashi Camera theme song
The company has a theme song that is playing in the Store all the time, marketing it and becoming one of the most nostalgic songs while walking around Akihabara. The song is a cover of "The Battle Hymn of the Republic".
    ♪丸いみんなのの山手線 真ん中通るは中央線 新宿西口駅の前 カメラはヨドバシカメラ
 ♪若者集まる新宿に うれしいカメラの店がある ビデオも時計もそろってる ビデオもヨドバシカメラ
 ♪新宿西口駅前に 大きなカメラの店がある パソコンワープロそろってる ゲームもヨドバシカメラ
 ♪よいママよいパパよい家族 電化製品 そろってる いつでもみんなの合言葉 家電もヨドバシカメラ
♪ marui minna no no yamanotesen mannaka tōru wachūōsen shinjuku nishiguchi eki no mae kamera wayodobashikamera v
♪ wakamono atsumaru shinjuku ni ureshī kamera nomise ga aru, bideo mo tokei mo sorotteru, bideo moyodobashikamera 
♪ shinjuku nishiguchi ekimae ni, ōkina kamera no misega aru, pasokon wāpuro sorotteru, gēmu moyodobashikamera 
♪ yoi mama yoi papa yoi kazoku, denka seihin sorotteru, itsu demo minna no aikotoba, kaden moyodobashikamera
The translation of the song goes like this:
♪ The Yamanote Line goes in circles, the Chuo Line cuts through the middle, at the west exit of Shinjuku, there it is: Yodobashi Camera!
♪ In Shinjuku, where young people meet, there is a happy camera shop, there are also video cameras and watches at Yodobashi Camera!
♪ At the west exit of Shinjuku there is a big camera shop, there are also word processors and also video games in Yodobashi Camera
♪ good mothers, good fathers, good families, we have home appliances, which is our philosophy/motto, home appliances also in Yodobashi Camera!
This song is very nostalgic, especially for those who pass by the Akihabara station every day. Below we will leave a video with the theme song and some images and videos from the Yodobashi store that I recorded.
Yodobashi Akiba - The biggest store in Japan
I don't know if until the date of this article the record has been broken, but Yodobashi Akiba it is the largest electronics store in the world with a total of 23,000 square meters and 9 storey floors including a floor with restaurants, in addition to several shops around.
Yodobashi Akiba is located in the neighborhood of the same name called Akihabara next to the Akihabara train station and was founded in 2005. Before entering the store, you are already surrounded by small shops and restaurants in a corridor between the station.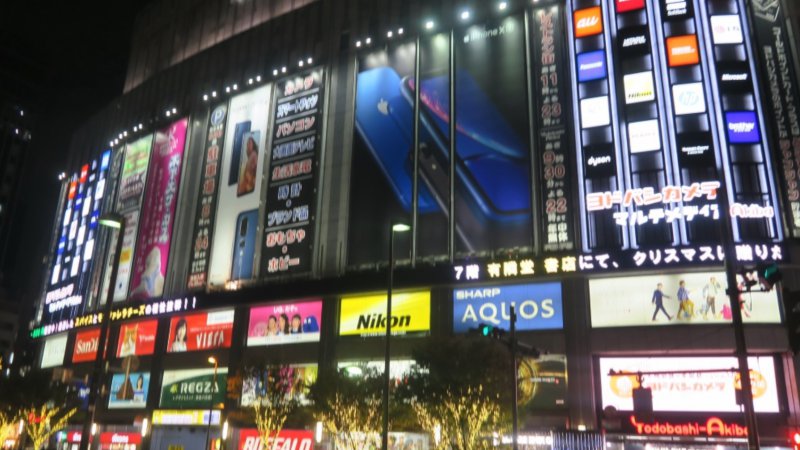 The experience of entering one of the largest electronics stores in the world is incredible. I personally don't even know how to describe the pile of products and electronics, in addition to paraphernalia that I never imagined existed.
On the first floor you can find a little bit of everything, mainly cell phones, accessories and carrier plans. On the second floor you find stuff involving PCs and Macs. The third floor focuses on cameras, cosmetics and sporting goods.
The fourth floor focuses on TVs, audio, video, music instruments and other electronics for the home. On the fifth floor you will find air conditioners, kitchen utensils, security products and others.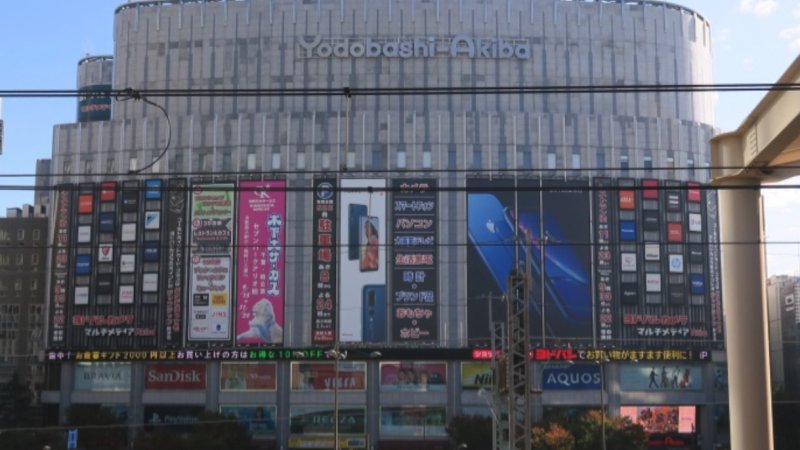 On the sixth floor you will find video games, toys, bicycles and fitness products. On the seventh floor you will find DVDs and CDs, clothing and accessories. The eighth floor is the restaurant floor and the ninth floor is the golfers floor.
Bic Camera and Softmap - Your biggest rivals
Yodobashi Camera is far from the best electronics store in Japan. She may be famous, but the prices of some products tend to be higher.
I even saved more than 500 reais buying Apple products at Softmap and Bic Camera. The second time I went to Japan I noticed that some stores merged Bic Camera with Softmap.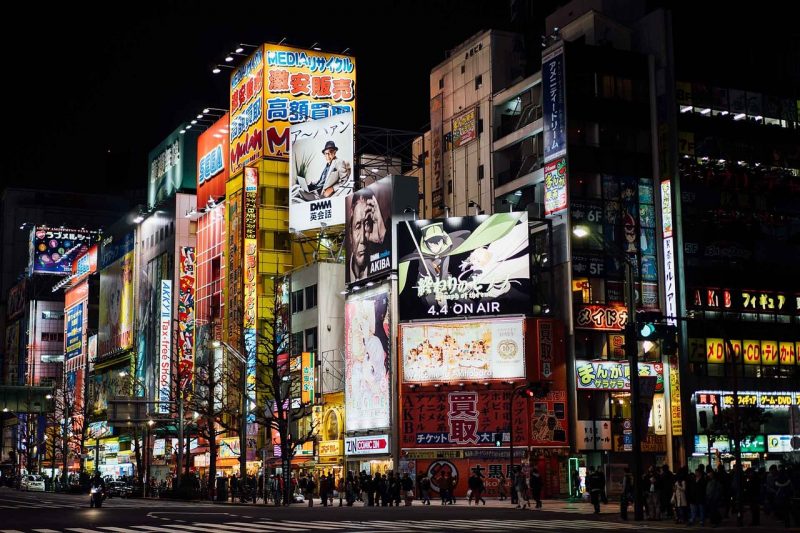 I'm not saying that Yodobashi Camera is expensive. Many claim to be one of the cheapest and with the most promotions. Not to mention it has the famous discount and credit card discount cards.
List of Yodobashi Camera Stores
To finish the article, we will leave a list of Yodobashi stores for you to find on Google Maps and make your visit. I hope you enjoyed the article, if you liked it share and leave your comments.
Shinjuku Nishiguchi Honten (Shinjuku Station – West Exit)
Multimedia Shinjuku Higashiguchi (Shinjuku Station – East Exit)
Multimedia Akiba
Multimedia Ueno
Multimedia Kichijōji
Hachiōji
Multimedia Machida
Multimedia Kinshichō
Multimedia Saitama Shintoshin
Multimedia Kawasaki Le Front
Yodobashi Outlet Keikyū Kawasaki
Multimedia Yokohama (Yodobashi Yokohama)
Multimedia Keikyu Kami-Ōoka
Chiba
Multimedia Utsunomiya
Multimedia Nagoya
Multimedia Kyoto
Multimedia Umeda
Multimedia Hakata
Multimedia Sapporo
Multimedia Sendai
Multimedia Kōriyama
Multimedia Niigata