Do you know Yayoi Kusama, the artist who has already collaborated twice with Louis Vuitton? In this article, we are going to look at the famous artist addicted to patterns and infinity, who suffered her entire life from schizophrenia and other mental illnesses.
The coolest thing is that this Artist is already crossing a century in activity! See Yayoi Kusama's incredible works, literature and collaborations in museums around the world.
We also recommend reading: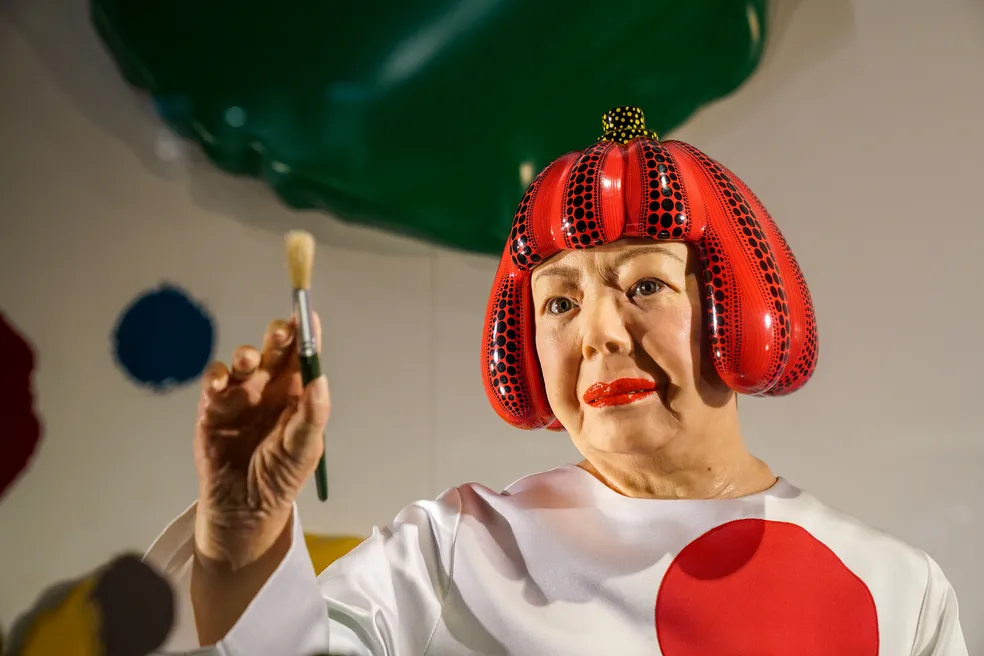 Who is Artist Yayoi Kusama?
Yayoi Kusama [草間彌生] is a Japanese artist known for her wide-ranging oeuvre, which includes not just painting, but sculpture, installation, literature, and performance.
Yayoi Kusama is known for her repetitive use of patterns, such as polygonal spots, and a minimalist approach. She is also known for her immersive installations such as the "Infinity Mirrored Room" and "The Souls of Millions of Light Years Away".
Kusama was born in Japan in Matsumoto in 1922 and began her artistic career in the late 1940s. She moved in 1957 to the United States, where she established herself as an artist and began to develop her unique style, returning to Japan in 1993.
Kusama is one of the most influential artists of her generation and has received numerous awards and honors throughout her career. His work has been displayed in museums and art galleries around the world, including the Whitney Museum and the Museum of Modern Art in New York.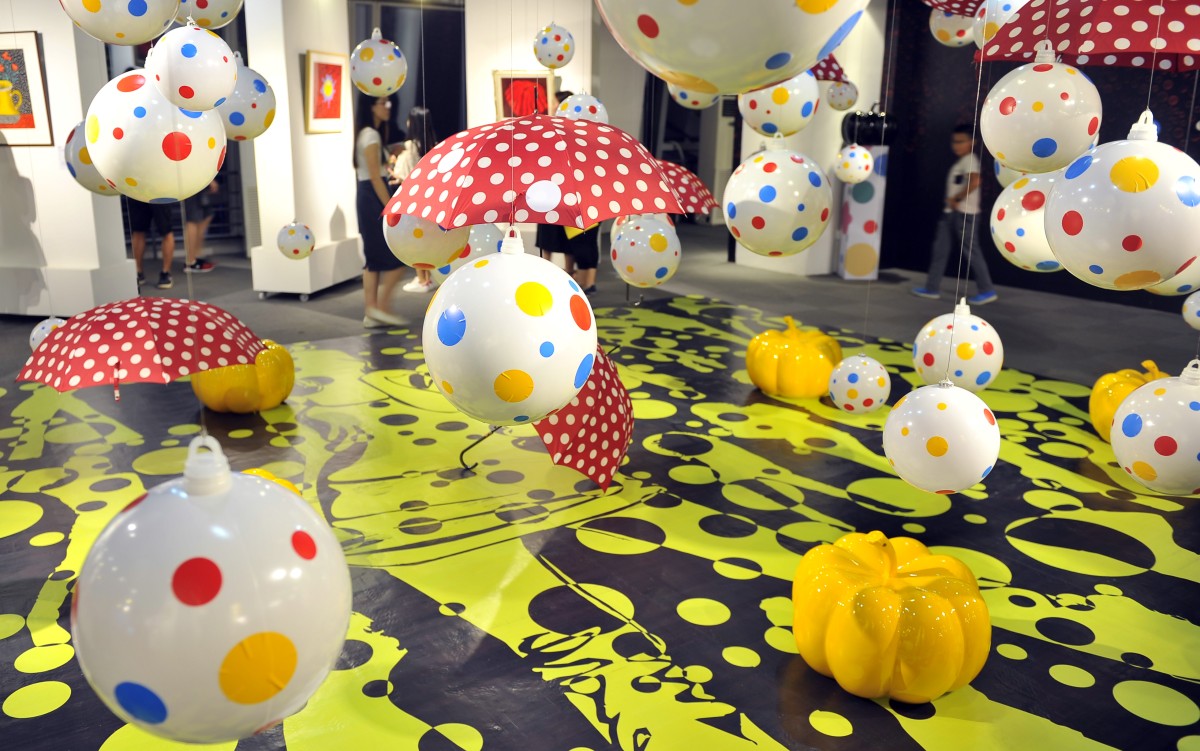 Yayoi Kusama's mental disorders
Yayoi Kusama has struggled with mental health issues throughout her life. She was diagnosed with schizophrenia and has reported visual and auditory hallucinations since childhood.
She also has reported obsessive-compulsive disorders and post-traumatic stress disorder due to childhood sexual abuse.
Kusama spent various periods of her life in psychiatric institutions, including an extended stay in a psychiatric hospital in Japan in the 1970s.
She credits her art as a way of coping with her conditions and as a way of expressing her anxieties and hallucinations.
It is important to note that Kusama's art is a reflection of her condition, not a consequence of it. She has used her art as a means of expression and as a way of dealing with her conditions and hallucinations.
Her art has been very successful and she is considered a world-renowned artist, so much so that she has already collaborated twice with Louis Vuitton.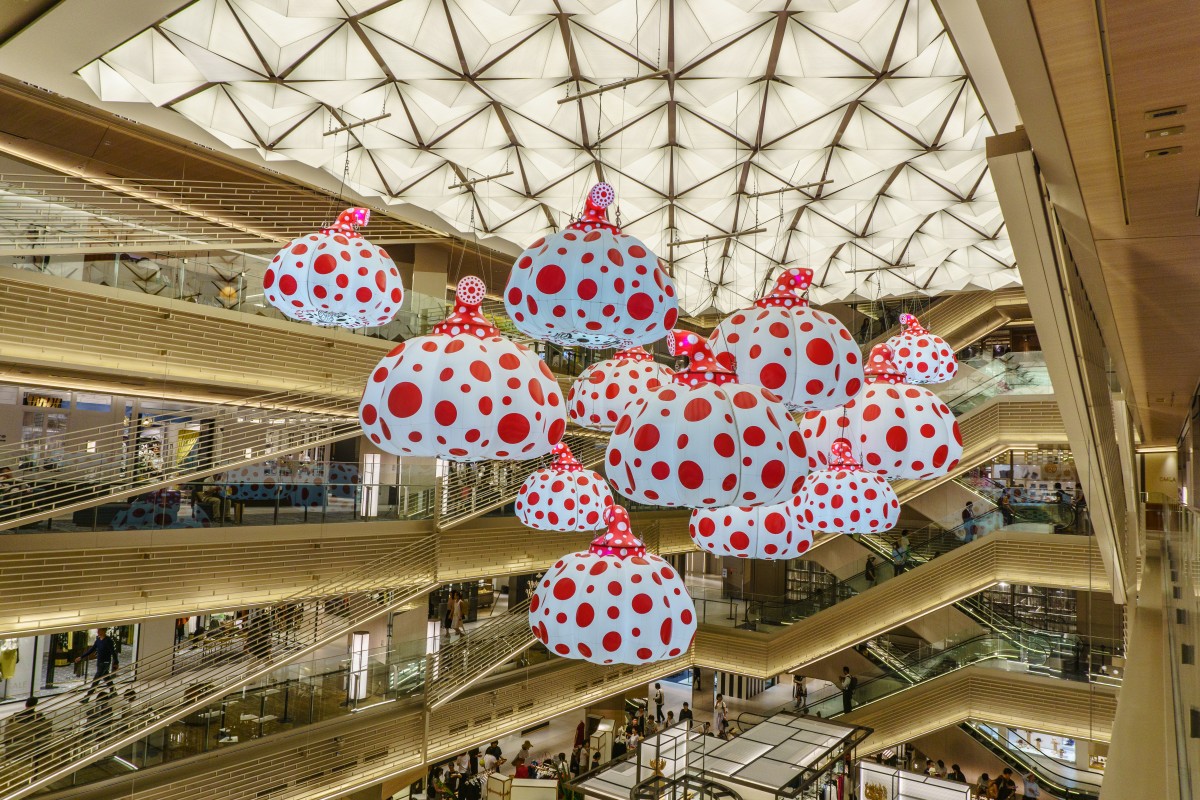 Yayoi Kusama Chronology
Below is a timeline of Yayoi Kusama's life:
1957: traveled to New York
1973: returned to Japan due to ill health
1996: Won Best Gallery Award two years running from the International Association of Art Critics
2000: Won the Minister of Education Arts Award and the Minister of Foreign Affairs Award
2001: won the Asahi Prize
2002: awarded the Order of Cultural Merit
2003: participated in the Lyon Biennale and won the French Order of Arts and Letters and the Nagano Governor's Prize
2004: held a major traveling exhibition in Japan
2005: The complete collection of Kusama prints from 1974 to 2004 was released
2006: Received the Cultural Merit Award, the Prince Takamado Cultural Achievement Award, and the World Culture Award
2009: was selected as a contributor to culture
2014: won the Ango Award
2016: she was awarded the Order of Cultural Merit and became the fourth woman to receive the award
2017: The Yayoi Kusama Museum opened and she was honored as an honorary citizen.
Below is a chronology of Yayoi Kusama's main works and exhibitions:
Exhibitions by Yayoi Kusama
"Yayoi Kusama: Exploding into the Universe", Yayoi Kusama Museum/Nigata Museum of Art, 1992
"Yayoi Kusama: New York / Tokyo", Tokyo Museum of Contemporary Art, 1999
"Kusama Matrix", Moriyama Museum of Art, 2004
Venice Biennale, 2007
Victoria Miro Gallery, 2007
Liverpool Biennale, 2008
Gagosian Gallery, 2009
"Yayoi Kusama Body Festival in the 1960s", Watari Museum, 2011
Traveling exhibition "YAYOI KUSAMA"
Madrid, Sofia Art Center, May 11 to September 12, 2011
Paris, Center Pompidou, October 10, 2011 to January 9, 2012
London, Tate Modern, 9th February to 5th June 2012
New York, Whitney Museum, July 12 to September 30, 2012
"Yayoi Kusama: Festival of the Body in the 60s", Watari Museum, August 6 to November 27, 2011
"Yayoi Kusama: Eternal Eternal Eternity" (select exhibitions only)
National Museum of International Art, January 7 to April 8, 2012
Matsumoto Museum of Art, July 14 to November 4, 2012
Kochi Museum of Art, November 2nd to January 13th, 2014
"Yayoi Kusama: My Eternal Soul", National Museum of Contemporary Art, February 22 to May 22, 2017
"Yayoi Kusama: ALL ABOUT MY LOVE – Tudo Sobre Meu Amor", Matsumoto Museum of Art, March 3 to July 22, 2018.
Main works of Yayoi Kusama:
flat work:
"Infinity Net" series (1959- )
Series "My Eternal Soul" (2009- )
Three-dimensional work:
Installations:
"Obsessão de Pontos" series (1963- )
"1000 Boat Exhibition" (1963)
"Journey of Life" (1964)
Series "Among the Infinite Mirrors" (1965- )
"Infinity Mirror Room – Butterfly on Water" (2000) at the Nancy Museum of Art
Public Art:
"Pumpkin" (1994) at Benesse art venue, Naoshima
"Flowers of Shangri-La" (2000) in the Kirishima Art Grove
"Tsubaki-Aruesu" (2003) at Echigo-Tsumari Art Triennale (installed at Matsudai Noh Stage)
"Red Pumpkin" (2006) at Port Miyaura
"Eyes Are Singing Out" (2012) in George Street, Bristol
Mural painting by Yayoi Kusama in the Metropolitano de Lisboa, Oriente
Music:
"A Suicide Addict's Song in Manhattan"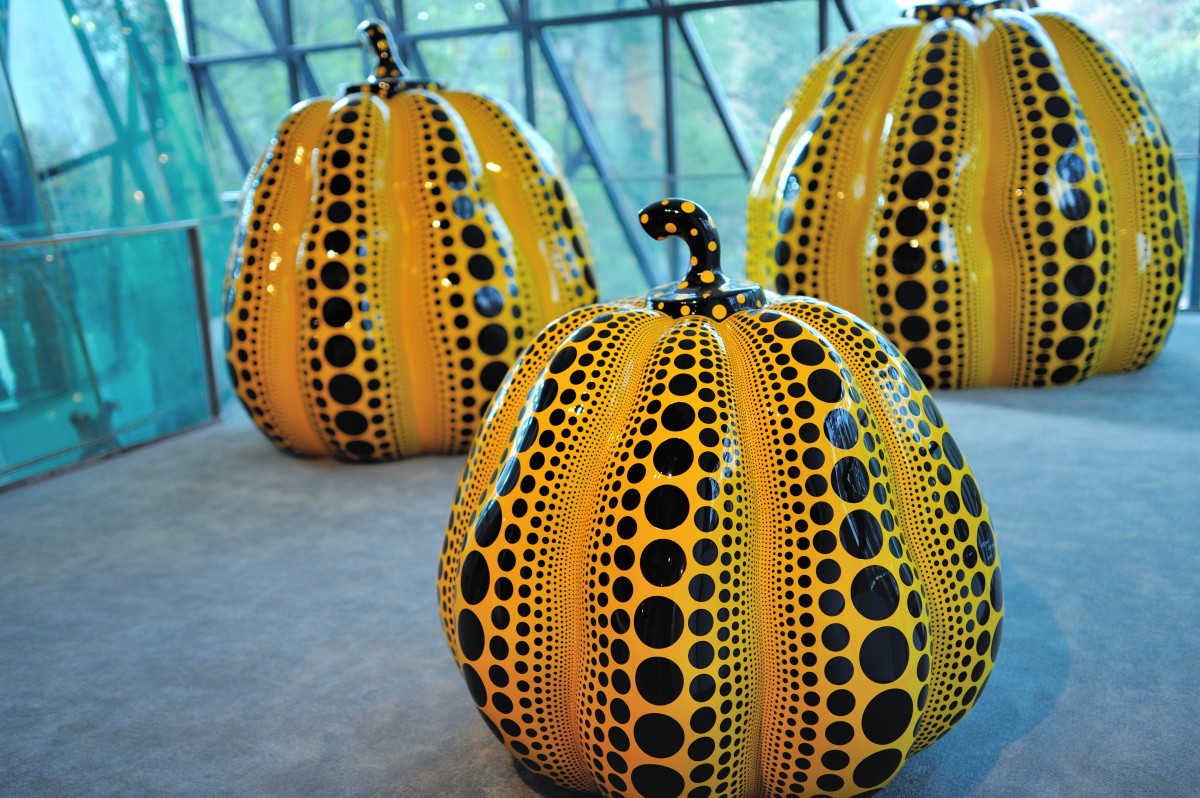 First Collaboration with Louis Vuitton
In 2012, Yayoi Kusama first collaborated with Louis Vuitton to create a fashion and accessories collection.
The collection was designed by Kusama and included items such as handbags, shoes, apparel and accessories, all featuring her iconic polygonal patterns and splatters.
The collection was launched at a series of worldwide events and made available for purchase at Louis Vuitton stores around the world.
The collection was very well received by critics and the public alike, and quickly became one of Louis Vuitton's most popular collections.
The collaboration also brought attention to Kusama's work and helped increase her popularity among worldwide audiences.
Louis Vuitton and Yayoi Kusama was one of the first collaborations between contemporary artists and luxury brands, which ended up creating a fashion for years to come.
So successful was the collaboration that Louis Vuitton and Kusama collaborated again in 2019, with a collection of fashion and accessories, and an exhibition that showcased their famous infinity mirror installations.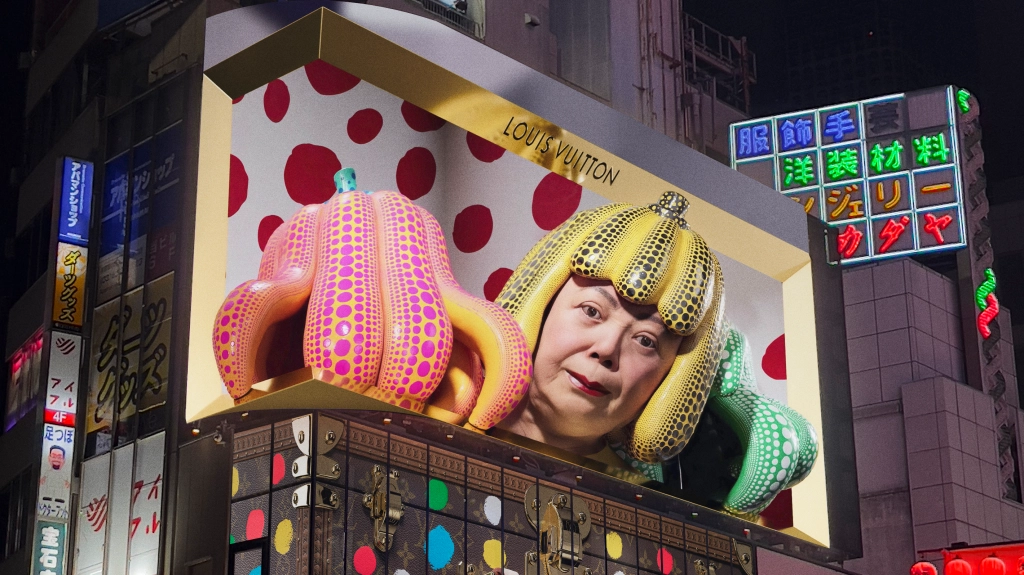 Yayoi Kusama and Louis Vuitton in 2023
The year 2023 kicked off with waves around the world as Yayoi Kusama and luxury brand Louis Vuitton collaborated on a new collection that showcased their artistry across the globe.
In addition to stores fully decorated in Kusama's style, we also had Billboards across the globe, some art installations and several presentations of the brand's collaboration, not to mention the new luxury items that are flooding social media with videos.
Infinity Mirrors
Yayoi Kusama: Infinity Mirrors" is a traveling exhibition organized by the Hirshhorn Museum, Smithsonian Institution, Washington DC and displayed in various art museums around the world.
The show was a retrospective of Yayoi Kusama's career and included a variety of her works including paintings, sculptures, installations and video works.
Six of his famous infinity mirror installations allowed visitors to immerse themselves in worlds created by Kusama and experience his unique approach to optical illusion.
Infinity Mirrors was a critical and popular success, and attracted thousands of visitors from all over the world. The exhibition was also accompanied by a book and a documentary about the artist.
The exhibition was very successful and helped to further increase the popularity of Kusama and her work.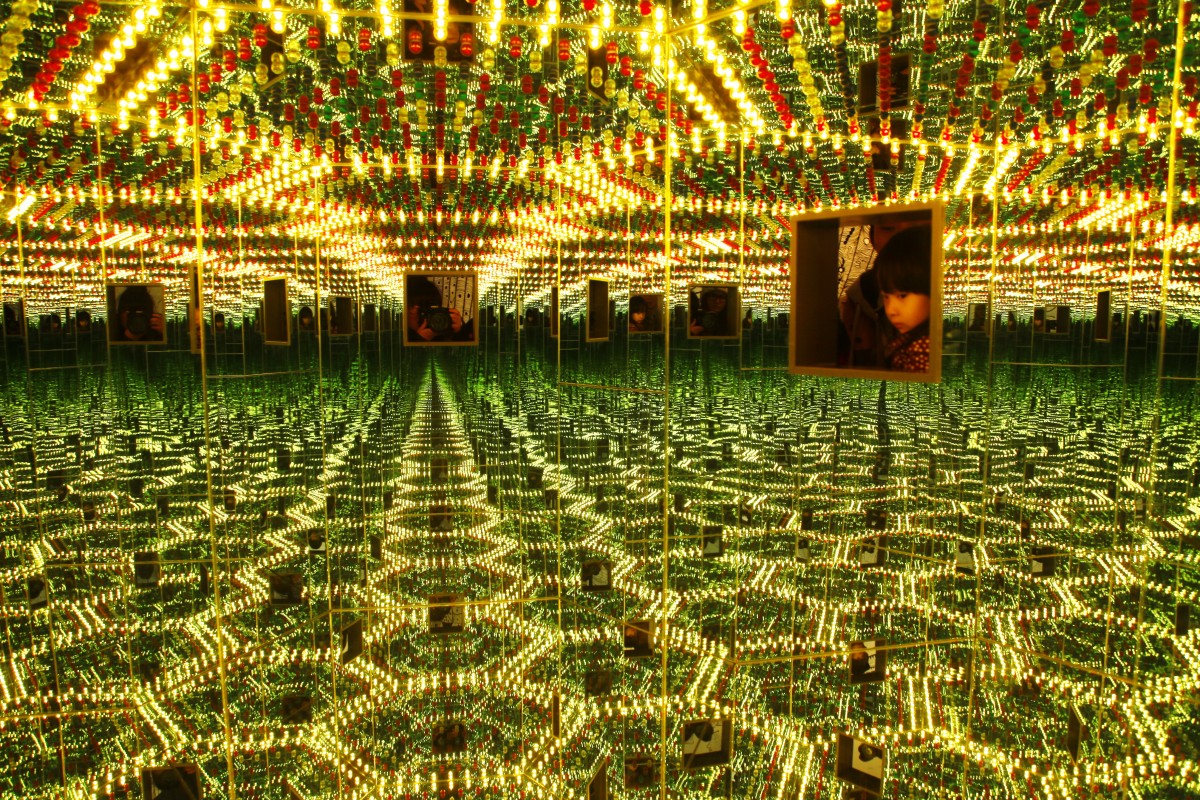 Infinity Mirrored Room
Infinity Mirrored Rooms consist of small rooms, usually medium in size, with walls and ceilings covered in mirrors, illuminated by flashing colored lights.
Visitors are invited to enter the room and stand in the middle of the installation, creating a sense of infinity and optical illusion.
Kusama began creating these installations in the 1960s and continues to create new versions to this day. They are considered one of his most iconic works and have been displayed in museums and art galleries around the world.
They are known for their ability to immersion, creating a unique and unforgettable sensation for visitors, at the same time, it is a form of expression for the artist, who uses these installations to express her anguish and hallucinations.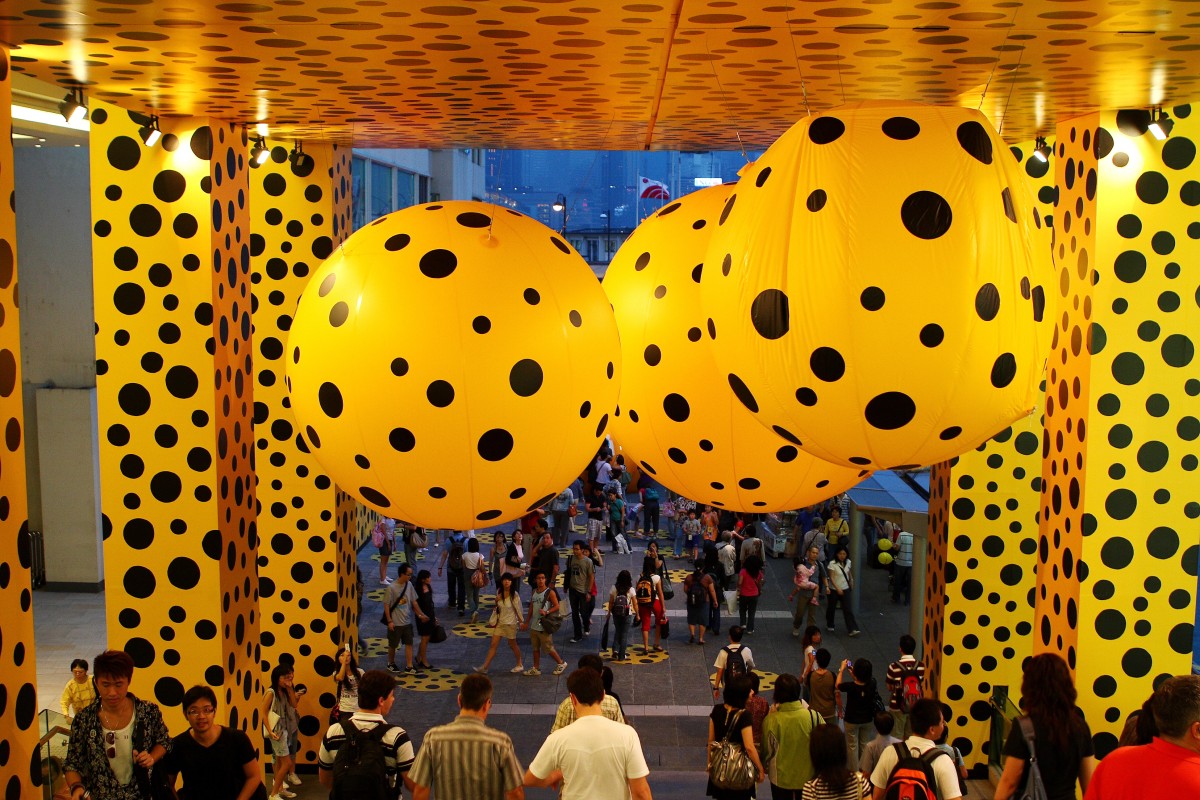 The Souls of Millions of Light Years Away
"The Souls of Millions of Light Years Away" is one of the installations created by Japanese artist Yayoi Kusama. Similar ones can be found around the world.
This installation is made up of a large number of pendant lamps, each containing a sphere of colored glass, which creates an illusion of stars twinkling in the sky.
The installation was created to suggest the idea of infinity and immensity of the universe. The installation is designed to be viewed from multiple angles, and as visitors move around the space, the light bulbs appear to move and change color.
The installation is also accompanied by soft ambient sound, which adds to the sense of immersion.