In the last decade, the trend of naming Japanese books and light novels as a synopsis has become popular. This makes the titles of Light Novels and anime gigantic, reaching more than 20 words. In this article, we are going to see the light novels with the longest titles.
Bearing in mind that the majority cited are light novels (romance books), which won their adaptation for manga, anime games, etc. They are not ordinary books, they are aimed at young people and have a lighter reading than traditional books.
俺の妹がこんなに可愛いわけがない。
Pray no imouto ga konna ni kawaii wake ga nai
There's no way my sister could be that cute;
A Light novel that won anime, manga and several games, very good;
---
あの日見た花の名前を僕達はまだ知らない。
Ano Hi Mita Hana no Namae o Bokutachi wa Mada Shiranai
We Still Don't Know the Name of the Flower We Saw That Day;
The famous AnoHana who won anime, manga and made many cry;
---
俺の脳内選択肢が、学園ラブコメを全力で邪魔している
Ore no Nōnai Sentakushi ga, Gakuen Rabu Kome o Zenryoku by Jama Shiteiru
My mental choices completely interfere with my school – Romantic Comedy
I had a hard time translating this, but it's based on a Light Novel;
---
こちら葛飾区亀有公園前派出所
Kochira Katsushika-ku Kameari Kōen-mae Hashutsujo
This is the police station in front of Kameari Park in Katsuhika Neighborhood
A long and famous manga series and an anime. The series tells the stories of a group of police officers in the city of Tokyo;

男子 高校 生 売れっ子 ライト ノベル 作家 し し て いる 、 の クラス メイト 声優 の に 首 絞め られ いる。。
Danshi kōkōsei de urekko raitonoberu sakka o shite irukeredo, toshishita no kurasumeito de seiyū no on'nanoko ni kubi o shime rarete iru;
I'm a high school student and a successful light novel author, but I'm being strangled by a classmate who's a voice actress and is younger than me;
This is the biggest light novel title I've ever seen;
---
邪神に転生したら配下の魔王軍がさっそく滅亡しそうなんだが、どうすればいいんだろうか
Jashin ni tensei shitara haika no maō-gun ga sassoku metsubō shi-sōna ndaga, dōsureba īndarou ka
I have incarnated as an evil god and my subordinate demon army is on the verge of collapse… What should I do?
---
恋人にしようと生徒会長そっくりの女の子を錬成してみたら、オレが下僕になっていました
Koibito ni shiyou to seito kaichō sokkuri no on'nanoko o rensei shite mitara, ore ga geboku ni natte imashita
I've trained a girl who looks exactly like the student body president in hopes of making her my girlfriend, and I end up becoming her servant;
---
女の子は優しくて可愛いものだと考えていた時期が俺にもありました (電撃文庫)
On'nanoko wa yasashikute kawaii monoda to kangaete ita jiki ga orenimo arimashita (dengeki bunko)
There was a time when I thought girls were beautiful and lovely;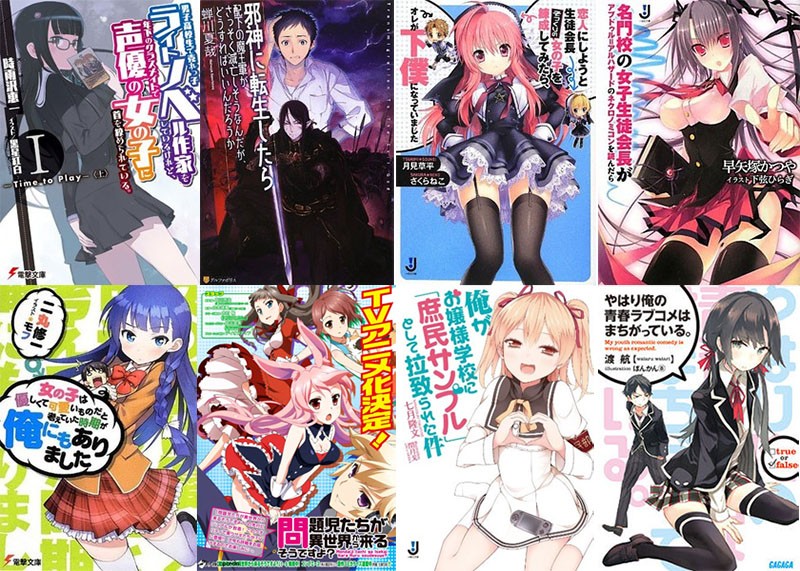 名門校の女子生徒会長がアブドゥル=アルハザードのネクロノミコンを読んだら
Meimon-kō no joshi seito kaichō ga abudo~uru = aruhazādo no nekuronomikon o yondara
When a girl student body president at a prestigious school reads Abdul Alhazred's Necronomicon
---
問題児 たち が 異 世界 から 来る そう です よ?
Mondaiji-tachi ga Isekai kara Kuru Sou Desu yo?
Problem kids come from another world, don't they?
---
俺がお嬢様学校に『庶民サンプル』としてゲッツされた件
Ore ga Ojousama Gakkou ni "Shomin Sample" Toshite Gets♥Sareta Ken
I was kidnapped by an elite all-girls school to be a sample of an ordinary person;
---
やはり俺の青春ラブ

コメはまちがってい
Yahari Ore no Seishun Rabu Kome wa macigatteiru
My teen romantic comedy... (all wrong, snafu, messed up)
These were some long titles from anime, manga, games, light novels. Of course, there are many others who follow this fad of long synopsis titles. Who started all this?