Hey, how's it going? Today with the best ecchi anime, remembering that it includes harem, romance, comedy, and several other genres that we know are mixed, because ecchi and fanservice fits any anime, even horror can fit. And here's your list so you don't stop testing yourself.
And remembering that when watching anime, remember to forgive the protagonists and research the name of the authors of the series, because they are the ones you should blame for making the plot with an extremely bad protagonist. And also remember that not all ecchi have a female protagonist. See the last two topics.
We also recommend reading:
We also made a video with some of the anime in this article:
What does Ecchi mean?
In the West this word refers to any anime with sensuality, characters with disproportionate curves, showing their underwear or even breasts. These anime have constant displays of panties, bouncy breasts and iffy camera angles.
These titles are often sexualized and designed to arouse, depicting perverted themes and focusing heavily on the female body. Nosebleeds, suspicious hand positions, placement of face to chest, expressive and exaggerated body parts and other aspects characterize ecchi anime.
In Japan, the meaning of the word ecchi is heavier, I referred to something obscene. It is the same meaning that the word Hentai has in the West. In Japan, ecchi [H] mainly refers to something erotic. When you use the expression Ecchi Shiyou, you are inviting a person to do indecent things.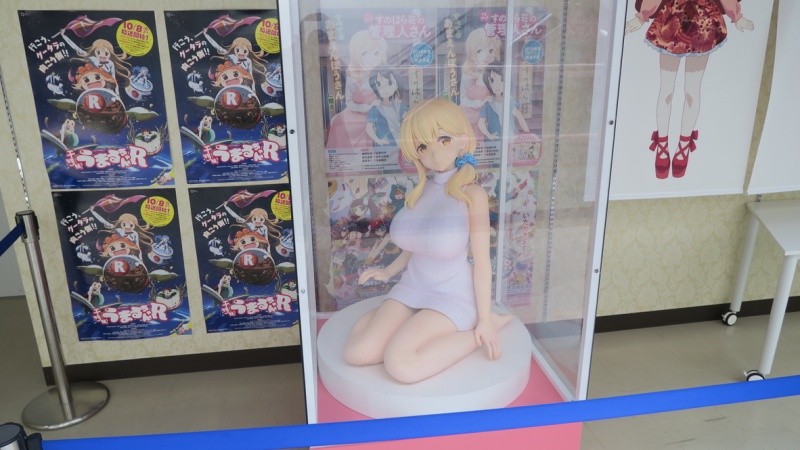 Throughout the pages that you will browse we will see Anime Ecchi, Anime Ecchi comedy, Anime Ecchi heavy and others. As there are many anime, we decided to divide the article into several pages so as not to overload your device…
Anime Ecchi – Breasts in the wind
Well, the plot of the following anime is going to be basically breasts, bouncing breasts, almost exposed breasts and several others of the kind. I think you can already understand the soul of the plot, right? Great, and saying that unfortunately the protagonists are a bunch of useless and that they will remain virgins until the day of death.
High School DxD
High school student Issei Hyoudou is your mediocre pervert who does nothing productive with his life, spying on women and dreaming of having his own harem one day. Things seem to be looking up for Issei when a cute girl asks him out on a date, though she turns out to be a fallen angel who brutally kills him!
However, he is given a second chance at life when beautiful student Rias Gremory, who is a first-class devil, revives him as her servant, recruiting Issei to the ranks of the school's Occult Research club.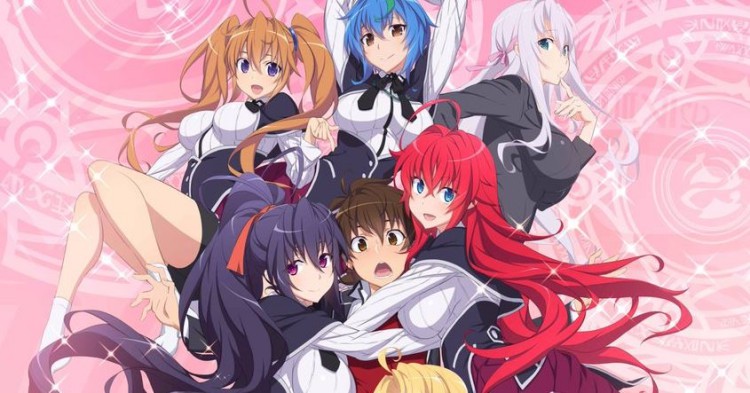 Comment – Classic of the classics in the genre. Every otaku must have watched this anime which is one of the giants in the industry when it comes to ecchi. But to this day I wonder what kind of perverted protagonist this is who has no ambition for anything. And honestly, the desire to laugh is great, but the desire to cry is greater.

Shokugeki no Souma
Since he was a child, fifteen-year-old Souma Yukihira has helped his father by working as a sous chef at the restaurant his father runs and owns. Over the years, Souma has developed a passion for entertaining his customers with his creative, skillful and daring culinary creations. His dream is to one day own his family's restaurant as a head chef.
However, when his father suddenly decides to close the restaurant to test his cooking skills at restaurants around the world, he sends Souma to Tootsuki Culinary Academy. The institution is famous for its "Shokugeki" or "Food Wars", where students face off in intense culinary clashes.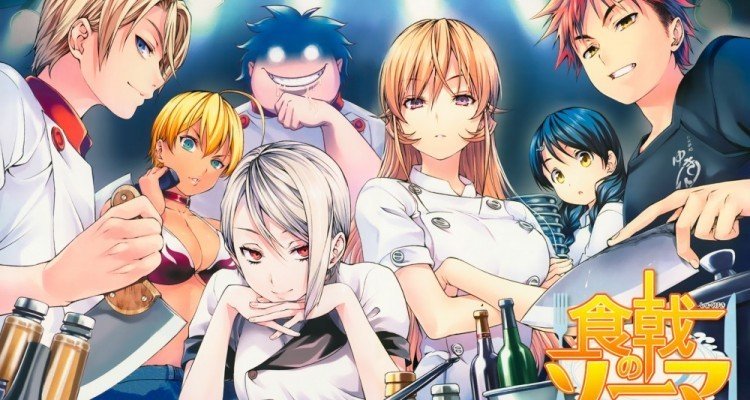 comment = This the protagonist is a little less useless in terms of personality. He is very badass in the culinary arts and always surprises with his talent. He would be the perfect protagonist if he was as interested in the women around him as he is in the kitchen. But thankfully, it doesn't stay that way forever.
IS: Infinite Stratos
An exoskeleton weapon created by Japan, Infinite Stratos (IS), can only be piloted by women. Its power and combat prowess is so immense that an international treaty was signed, prohibiting its use as a military asset.
When Ichika Orimura, 15, is found to be the only man capable of directing an IS, he is forced to enroll in the Infinite Stratos Academy: a female boarding school, whose students have graduated as IS pilots.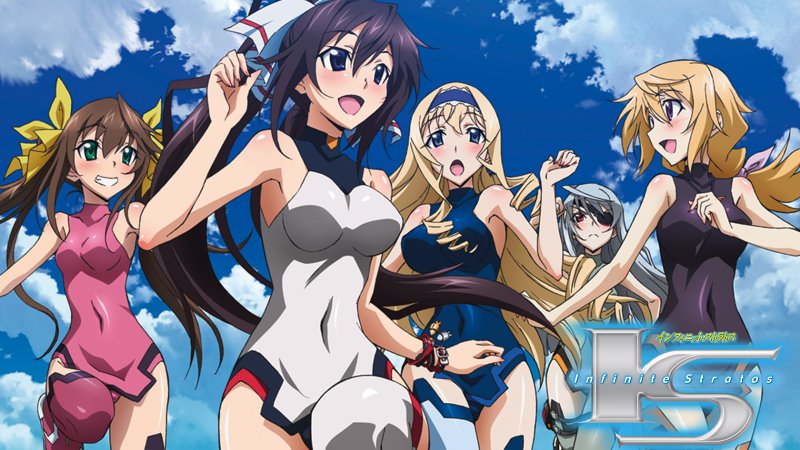 comment = Well, you can guess what happens when you throw a man into an all-girls school. And the answer is very obvious when you are a normal man (mullet, wine and a lot…). But as always, anime protagonists are not normal and therefore it is always a mystery what can happen in these schools. Here, for example, nothing happens.

Monster Musume no Iru Nichijou
With her parents abroad, Kimihito Kurusu lived a peaceful and normal life until monster girls appeared! This alternative reality presents Japan at the cutting edge, the first country to promote the integration of non-human species in society.
After the incompetence of the interspecies exchange coordinator, Agent Smith leaves Kimihito as the head of a Lamia called Miia, besides, kimihito quickly attracts girls of various races, even without meaning to. But unfortunately, sexual interactions between species are prohibited. The only gap is through an experimental match provision.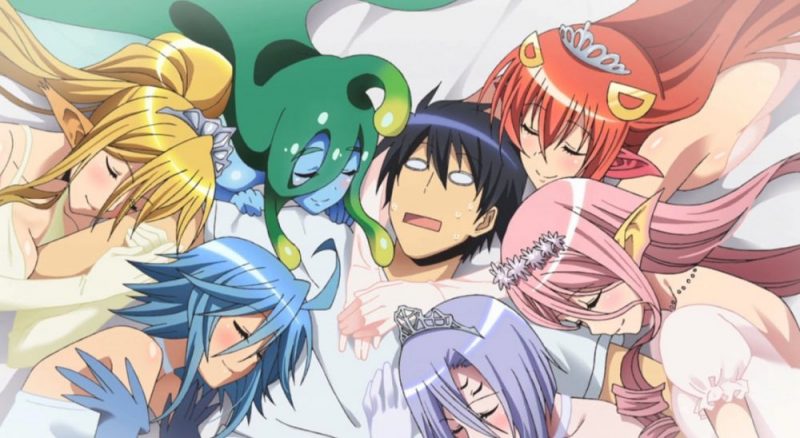 comment = It is one of the only ones that gives them a reason for not having sex. This somewhat relieves the expectation that the audience creates for the characters. and fortunately the protagonist is not so useless, after all when he is not out of the house he is suffering from manslaughter attempts by his guests. Yes, in less than 2 episodes he is almost killed about 5 times.
Gakusen Toshi Asterisk
A long, long time ago, an epic catastrophe known as Invertia caused a complete shift in the world's balance of power. In the years following this disaster, a specific group rose to power. Furthermore, a new generation of humans born with incredible physical abilities has also emerged and joined the ranks of humanity.
Ayato Amagiri, is a student who has just transferred to one of the six elite schools for Genestella students in the world – Seidoukan Academy – where students learn to control their powers and duel each other in entertaining battles known as parties.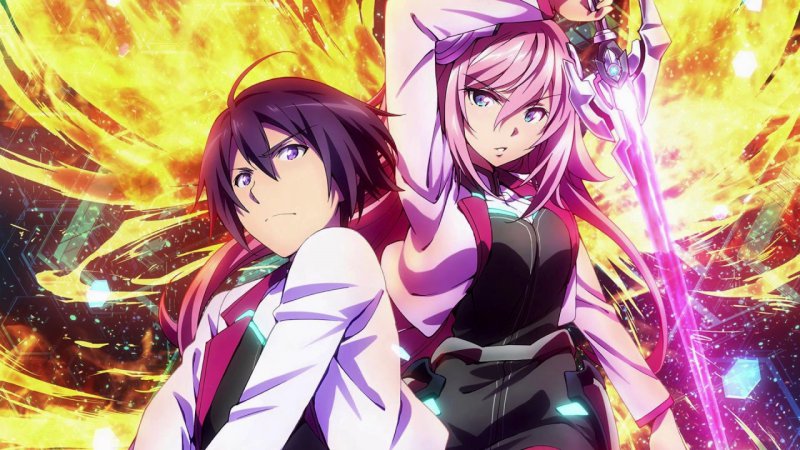 comment = An extremely strong protagonist and with each challenge he gets even stronger. If it were a list of strong protagonists this guy would definitely be on it with honors, but in this one he is only because of his harem. and unfortunately he is an imperceptible ignorant when it comes to women and is on the list of the most virgin anime.
Maken-Ki!
This romantic comedy is about Takeru Ohyama, a typical perverted teenager. His new school doesn't require entrance exams, and he ended up becoming co-ed!
Unfortunately, his dreams of a happy high school life are dashed when he discovers that school is much more than it seems. All students use a special item – a Maken – to unleash their magical abilities in duels!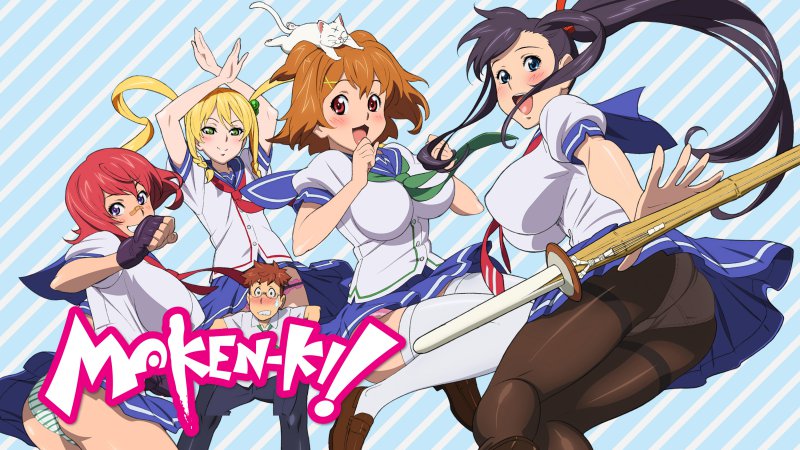 comment = And this is basically an extra here on the list because its plot is incredibly bad and very weak and vague, I just don't know if the original work improves anything. However it is here for its characters with absurdly large breasts. and not to mention a character with K-size breasts, that is, an insurmountable size. I just watched for that.
other anime ecchiwith flying breasts: none
Freezing
Keijo!!!!!
hundred
Taimadou Gakuen 35 Shiken Shoutai
Omamori Himari
Comedy with ecchi is for few
Yes, it may not seem like it but you can combine comedy and ecchiin a single anime. Of course there won't be sex jokes or anything like that at all, but I guarantee that a few jokes regarding some stocks will get a lot here. Apart from the jokes in the anime's own stories. You'll understand when you watch at least two S's list below.
category anime
- Shimoneta 
- Boku wa Tomodachi ga Sukunai
- Kore wa Zombie Desu ka?
- Prison School
- To Love-Ru
Shimoneta to Iu Gainen ga Sonzai Shinai Taikutsu na Sekai
With the introduction of strict new morality laws, Japan has become a nation cleansed of all that is obscene and unclean. By monitoring citizens using special devices worn around their necks, authorities have taken extreme measures to ensure that society remains chaste.
In this world of sexual repression, Tanukichi Okuma has just entered high school, offering his help to the student council to get closer to President Anna Nishikinomiya, his childhood friend and crush.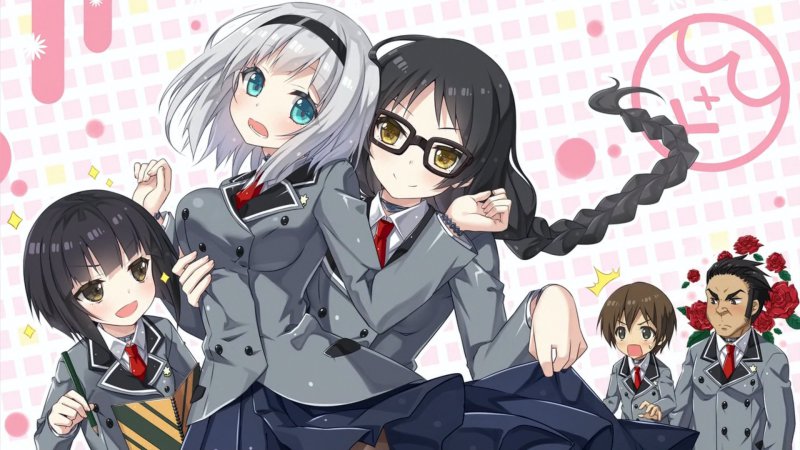 comment = The craziest anime I've ever watched. And with the craziest character I've ever seen in my 2+ years of watching anime. I've never seen anything like this until the day of watching shimoneta and I'll say more, either you're traumatized or your view changes about the idea of irony and multiple personalities. Nobody is what they seem and none of them are normal.
Boku wa Tomodachi ga Sukunai
When Kodaka Hasegawa finds out that he will be transferring to a new school, he is determined to make a positive impression, and maybe even some friends. However, Kodaka finds he is out of luck when he is immediately labeled a violent delinquent due to his blonde hair and intimidating expression.
Although a month has passed, Kodaka is still alone thanks to his notorious reputation. However, his life begins to change when he finds his lonely companion Yozora Mikazuki talking to her imaginary friend in an empty classroom.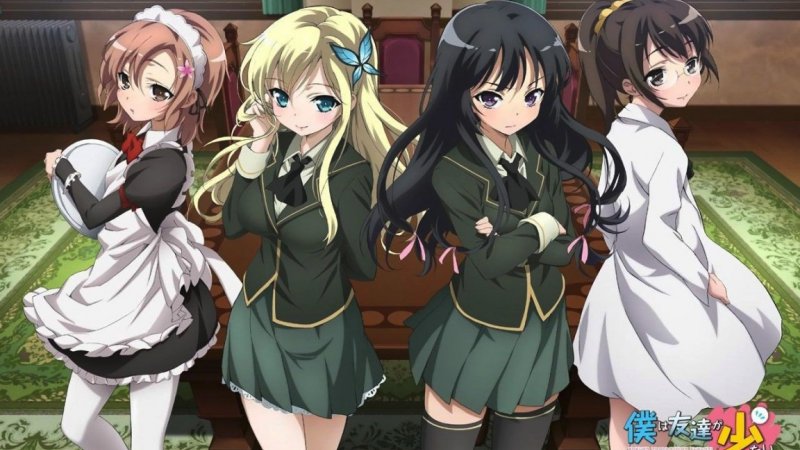 comment = Eccentricities are not lacking here in this anime, and accompanied by the wonderful ironies that happen and cause laughter most of the time. I don't have much to comment on this one, other than that the ecchidoesn't stand out much in it.

Kore wa Zombie Desu ka?
One night, while walking home from the convenience store, Ayumu Aikawa is killed by a serial killer and is suddenly brought back to life by a necromancer named Eucliwood Hellscythe. A small caveat: he is now a zombie.
Things get even weirder when he accidentally steals a magical girl's uniform and thus her powers! Haruna, the former magical girl, orders him to fight evil creatures known as Megalo in her stead until they can figure out a way to get her powers back for her.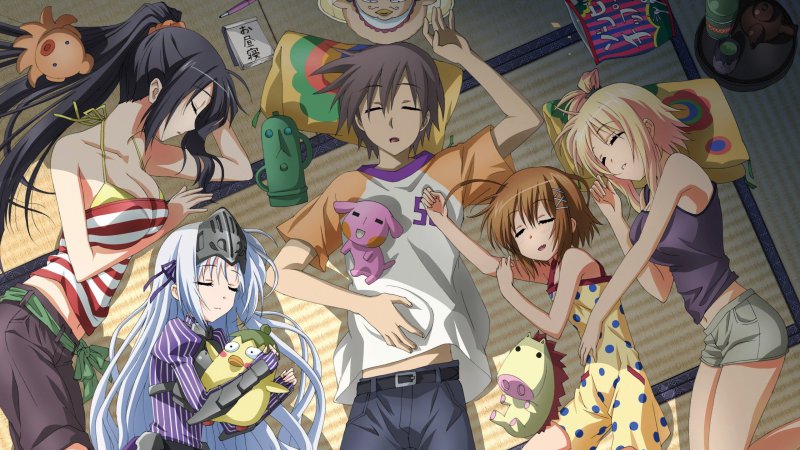 comment = Honestly, you can't help but feel ashamed if the main character, who is a man, steals a magical girl's powers and in addition has to wear her uniform, with the right to a skirt and wand. The good thing is that the anime does it with a good sense of humor, after all, if it were serious, it wouldn't even be known.
Prison School
Located on the outskirts of Tokyo, Hachimitsu Private Academy is a prestigious girls' boarding school famous for its high-quality education and disciplined students. However, all of that is about to change due to the school's most iconic policy overhaul, as boys are now able to enroll as well.
At the start of the first semester of this new decree, only five boys were accepted, effectively dividing the student body into a ratio of two hundred girls to one boy. Unable to communicate with the female students, the boys turned their attention to a far more dangerous task: peeking into the girls' bathroom!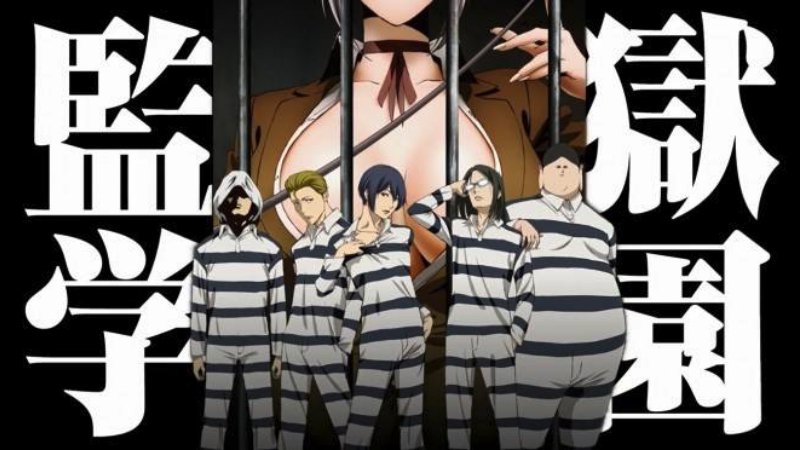 comment = Fortunately or unfortunately, the boys are thrown into a special prison made by the school's student council. But it is in this same place that the best scenes of ecchihappen in addition to having the funniest comedy scenes in anime ecchithat I have ever seen. I laughed a lot with this anime, I compare it a lot to konosuba, but with more drama.
To LOVE-Ru
Shy 16-year-old Rito Yuuki still hasn't professed his love for Haruna Sairenji - a classmate and object of his crush since high school. Unfortunately, his situation becomes even more challenging when, one night, a mysterious, completely naked girl falls into Rito's bath.
To add to the confusion, Rito discovers that the girl, Lala Satalin Deviluke, is the crown princess of an alien empire and has run away from her home. Despite her position as the heiress to the most dominant power in the entire galaxy, Lala is willing to marry Rito in order to avoid an unwanted political marriage.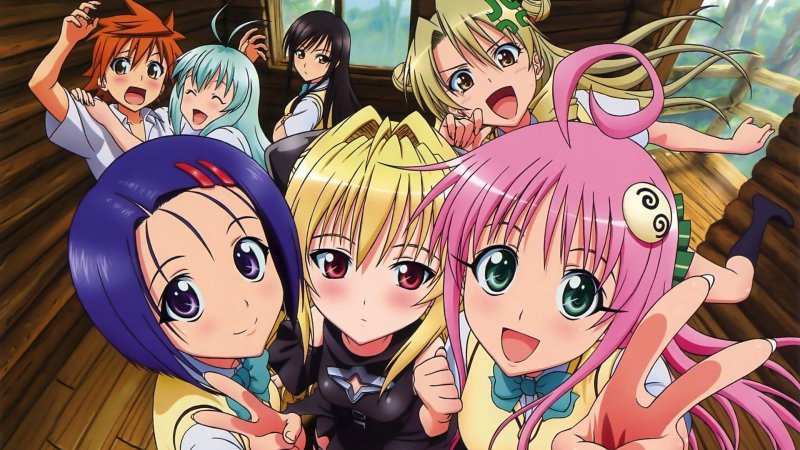 comment = All I can say is this guy gets a giant harem and doesn't do shit with any of them. This being lazy and virgin makes me angry and I only put this one on this list because it's a good comedy anime.
other anime ecchiwith comedy
Yuusha ni Narenakatta Ore wa Shibushibu Shuushoku wo Ketsui Shimashita;
punch line
Saenai Heroine no Sodatekata
Rosario to Vampire
Renai Boukun
On the next page we will see the Ecchi Anime where they advanced to second base or higher.
Anime Ecchi – More than friends
Well, not all the protagonists do this, but yes, there are those who at least kissed the girls and others who spent a little more than that. Here is a list of anime that the protagonists at least kissed the girls WANTING.
category anime
- Shinmai Maou no Testament
- Seikon on Qwaser
- Kiss x Sis
- Masou Gakuen HxH
- Highschool of the Dead
Shinmai Maou no Testament
When his father suddenly brings home two beautiful girls and introduces them as his new siblings, he has no choice but to accept the Naruse sisters into his family: the busty redhead Mio and little silver-haired Maria.
But when these seemingly normal girls reveal themselves as demons, Basara is forced to reveal himself as a former member of a clan of "Heroes", sworn enemies of the demons. However, he decides to protect them with his powers and makes a servant contract with Mio to watch over her.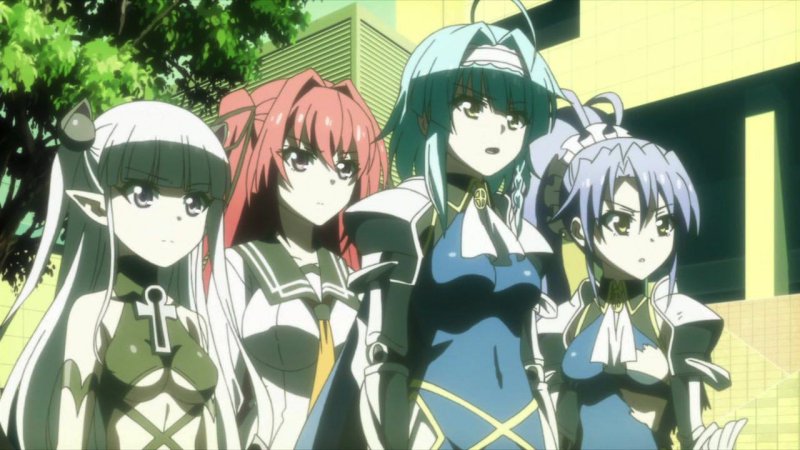 comment = Once again I have to say that they are not brothers. and the things they do are certainly not things for brothers to do. In addition to having a giant harem and taking care of them all, I am impressed every time I see him in action. This guy must have an absurd experience, and should take about 5 egg yolks a day to maintain the routine.
Seikon on Qwaser
After a horrible day of being harassed by their classmates, adopted sisters Mafuyu Oribe and Tomo Yamanobe stumble upon an injured young man and decide to bring him back to his place to recover. That same night, Mafuyu ends up at the mercy of the infamous serial killer. Strangely, he doesn't demand her life, but an icon left by Tomo's father.
Fortunately, Sasha, the mysterious young man the sisters had taken in, comes to the rescue just in time, helping Mafuyu avoid the same fate as the other victims. Sasha reveals that he is a Qwaser, an individual capable of controlling scientific elements by participating in Soma, a miraculous essence found in women's breasts.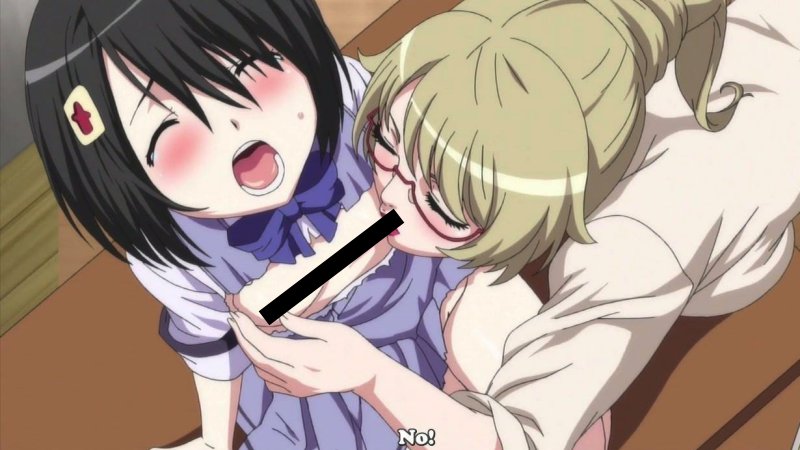 comment = And you must be wondering, how does he get this miraculous essence? Well, there it is in the synopsis that it can be found in women's breasts, now the problem is how it can be used. I would say that he has to drink the essence, and for that it is up to each Qwaser how he will take it, and the most common way is right at the source. Yes right at the source.
Kiss x Sis
After Keita Suminoe's mother passed away, his father immediately married, introducing two step sisters into Keita's life: the twins Ako and Riko. But since their fateful first meeting, a wave of incestuous love for his younger brother has overtaken the girls, starting a lifelong scramble for his heart.
Now, at the end of his high school career, Keita studies fervently to be able to attend Ako and Riko's high school. While doing so, however, he must resolve his conflicting feelings for his brothers and reject or succumb to his sisters' intimate advances.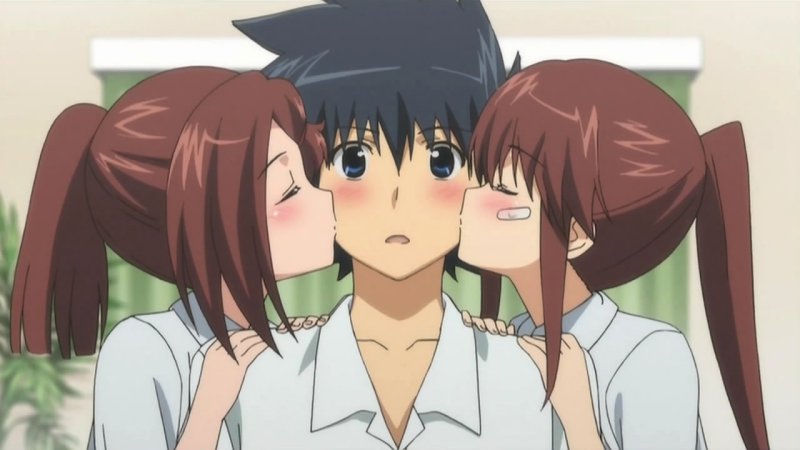 comment = I honestly don't know how this anime is so little known. and just remembering that they are not blood sisters, which many people have problems against, now anyone who thinks the relationship is of foster brothers is sadly mistaken too. These brothers have not had a normal relationship since forever. It's worth watching.
Masou Gakuen HxH
Hida Kizuna possesses the HHG (Heart Hybrid Gear) skill, but it's not strong enough to make him particularly important. His older sister calls him to transfer to a strategic defense school, where many of the students use their HHG skills to fight off otherworldly invaders.
Kizuna's fighting ability is not up to par, but her sister has another plan, apparently having erotic experiences with Kizuna will allow the girls to replenish their energy or power.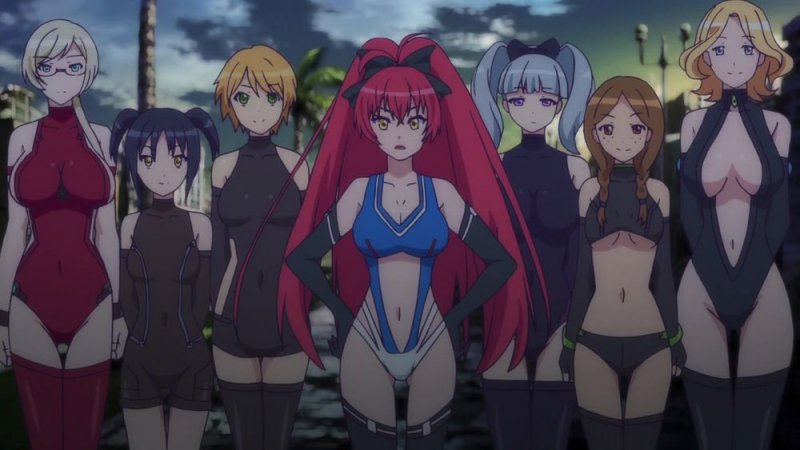 comment = No comment on the plot because I don't care if the world is at risk of being destroyed or if invaders can dominate the land. What matters to me is that the protagonist does his job normally and often. I am envious of the size of São Paulo for this lucky protagonist. Watch and leave me your comment later.
Highschool of the Dead
It happened suddenly: the dead began to rise and Japan was thrown into total chaos. When these monsters start terrorizing a school, Takashi Kimuro is forced to kill his best friend when he is bitten and joins the ranks of the undead.
Vowing to protect Rei Miyamoto, the girlfriend of the man he has just executed, they narrowly escape his school's death trap, only to be greeted with a society that has already fallen.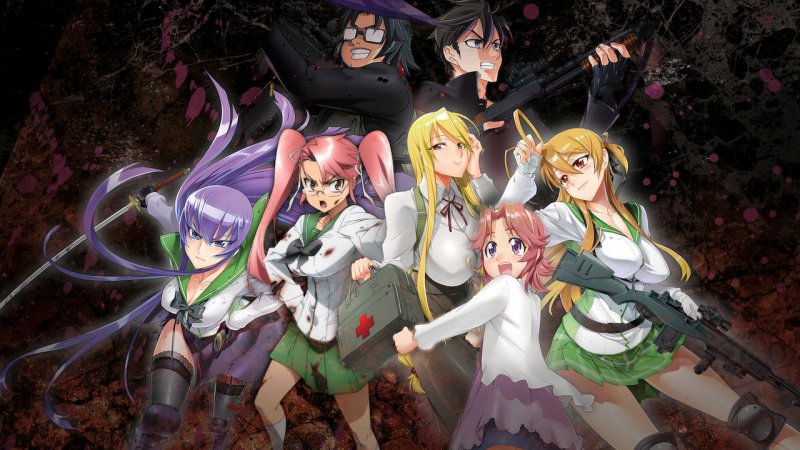 comment = This is one of the best, as it is honest. and I support this attitude, but unfortunately in Japan there are not many people who share my opinion, after all there was no second season. and another anime that is good, at least I found it, and it doesn't have a continuation. But I got used to it, after all, the Japanese are strange when it comes to this genre.
other anime ecchithat go a little further
gantz
Rakudai kishi no Eyuutan
Trinity seven (this is another one, and even more baggy)
The Ecchi anime on the next page are almost a Hentão:
Ecchi anime that are almost a hentai
A list with some anime that reach the point of looking like hentai. But it is still good to watch, remembering that it is not hentai and usually does not focus on the scene itself, and neither does anything explicitly appear.
category anime
- School Days 
- Kuzu no Honkai
- Yosuga no Sora
School Days
High school student Makoto Itou first realizes Kotonoha Katsura at the beginning of his second semester, first year. Immediately, he is fascinated by her beauty, but her shyness does not allow him to approach her, even if they ride the same train every day.
Instead, he secretly takes a picture of her and sets it as his phone's wallpaper: a charm that, if kept secret, would supposedly help you realize his love. However, classmate Sekai Saionji notices the situation, but instead of dismissing him, she offers to help him. Thus, the trio begins a rather improvised friendship.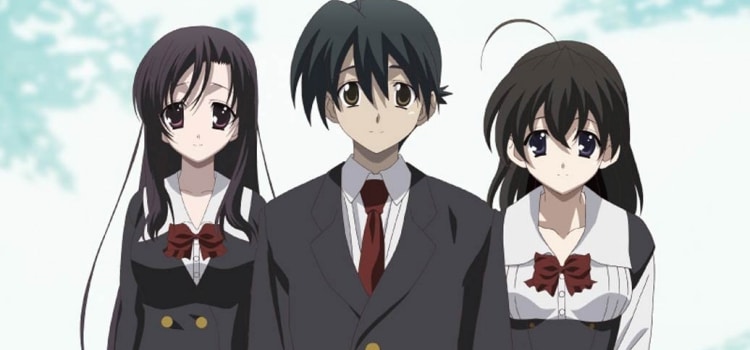 comment = The so hated protagonist. Of course he is more of a villain than the hero, but we have to agree that he enjoyed life a lot while he can. We also agreed that he could have stayed with him and got along just fine with the wealth but he didn't want it so it was all his fault. Anyway, I can't take after all, everyone has their opinion. I advise to watch.
Kuzu no Honkai
To the outside world, Hanabi Yasuraoka and Mugi Awaya are the perfect couple. But in reality, they just share the same secret pain: they're both in love with other people they can't be with.
Hanabi has loved her childhood friend and neighbor Narumi Kanai for as long as she can remember, so she's elated to find out he's her new homeroom teacher. However, Narumi is soon noticed by the music teacher, Akane Minagawa, and a relationship begins to blossom between them, much to Hanabi's dismay.
Mugi was tutored by Akane in high school and has been in love with her ever since. through a chance encounter in the hallway, he meets Hanabi. As these two lonely souls spend more time together, they decide to use each other as replacements for the one they truly love, sharing physical intimacy with each other to stave off loneliness.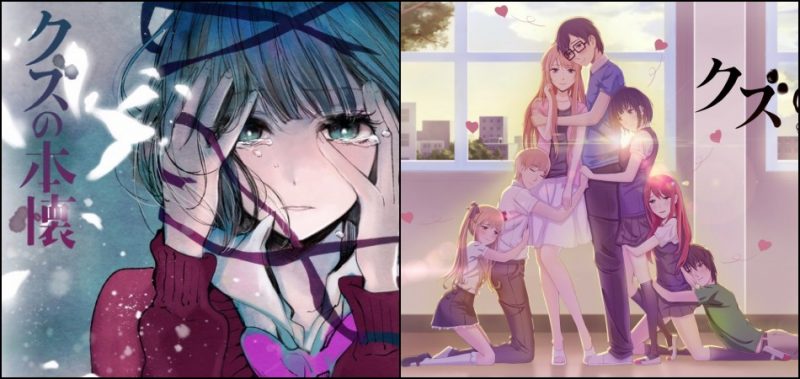 comment = Very netorare, and this is certainly not for weak people. But in compensation there will be certain events that will make you happy to have endured until then, but only if you are involved with the ecchiand not with the drama. and the tip is to analyze the characters coldly and nothing to get emotionally involved with the anime.
Yosuga no Sora
Haruka and Sora Kasugano are returning home to a place full of memories. Having lost their parents in a tragic car accident, the twins decide to return to the countryside and start life anew at their grandfather's house. Greeting them are childhood friends Nao Yorihime and Akira Amatsume, and newcomer Kazuha Migiwa.
Their peace is merely ephemeral, however, as pent-up emotions, born of newfound and forgotten vows, begin to exert their influence on the twins' new lives. And deep inside, a dark secret, known only to them, begins to unravel.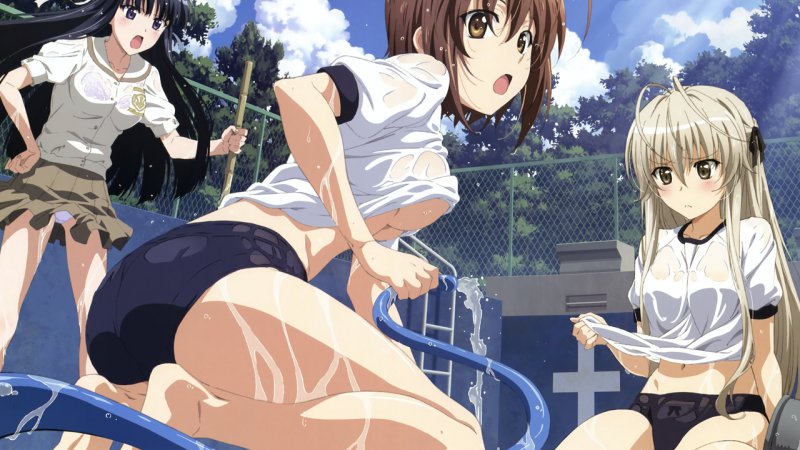 comment = Yes, this is incest. Anyone who has something against this does not watch, but just to warn that it is not right at the beginning that this scene exists, but almost at the end of the anime and until then there is the naughty protagonist who catches all the girls in the anime. and it's not just kissing, but the full service with all of them, but the detail is that they are different routes. You will understand when you watch.
List of Ecchi manga available in Brazil
Let's leave a list of Ecchi manga available on Amazon Brazil below:
What do you think of ecchi anime?
These are all the best anime of the genre that everyone should watch. Fortunately or unfortunately there are many more anime that were not mentioned in the list for reasons of practicality, after all it would not be good if this article was too long.
But anyway, if you remember one that you thought was very good and that is not on the list, leave your comment and say what it is. and if you have any questions, criticisms, suggestions or the like, leave a comment. and thanks to you for reading this article to the end and until the next.