Learn how to make the nun that Haru called Shizu to eat so much! Monjayaki (or simply "nun") is a liquid pancake very similar to okonomiyaki. It is a typical Tokyo dish and very popular in the Kanto region. It is known for being a dish to enjoy with friends made in one size for several people.
This dish appeared and became popular after the Second World War, when rice production was scarce. To make the nun, just mix the ingredients and fry in a frying pan. It is poured and eaten with a small spatula directly on the hot plate. It's a very free recipe… it even reminds us of our free way of making omelets of different flavors.
While okonomiyaki is a pancake for one person, monjayaki is prepared like a giant pancake for a table. It is usually more consistent and crispy with a pancake-like texture like melted and burnt cheese. Monjayaki dough is usually more liquid than Okonomiyaki dough.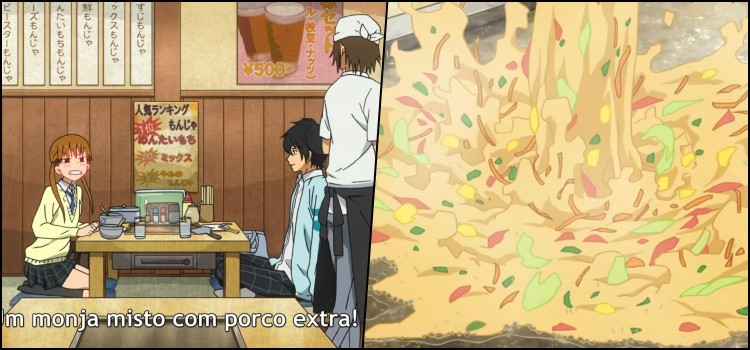 Monjayaki is a calorie-rich nightmare, only in anime for Haru to stay thin.
Monjayaki Recipe
400ml of water;
5 tablespoons of wheat flour (or rice flour);
300g of chopped chard;
1 onion cut into slices;
chopped chives to taste;
300g of ground beef;
Salt and pepper to taste;
Frying oil;
Preparation mode - Mix the ingredients and fry until golden. You can add things like a cheese.
Hope you enjoyed this little recipe. We also recommend learning how to make the traditional Okonomiyaki, we have a very complete article talking a little more about this Japanese pancake. Let's leave some links below, we appreciate the comments and shares.