Looking for anime that show the life of an otaku? Where the protagonist or various characters are or play the role of a real-life otaku? In this article we will see the best anime about otaku.
Today we are going to see several anime where the characters watch or discuss about anime, games and other hobbies that make them big addicts and face problems in social life and at school.
What are otaku anime?
Do you know what is one otaku? This Japanese term is used to refer to people who are addicted to things, especially anime, games, and manga. In the West this term is used to refer to anyone who likes anime or even things from Japan.
We also made a video below that explains in detail the meaning of Otaku:
In Japan, an otaku is one who faces lines to buy products related to his favorite works, collect objects, cosplay and participate in events such as Comiket.
There are also those otakus who live isolated in their room playing and watching all day. In this article we separate some anime that show otaku characters and the lifestyle they lead.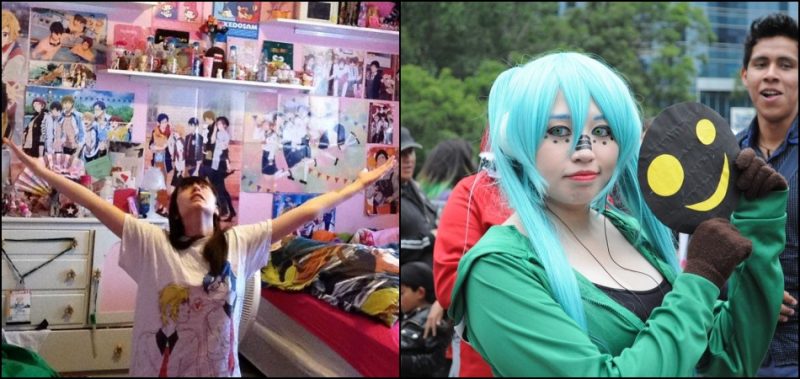 They are mandatory anime for all those who consider themselves otaku to watch. Today we are going to talk about the best anime about otaku culture.
Most otakus are gamers in some form, whether playing some visual novel or eroge. That's why some game-related anime are on this list. Hope you like and share this article. xD
The best anime about otaku life
Pray No Imouto Ga Konna Ni Kawaii Wake Ga Nai
The anime is called oreimo and translated as "there's no way my sister could be that cute". It tells the story of an otaku girl addicted to erotic games and mahou shoujo anime.
Despite the theme seeming adult, the anime does not present ecchi nor adult conversations, he is drawn to comedy and romance and has a story that grips from beginning to end. AT THE MY TOP 10!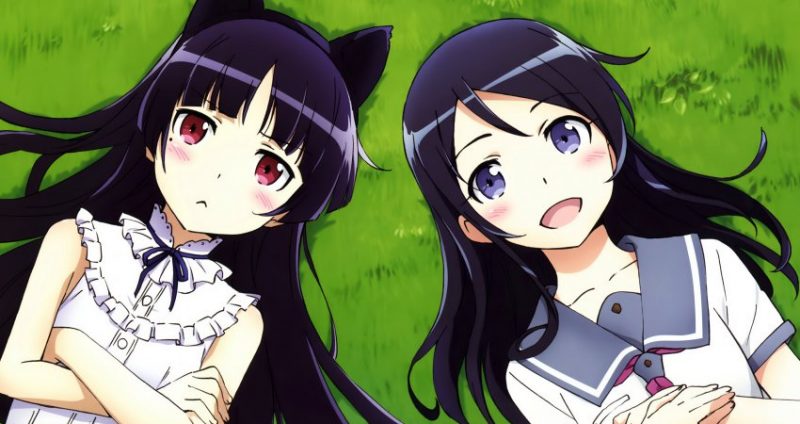 Genshiken
This anime shows the adventure of a club of otaku college students. During the course of the anime, you witness the growth of the group, the formation of bonds between the characters and also club activities such as group outings to anime and manga events.
WataMote
This comedy anime shows a girl who is quite popular in dating games, but who is a real failure in real life. All of this was a result of her otaku lifestyle, the anime shows her failures in trying to relate and change her life.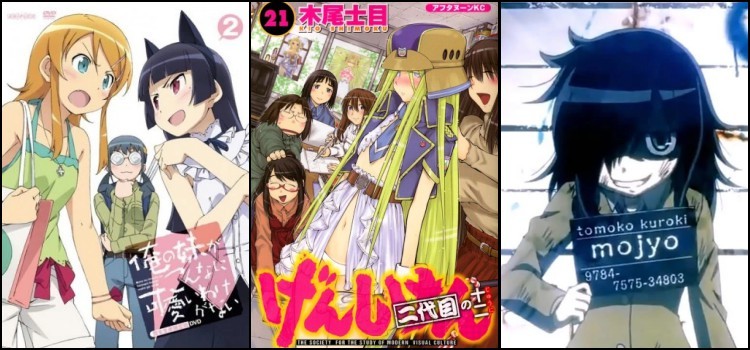 Nogizaka Haruka no Himitsu
This anime shows a normal young student who meets a talented and perfect girl. He found out that she is an otaku addicted to anime and manga and the 2 become friends, where the main character tries to keep her secret and supports her in the problems that arise.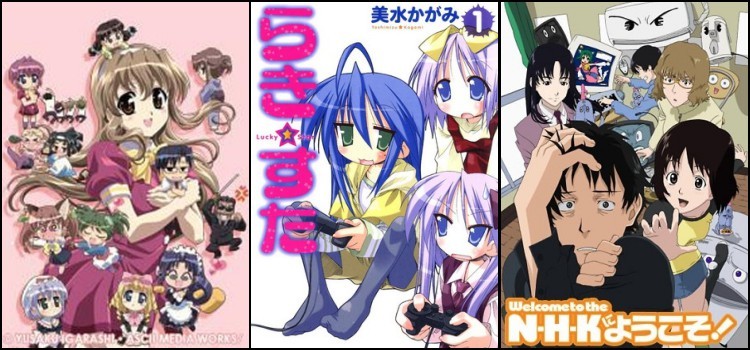 Lucky Star
Lucky Star tells the story of a group of 4 students, each with a unique personality. The main character is lazy and addicted to anime and video games. The anime is full of references to the otaku world and other anime and manga.
NHK ni youkoso
This anime is focused on one character hikikomori facing great difficulties in society. The anime is captivating and inspiring, it helps to know the problems and fight them.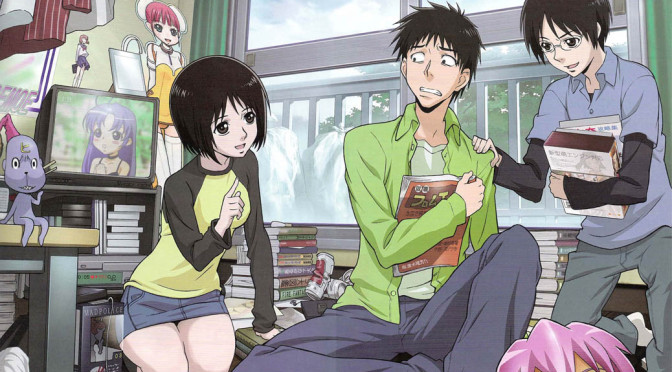 Anime related to the otaku world
Below we will cite some anime that are not totally related to otakus but that show a little of this world.
Bakuman
This anime shows 2 friends who are dedicated to becoming famous mangaka and receiving TV adaptation (anime) of their works. A captivating and inspiring work that shows the universe of manga and anime from a different perspective. PERFECT!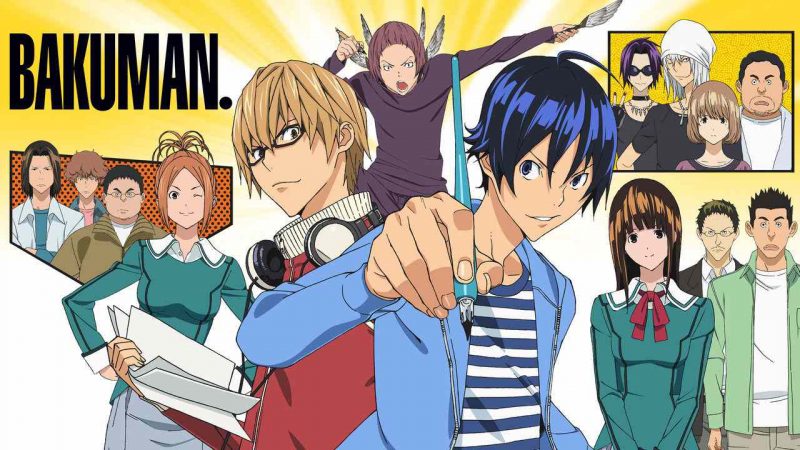 Shirobako
An anime about girls trying to make an anime. Nothing better than looking at how an anime is made, how the main characters interact and relate to this universe.
Denpa Kyoushi
An anime shows the story of a young otaku who ends up becoming a teacher.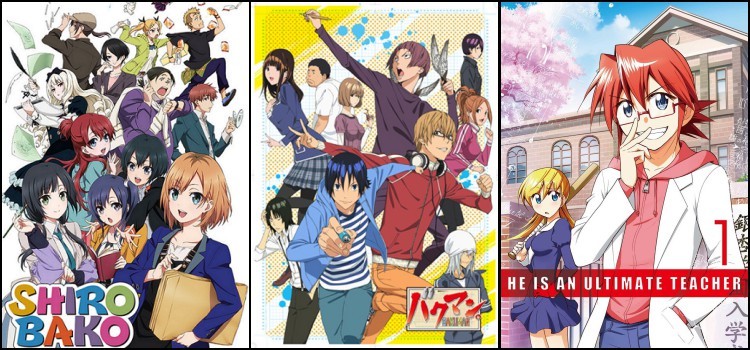 Quick list of otaku anime
Below we will leave a list of more anime that have some relation to the otaku universe:
Eromanga sensei - (About Light Novels);
Saenai Heroine no Sodatekata;
Himouto! Umaru-chan;
Denki-gai no Honya-san;
Haiyore! Nyaruko-san;
Kami nomi zo shiru sekai – (Game addict);
Yowamushi Pedal;
Re-Creators;
Outbreak Company;
No game No life;
Chaos;Head;
BloodLad;
Otaku no Video;
SKET Dance;
Chuunibyou demo Koi ga Shitai!;
Oregairu;
Gekkan Shoujo Nozaki-kun;
Gamers;
Netoge no Yome wa Onnanoko ja Nai to Omotta;
Boku wa Tomodachi ga Sukunai;
Danna ga Nani o Itteiru ka Wakaranai Ken;
anime otaku characters
Many other anime of various genres have many references and characters that are otaku. I'll leave a short list with the most otaku characters and the name of the anime they are present. We are not going to put characters that already appear in previous anime in this article…
Kouta Hirano (Highschool of the Dead);
Yoshiteru Zaimokuza (Oregairu);
Souta Takanashi (Working!!);
Gakuto (Prison School);
Walker Yumasaki (Durarara!!);
Daru(Steins;Gate);
Shimura Shinpachi (Gintama);
Kae Serinuma (Kiss Him, Not Me);
Renge Hoshakuji (Ouran High School Host Club);
Tamako Arai (Barakamon);
Yukiko (Nijiiro Days);
Gabriel (Gabriel Dropout);
List of Novels and Manga about Otakus
To end the article, we will leave a complete list of manga that talk about otaku culture. There are many, some may even have won an anime adaptation and we don't know. Thanks for reading the article, we appreciate the shares and comments.
The World's Greatest First Love: The Case of Ritsu Onodera
Welcome to the NHK! (Light Novel)
Monthly Girls' Nozaki-kun
Princess Jellyfish
Bakuman
Otakare Fujo Kano
Wotakoi: Love is Hard for Otaku
Genshiken
Saekano: How to Raise a Boring Girlfriend (Light Novel)
A Drifting Life
Kingyo Used Books
Genshiken: Second Season
Saekano: How to Raise a Boring Girlfriend
Love Stage!!
Nogizaka Haruka no Himitsu (Light Novel)
Welcome to the NHK!
still sick
Blend S
Himouto! Umaru-chan S
Otaku no Musume-san
Outbreak Company
Ikusaba Animation
Koi wa Nanairo Shichihenge!?
Mangaka-san to Assistant-san to
Asatte ni Kiss
Lucky Star
Himouto! Umaru-chan
maniac road
2.5 Jigen Kareshi
A Zoo in Winter
The High School Life of a Fudanshi
Tashiro-kun, Kimitte Yatsu wa;
A Pair of Otakus
Denki-Gai no Honya-san
Dojin Work
No Matter How I Look at It, It's You Guys' Fault I'm Not Popular!
Kami nomi zo Shiru Sekai: On the Train+Pilot Films
Shinozaki-san Ki wo Ota Shika ni!
Mangaka-san to Assistant-san to 2
Tonari no Kashiwagi-san
reiraku
My Wife Is Wagatsuma-san
Even a Monkey Can Draw Manga
That Was Good
Kaichou-kun no Shimobe
dramacon
Penguin Musume Max
comic studio
Saekano: How to Raise a Boring Girlfriend – Egoistic Lily
Megane to Koi to Aoi Tori
Sound of My Voice
Akihabara Fall in Love
Genshiken: Return of the Otaku (Light Novel)
Nogizaka Haruka no Himitsu
Sonna Koe Dashicha Iya!
Omae o Otaku ni Shiteyaru kara, Ore o Riajuu ni Shitekure!
Shoujo Nemu
23:45
Danna ga Nani o Itteiru ka Wakaranai Ken
Ikebukuro Hatsu, Zensekai Yuki!
Fudanshi-kun's Honey Days
Koibito Kakin
Aoi Destruction!
Gouin Sakka to Makeinu no Hatsukoi
Hadaka no Taiyou
comic party
left
Spoiler Wars
Jitaku Keibihime Terrass
Daydream★Nightmare
Ani-Com
Ore ga Fujoshi de Aitsu ga Yuriota de
comic
metal heart
Pray no Kirai na Tsugaisama
Insufficient Direction
Ikenai Mousou Fudanshi
Penguin Musume
Anata no Jinsei Hikiukemasu!
moekoi
(G) Edition
Fudanshi Baby
Manga Dogs
Vampire Killer
Pushu~ke~!! Psyche!
8 Tales of the ZQN
Boku x Kano
Haruwaka
Yuri Danshi-kun
Choir!
Akiba Romance!
Next Door Honey
ubunchu!
Happy End or Shinjiteru
Maid wo Nerae!
0 kara Hajimeru Manga Kyoushitsu
Comiket Douwa Zenshuu
Oshi ga Watashi de Watashi ga Oshi de
One Piece: Copy-ni no Kobiyama – Urifutatsu Nagi no Daihihou
Koisuru One Piece
Ah… Shirisomeshi Koro ni…
Amazing Stranger
Fudanshi Kakumei
Comic-ban Sekai no Denki: Ishinomori Shotaro
Tezuka Osamu: 21-seiki wo Design Shita Manga-ka
Fujiko F. Fujio: Kodomo no Yume wo Egaki Tsuduketa "Doraemon" no Sakusha
Edu-Manga: Osamu Tezuka
Otaku and Mr.Taoist
Pastel Memories
Fudanshi-kun's Citrus Days
Deng Bang
Pen Love
Doujin Katsudou, Hajimemashita!?
Doujin Katsudou no Susume!
Kusare Joshi!
Yahari Otaku from Machigainai;
Dakara Otaku wa Yamararenai;
Chuugoku Yome Nikki
Empire of the Z
I Like Gay Manga, So What?
Mangaka-san Irasshai! R's Bar: Mangaka no Atsumaru Mise
Ichigo Switch!
Uchi no Kore ga Kore na mon de;
Himouto! Umaru-chan SS
Metamorphosis in Engawa
Motokare ga Fudanshi ni Natte Orimashite;
Himouto! Umaru-chan G
Skull-Face Bookseller Honda-san
Outbreak Company (Light Novel)
France Nikki
Bakuman. (Light Novel)
Kami Eshi Nisshi
dead or animation
Tokusatsu Gagaga
Kare to Kanojo no (Otaku)²
Ichikyuu Kyuupeke
Comic Master J
Shimekirisama ni Oyurushi o
Omae o Otaku ni Shiteyaru kara, Ore o Riajuu ni Shitekure! (Light Novel)
My Yaoi-Con 2011 Report
Naisho no Mangaka Tonari no Yutori-san
Love & Catastrophes
Chanto Kaitemasu kara!
PS Triple
Tonari at 801-chan
anime Tenchou