Hello everyone, everything good? Here we go with another list of anime nominations, this time with the best of the 4 seasons of 2017. Despite having several, we will not be able to put and comment on all of them only on this list, so I will put only the ones that have the highest score in every season.
Let's separate by seasons, and for those who don't know what that means I'll explain. Anime is usually divided into 12 or 24 episodes, so they spend an average of three or six months on air. The seasons are these three months long.
That leaves us with 4 seasons a year, and all anime has to fit into this period. The seasons are Winter, Spring, Summer and Autumn. Exactly in that order, the same as the seasons. I will explain better soon.
And passing by to warn that I didn't classify the anime just by my own judgment. The following list is based on user reviews of MAL (My Anime List), a specific website for anime content and the industry in general. In addition to being the largest website for this content and news portal in the West.
So as not to confuse this list, I have to explain that it is sorted by score and not by popularity. For me it would be unfair to put popular anime with low ratings instead of putting those with high but less popular scores. So here are just the ones with the highest scores of the season.
In the complete list of anime of the season, Kevin will bold the ones he watched and liked to serve as his recommendations.
Winter season anime - January 2017
Also known as the January season. This is the season that starts the year, with a duration of three months it extends from January to the end of March and beginning of April.
In case you don't know why it's winter season, just know that it's based in Japan and not Brazil. And as we know, Northern Hemisphere and Southern Hemisphere have opposite seasons.
Some I will put my opinion on, however I will not put it on others because I haven't watched it and therefore I'm not able to judge and give comments. That way I will avoid the tactic of throwing green to harvest ripe. This in my opinion was one of the weakest seasons with few attractive anime, but with good continuations.
Kobayashi-san Chi no Maid Dragon
When Kobayashi leaves for another day at work, she opens the apartment door to be greeted by an extraordinarily frightening sight – the head of a dragon, staring at her from across the balcony. The dragon immediately transforms into a beautiful, busty, and energetic young girl dressed in a maid outfit, introducing herself as Tooru.
Despite being extremely efficient at her job, the maid's unorthodox methods of housekeeping often end up terrifying Kobayashi and sometimes cause more trouble than help. To top it off, Tooru's presence ends up attracting several other mythical beings to his new home, bringing a series of eccentric personalities.
My opinion
To finish this anime that was a great success in 2017. With the design and personality of the characters, and also some aspects that focus mainly on ecchi. It captivated the audience and emerged as one of the best and most popular anime of the year.
I personally haven't watched it yet and don't even ask me why I don't even know. But I can say that a good story and charismatic characters are not lacking in anime. I'm saying because I've watched a few episodes of it, but I haven't completed it.
Youjo Senki
Tanya Degurechaff is a young soldier famous for predatory ruthlessness and an unusual tactical aptitude, earning her the nickname "Devil of the Rhine". Yet within it is the soul of a man who challenged Being X, a god of sorts, to a battle of wits - which resulted in his reincarnation as a little girl into a world of magical warfare.
Braving herself to challenge, Tanya resolves to rise through the ranks of her country's armed forces as she slowly plunges into world war, with only Being X proving to be the strongest obstacle in recreating the peaceful life she has known.
But their perceptive actions and their combative initiative have an unwanted side effect: propelling the mighty Empire to become one of the most powerful nations in human history.
My opinion
Just by the proposal this is already a unique anime. An atheist man, thinks that everything depends only on his own will and effort and is murdered in an unconventional way, soon finds an existence that to teach him a lesson makes him reincarnate in another world that is in the midst of a great war.
Soon, this man who has been reincarnated in a FEMALE body, joins the army in an attempt to achieve a peaceful life. With a plot like this and an exemplary execution, this is without a doubt the best of this season in my opinion.
List of anime of the season of January - Spring 2017
fuuka
Little Witch Academia (TV)
Yowamushi Pedal: New Generation
Demi-chan wa Kataritai
ACCA: 13-ku Kansatsu-ka
Kemono Friends
super lovers 2
Ao no Exorcist: Kyoto Fujouou-hen
Gabriel DropOut
Kuzu no Honkai
Rewrite 2nd Season
Tales of Zestiria the X 2nd Season
onihei
Urara Meirochou
Reikenzan: Eichi e no Shikaku
Masamune-kun no Revenge
BanG Dream!
Kirakira☆Precure A La Mode
Chain Chronicle: Haecceitas no Hikari
Marginal#4: Kiss kara Tsukuru Big Bang
Akiba's Trip The Animation
Nyanko Days
FloorS;Child
seiren
Inazma Delivery
ēlDLIVE
Minami Kamakura Koukou Joshi Jitenshabu
Choboraunyopomi Gekijou Dai San Maku Ai Mai Mii: Surgical Friends
Piace: Watashi no Italian
Sengoku Choujuu Giga: Otsu
Schoolgirl Strikers: Animation Channel
Chiruran: Nibun no Ichi
Idol Jihen
Hand Shakers
One Room
Yami Shibai 4
High & Low: G-Sword
Chou Shounen Tanteidan Neo
KochinPa! dainiki
Forest Fairy Five
Nananin no Ayakashi: Chimi Chimi Mouryou!! Gendai Monogatari
Sentai Hero Sukiyaki Force: Gunma no Heiwa wo Negau Season
Tokyo Futago Athletic
Spring season anime - April 2017
Also known as April season. It starts at the beginning of April and runs until the end of June and beginning of July. Another three months of duration and here in Brazil it is the period of the autumn season.
I prefer the alternative name as it is very easy to get confused between spring and autumn when dealing with this context, in my opinion. But we have to agree that it is much easier to identify when it says April season.
This season we had few highlights, basically I'll leave only one anime on this list but I recommend also taking a look at Alice to Zouroku and EroManga-Sensei.
Tsuki Ga kirei
With a new school year comes a new crowd of classmates, and for their senior year of high school, aspiring writer Kotarou Azumi and track team member Akane Mizuno end up in the same class.
Though initially complete strangers, some chance encounters spark an innocent desire in their hearts. An anxious gaze, a vibrant heart - the marks of young love seep into their lives as fate leads their paths to a cross.
However, while love is patient and love is kind, Kotarou and Akane discover that it is not always easy. Despite the comfort they find in each other's company, hurt and anxiety go hand in hand with searching for the feelings in their hearts.
With the uncertainty of how the other really feels, as well as the competing affections of those around him, the way forward is unclear. Even so, under the bright light of a beautiful full moon, Kotarou musters his courage to ask Akane a single question that changes their silent relationship forever.
April Anime List - Spring 2017
Saenai Heroine no Sodatekata
Shuumatsu Nani Shitemasu ka?
Re:Creators
Oushitsu Kyoushi Heine
Shingeki no Bahamut: Virgin Soul
Starmyu 2nd Season
Sakura Quest
Sakurada Reset
Ani ni Tsukeru Kusuri wa Nai!
Rokudenashi Majutsu Koushi to Akashic Records
Idol Time PriPara
Zero kara Hajimeru Mahou no Sho
Alice to Zouroku
Fukumenkei Noise
Nobunaga no Shinobi: Ise Kanegasaki-hen
Busou Shoujo Machiavellianism
tsugumomo
Dungeon ni Deai wo Motomeru no wa Machigatteiru Darou ka Gaiden: Sword Oratoria
Kyoukai no Rinne 3rd Season
Berserk 2nd Season
Boruto: Naruto Next Generations
Seikaisuru Kado
Atom: The Beginning
Renai Boukun
Eromanga-sensei
Granblue Fantasy The Animation
Hinako Note
ID-0
Yu☆Gi☆Oh! VRAINS
Kabuki-bu!
Beyblade Burst God
Kenka Banchou Otome: Girl Beats Boys
Cinderella Girls Gekijou
Clockwork Planet
Frame Arms Girl
dappy
Gin no Guardian
Future Card Buddyfight Battsu
Rilu Rilu Fairilu: Mahou no Kagami
Warau Salesman New
PriPri Chii-chan!!
Twin Angel Break
Shounen Ashibe: Go! Go! Gum-chan 2
Sin: Nanatsu no Taizai
100% Pascal-sensei (TV)
World Fool News (TV) Part II
Makeruna!! Aku no Gundan!
Room Mate
Love Kome: We Love Rice
Sekai no Yami Zukan
Souryo to Majiwaru Shikiyoku no Yoru ni..;
Yousei Land Mukashibanashi
"Eikou Naki Tensai-tachi" Kara no Monogatari
Akindo Sei no Little Peso
Akita Kenritsu Iburi Gakkou Chuutou-bu
Ba La La Xiao Mo Xian Zhi: Feiyue Cai Ling Bao 2nd Season
Buppu na Mainichi
Caribadix
Duel Masters (2017)
Neko no Robu
Neko to Mata
Otona no Ikkyuu-san 2nd Season
Tomica Hyper Rescue Drive Head: Kidou Kyuukyuu Keisatsu (TV)
Summer season anime - July 2017
Also known as the July season. It starts in the month of July and extends to the end of September and beginning of October. And as you can see, it comprises the winter season here in Brazil.
It is interesting and frustrating to think that the mid-year vacations that we have here in Brazil are during the rainy season, while in the northern hemisphere it is the season that best enjoys beaches and holidays in general. I have to move to the northern hemisphere.
Made in Abyss
Abyss The Abyss – a gaping abyss that stretches deep into the earth, filled with mysterious creatures and relics of a long time past. Countless brave individuals known as Divers have attempted to solve the mysteries of the Abyss, fearlessly descending into its darkest realms.
The best and bravest of divers, the white whistles, are hailed as legends by those who remain on the surface. Riko, daughter of a white whistle, aspires to become like her mother and explore the furthest reaches of the Abyss. However, just a rookie Red Whistle, she is only allowed to roam her highest tier.
Even so, Riko has a chance encounter with a mysterious robot with the appearance of an ordinary boy. Certain that the technology to create Reg must come from within the Abyss, the two decide to venture into the Abyss to regain their memories and see rock bottom with their own eyes.
My opinion
Despite its characters being drawn with a very childish trait, the anime doesn't fit for that age, and even some older people still have their stomachs turned over by many of the tension parts this anime causes.
It's tension from the beginning, but I recommend using the 3-episode rule in this anime because it has some intro parts for secondary characters and other important preparations that every anime needs. But then it's just tension and overwhelming psychological pressure. Anime gold that I don't recommend for those with a weak stomach
balroom youkuso
A professional dancer named Sengoku rescues Tatara, an introverted third-year high school student who is being harassed by delinquents. Tatara ends up at Sengoku's dance studio, where he meets Shizuku Hanaoka, a schoolmate he secretly idolizes.
From this decisive moment, it is when Tatara enters the world of dance. Sengoku is a dynamic, free-spirited international dancer who recognizes Tatara's potential and begins training him. Through dancing, Tatara meets another schoolmate, a dance prodigy named Kiyoharu.
through these new friendships, Tatara develops a passionate desire to improve as a dancer and to be accepted by his peers and rivals, which nurtures his own native talent. And through interaction with Tatara, other dance members are encouraged to take steps to overcome their own challenges and problems.
My opinion
If dancing relieves the stress of the soul, I'll become a waltz foot. And it is on dance that the protagonist tries to resolve his personal dramas. Good thing he has a knack for the thing, otherwise he would get along very badly with his beloved.
Romance and drama are involved in the plot, as he tries to achieve his goal and win the girl of his dreams, he has to get better and better. It remains to be seen if he achieves the goal before becoming the best in the world. The doubt remains.
Youkoso Jitsuryoku Shijou Shugi no Kyoushitsu
On the surface, Koudo Ikusei High School is a utopia. Students enjoy unparalleled freedom and are highly ranked in Japan. However, the reality is less than ideal. Four classes, A through D, are ranked in order of merit, and only the best classes receive favorable treatment.
Kiyotaka Ayanokouji is a student of Class D, where the school puts out its worst. There he encounters the unsociable Suzune Horikita, who believes she was placed in Class D by mistake and wishes to rise to Class A, and the seemingly friendly class idol Kikyo Kushida, whose goal is to make as many friends as possible.
While class membership is permanent, class ranks are not; lower class students can move up the rankings if they do better than the best students. Also, in Class D, there are no slashes on which methods can be used to advance.
My opinion
The only thing I'm sure of is that nothing is what it seems. The only one who doesn't seem to have a second personality or something to hide is just the tsundere Horikita. But all the other characters are not common in any way. Mainly the nice girl and I won't say why as it would be a big spoiler.
But he's a badass protagonist too, besides being smart and calculating he still has the innate ability to use other people for his own benefit, and that without anyone realizing what he's doing or what he's hiding. Plus there's something very dark in his past. All the clichés I love.
new game
It's been a year since Aoba Suzukaze started working at the Eagle Jump company. Back then, she and her eccentric coworkers in the character design department worked hard to release the company's newest game: Fairies Story 3.
With its latest title complete, a new project must begin – starting with a contest to decide character designs. for the next game. Through hard work, dedication, and some guidance from the previous character designer, Kou Yagami, Aoba wins the contest and begins his new role as a character designer.
However, his new job is not easy. In addition to having extra work and longer hours, Aoba questions whether she is the right person for the job. The story continues as Aoba overcomes her inexperience with the help of her friends and co-workers, willing to face any challenge to make Eagle Jump's newest creation.
List of anime of the season of July - Summer 2017
Mahoujin Guruguru
Youkoso Jitsuryoku Shijou Shugi no Kyoushitsu
Tsurezure Children
Princess Principal
Senki Zesshou Symphogear AXZ
Hitorijime My Hero
Shoukoku no Altair
Isekai Shokudou
Saiyuuki Reload Blast
Knight's & Magic
aho girl
Gamers!
Fate/Apocrypha
Youkai Apartment no Yuuga na Nichijou
Keppeki Danshi! Aoyama-kun
Katsugeki/Touken Ranbu
Koi to Uso
Nana Maru San Batsu
Isekai wa Smartphone to Tomo ni;
Tenshi on 3P!
Hina Logi: From Luck & Logic
Teekyuu 9
Jigoku Shoujo: Yoi no Togi
Action Heroine Cheer Fruits
Centaur no Nayami
Hajimete no Gal
Vatican Kiseki Chousakan
Jikan no Shihaisha
Konbini Kareshi
18if
Ikemen Sengoku: Toki wo Kakeru ga Koi wa Hajimaranai
Yami Shibai 5
Dive!!
Battle Girl High School
Pikotarou no Lullaby Lullaby (TV)
Netsuzou TRap
Nora to Oujo to Noraneko Heart
Clione on Akari
Skirt no Naka wa Kedamono Deshita;
The Reflection
Kaito x Ansa
Musekinin Galaxy☆Tylor
Catchy-kun no Nice Catch!
Hinomaru!
PJ Berri no Mogumogu Munyamunya Season 2
Tokiko-san quiz
Yura Yura Suizokukan
Fall season anime - October 2017
And the season that closes the year and also connects with the first season of next year, also known as the October season. The good news is that it runs from early October to late December and early January, which means it's the best season to do marathons.
Or rather, it is the second best to do this, since the first is the January season that takes the summer vacation here in Brazil. I usually save the anime to marathon everything at the end of the season, so I enjoy it better. Now let's continue.
This season was basically the best ever, with great premieres like Inuyashiki and Net-juu no Susume which unfortunately wasn't described in the article, but which I personally recommend and consider to be the favorites of this season. (by Kevin)
houseki no kuni
In the mysterious future, crystalline organisms called Gems inhabit a world that was destroyed by six meteors. Each Gem is given a role to fight the Lunarians, a species that attacks them to destroy their bodies and use them as decorations.
Phosphophyllite, also known as Phos, is a fragile young gem who dreams of helping her friends in the war effort.
Instead, they are told to compile an encyclopedia because of their delicate condition. After begrudgingly embarking on this task, Phos encounters Cinnabar, an intelligent gem who has been relegated to patrolling the isolated island at night because of the corrosive poison her body creates. After seeing how unhappy Cinnabar is, Phos decides to find a role that both rejected gems can enjoy. Houseki no Kunise follows Phos' efforts to be useful and protect his fellow gems.
Mahoutsukai no yome
Chise Hatori, a 15-year-old Japanese girl, was sold for five million pounds at auction to a tall masked gentleman. Abandoned at a young age and mocked by her peers for her unconventional behavior, she was ready to give herself to any buyer if it meant having a place to go home.
In chains and on her way to an unknown destination, she hears whispers of clothed men along her way, gossiping and complaining that such a buyer has gotten his hands on a rare "Sleigh Beggy". Ignoring the murmurs, the mysterious man takes the girl to an office, where he reveals himself to be Elias Ainsworth - a wizard.
After a brief confrontation and some teleportation magic, the two open their eyes to Elias' quaint cabin in rural England. These events mark the beginning of Chise's story as an apprentice and supposed bride to the former mage.
My opinion
One of the most popular and praised of the year, and the best anime of the season in my opinion. And I think not just me, because his fame has traveled the world and won a lot of fans. But unfortunately I couldn't help but curse the fact that the protagonist continued to have a goat's head.
Well, maybe that's why it was so successful, after all, it's not every day that we can see such a different protagonist. But that's not all, its animation and stories are extraordinary compared to other anime, I was particularly impressed with how beautiful the graphics turned out.
Shoujo Shuumatsu Ryokou
Amid the desolate remains of a once-thriving city, only the roar of a motorcycle breaks the cold silence of winter. Its pilots, Chito and Yuuri, are the last survivors of the war-torn city.
As they search old military sites for food and parts, the two girls explore the wastelands and speculate on the old world to pass the time.
They each occasionally struggle with impending loneliness, but when they have each other, sharing the weight of being two of the last humans becomes a little more bearable. Your dark days get a little brighter with shooting practice, new books, and snowball fights on the frozen battlefield.
List of anime of the season of October - Fall 2017
Gintama.: Porori-hen
Kekkai Sensen & Beyond
Hoozuki no Reitetsu 2nd Season
Inuyashiki
Net-juu no Susume
Love Live! Sunshine!! 2nd Season
Yuuki Yuuna wa Yuusha de Aru: Yuusha no Shou
Konohana Kitan
Itsudatte Bokura no Koi wa 10 cm Datta;
Osomatsu-san 2nd Season
Aru's Yuuki Yuuna wa Yuusha: Washio Sumi no Shou
Kino no Tabi: The Beautiful World – The Animated Series
Blend S
Imouto sae Ireba II;
Himouto! Umaru-chan R
Just Because!
The [email protected] SideM
Kujira no Kora wa Sajou ni Utau
Garo: Vanishing Line
UQ Holder !: Mahou Sensei Negima! two
Osake wa Fuufu ni Natte kara
Tsukipro The Animation
Cardfight!! Vanguard G:Z
Cinderella Girls Gekijou 2nd Season
Juuni Taisen
Code:Realize – Sousei no Himegimi
Black Clover
Infini-T Force
animegataris
RoboMasters the Animated Series
Wake Up, Girls! Shin Shou
ClassicaLoid 2nd Season
Boku no Kanojo ga Majimesugiru Sho-bitch na Ken
Sengoku Night Blood
Evil or Live
Ku Pao Ying Xiong
urahara
Team Bokan: Gyakushuu no San Akunin
two car
Omiai Aite wa Oshiego, Tsuyoki na, Mondaiji;
Fireball Humorous
Dies Irae
Yodel in the Onna
Ousama Game The Animation
Glamorous Heroes
Ame-iro Cocoa Series: Ame-con!!
Love Kome: We Love Rice 2nd Season
Horizon Day (Kabu)
Taishou Mebiusline: Chicchai-san
Dynamic Chord
Aiseki Mogol Girl
Oretacha Youkai Ningen
Opinions about anime sequels of 2017
Gintama
The famous gintama, I only watched a few episodes of its first season so I'm too suspicious to talk about it. However, it seems that it is very good, due to the fact that it always appears in prominent positions in the lists that MAL has.
What can I say that this is no ordinary anime. Comedy, action, parody and several other genres meet in this anime. Comedy in particular seems to be the main point in the plot as it is heavily utilized at various points in the plot, or at least that's what I realized.
Kono Subarashii Sekai ni Shukufuku wo! two
The crucial tip in this anime is to never try to guess anything about its plot. Don't expect the protagonist to save the girls, don't expect the girls to always support the protagonist, don't expect them to become powerful, don't expect them to act like they're normal, don't expect the protagonist to be a gentleman .
The only thing you can expect is the worst case scenario, that you can always expect. But worst of all is how they manage to get into trouble without even trying. And after the great success, nothing fairer than a second season.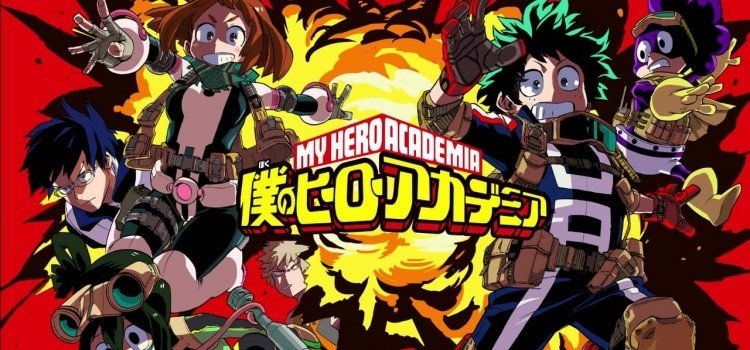 Boku no hero – second season
One of the most anticipated of the season. Perhaps because of the success of the first season, which in my opinion was the best of the season, a fact that was repeated this season again. And once again Deku has the world's attention on his story.
At this stage, the sports festival specially made to evaluate and rank the best UA students. In addition to several unbelievable fights, fluid and well-made animation and captivating characters, it still has the fact of its great drama. It's a complete anime.
Natsume yuujinchou – season 6
Speaking of good but not so popular anime. This is that typical anime that is good enough to get 6 seasons without being highly popular. I'm suspicious to talk about this anime because I'm a fan of it and I think not just me.
A boy has the power to see Youkai, and as a result he had a terrible childhood. But everything is made worse by the fact that his grandmother, now deceased, was a girl who had the same power, however she did the opposite of what he does today. It's not easy to explain this part, but the fact is that she left a notebook for her grandson. And this notebook is the cause of all the torment.
Shingeki no kyojin 2
This one went so far as to dispense with comment. Fame precedes him, and because he is so popular everyone already knows his plot and characters. But seriously, the protagonist is a useless person who has no other importance than having the power of Titan.
I prefer, like thousands of people, Levi. Appeal is not lacking when this character is fighting and his abilities stand out for their own ability that is beyond the ordinary. The tip I can give you is not to try to get attached to the protagonist, because in my opinion you will only be disappointed.
Uchouten kazoku – Second season
I would describe this anime as relaxing. Its first season had several twists, but this season far surpassed the previous one. With a fun and relaxed theme, this anime doesn't let you down when it comes to tension and fun.
In addition to its various reflection parts and life lessons. I advise for people who are in some dilemma in life. It helped me a lot when I went through a troubled phase, and it's really good to pay attention to the opening and closing songs of your seasons.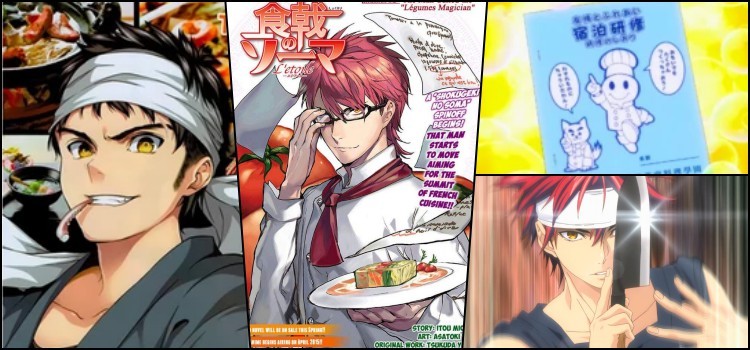 Shogugeki no Souma: San no Sara
Its third season has finally been released. Although the wait time was relatively short compared to other anime like Overlord, it was still sorely missed and this made the wait time as long as decades, at least that's how it was for me.
And for those who have never watched shokugeki, I just say "so you never lived, my son". For those who think that cooking is only for women, this is the anime that will change their minds is still trying to pilot a stove at least to fry an egg.
Conclusion
That's all for this article. I believe there will always be something missing, but I can't put all the content in just one Post. OVAs, ONAs, Movies and other things were not listed here, so I advise you to visit the MAL website for more information and details.
Remembering that the article was based on information from the MAL website. And if you have any doubts, suggestions, criticisms or anything else, just leave a comment. Furthermore, thanks to you, my dear reader, for reading this article so far and until the next one.