Kakegurui is a famous high school betting game anime that was very successful, even winning a television drama. In this article, we are going to talk about all Kakegurui characters, their history, curiosities, possible sequels and seasons.
Kakegurui's Story
Shiritsu Hyakaou Gakuen – It is a prestigious Private School over 122 years old, attended by high-class students from the political and business world. Famous, skilled and other athletics who stand out in front of society.
In this school there is a great war and hierarchy based on games of chance, where the winners live like kings and the losers are put in the wringer. The story features a newcomer named Yumeko Jabami who shows how it's really played.
The young protagonist has the enormous desire to play against the Student Council members, as they use strict methods, in which they also put the gambler's life at risk, making Yumeko Jabami excited, as she loves to take risks and danger.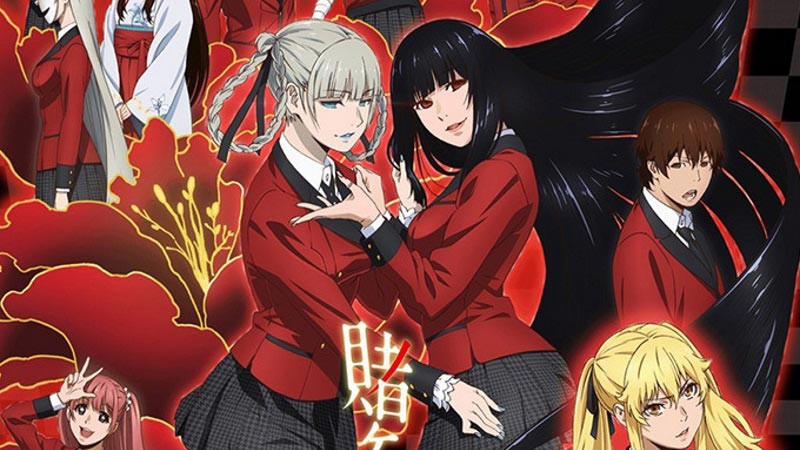 Why watch Kakegurui?
The highlight of the anime is in the drama of the characters who are in the habit of always betting, approaching real themes such as gambling and casinos, bearing in mind the psychological suspense. Each character that passes in the anime imposes itself with peculiar penalties.
The anime shows competitiveness, coldness, luck, psyche, victory, social psychology, game theory and emotions, diminishing others, madness, cheating and deception. These are the core values of the controversial Kakegurui.
Its theme shows viewers the reality that our society has been living for years, especially people who are compulsive and addicted to betting, gambling, among other vices. Wild characters that interact with brute force.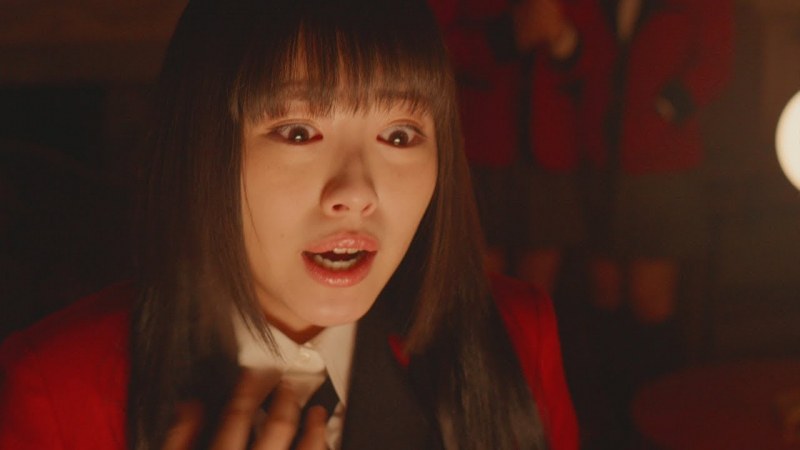 All Kakegurui Manga
Kakegurui is a series of shounen manga written by Homura Kawamoto and first illustrated by Toru Naomura published in Gangan Joker since 2014. Since then the work has had several manga and some spin-off, see below:
Responsive Table: Scroll the table to the side with your finger >>
| | |
| --- | --- |
| Kakegurui: Compulsive Gambler | 2014 |
| Kakegurui Twin | 2015 |
| Kakegurui Midari | 2017 |
| Kakegurui Yorozu | 2017 |
| Kakegurui Kakkokari | 2016 |
| Kakegurui Joker (Light Novel) | 2019 |
| Kakegurui Trip (Light Novel) | 2017 |
See briefly what each of these Kakegurui manga is about:
Kakegurui Twin - Centers on Mary Saotome's life before the main story of the anime;
Kakegurui Midari – The manga focuses on the character Midari Ikishima;
Kakegurui Yorozu – An anthology of Kakegurui manga by various mangakas;
Kakegurui Kakkokari – A spin off that shows the everyday life of Kakegurui characters;
All Kakegurui Characters
Now let's see a little bit of each Kakegurui character:
Ryouta Suzui
Ryota Suzui is initially a "pochi", a title given to boys who are below average, and are almost always mistreated, mainly by Mary, who made him a slave, however, after Jabami arrived at the institution, the young man's life changed.
Ryota has enormous gratitude for Yumeko. Suzui is always showing concern for Jabami, as the girl loves to take risks in betting and he fears the worst. Early on, they became friends, however, it is always the young girl who is playing games of chance.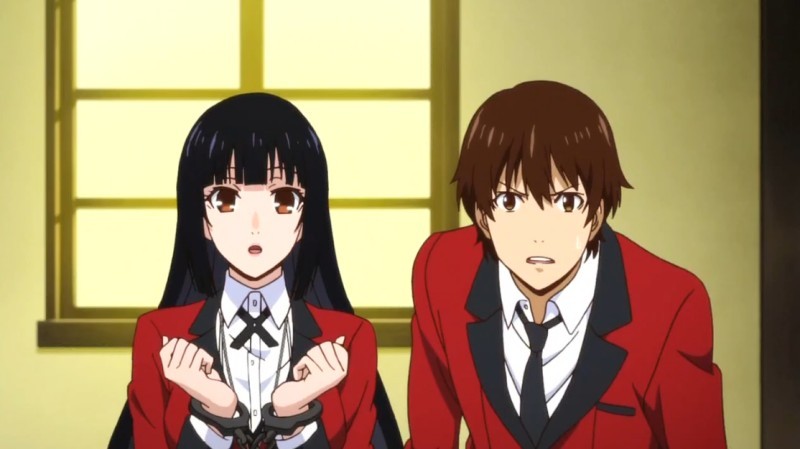 Yumeko Jabami
Yumeko Jabami [夢子 蛇喰] is the protagonist who has a great talent for discovering cheats in gambling. At the beginning of the work, the girl met Suzui, who, throughout the plot, became the character's best friend.
She contains immense courage, always finds herself betting high values and doesn't care about losing money, considering only a mere detail for the emotion she feels when taking risks in games - which, for her, is the most important.
Furthermore, Yumeko, during the first season, faced the Student Council members, who are the best bettors in the school, as they use strict methods during their betting. Of course, she is no invincible character.
Yumeko has pale skin, long black hair in a brownish style, and brown eyes. Her eyes are sometimes seen turning red in the anime and manga when she gets excited. He appears to be around 17 to 20 years old.
The name "Yumeko" [夢子] can mean "daughter of dreams", and "Jabami" [蛇喰] means"snake".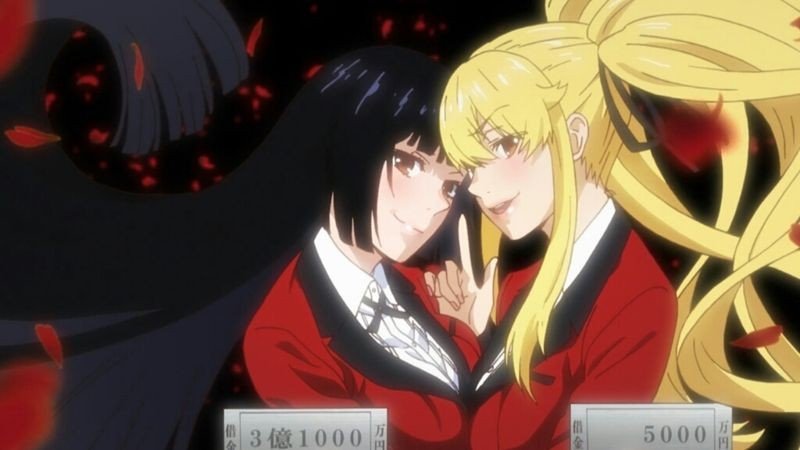 Mary Saotome
Saotome Mary started out as an antagonist who lost a bet to protagonist and became a "mike" (kind of slave). In an attempt to regain her reputation, she bet against a member of the Student Council, but lost.
Yumeko Jamami and Saotome Mary become friends. The girl is the explosive and proud type, but on some occasions, the girl shows a cuter and more delicate face, typical of tsundere characters.
Kirari Momobami
Kirari Momobami is head of the student council, creator of several school rules, including the Mike dog system. She is adored by many students and Student Council members, some see her as a "deity".
Kirari Momobami has great influence at school as she is part of the "Bami Clan"; in addition to being president of the State Council, she takes care of its financial income, so the clan leader has privileges and obedience from the other members of the school system.
The chairman of the board has a twin sister named Ririka Momobami, having at his side as vice president of the system. She is his right hand man, towards the clan and the school board, she wears a mask to hide her face.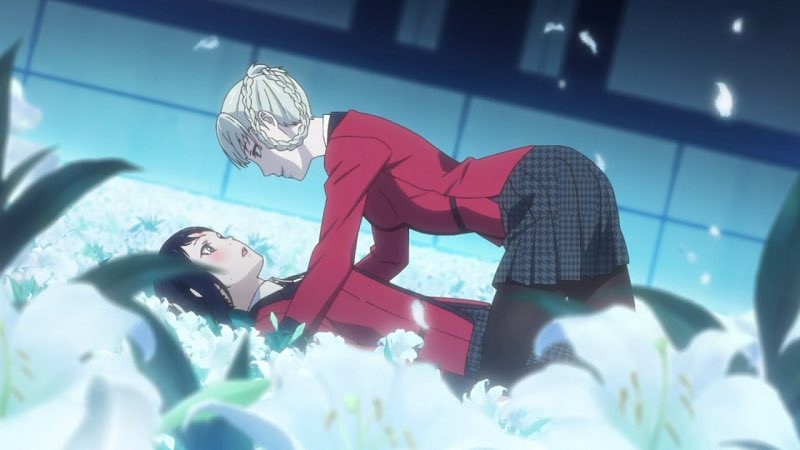 List of Kakegurui characters
Below is a complete list of Kakegurui characters from Season One and Two. The acronym [CE] indicates that the character was or is a member of the student council at Hyakkaou Academy.
Ryouta Suzui
Yumeko Jabami
Kirari Momobami [CE]
Mary Saotome
Itsuki Sumeragi [CE]
Jun Kiwatari
Kaede Manyuda [CE]
kumagusu
Midari Ikishima [CE]
Nanami Tsubomi
Ririka Momobami [CE]
Runa Yomozuki [CE]
Saori
Sayaka Igarashi [CE]
Shinnouji
Yumemi Yumemite [CE]
Yuriko Nishinotouin [CE]
King Batsubami
Erimi Mushibami
girl
Horo Jomaru
Ibara Obami
Inaho Yamato
Itsuki Sumeragi [CE]
Miri Youbami
Miroslava Honebami
Miyo Inbami
Rin Obami
Rumia Uru
Yumi Totobami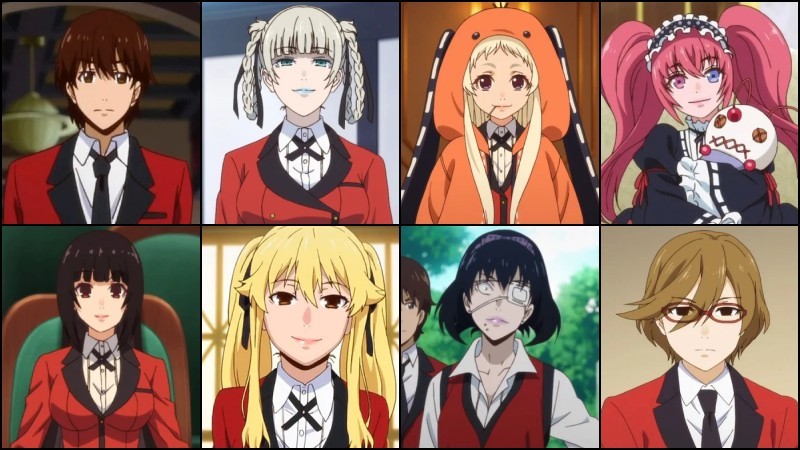 Who forms the Kakegurui student council?
The student council is made up of elite members who have never lost their gambling stakes, thus gaining reputation at the expense of others. The student council mainly obeys the "Bami Families".
This system is above everyone else in the school, especially the middle and lower classes, not to mention that all "pets" must obey the student council. However, the system has absolute control of the chairman of the board.
The board is made up of Kirari Momobami, president, Ririka Momobami, vice president, Sayaka Igarashi, Runa Yomozuki, Kaede Manyuda, Yumemi Yumemite, Midari Ikishima, Yurika Nishinotouin and Itsuki Sumeragi.
All those named form the student council. [Spoiler] All were defeated by rookie Yumeko Jabami, but the president tied the rookie.
My Opinion on Kakegurui
Honestly, I didn't really like it... Probably its success was due to the great exposure on Netflix, since I personally think the anime is a great exaggeration, and I prefer works like Liar Game and Kaiji which has the same style, without high madness and exaggeration.
When they announced this anime, I created a big hype, imagining it would be similar to Liar Game and Kaiji, but I was very disappointed, a lot was confused in the first episodes, after some exaggeration and fanservice I decided to drop it.
Of course, after giving it a second chance, watching the drama, I managed to gain a certain affection for the work. He really sticks to conventional high school anime clichés shounen, different from the works I mentioned that are seinen. Perhaps it affected my judgment.
I love the gambling genre, or even trivial games, but picking them up and playing them in a school full of horny lunatics makes absolutely no sense. I'm tired of anime that repeat the Ecchi + school formula.
Still, many loved the anime, even my father, so here's the recommendation. The work has a very beautiful art, they can express well the reaction of the characters to all the events of the anime. Only a few episodes sin the whole work for the plot.
Will there be a third season of Kakegurui XXX?
Kakegurui XX, the second season of the anime series, ended without a true conclusion to the story, leaving fans of the series in suspense. Let's do some analysis to see if there is a chance of a third season of the anime.
Kakegurui scored around 7.5 on MAL, an average rating, but enough to earn new seasons. Netflix got its hands on streaming, Kakegurui's marketing is also huge, even investing in casinos.
For now the anime doesn't have enough material for a new season, it is believed that after volume 15 this can happen. Perhaps Kakegurui season 3 will be released in early 2021 by the end of 2021.
The manga's average sales are quite high, surpassing 100,000 units. The author simultaneously writes other versions and spin-offs of the manga, which may further delay the main story. Patience, thanks to its success, we are going to see a third season of Kakegurui.

What does the word Kakegurui mean?
The term Kakegurui can convey the idea of a compulsive gambler. I have a small notion of the origin of the word, I believe that kakegurui [賭ケグルイ] is actually [賭家狂い] written with Japanese characters.
The first character [賭] literally means to bet. There is a noun called kake [賭け] which means bet or game of chance. We also have the verb kakeru [賭ける] which means to risk, bet or play. Both expressions can create kakegurui.
I personally believe that the ideogram [家] can fit in with the meaning of something professional and specialized, but it can simply be the noun kake followed by guru [狂い]. Impossible to know because the name of the anime is in katakana.
Personally I think if it were kake [賭け], we wouldn't just have [賭] in kanji followed by a word in katakana. It was hard to get the official meaning of this term, I found a lot of jokes like "Excited children discover gambling".
Now the highlight of the title is guru [狂い] which means madness, insanity, irregularity, deviation and confusion. Making reference to the lunatic and crazy characters of the anime. In other words, Kakegurui literally means crazy bet.
Kakegurui Glossary of Terms
Below we will share some terms and words that we find in the Kakegurui anime:
Kachiku [家畜] – Cattle
The common name for a student who is considered by the student body to be a "student of uncooperative tendency". There is no veto power, and if you disobey, you will be retaliated against by the student council.
When students accumulate a lot of debt, they are required to wear a grade tag around their neck that says "potty" for boys and "Mike" for girls, both are treated in a discriminatory manner at school.
Students can end their "cattle" status by paying a "special deposit" of 1 million yen to the Student Council.
Life Plan – Jinsei keikaku-hyō
The life plan is called Jinsei keikaku-hyō [人生計画表] and is a penalty for debtors who fail to pay their debts. So the student council chooses their school after graduation, who they will marry, and even their children.
In addition, the student council will not collect the debt unless the "Life Plan Letter" is withdrawn. The plan is set to be paid upon graduation from school, so if the money is refunded before then, it will not run.
That is, if you bet and lose, you have until the end of school to pay your debt, otherwise your future will be predetermined, you may be forced to marry someone older or work at something you don't like.
Other Terms
Gyanburu [ギャンブル] – Means Bet, the main pivot of the story. There is a whole system of hierarchy and money wagering among students in the school created by the anime's student council.
Momobami Clan – The Momokuro family, led by Kirari Momokuro, is the head of the Momokuro family, which has many branches, and many of them have reached high positions in society. There is always a "0" in the last name, the Snake Bugger family of Snake Bugger Yumeko is also a branch of the family.
Anime better than Kakegurui
As I already mentioned, I prefer anime like Liar Game and Kaiji, but maybe many don't know these works, so let's talk about them now. Maybe watching these works you can understand why I didn't like Kakegurui so much.
Kaiji – The Gambling Anime
In this anime the protagonist Kaiji is in debt to the Mafia, in order to pay it he enters a ship where games of chance take place that test his mental abilities. The game has a very large psychological plot, the stakes get more and more deadly.
This one wins the top spot in betting games, but many have dropped out because of traits that can be uncharismatic at first. I ignored it for years due to this, but when I gave it the chance, I loved the anime!
In Kakegurui they practically do a repeat of Kaiji, only without strategy, and without real tension in the games. If you really want to feel what Kakegurui tried to convey in his work, watch Kaiji without fail. It's two seasons!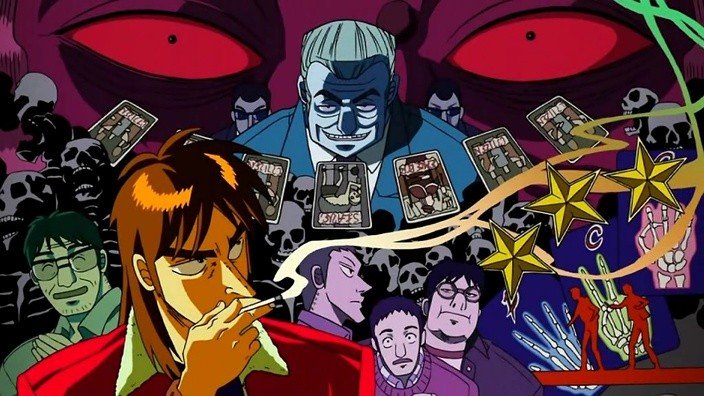 Liar Game
Unfortunately there is no Liar Game anime, but we have a manga and a drama, both are good. The premise is similar to Kaiji's, the difference is that money and debt are involved instead of life itself.
Games are made to win on the basis of lies, but the innocent protagonist cannot lie, ends up distorting the whole objective of the game, but in the end everything works out because of the genius of another protagonist. It is really a very good drama.
The manga has a very dark atmosphere, the games are well-crafted and smart, it even made me want to make these games in real life. The work is full of mystery and holds you from beginning to end. Make an effort to watch the drama or read Liar Game.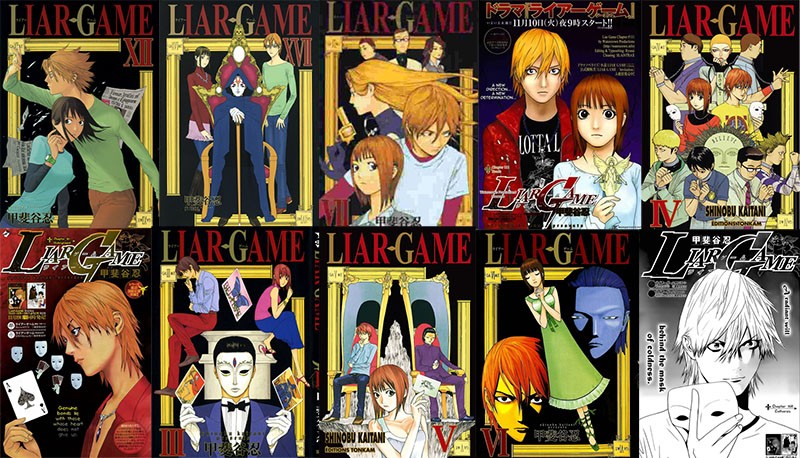 No game No life
This anime manages to use clichés, ecchi, fan service without being appealing and keeping the intelligence of the characters. This artwork by a Brazilian shows two brothers entering a world where everything is solved with trivial games.
An anime and Light Novel of great worldwide success that also won a very exciting movie, is also available on Netflix and shows how to make a gaming and betting anime. You've probably already watched it, if not, I recommend it!
I don't want to give too much spoiler of this work of art, but let's say that the protagonists need to lead the simple and weak human race to win over other races that have superhuman powers, strength and abilities in territorial disputes.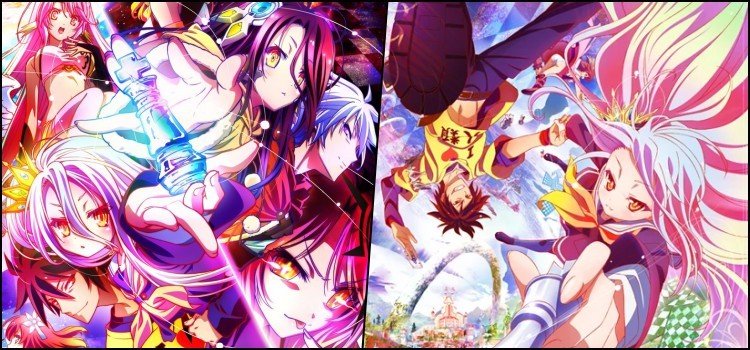 Other betting anime
There is another anime and work by the same author of kaiji called akagi, with a similar premise, but in the case of the Mahjong game. We also have an OVA of the manga Usogui, and several Mahjong works such as Shoubushi Densetsu Tetsuya.
Below I will leave a list of Betting Anime and Manga Similar to Kakegurui:
Rio: Rainbow Gate!
Tobaku Haouden Rei
Gamble Fish;
Dongwa Gwolleyok;
Mardock Scramble;