In this article we will see all of Tetsuya Endo's previous works that served as inspiration for Spy x Family, manga and One-Shots such as Seibu Yuugi, Gekka Bijin, Rengoku no Ashe, PMG-0, Tista, Tetsu ni Hoshi and ISpy.
Spy x Family is a hit that saved the life of author Tatsuya Endo who was always making One Shots that despite having promising stories, were not so successful. Despite this, all these works are responsible for Endo's wonderful creation, and must be acknowledged.
The Story of Mangaka Tatsuya Endo
Endō Tatsuya [遠藤達哉] who was born July 23, 1980 in Ibaraki prefecture. From an early age, Endo aspired to become a manga artist.
His family consisted of a father and a brother. Her favorite actors are Bruce Lee, Hiroshi Abe, Meg Ryan and Audrey Tautou. Their favorite mangaka are Akira Toriyama, Hiroyuki Nishimori and Minetarō Mochizuki.
His hobbies include skiing, basketball, and racket games. Endo worked as an assistant to the mangaka of Blue Exorcist and Fire Punch. He was mentored by manga artists Yasuhiro Kanō and Yoshiyuki Nishi.
Endo started his career creating one-shots, then created several manga that were not so successful. Together with their editor Shihei Lin, the two began to plan a work with the aim of appearing in the Shounen Jump.
This manga would combine what Lin believed to be the strengths of Endo's previous works thus creating Spy × Family. The reception was so good that its serialization was decided even before an official meeting. Today it has become one of the most successful manga in the industry.
In addition to his original works and assistant work, Endo has also been an illustrator for One-Shots and Light novels such as Okujoo Tantei Okutan, Yamamoto-kun's Distress, and Kuroniko the Exile.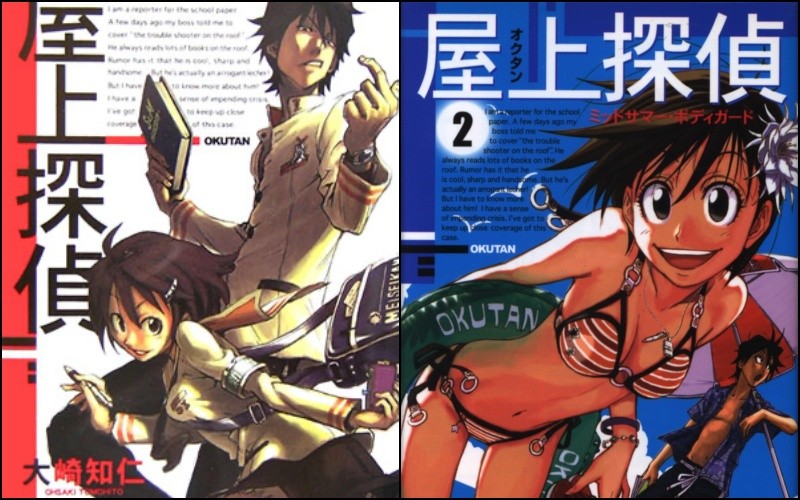 Spy x Family – A fusion of Tatsuya Endo's Works
All of Tatsuya Endo's previous works had an influence on the creation of Spy x Family, from the art, characters, and even the story. It is very interesting to see these similarities, which is why we wrote this article.
Throughout this article you will see many similarities in Tatsuya's works, as he likes to set his stories outside Japan in different periods and many situations involving wars, conspiracies, assassinations, espionage and powers.
Spy x Family has been published since March 25, 2019 in Shounen Jump and already has more than 9 volumes up to the date of this article with a highly successful animation.
Those who fell by parachute and don't know the story of Spy x Family, it's about a spy who marries an assassin and adopts a child with paranormal mind-reading powers, but neither knows the other's true identity.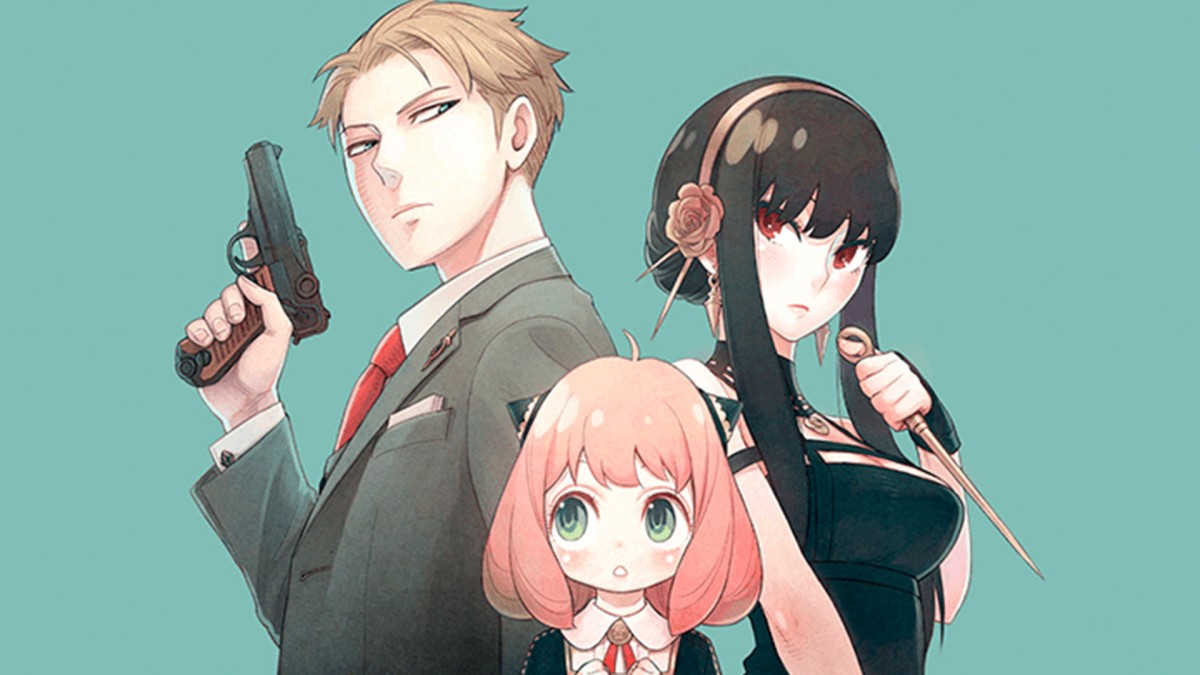 Seibu Yuugi – Bounty Hunters
Seibu Yuugi [西部遊遊] was released in Spring 2000 in Akamaru Jump. This is Tatsuya Endo's first work, a One-Shot released in Jump Next! The work won the 5th Story King Manga Division Semi-King Award.
The story takes place in the ruins of an ancient civilization, where crime has steadily increased. To combat it, the government instituted a system of bounty hunting, as in the wild west.
To avoid collateral damage, bounty hunters must attend a special school and receive a license. This story follows Ellena Fiscuff, a new student at the bounty hunter school.
Similarities Between Seibu Yuugi and Spy x Family
The first similarity is between a girl attending a special school, while wanting to become a hunter, the character on the right side of the image has similar traits to the characters of Spy x Family.
Because it is just a One-Shot, it is difficult to know in depth which way the story would go, or if it really has similarities with Spy x Family, but already in his first work we can establish his traits and styles of art and history. .
The One-Shot of this story can be found in the manga Shihou Yuugi: Endou Tatsuya Tanpenshuu which is a compilation of the first 4 One-Shot released by Tatsuya Endo between 2000 and 2004.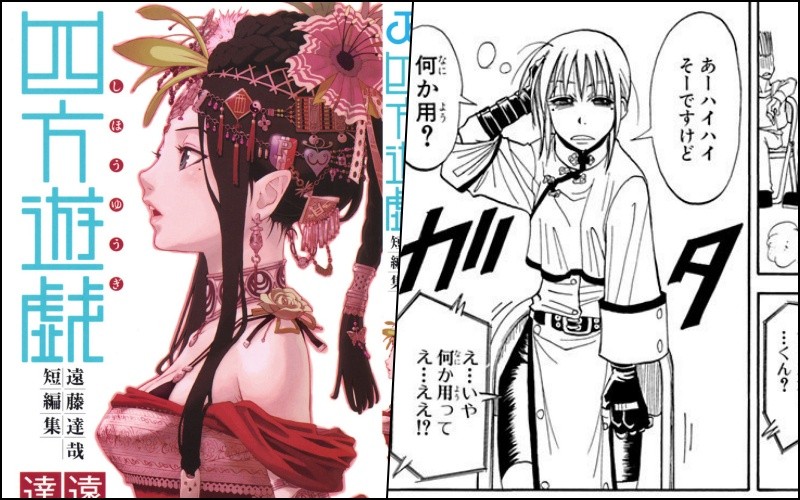 Gekka Bijin – The Legend of the Rebel Kaguya
Gekka Bijin [月華美刃] started as a One-Shot in the year 2000, but in 2010 the work was serialized until 2012 with a total of 21 chapters in Jump SQ.
On the dark side of the moon is a highly advanced civilization divided into two clans, the Takenouchi family and the Umenouchi family. Takenouchi Kaguya is the daughter of Takenouchi Fumiya, the acting queen of the clan.
Kaguya is next in line for the queen position, but she refuses to be obedient and wants to enjoy life. the naughty Kaguya despises her mother and the people around her for being so strict and often wishes she had never been born a princess.

Queen Fumiya has been seriously ill for many years, but she hid it from her daughter to protect her, but her condition worsened. The Umenouchi family takes the opportunity to start a coup and take over the government.
Knowing that he is unable to ensure his daughter's safety on the moon, Fumiya sends Kaguya to Earth with the powerful katana that symbolizes his ownership of the moon. Without the sword, the Umenouchi family cannot usurp control of the moon. Kaguya is forced to mature and become stronger in order to regain what was once her mother's!
This work is the closest to Spy x Family, but we can see some of Anya's personality and style in the work's traits and history.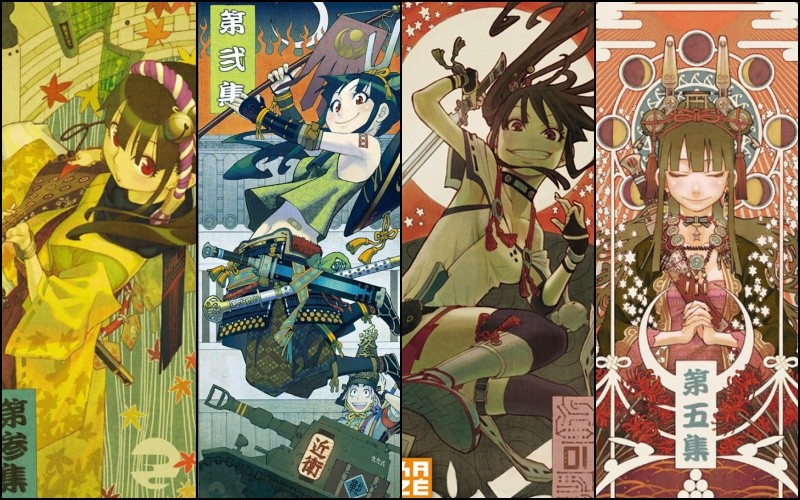 Witch Craze and Rengoku no Ashe – Witches
In 2001 Tatsuya Endo released a One-Shot titled Witch Craze, but in 2014 another One-Shot called Rengoku no Ashe was released, both witch-themed.
In the First One-Shot Witch Craze we have little information and practically no image besides the cover. The only thing we can share is the synopsis:
Witch Craze
Witch hunters carrying bloodsucking swords hunt witches and draw their blood. An unusual man and woman traveling together enter a town that already has at least one witch, just before a group of hunters arrive to take it down.
The names of some characters are derived from the legend of King Arthur. On the cover we don't find much resemblance to the traits of Spy x Family, not even with the second work Rengoku no Ashe that apparently inspired Anya.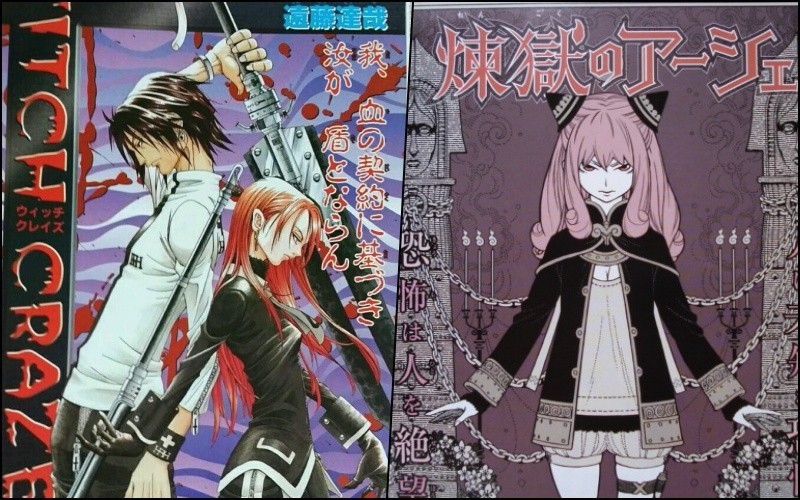 Rengoku no Ashe
The second work of witches by Tatsuya Endo is called Rengoku no Ashe and tells the story of the protagonist Ashe Talton who bears a lot of resemblance to Anya from Spy x Family, especially in her hair.
At a time when the Church is the law and the witch hunt is rampant, Bel, a sword monk, visits a town called Brokken Brook. There, he meets a nurse-in-training named Ashe, who helps him tend to his wound, but little does he know that she is a Witch.
Most of Ashe's design was reused in Anya, the young girl from the Witches story is also adopted. In reality Ashe is practically an adult version of Anya with her spiky hair ornaments.
PMG-0 – Police Story!
PMG-0 is a One-Shot released in 2004 inspired by the three musketeers, also inspired by the author's first One-Shot, as a kind of remake.
Tania has been a member of the PMG, musketeers who form a special police guard. She becomes a member after the violent death of her father. She is not very disciplined, but she is a force to be reckoned with. In this story, PMG is trying to stop a group of armed robbers.
The protagonist also seems to be very young and with traits that resemble a mixture of Anya and Yor. It's amazing to see the author's previous works and see similarities to Spy x Family.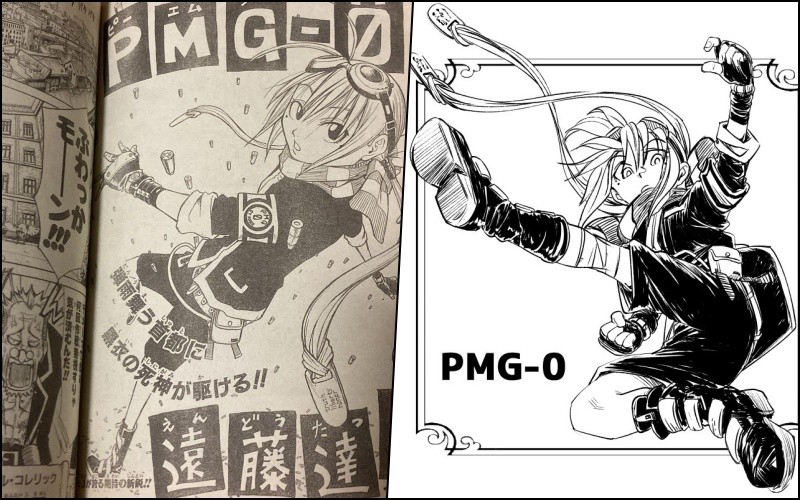 Tista – The Sniper assassin
Between 2007 and 2008 Tetsuya Endo managed to serialize his first work entitled Tista involving action and comedy.
Tista is a manga set in New York that tells the story of a young, reclusive college student raised in a Catholic orphanage named Tista, who is actually a Sniper assassin.
Similarities of Tista with Spy x Family
Tista's hair color and style closely resemble Anya, but her profession as an assassin is very reminiscent of her mother Yor, except for the fact that she doesn't use a sniper rifle.
That manga only lasted a year and Endo managed to publish only nine chapters of the story. Published in Jump SQ, the series was canceled due to low readership.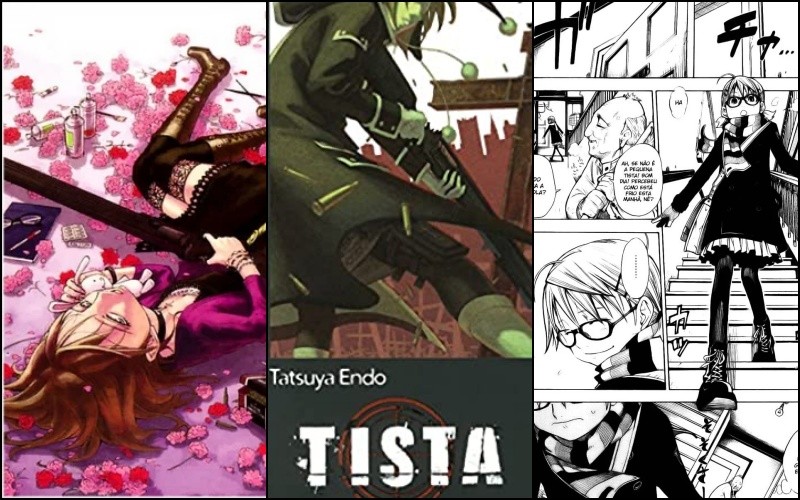 Ishi ni Usubeni, Tetsu ni Hoshi
Ishi ni Usubeni, Tetsu ni Hoshi [石に薄紅、鉄に星] is a One-Shot released in 2017 in Jump SQ. The one-shot was later reprinted in Shōnen Jump+ on June 14, 2021.
Gath built his reputation as the strongest warrior in the country due to his natural resistance to the poison produced by magical beasts, earning him the nickname "Gath of Iron Blood".
One day, while on a mission to subjugate magical beasts, Gath meets a young medusa who immediately becomes attached to him thanks to her petrification resistance. Strangely, Gath decides to take her to his home in the capital.
Similarities with Spy x Family
Like Anya, Medusa Misha also spent a lonely childhood because of her powers, she was even abandoned by her mother. The author said that this work was inspiration for Spy x Family.
Like Misha, Anya has a variety of cute expressions. This work shows the relationship between 3 different characters, Endo decided to take the same thing to Spy x Family.
Endo also said that the character Regina inspired him to draw Yor. We can also see similarities between the warrior Gath and the spy Loid.
ISpy – The Beginning of Everything
In March 2018, Endo wrote a One-Shot called 'ISpy', which served as a prototype for Spy x Family. Despite not having the same story, the work gained popularity being chosen for Shounen Jump and becoming Spy x Family.
In ISpy, A4 is a spy for the Ministry of Defense, dedicated to defending Japan against foreign shadow agents and earned the name Phantom for his skill.
He meets Mamiru Kai, a normal high school girl with extraordinary infiltration skills, who has a crush on him. The work is full of misunderstandings.
According to the author, this One-Shot came from some old drafts from the time he was obsessed with manga. shoujo, so we decided to create this romantic comedy.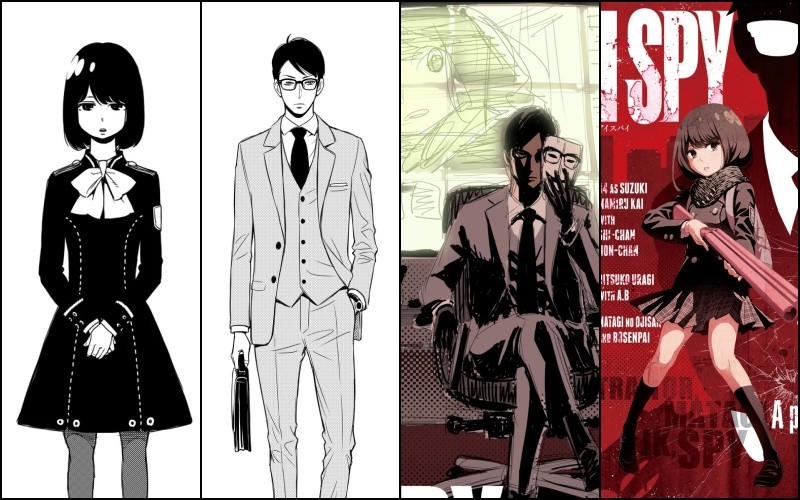 Similarities with Spy x Family
No need to say much, it's a spy story, where the girl also has skills. Character traits are also very reminiscent of Spy x Family characters.
It was the basis for the creation of the great work, other names were even discussed such as Spy x Stalke. ISpy is also based on the aforementioned work, where you have an existence that takes care of you.
It was a long way full of One-Shots until Tatsuya Endo reached Spy x Family perfection. Endo's persistence shows us that we should never give up on our dreams!