You've probably heard of magazines Shonen Jump, Shonen Sunday and many others. They publish several manga series weekly or monthly in their magazines. These magazines usually have between 300 and 800 pages, and usually have a chapter of each story, with 10 to 40 pages. You probably already know this, but do you know all the manga magazines and publishers out there? In this article, we will talk about them and their main works. (In case you don't know about the weekly magazines and the manga, we leave a video at the end.)
It is worth remembering that these magazines and publishers do not just publish stories and continuous series, there are thousands of one-shot (1 chapter), yonkoma (strip), not to mention the thousands of dōjinshi that are not published officially. The manga industry in Japan is really huge. We will cite only 2 to 3 works from each magazine.
In some magazines I will put the drawing of the volumes of the magazines in parentheses to give you an idea of the reach of the magazines. Unfortunately it's hard to know the exact print run, it changes all the time, and I'm putting the print run a little old.
<
h3 id="firstHeading" class="firstHeading" lang="en">Shueisha and a  Jump Comics
集英社, Shūeisha is the largest publisher in Japan, responsible for creating several manga magazines, including the famous Jump Comics.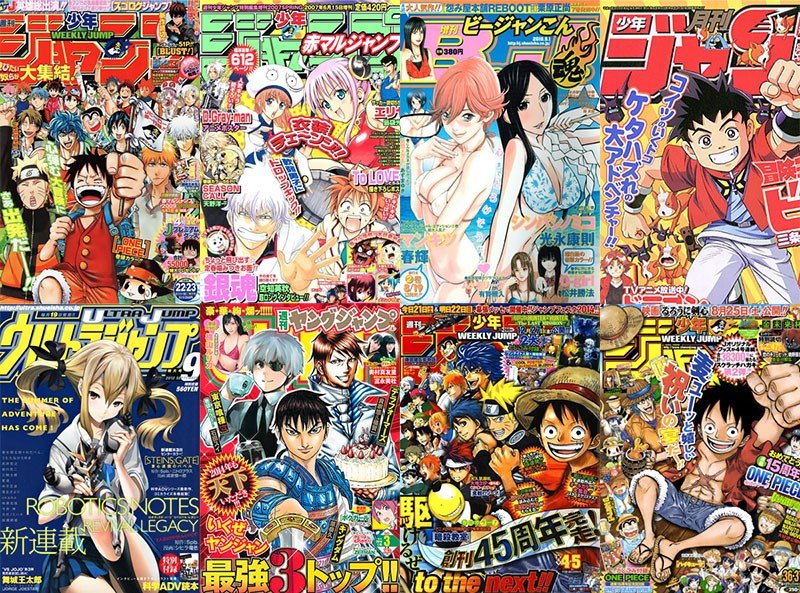 I think everyone knows Shonen Jump, one of the most famous manga magazines in all of Japan, a weekly magazine launched in 1968 with a circulation of 2,800,000 copies per week, responsible for great works such as one piece, Hunter X Hunter, Naruto, bleach, nisekoi…
Inside the Jump Comics We also have the magazines:
Akamaru Jump/Jump Next! – Seasonal issue of Weekly Shonen Jump, which is published on Japanese holidays.
Business Jump – Magazine focusing on businessmen in their 20s and 30s. (240,000)
Monthly Shonen Jump – Monthly magazine of the shonen genre, some of the works published in the magazine are Rosario + Vampire, Claymore…
Super Jump - A biweekly magazine of the seinen genre (for young adults) that was published from 1986 to 2011. Some of its works were Golden Boy and Kurozuka.
Ultra Jump – Monthly magazine launched in 1999 full of fan-service, fantasy and fiction with works such as Selector Infected WIXOSS and Gingitsune. 
V Jump - Monthly magazine focused on video games, acards and card games, but had works such as Digimon World Re: Digitize Encode, Yu-Gi-Oh! and Shin Megami Tensei IV. (391,667)
Young Jump – Weekly magazine of the seinen genre launched in 1979, there is a magazine of the same name but in the style of playboy. Some Yong Jump works are Elfen Lied, Tokyo Ghoul, gantz, B-Gata H-Kei… (768,980)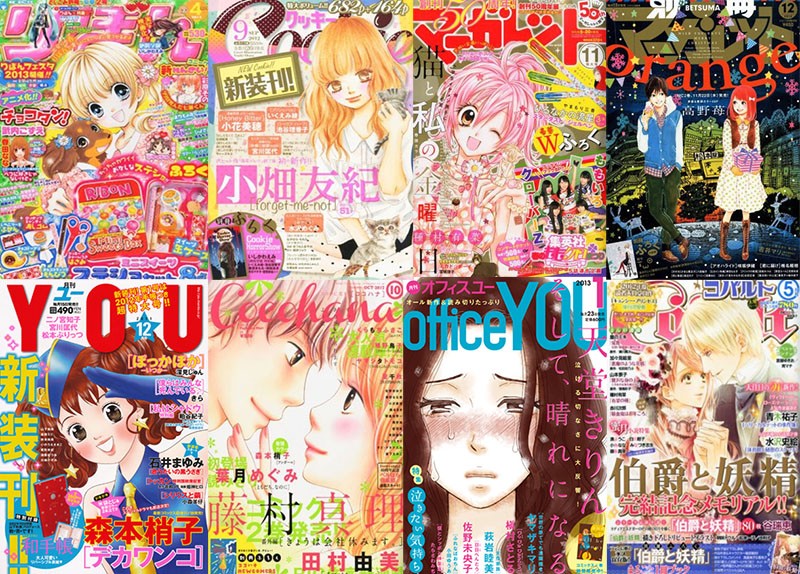 Besides the Jump Comics The  Shueisha publishes other manga magazines such as  Bessatsu Margaret (known as Betsuma) a monthly shōjo manga magazine some of his famous works are Pray Monogatari, Kimi ni todoke and Ookami Shoujo. (225.000)
We also have the Margaret which is a biweekly shoujo magazine created in 1963. Works: Hana Yori Dango and Hikari no Densetsu. (100.000)
We also have Hakusensha, a publishing company founded in December 1973 by Shueisha, focusing on seinen and shoujo manga. Its main weekly magazines are Lala and Hana to Yume. Some of his works are Akagami no Shirayukihime, Kaichou wa Maid-Sama, Skip Beat! and Fruits Basket. 
A magazine focused on the josei (adult women) audience is the Gekkan You (350,000) and Office You (85.000).
Kodansha
Another big Japanese manga publisher, they publish some magazines like Nakayoshi, Afternoon, Weekly Shonen Magazine. Let's get to know a little about each and its main works.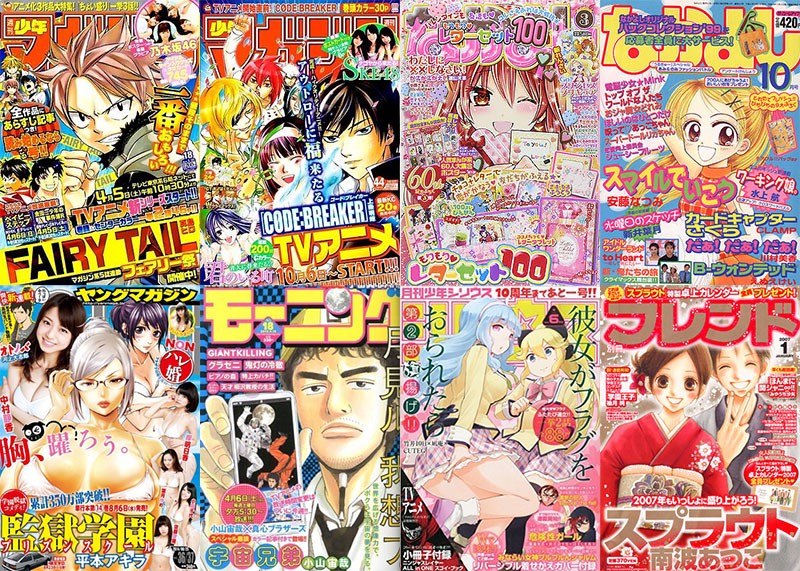 Weekly Shonen Magazine – One of the great rivals of Shounen Jump, a weekly magazine launched in 1959 that sells more than 1.7 million copies per week. Some of his famous works are Nanatsu no Taizai, Great Teacher Onizuka, Love Hina and Fairy tail.
Monthly Shonen Magazine – Kodansha's monthly magazine released in 1969, some of his works are: Noragami and Shigatsu wa Kimi no Uso. (800.000)
Nakayoshi -  One of the most important Japanese shoujo manga magazines, especially maho shoujo. Published monthly since 1954, it showed several works such as Sakura card captores, Sailor moon and Ashita no Nadja. There are other kodansha shoujo magazines such as: Bessatsu Friend, Dessert and Aria. (500,000)
Young Magazine – Kodansha's weekly magazine of seinen genre launched in 1980, some of his famous works were chobits and Kiss×Sis.
Weekly Morning – A weekly magazine aimed at young adults (Seinen). She made her debut in 1982 as Comic Mornin. His main works are Uchu Kyōdai and Vagabond.
Kodansha has other monthly magazines such as  Monthly Shonen Sirius, Magazine Special, Monthly Shonen Rival and others. 
<
h3 id="firstHeading" class="firstHeading" lang="en">Shogakukan
Shogakukan is a manga, dictionary and literature publisher who founded Shueisha Publishing, which founded Hakusensha Publishing. They are three different companies, but together they form the Hitotsubashi group, one of the largest publishers in Japan.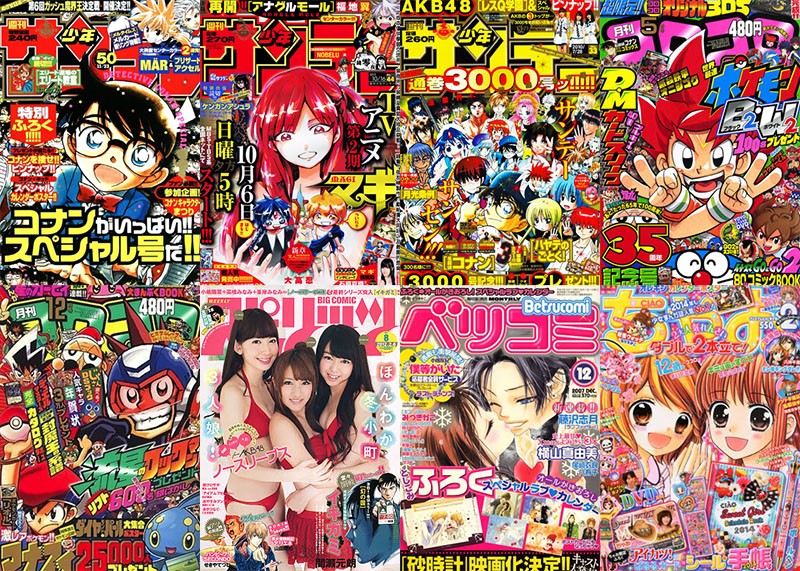 Its main magazine is Shonen Sunday which was launched in 1959 and, like the other magazines mentioned, has its weekly, monthly, bimonthly and other versions. Some notable series are InuYasha, Meitantei Conan (Detective Conan) and magician.
Another famous Shogakukan magazine is ChorusChorus published in 1977 focusing on younger elementary school kids. Its main manga are based on games like Pokemon, Yo-Kai Watch, Super Mario-kun, Inazuma Eleven and the classic doraemon.
big comic is the seinen magazine from Shogakukan, launched in 1968 and has its weekly, monthly and other special versions. Some outstanding works are goal 13 and ayako. 
Shogakukan's Shōjo magazines are known as the Shōjo Comic and was released in 1968. Works such as Zettai Kareshi… Another shoujo magazine is Take care focusing on girls aged 12 to 15 published monthly (635,000). There are other Shogakukan magazines focused on the female audience such as betsucomi (1970) cheese! (1996) Take care (1977) pouch, Pucchigumie others. There are also the josei focusing on the adult male audience. Its main magazines are Petit Comic, Flowers and Judy.
other magazines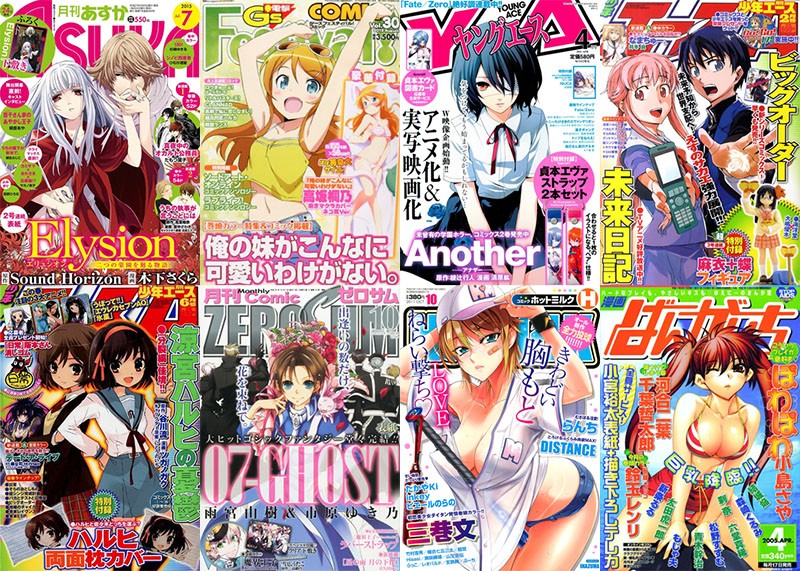 Kadokawa Shoten – A Japanese publisher known for publishing manga from Lucky Star, Cowboy Bebop,.hack, Haruhi Suzumiya and Neon Genesis Evangelion.
Core Magazine - A publisher focused on releasing manga with adult content.
Of course, there are other publishers and countless magazines that publish manga that we haven't mentioned here. If you have a magazine that you like, but it was not mentioned in the article, you can comment so that other people know it. You can also leave your opinion about the article, quote manga you like, etc.
As I said, I'll leave an explanatory video about manga and the weekly and monthly magazines, by our friend Velberan.
If you like anime and manga trivia, visit did you know anime?