Myanimelist is a very popular site in English, where you can create your list of anime you are watching or intend to watch, in addition to giving your rating and opinion. The site is also called "MAL" by the intimates.
The "myanimelist" website goes further, it also allows you to search for anime by genre and popularity, as well as finding lists of manga, voice actors and authors.
In this article we have prepared some guides and curiosities related to myanimelist. In fact, I want to go further, I want to show how useful myanimelist can be, in addition to putting together your list of watched anime.
It is not necessary to have knowledge in English to use myanimelist, just use the translator in the Google Chrome browser or some extension if you use another browser, or even risk browsing the site in English, which is not difficult.
We also recommend accessing:
How to create a "My Anime List"
When entering the myanimelist website, you must register. In the upper left corner you will find "Sing Up" which means to register, just click and register using your email or any social network you have.
Remembering that your ID (login) will be the URL (link) of your myanimelist, so come up with something easy to remember for you to share with your friends the link to your anime list.
See as an example my link to my anime list: 
I need to update… xD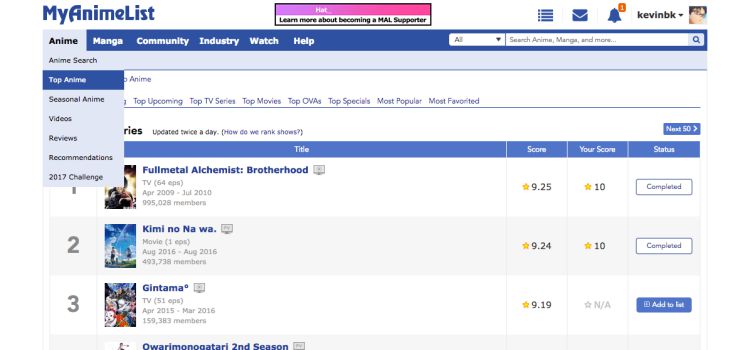 Once you have completed and confirmed your registration by email, you can search for anime you have already watched and add them to your personal list and share the link with your friends.
To make it easier to remember the anime you've watched, look for a list with the site's TOP Ranking, so you can browse the most popular ones and mark them as watched! There are many anime that you will be lost.
To do this, just click on the anime tab and on "TOP anime". You can separate the anime movies by clicking "TOP TV Series". Be sure to do this, you'll never remember all the anime you've watched on your own.

We also recommend reading:
Adding Anime to your "My Anime List"
By clicking on Add to List you will find some options before adding the anime to your list. Let's see some information below:
Status – Indicates whether or not you have watched the anime;

Watching – Watching;
Completed – Watched everything;
On-hold – Waiting list or paused;
Dropped – Stopped watching;
Plan to watch – Plan to watch;

Your Score – Anime grade from 1 to 10;
Show Advanced – Shows advanced options;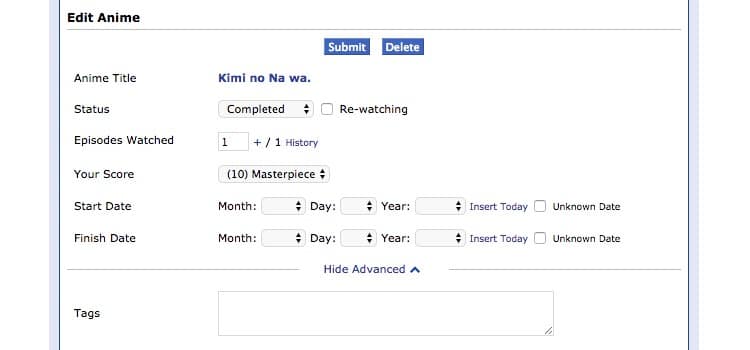 With the advanced options you can give more details about how many times you've watched it, make a comment and even specify where you stored the anime. The possibilities for using myanimelist are endless.
If you have knowledge of CSS can even completely modify your anime list. You can edit the anime information at any time after adding the list, just click on the same option "completed" or "edit".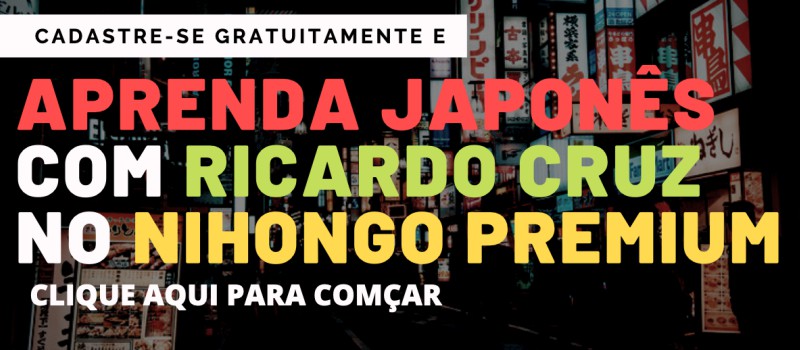 Details about an anime on my anime list
At any time you can click on the name of the anime on the various pages and lists present on the site and thus access the page of the anime with all possible details about it. On the anime page you can find information such as:
Number of episodes;
Launch date and end of TV broadcasting;
Producers, licensors and studios;
Source (If it was from a manga, game or light novel);
Genres;
Length of the episode or movie;
Popularity stats, score, members who watched and favorited;
A detailed synopsis and additional background information;
List of related anime (such as other seasons or movies);
Actors and voice actors for anime characters and producers;
Opening and closing songs; Japanese anime name;
Comments from other members along with your rating;
Recent news;
Recommendations;
Forum discussions;
Featured articles;,
Promotional videos (Trailers and PV);
And much more;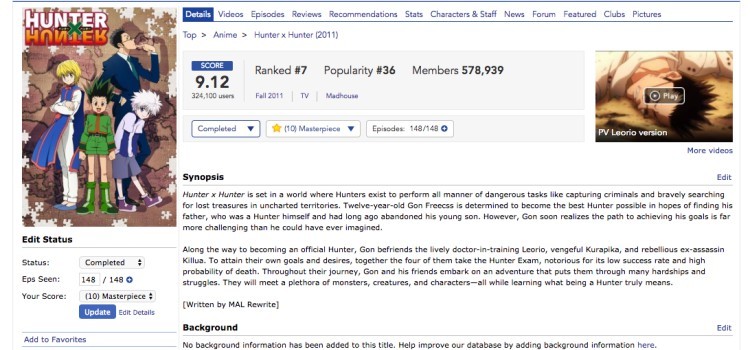 How to use 100% from My Anime List
There's no secret to using myanimelist, but I use it for many things besides searching and making anime lists. I made a list of the things myanimelist.net provided, making my life easier:
I use the anime cover image for articles on my website;
Find out how to spell the name of the anime in Japanese;
Search for the best anime of a certain genre;
Search for topics and discussions in forums and articles on the site;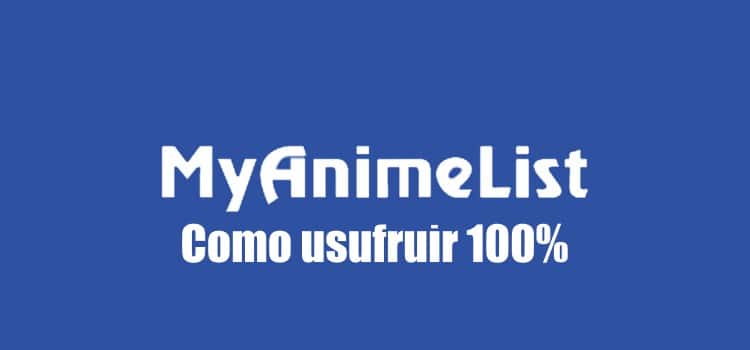 Below I will leave some alerts and tips that can help you handle my anime list in the best way:
Be careful with the English name of the anime, sometimes it differs from what we know here;
Don't be fooled by the position, note or ranking of an anime in a given list;
You can use myanimelist to mark which episode of an anime you stopped at;
Know the date or number of episodes that an anime will have that hasn't come out yet;
You can ignore and block users on the forum;
You can do and read anime and manga reviews;
Undoubtedly, "MAL" or "myanimelist" is the largest database on anime and manga on the internet. Do you already have an account with it? Share your myanimelist in the comments! If you have any tips or suggestions about this site, we'd love to hear it too. We appreciate the comments and shares.
Videos about My Anime List
Finally, let's leave some videos that can help you get to know the MAL tool: