The Minions are characters that are successful all over the world. Some people are curious to know the characters and their names. With that in mind, we decided to create this article about the names of minions and their curiosities.
Minions are lovable, useful, and often silly characters from the Despicable Me movies or spin-off. There are many different minions, but they all have one thing in common: they all have unique names.
The minions were created by Pierre Coffin and Chris Renaud, they are usually voiced by Pierre Coffin. They were inspired by the Oompa Loompas from the Chocolate Factory and the Jawas from Sar Wars.
We recommend reading: You need to visit Universal Studios Japan!
The Names of Minions
The most popular minion is definitely Kevin. He is one of the three main minions and is well known for his big eyes and his love of bananas.
Other popular minions include Stuart and Bob. Stuart is the smallest of the minions, known for his high-pitched voice. Bob is the chubby minion with one tooth that is always eating.
There are also many other minions with unique names such as Jerry, Phil, Dave and Tim. We also have Phil, Tim, Jerry, Carl, Lance and many others.
We recommend reading: 450 Anime character names with meanings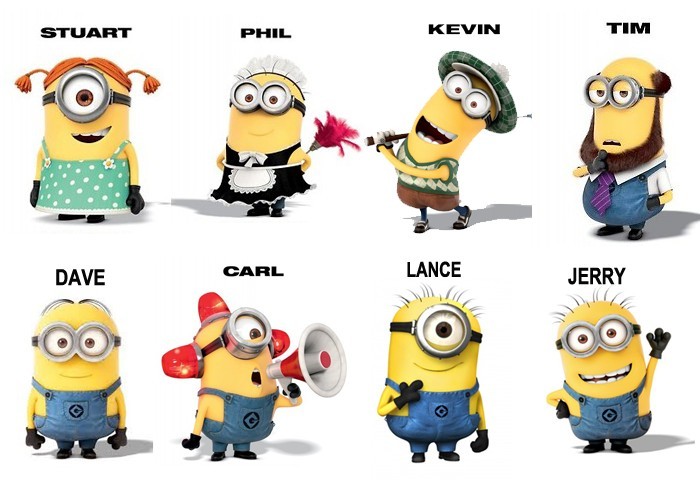 The main Minions
Dave – The Smart
Dave is a two-eyed minion, main character in Despicable Me 2. He is smart, loving, kind, and of course, very funny.
Kevin – The Leader
Kevin is the leader of the minions and is the most sensible of the three. He is often seen as the voice of reason and is the one who comes up with the most evil plans.
This minion often taunts Jerry for cowardice. His nickname is Golfy and he always appears in his golf outfit. His love of golf is evident. He has two eyes and a head that resembles a potato.
Stuart – The clumsy
Stuart is the shortest of the minions and is the most childish. He is often seen causing mischief and getting into trouble.
Bob – The most naive
Bob is a two-eyed minion; each of his eyes is a different color. One is brown and the other is green. He is the youngest of the minions and is bald.
Bob always carries his teddy bear Tim with him. He is playful and immature; almost everything he sees makes him fall in love.
During Kevin's adventure, King Bob was one of three minions involved. He accidentally won Scarlet's challenge by swallowing the ruby at Villain Con.
We recommend reading: Sanpaku Eyes: Superstition Behind the Gaze
Jerry – The Scaredy One
Jerry is a short minion with two eyes, spiky hair. He is easily startled; for example, he once heard some unusual sounds that made him react with fear. Kevin often teases him for being a coward, but it doesn't seem to bother him.
After being kidnapped, he sang a lullaby to the girls at Minions Beach. He also loves music and plays the guitar.
Carl
Carl is a minion with one eye and a short haircut. He is outgoing and likes to have fun, he likes to spend time with others and make noise. He also likes to skate.
He appears in the ice cream party scene alongside Dave and Stuart, summoned by Gru. He also appears in the fire scene; with Josh, he breaks into an office room to put out a fire.
Mark
Mark dresses up as a mother often. He is also seen singing Copacabana when discovering Karaoke. He also likes to look at Dave.
What do we learn from minion names?
Note that the names chosen for the minions portray some characteristic of them, perhaps a play on words. It is interesting to see how assertive the choice of names is. If you are fluent in English, you will easily understand your personality.
So there it is! These are just some of the minions' names and their quirks. Do you have a favorite?