Kamagasaki [釜ヶ崎] is a neighborhood located in South Osaka in a region called Nishinari-ku. In this article, we are going to talk about this famous neighborhood known as favela because of the homeless and unemployed people.
Many reports and articles on the internet talk about this Kamagasaki neighborhood and call it the biggest slum in Japan. In this article I want to get as close to the truth and show if this is really a favela.
It is already known that the international media often increase and generalize a certain subject to generate more controversy and views. Does Kamagasaki is it that depressing?
Where is Kamagasaki located?
Kamagasaki is an old name used from 1922 to 1966. After that year the neighborhood got the name of airin-chiku [あいりん地区], yet most people call him Kamagasaki.
The name Kamagasaki is used to refer to neighborhoods Taishi [西成区太子], Haginochaya [萩之茶屋], sanno [山王], Hanazonokite [花園北] and Tengachaya [天下茶屋] located in Nishinari-ku [西成区].
The neighborhoods that make up Kamagasaki located close to the train station. Shin Imamiya on the line Osaaka Loop Line below the Famous Neighborhood Region ShinSekai which also presents a more cosmopolitan atmosphere.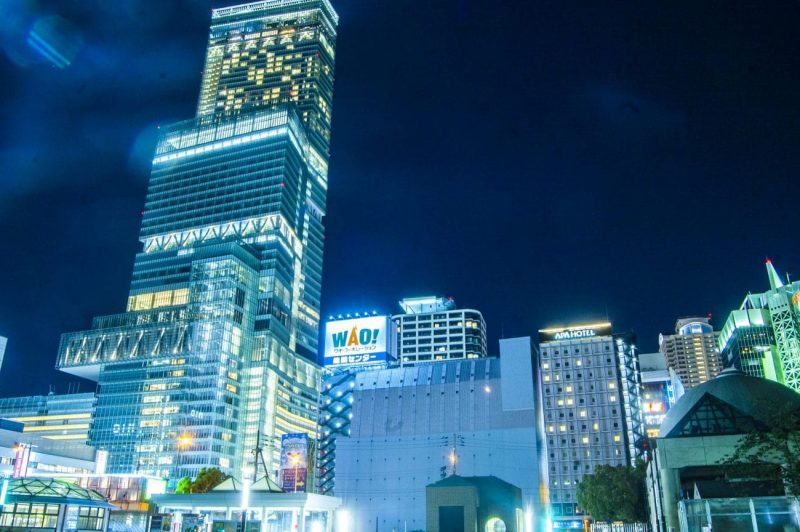 In addition to Shinsekai you can find other tourist places nearby like tsutenkaku, Nipponbashi and Abenobashi.
Some theories claim that the neighborhood was named after Kamagasaki because the food distributed to the homeless was cooked in a kettle.
The name Kamagasaki bears the characters for [釜] kettle, cauldron, and iron pot along with [崎] headland, handle, and point.
The story of Kamagasaki
The Kamagasaki District has been a place where the poor and homeless have been accumulating since the post-war period and especially in the 1960s. But its history of poverty goes back well before the second world war.
Since the Edo period, there were many wooden accommodations for tourists that stretched from the present quarter. Denden Town through the Tennoji, Namba and Imamiya neighborhoods in Osaka. This place was called Nagamachi.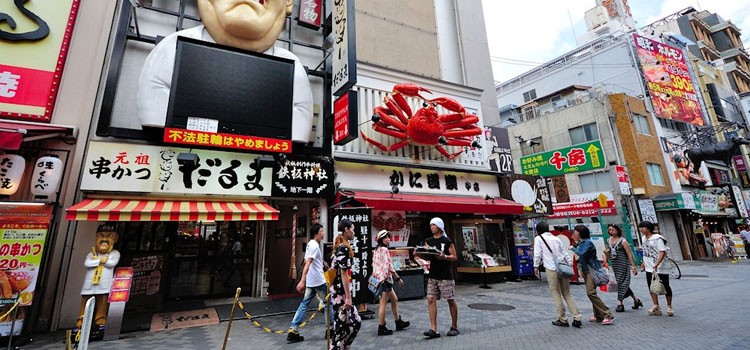 The neighborhood is believed to nagamachi had over 2800 wooden rental accommodations, hosting over 6000 people in the Meiji Era in the year 1886. This generated a certain name involving Osaka.
The neighborhood was seen as a problem of security and urban planning, the dirt dominated the place and some even got sick. During Osaka's expansion in 1897 this neighborhood was divided and ceased to exist.
After many upheavals involving the structuring of the neighborhoods, in 1925 in Osaka's second expansion, the southern region was named Kamagasaki, at the time a common neighborhood without any problems.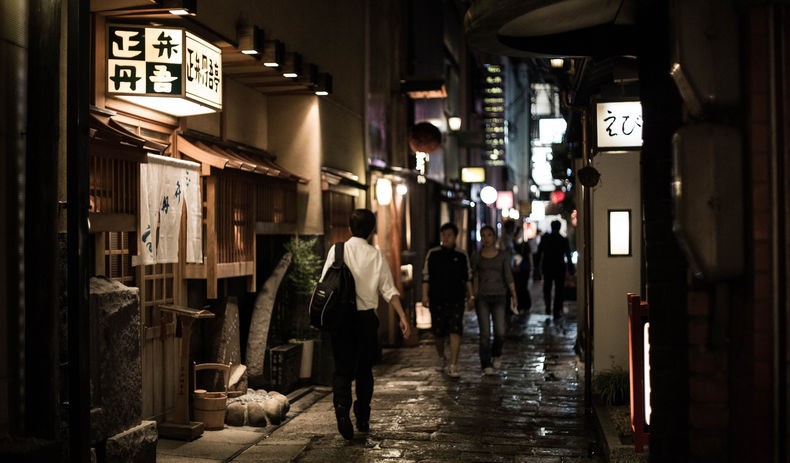 The city of Osaka was prosperous until it was affected by World War II. At that time, people from different parts of Japan came to Osaka to build doya (lodging and accommodation areas).
For some reason, most of these poor people have accumulated in the Kamagasaki region. In the 50s, thousands of alleys with wooden shacks, sometimes covered with canvas, appeared in the region.
Even with the removal of these precarious housing and the construction of appropriate apartments, more and more unemployed, wandering and homeless frequented the neighborhood in search of friendships and jobs.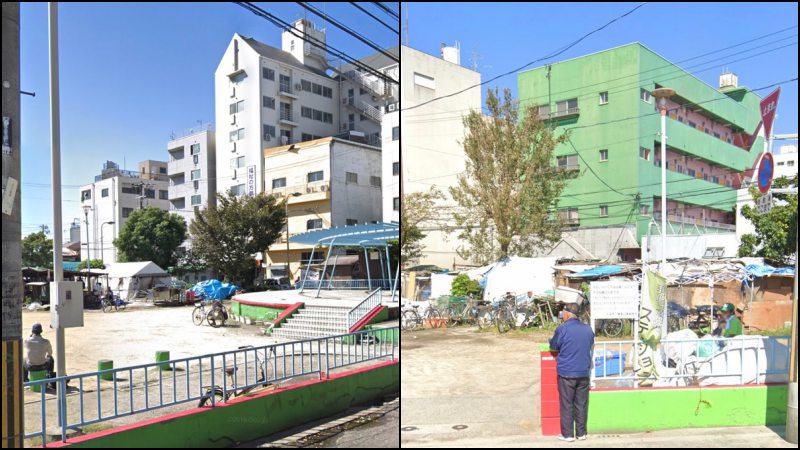 The neighborhood was famous for having cheap accommodation and housing, as well as a good job offer. Jobs are advertised through posters and loudspeakers. People determined to work could get jobs in construction, freight transport and dock work.
In 1959, a survey was carried out which states that 40% of the residents were regular workers, 40% were day laborers or did odd jobs and only 20% were unemployed. It may seem reasonable in a time of crisis, but it has not been resolved.
Kamagasaki is like a neighborhood or region that failed to fully rise from the economic and social crisis after the Second World War. Fortunately, today the neighborhood has changed and improved a lot compared to the past, but there are still many homeless people, poor and unemployed.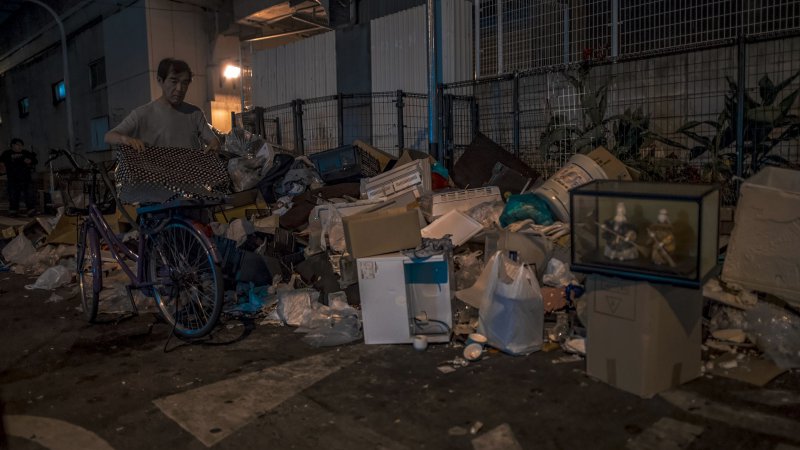 Who lives in Kamagasaki?
Most of the region's residents are temporary workers and day laborers who do not have a steady job, but work and have a normal life. In addition to the residents, the neighborhood is home to many homeless and homeless people.
It is impossible to determine how many people live in Kamagasaki, as the place is frequented by homeless people, wanderers, street vendors and people who are constantly on the move, arriving and leaving.
It is estimated that more than 30,000 people live in this neighborhood. They are usually elderly addicts to drinks, drugs, pachinko, sick or abandoned by their family. Many are unemployed, but not for lack of employment.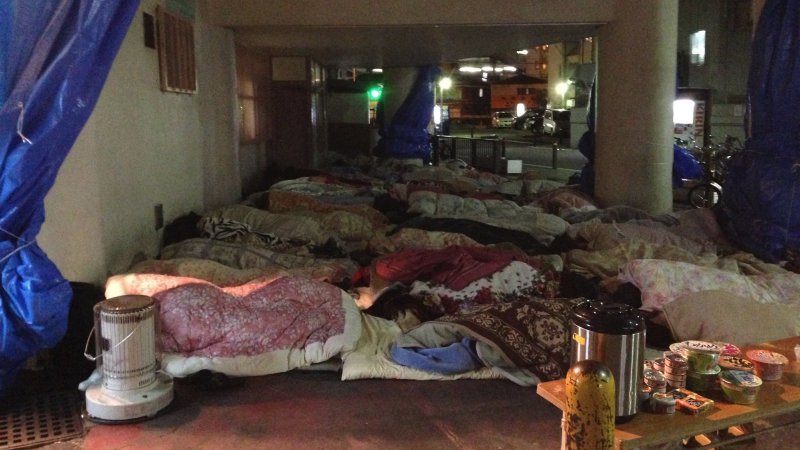 Many who live there have a home or family, but they don't want to go back because of some personal problem and shame. Others simply cannot let go of their addictions and continue to live on the streets.
Many also choose to live on the streets after having suffered from a lot of stress at work and revolted, choosing never to work again. Some sit around waiting without making an effort to get a job.
Despite being a sad place, both the residents and the unemployed who live on the street, seem to be happy, always smiling, talking and smiling, unlike some places like Tokyo…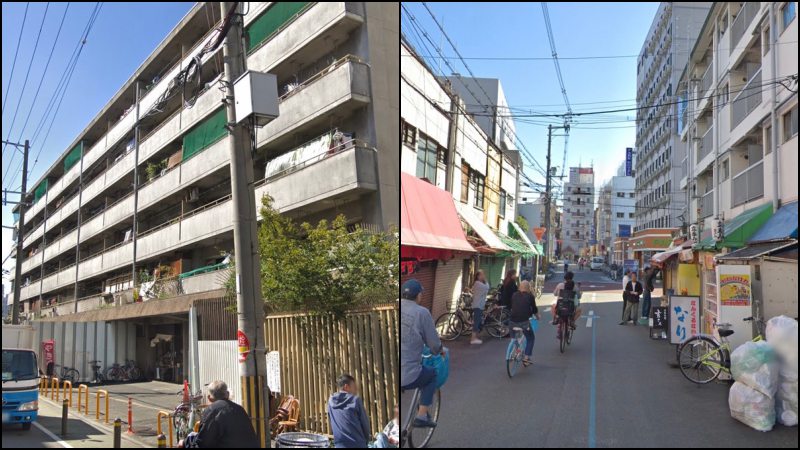 Why does kamagasaki exist?
How can such a depressing favela and neighborhood exist in a country so rich and full of jobs? In fact, things like that will always exist in any country. The country may be the richest it is, homeless people will accumulate.
Japan has few homeless people compared to other first world countries. The Government always invests in these people, trying to get them off the street, but most of them do not accept help.
Religious and non-profit organizations often distribute food rations or soup, creating long lines of people in public parks. Many seniors also receive social security assistance.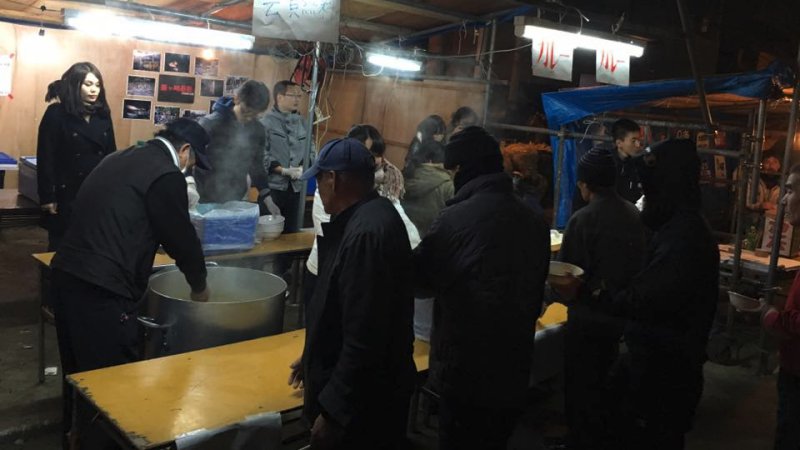 The neighborhood community also always does things to help these homeless people, whether it's providing food, odd jobs or delivering cans and other things to help the wanderers with recycling.
Most people from Kamagasaki live this way by choice and not for lack of choice as it is in the Brazil. One of the causes could be depression, where people lose the joy of life and end up in these conditions.
In fact, the place also becomes a meeting point and agglomeration of homeless people because of its low price of accommodation and the community help and employment center. airin which we'll talk about below.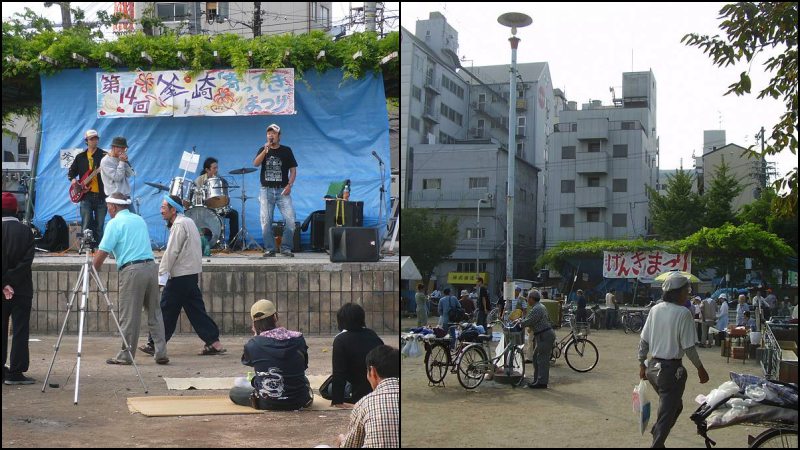 The Osaka City Government does not allow the name "Kamagasaki" appears on official maps and discourages use of the name in the media. Not to hide the existence of the site, but also to discourage its existence.
The government has been fighting for a long time to end poverty and homeless people accumulated in these neighborhoods. Some of the measures to help the homeless in Kamagasaki by the community and the government are:
Nishinari Public Health Service;
City Ai Neighbor Hall;
City Ai Neighborhood Dormit;
City Imaike Living Hall;
Summer Festival in Kamagasaki;
Twilight Concert;
Energy Festival;
Evening Variety Show;
Kamagasaki May Day;
Come Here Festival;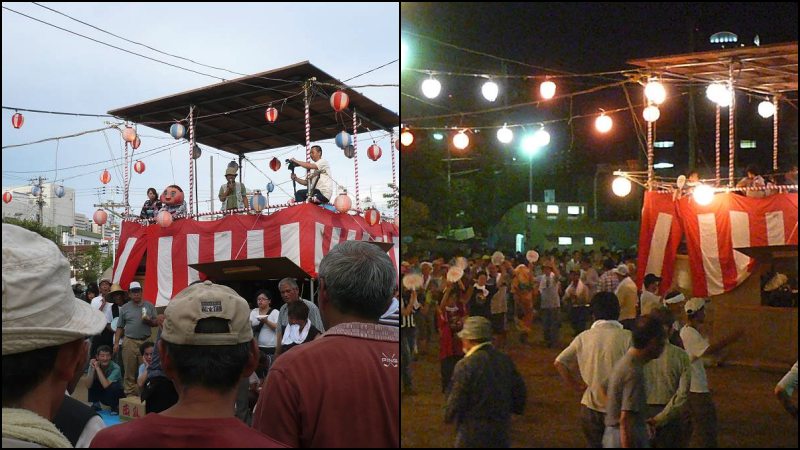 Festivals held by the community, religious groups and humanitarian aid groups are very popular in the region and are of great help to the unemployed who live in these neighborhoods.
Is Kamagasaki a Favela in Japan?
The definition of a favela is a place where low-income people live in crude constructions made of low-budget, improvised materials. Does Kamagasaki is it really like that?
In this favela there are no children or women, they are just homeless people who gather in buildings sleeping on their futons and killing time in small groups in bars and some rarely using drugs. This is the idea that many have of Kamagasaki.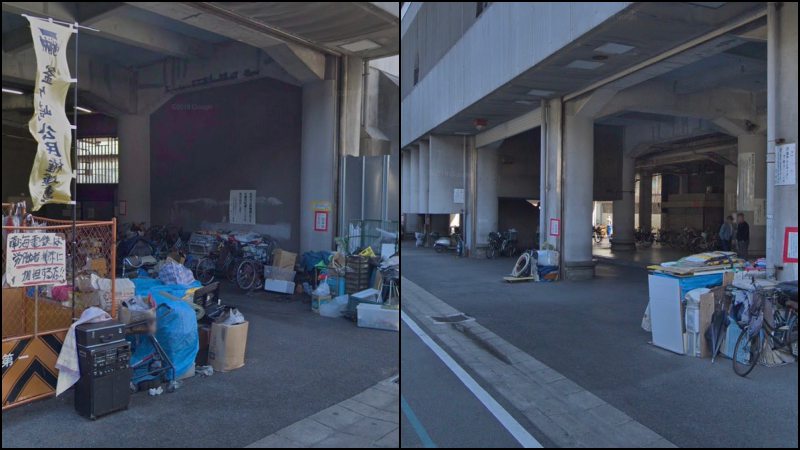 Despite the large concentration of homeless people, the neighborhoods that make up Kamagasaki are not necessarily poor neighborhoods full of poor people, criminality and drug trafficking as in Brazil.
In fact, walking through all these places called Kamagasaki, I realized that it is a normal residential neighborhood in Japan. The only difference is the agglomeration points of homeless people.
The property values in Kamagasaki are notably lower than those in the surrounding areas. In fact, the neighborhood attracts many tourists for its cheap accommodation called doya.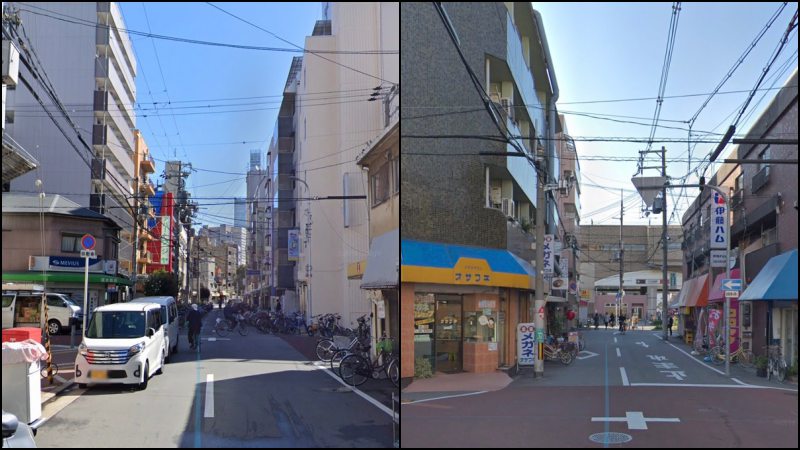 Much of the neighborhood is full of hotels and lodgings that help both homeless people and people who want to save money. Recently several backpackers have stayed in this neighborhood for the price and location.
Kamagasaki It's not a dangerous neighborhood full of crime, robberies and drugs. Homeless people are usually loving, don't ask for alms and don't make a mess. You can walk without being afraid, but you will be moved by the sad scenery of some points.
Despite the old buildings and the poor environment, the place remains clean and organized, but be careful not to trip over where homeless people set up their tents or put their futons, it can be anywhere.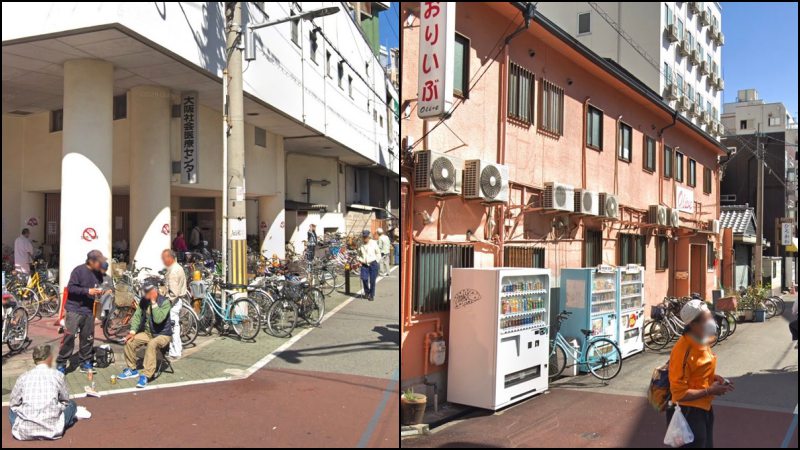 taking it away, for me Kamagasaki is like many neighborhoods in Japan, with its restaurants, ramen, izakaya, vending machines, konbini, medical clinics, onsen, apartments and traditional houses.
We must also remember that the 5 neighborhoods that make up the region called Kamagasaki are huge. It's depressing the situation and the places where the homeless live, but I think it's unfair to crucify every neighborhood for that.
In fact, there are homeless, homeless and unemployed people everywhere in Japan. In several cities you can end up coming across a square or land full of tents, it is not something exclusive to Kamagasaki.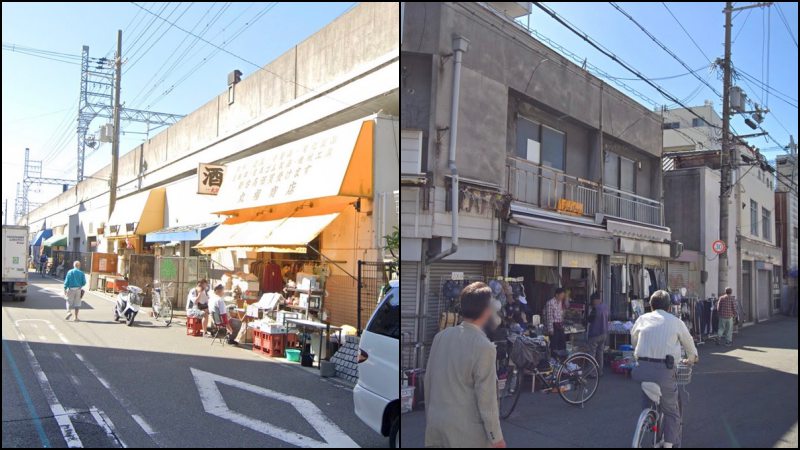 Airin – Work and Wellness Center
This is one of the most famous buildings with a large concentration of unemployed and homeless people in Kamagasaki. At the Airin Labor people can get a job and a new life.
At first glance it is still chaotic, an old and poorly renovated place, unpainted, looking like an abandoned building. Despite this, the place is managed beautifully, with a spacious interior and a market or temple atmosphere.
There is a hospital, cafeteria, shower room and the bathroom is extremely clean. It is possible to see some elderly people playing shogi along the day. The current Airin Labor Welfare Center was created in 1970 at Osaka Expo.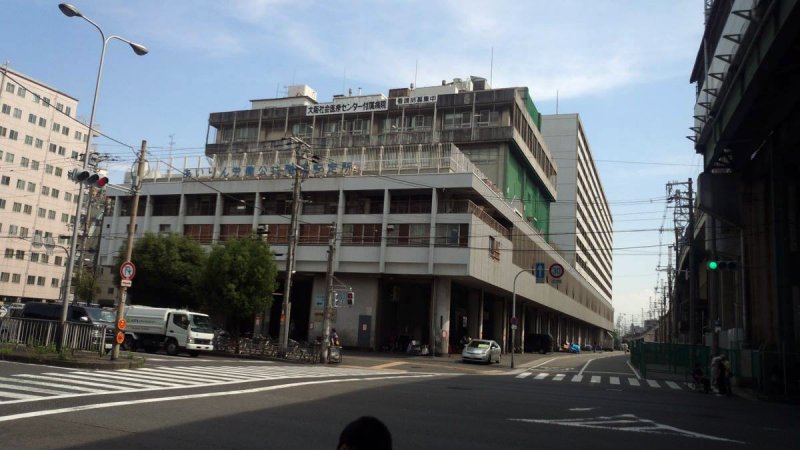 In addition to Airin Labor, we also have other communities that provide jobs and help temporary residents of Kamagasaki. Not to mention some of the buildings, parks and squares where the homeless often hang out.
Some humanitarian aid centers and places where homeless people gather are:
Sankaku Park
NPO Kama;
Haginochaya-minami Park;
recycling centers;
Hello Work Airin Rodo;
One of the main ones is Sankaku Park, a triangular square where there is a famous television set on a large one where homeless people with their tents watch during the mornings and evenings.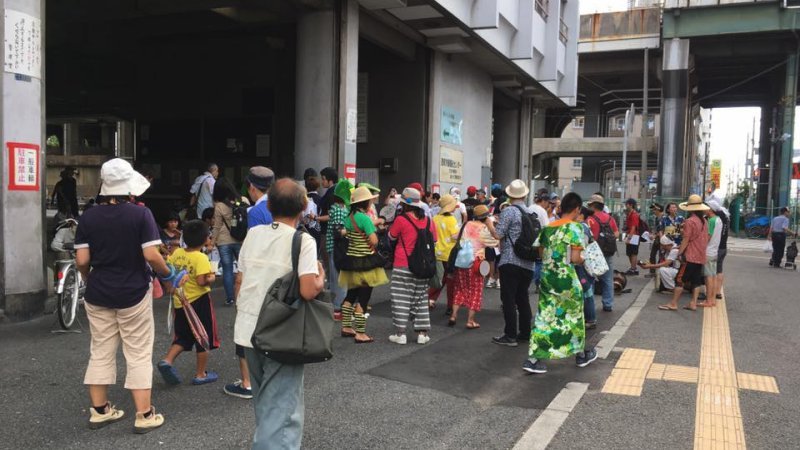 Conflicts with the police in Kamagasaki
In this neighborhood there are also conflicts with the police, protests and riots. The first was recorded in 1961 where supposedly an elderly worker was killed in a traffic accident.
The police officer who arrived at the scene assumed the man was dead even though he was not a doctor, leaving the body for more than 20 minutes without calling an ambulance while talking to people at the scene.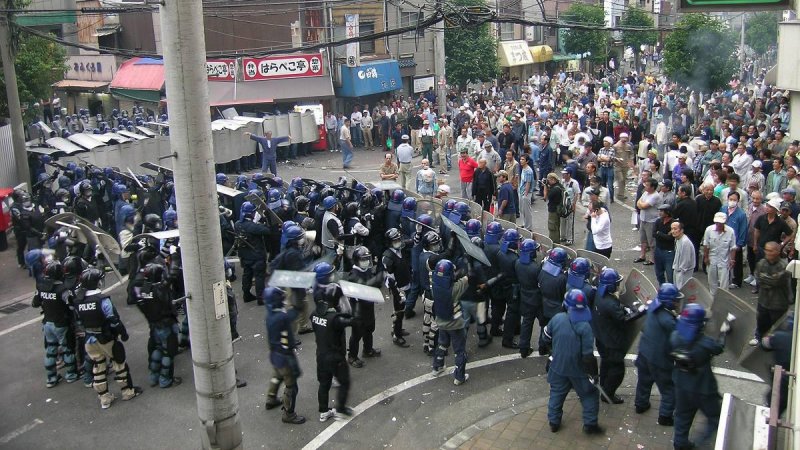 This led to a riot in front of the police station that required over 6,000 police officers to be stopped. Several conflicts with the police occurred because of the authorities' perception of human rights violations.
The 24th riot took place in 2008 and lasted six days because a worker in Kamagasaki was allegedly tortured by the police. Many claim that the police and local authorities do not treat them equally.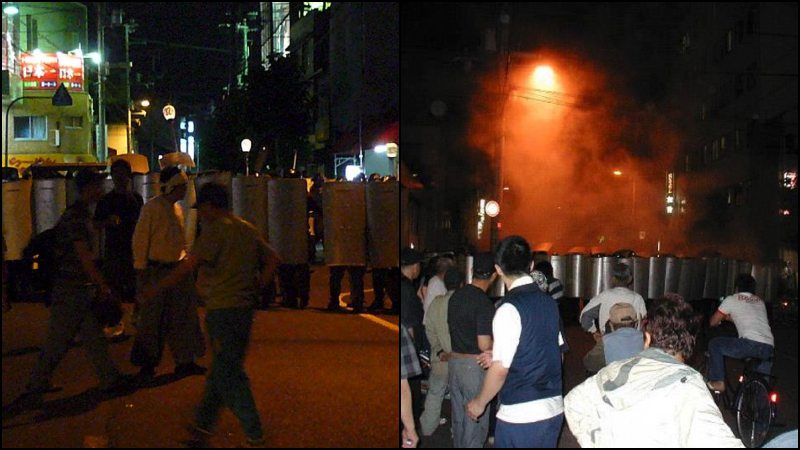 How to fight Kamagasaki problems?
As already mentioned, much has been done to end poverty and the homeless in Kamagasaki. Even so, these initiatives are not enough and sometimes they only sustain this scenario even more.
It's no use changing the name of the place to make a good image, or trying to distribute jobs to a huge line of people, or provide spaces that help the agglomeration of these people.
Japan has practically zero unemployment, but unfortunately companies are too demanding. Probably the background and the situation hinder these unemployed people from Kamagasaki to get a job.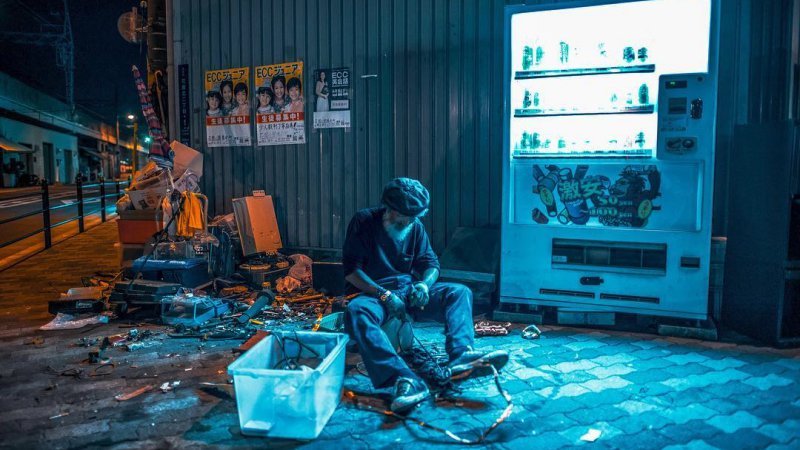 The area's vending machines and bars further encourage homeless people to huddle together and stay in a Comfort Zone where they just don't want to take a step forward in their lives.
Not to mention the gigantic gambling trade pachinko, one of the causes that lead a structured person to become a homeless person who spends all his odd money playing more pachinko.
Unfortunately in the world we live in, there will always be something that ruins lives. Man and his greed for money and pursuit of pleasure ends up harming himself and others.
What do you think can be done to improve Kamagasaki's image? I hope you enjoyed the article, it took a lot of work to write, so I really appreciate the comments and shares.
Videos about Kamagasaki
To finish the article, I will leave some videos and reports about Kamagasaki: