Eshima Ohashi Bridge (江島大橋) is a bridge that became famous due to some images and videos circulating on the internet. This bridge spans Lake Nakaumi connecting the towns of Matsue in Shimane with Sakaiminato in Tottori. The road has a total length of 1.7 km, and about 1.44 km is over the lake, its width is 11.3 meters, making it the longest reinforced concrete bridge in Japan and the third longest in the world.
The truth is that this bridge does not tilt more than 6% and all the photos and videos we found on the internet belong to a TV commercial used by the car manufacturer Daihatsu Motor Co. The optical illusion used in the commercial made the viewer believe that the bridge was extremely steep and dangerous. The company wanted people to believe the bridge was frighteningly steep, to demonstrate the strength of its new car.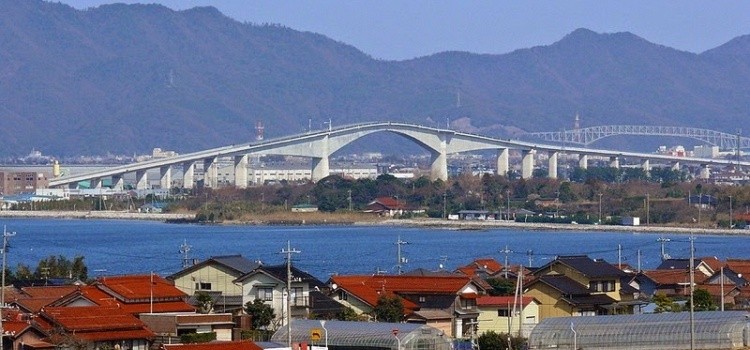 What is the real Eshima Ohashi bridge like?
The image above shows what the Eshima Ohasi Bridge really looks like. While it doesn't seem like a big deal, it really does give you a roller coaster view when you're about to go up. That's because any tilt can cause an optical effect that makes it appear higher than it actually is. You might notice this on roads, when you come off a flat stretch and up ahead comes an elevated stretch. The Bridge is impressive, but what impresses is the asphalt and the cleanliness of the roads.
The Eshima Ohashi Bridge was built from 1997 to 2004. It is an impressive 44 meters high. On the Shimane side its slope is 6.1% and on the Tottori side it is 5.1%. It is worth remembering that your name in Japanese is just Eshima Ohashi (江島大橋) which can be literally translated as Great Bridge of Eshima.
The videos below show what the real Eshima Ohashi Bridge looks like, which doesn't stop leaning!