Did you know that in Japan there is also a desert of sand dunes? Just like the sand dunes of Maranhão, Japan has its tourist desert known as Tottori Sakyu [鳥取砂丘]. There are more than 30 km of sand spread to the east of the city of Tottori in the region of Chugoku, are 16 kilometers long by two kilometers wide.
The dunes are formed by the winds of the Sea of Japan, which bring sand from the ocean floor to the beach, and every year the landscape is propitious to change.
In some points of the dunes, the hills reach 90 meters in height, offering a spectacular view of the sea and the horizon, the slope of the dunes can reach up to 40 degrees, making Tottori a popular destination for tourists and sandboarding alike.
Sakyu [砂丘] is the Japanese word for sand dunes or sand hills. 
Tottori Sakyu – The Desert of Japan
It is said that this small desert exists thousands of years ago, when ash from the Daisen volcano mixed with sand from the Sendai River washed out to sea, which eventually washed the sand off the coast of Japan.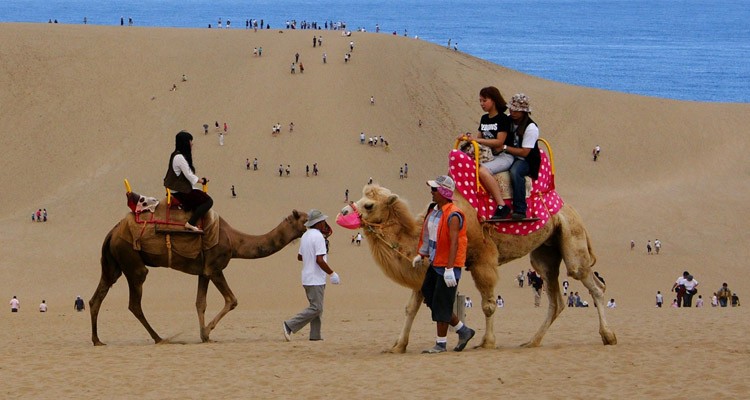 In this desert it is possible to ride camels, horses, and even wheelchair users have a special chair to walk on the sand. The sand dunes at Tottori attract over 2 million tourists a year.
The temperature of the sand is high and can reach up to 60º. some plants hamahirugao and hamanigana are able to be born, because of the damp sand underneath. In winter the Tottori dunes are covered by meters of snow.
To ride a camel in the dunes of Japan you pay around 1300 yen.
Tottori Sand Museum and Lighting
At the end of the year, the place also gains beautiful lighting at night called the Tottori sakyu illusion. Illuminations in tourist places are popular throughout Japan between November and December.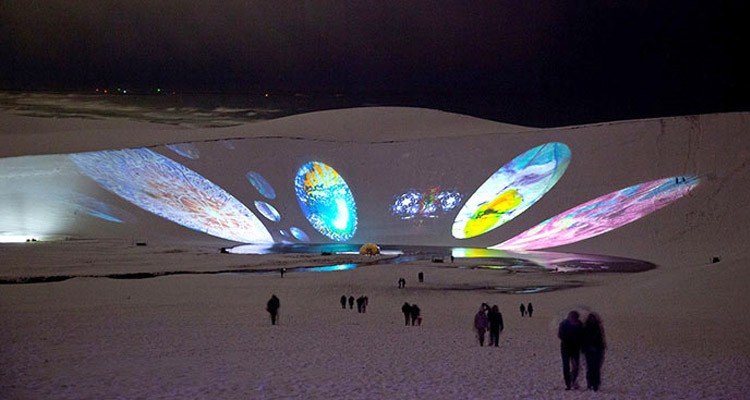 In the Tottori Desert you will also find a Sand Museum with large sand sculptures by artists from all over the world. Previously the sand exhibitions were held outdoors, but in 2012 the sand museum moved into its own permanent building.
To enter the sand museum you pay 600 yen. The museum closes from early January to mid-April with the aim of changing its exhibits annually. Every year you visit is a new experience.
The Tottori Desert is also the setting for many Japanese movies and dramas.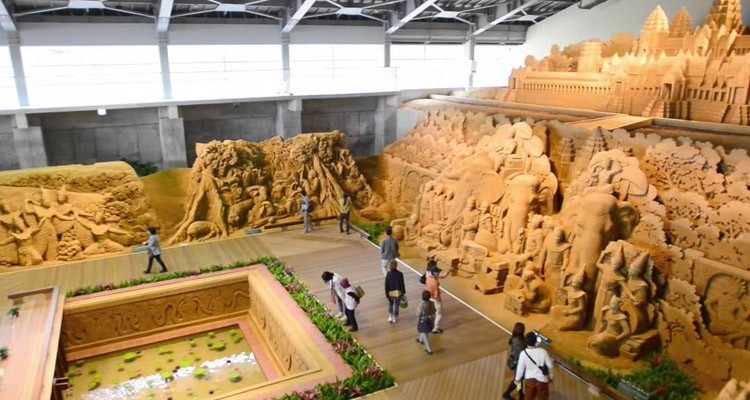 Ready to visit the dunes of Japan?
To visit the sand dunes in the Tottori region you can take a bus from Tottori Station to Tottori Sakyu [鳥取砂丘] and get off at the last stop.
Tottori Dunes is one of the thousands of places you must visit in Japan. Have you ever had this opportunity? What was your experience? We love to hear your comments. Finally, let's leave some videos of this beautiful desert in Japan: