Ever wondered what the best school anime of all time? In this article, we are going to recommend the best ones plus a complete list of school anime. Usually a school anime takes place in high school with activities in a school club.
Most Japanese anime takes place at school, if only a little. So it's kind of complicated to make a list of school anime. Let's try to choose anime that spend most of their time in school and divide them into subgenres.
school romance anime
The anime below are romance anime and spend most of their time in school:
Toradora
25 episodes – Note on MAL 8.32
Ryuuji Takasu is a kind high school student who is obsessed with cleanliness; but, in contrast to his kind nature, he has an intimidating face that often labels him a delinquent. On the other hand is Taiga Aisaka, a short girl who looks like a doll but has an aggressive personality, being nicknamed the pocket tiger.
One day, an embarrassing mistake causes the two students to cross paths. Ryuuji discovers that Taiga actually has a silver lining: she has a crush on the popular vice president Yuusaku Kitamura, who happens to be her best friend. But things only get crazier when Ryuuji reveals he has a crush on Minori Kushieda, Taiga's best friend!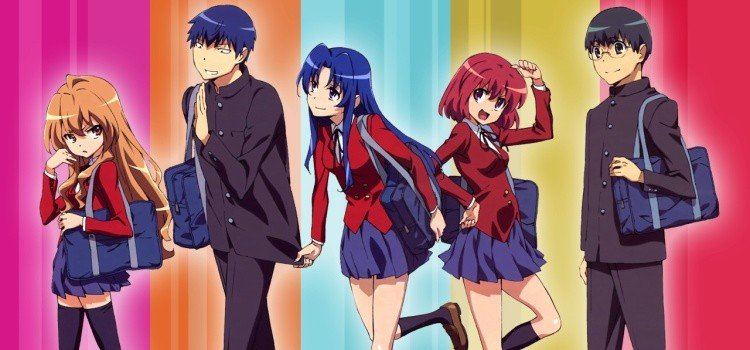 Sakurasou no Pet na Kanojo
24 episodes – Note on MAL 8.26
If you are looking for a good school anime with romance and comedy then Sakurasou no Pet na Kanojo is required. Sorata Kanda plans to move out of the Sakura Hall dorm because he can't stand its eccentric residents anymore. However, everything changes when he meets a strange girl named Mashiro Shiina.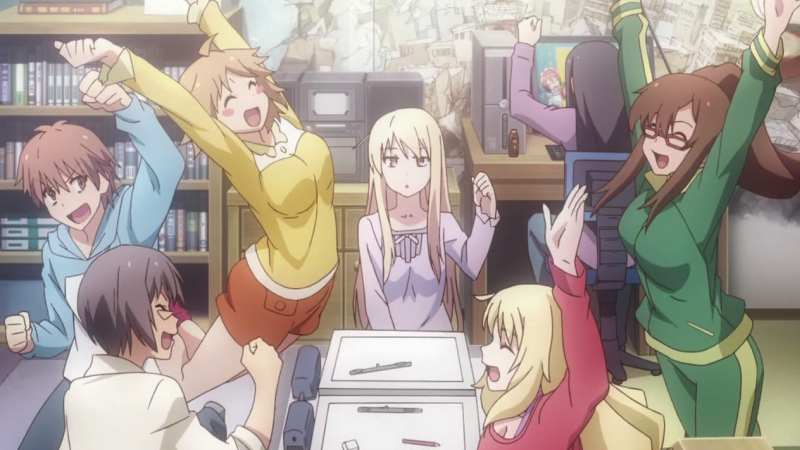 Kimi ni Todoke
25 + 12 episodes – Note on MAL 8.22
Kuronuma Sawako is also known as 'Sadako' at school, a name that references the iconic character from the films The Ring (in Brazil it is Samara). Her appearance doesn't help either, causing her to scare some people.
His school life is lonely and unhappy, not to mention his extreme shyness. Everything changes when Kazehaya, the most popular boy in her school, takes an interest in her. Kimi ni Todoke is an exciting series that will melt your heart.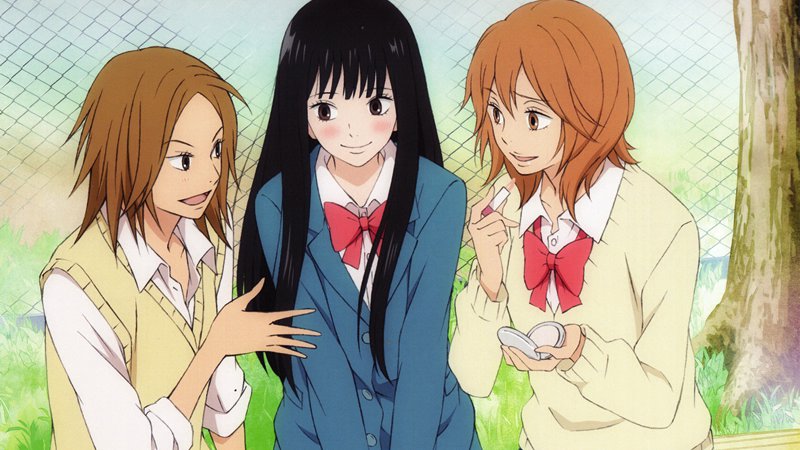 Kaichou wa Maid-sama!
26 episodes – Note on MAL 8.11
Misaki is the student council president of an all-girls high school that recently opened its doors to men. She is nicknamed the Devil's president for her great rigidity, but ends up becoming venerable because of a popular boy.
This boy named Usui discovers her weakness, she is a poor girl who needs to work in a Maid-Café to support her family, but tries to hide this secret from the school. Usui doesn't tell her secret, but starts stalking her at the Café and at school.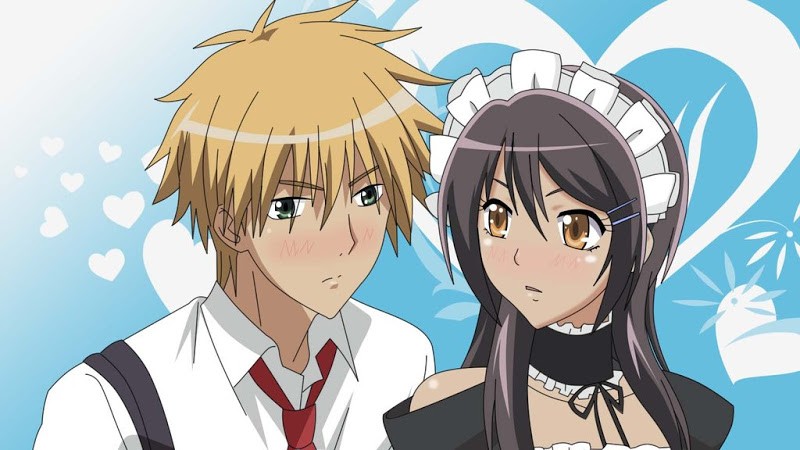 ReLIFE
16 episodes – Note on MAL 8.09
An adult in his 30s, unemployed and with no purpose in life, ends up being given an opportunity to change his life through a test where he ingests a drug that makes him go back to being a teenager and attending school.
This school anime shows how a 30-year-old adult with a formed mind interacts with other students and teenage friends. He ends up falling in love, but unfortunately must keep this one-year experiment a secret.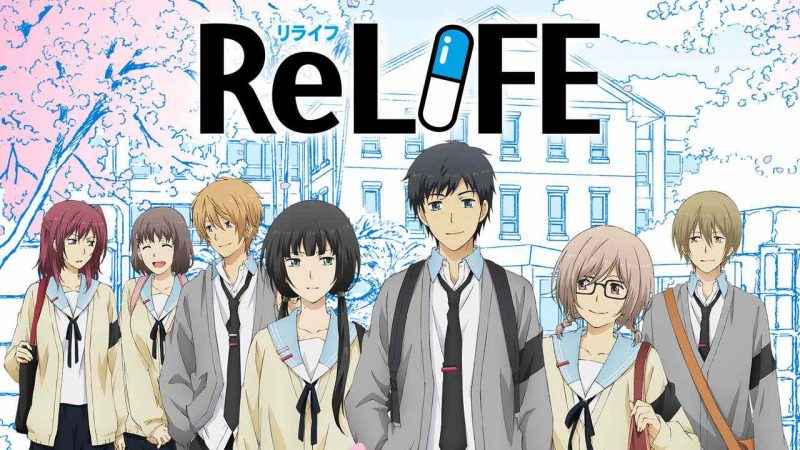 Tsuki ga Kirei
12 episodes – Note on MAL 8.26
A romance of two young students who are super shy with a beginning, middle and end, closed and cute. Kotarou Azumi is an aspiring writer, while girl Akane Mizuno is a runner. This light novel is worth checking out.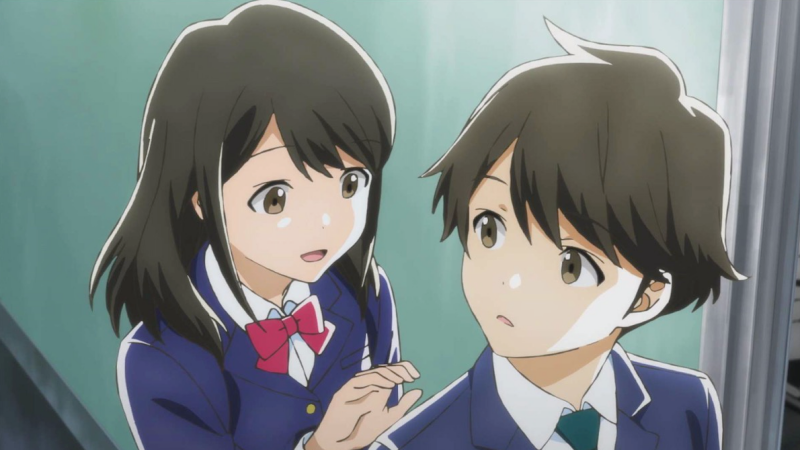 Kaguya-sama wa Kokurasetai
2 seasons – Rating on MAL 8.42
The student body representatives are in love with each other, but both are proud to declare themselves. They try through games and conversation to get each other to confess their love first, like a great war.
A very funny anime with charismatic characters and quite iconic stories, but with a nice hint of romance. Who will win this war of love? An essential anime for you to have those laughs.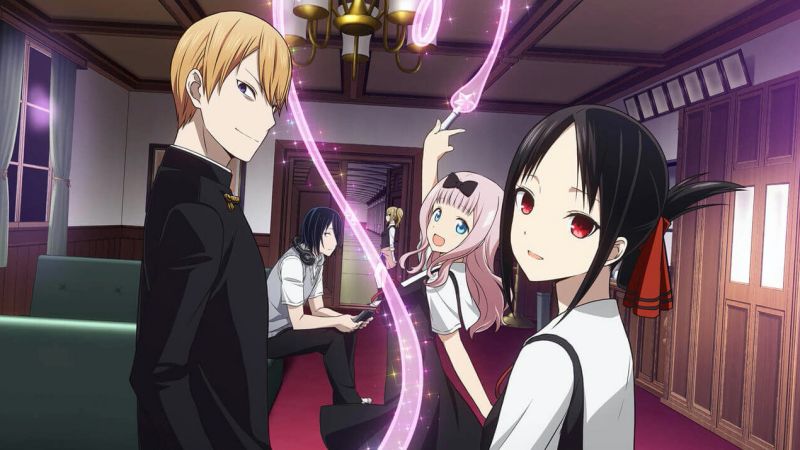 School Club Anime
Kokoro Connect
13 episodes – Rating on MAL 7.88
Yamaboshi High School's Cultural Research Club is made up of five members who one day begin to switch bodies for no apparent reason. As they try to discover the cause of this supernatural phenomenon, they begin to reveal their deepest secrets and feelings as well. Packed with romance and hilarity, Kokoro Connect will have you on the edge of your seat.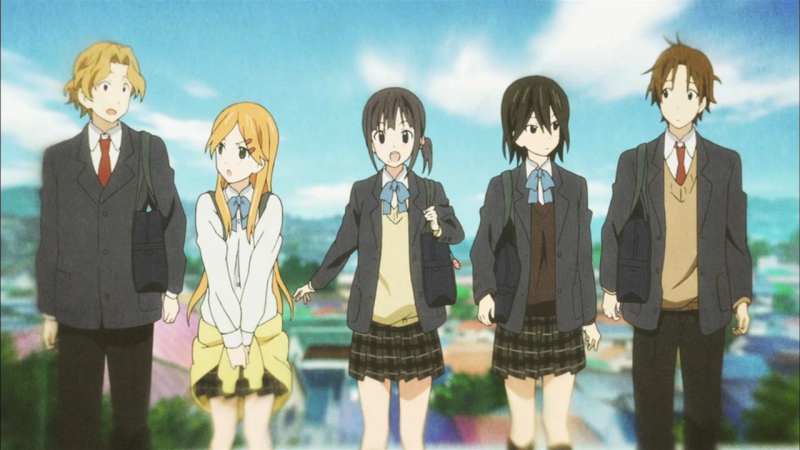 Suzumiya Haruhi no Yuuutsu
14 episodes – Note on MAL + 8.09
A quirky student named Haruhi Suzumiya forms the SOS Brigade, one of the most famous anime school clubs, specializing in supernatural events, in order to find time travelers, aliens, and people with abilities.
Other students from the same school join the club at her insistence and soon realize that Haruhi has more than just her eccentricity. Our protagonist Kyon ends up being forced to enter the club even though he doesn't believe in these things.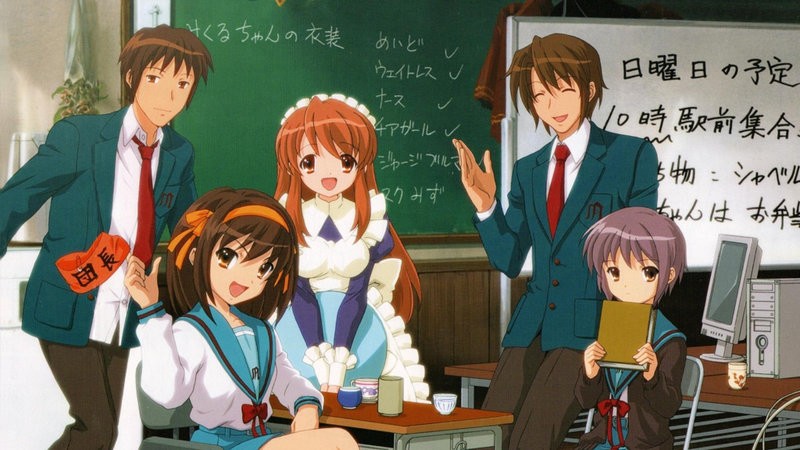 Ouran Koukou Host Club
26 episodes – Rating on MAL + 8.24
Haruhi Fujioka discovers that there is a famous Host Club at her school, with the main objective of entertaining the girls at the academy. By a strange twist of fate, Haruhi starts impersonating a man and becomes a full-time presenter at the club. This exciting school anime is one of the most famous that explores the theme of gender switching.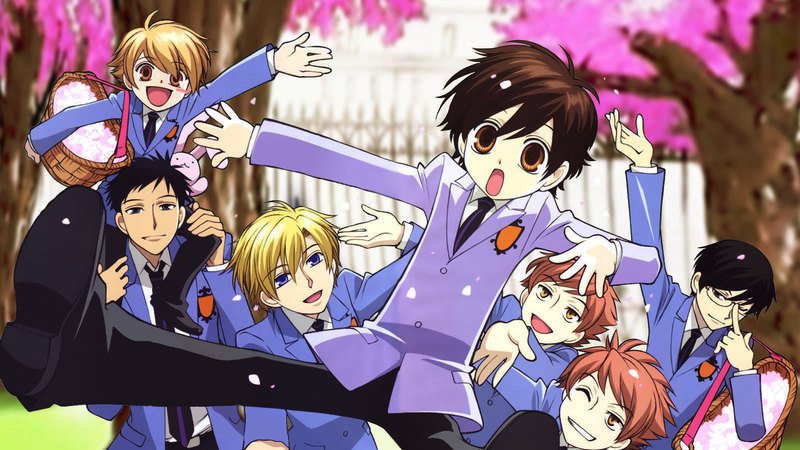 Yahari Ore no Seishun Love Comedy wa Machigatteiru
3 seasons – Rating on MAL + 8.09
The love comedy is about a very apathetic protagonist who doesn't like to socialize with others. Everything changes when he meets Volunteer Service Club president Yukino Yukinoshita.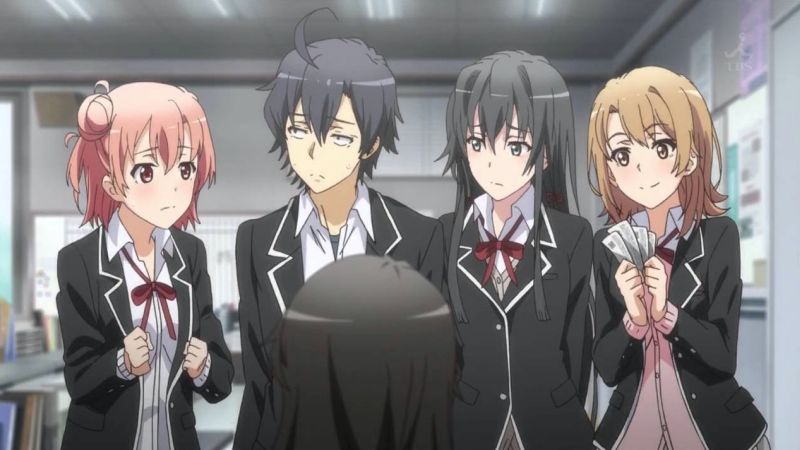 Hyouka
22 episodes – Rating on MAL + 8.18
At the request of his older sister, student Houtarou Oreki joins the Classic Literature Club, to prevent it from being shut down. In it, Oreki and the other members begin to investigate a case that took place 45 years ago, which involves Chitanda's uncle.
The clues to this mystery are found in a work entitled Hyoka, made using data collected by the former Classic Literature Club. Thus, the group of friends starts to solve mysterious cases that occur inside and outside the school.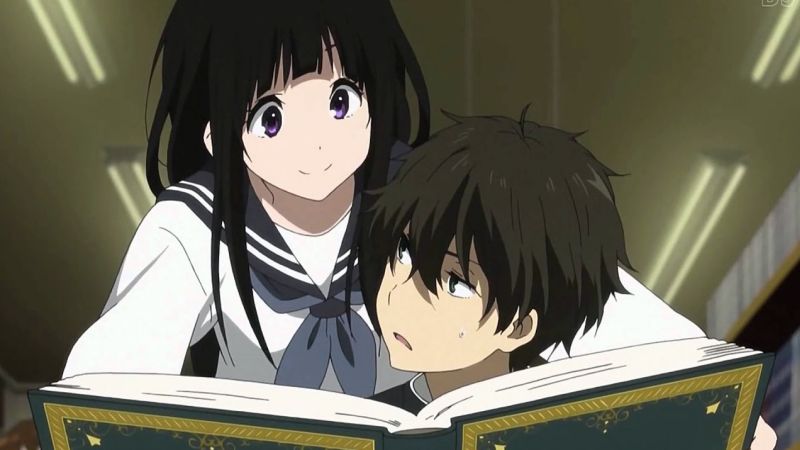 K-On!
26 + 13 episodes – Rating on MAL + 7.88
Yui Hirasawa in looking for a club finds the light music club, mistakenly believing that it is about simple instruments like castanets. Unable to play an instrument, she decides to apologize and leave.
The light music club is threatened with extinction for lack of members, causing other club members to urge Yui to stay, performing and awakening her passion for music. It is a very popular anime for its moe.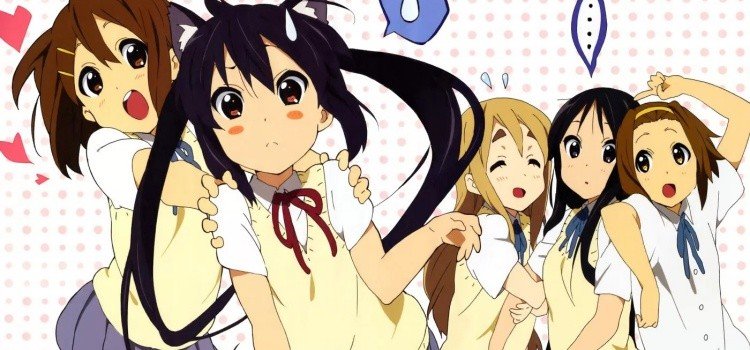 Sket Dance
77 episodes – Rating on MAL + 8.28
SKET Brigade is a school club focused on helping others made up of 3 main members nicknamed Switch, Himeko and the group leader Bossun. However, most know them only as the club that handles odd jobs.
Despite being idle for a long time, they go out of their way to help others in hilarious ways. The SKET Brigade does everything possible to provide support, kindness, encouragement and problem solving to any student crazy enough to request their services. The anime has several satires, references and parodies.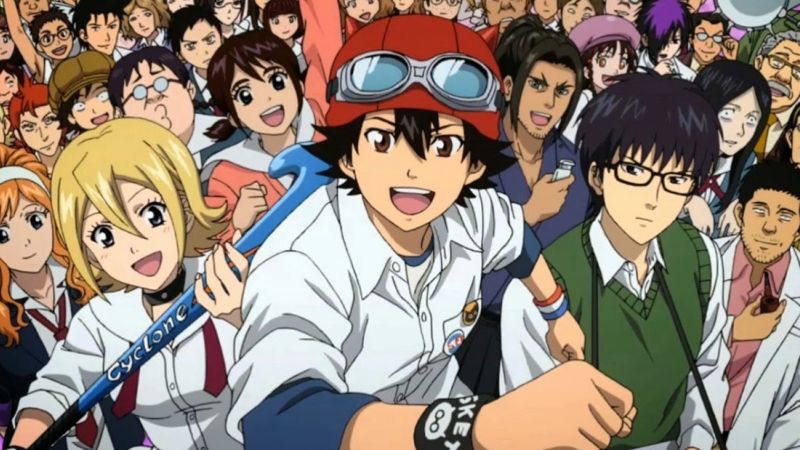 School Life Anime – Slice of Life
The anime below show everyday life in a Japanese school, but can have a dash of action, romance and comedy. Maybe not all of them have slice of life anime characteristics, but I fit in this part since I couldn't define another one.
Clannad
2 seasons – Rating on MAL + 8.13
Tomoya Okazaki is a delinquent who finds life boring, and has no purpose for it. Until one day he meets a fragile girl named Nagisa, who helps him change that point of view. A very sad and emotional anime.
Despite having a heavy focus on the protagonists' romance and relationship, much of the anime shows more of everyday life at school and beyond. The protagonist also helps several students to solve their personal problems.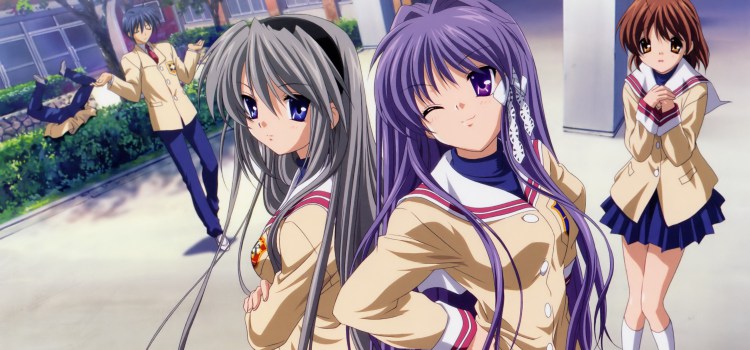 Great Teacher Onizuka (GTO)
43 episodes – Rating on MAL + 8.71
Despite being an old anime, it is indispensable, especially in a school anime article. It's about a delinquent teacher who tries to bring a troubled class into line. One of the best of the genre, with lots of comedy and action.
The anime is very funny and exciting. This work also has two versions in dramas, a recent one from 2011 that I find very entertaining.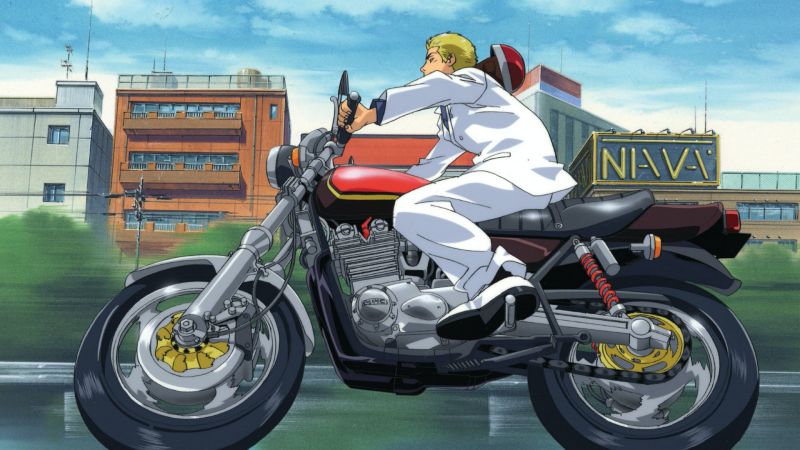 Angel Beats!
13 episodes – Rating on MAL + 8.21
Considered one of the saddest anime on the face of the earth, it takes place in a school, but after death. It's kind of complicated to understand this anime by a synopsis, even choosing the category to put it was difficult, since it has hints of romance and action.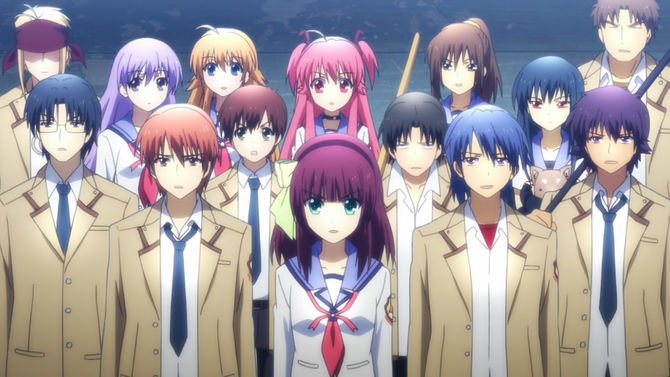 Gin no Saji – Silver Spoon
2 seasons – Rating on MAL + 8.20
If you're tired of the typical urban school theme, you should check out Gin no Saji by the author of Fullmetal Alchemist! The anime takes place in an agricultural school called Ooezo, in the countryside.
In this school, students have to learn various practical tasks, such as milking cows, riding horses and cleaning manure. This series is a refreshing take on the genre that teaches us to respect life and animals.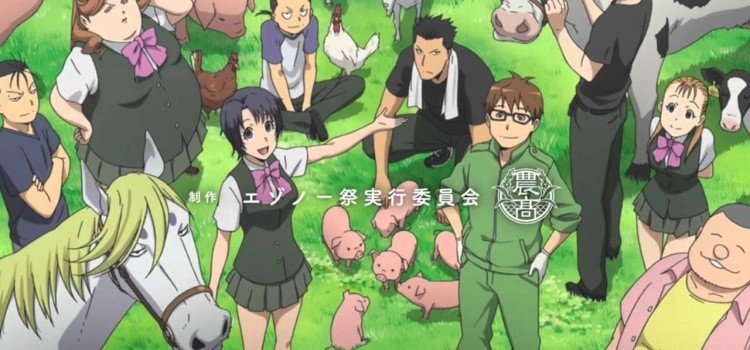 action school anime
A lot of action anime is set in high school, with secrets, powers, portals to another world and other unrealistic things. Will the protagonist be able to save the world and still do well in high school?
Boku no Hero Academia
Multiple seasons – Rating on MAL + 8.30
The anime takes place in a world where most people have super powers. The protagonist unfortunately does not have any power, but he receives the power of one of the strongest heroes in the world. To train this power, he enrolls in Japan's most popular hero school UA High.
The anime has several characters, spends most of it in school, with a lot of action, adventure and emotion, becoming one of the most popular manga and anime and also one of the pillars of the anime. shounen genre of the present. Mandatory!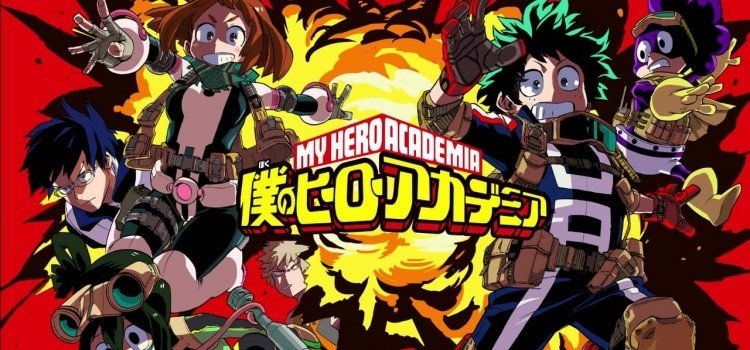 Ansatsu Kyoushitsu
22 episodes – Rating on MAL + 8.16
Despite being focused more on comedy than action, this strange anime shows a class being trained to kill a powerful teacher in the form of an octopus that threatens to destroy the earth, soon after having already wiped out the moon.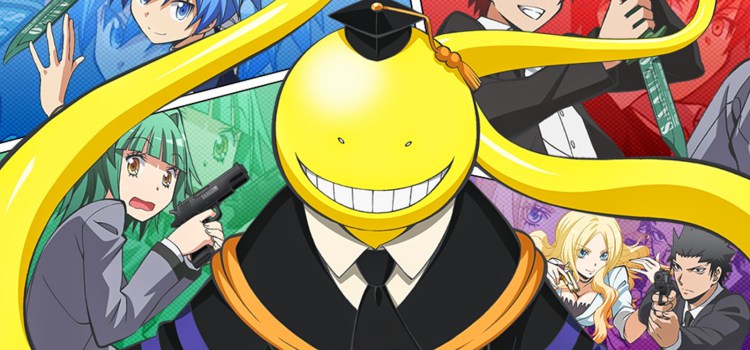 Accel World
One of my favorite school action anime. The anime tells the story of Haru, a short chubby man who suffers ijime who lives isolated from the real world through augmented reality technologies. Luckily he has 2 best friends who take care of him.
One day, after suffering more frustrations, he is invited by the most popular girl in high school to install a fighting game, capable of offering a brain-speeding ability in a way that everything around him is stopped. Of course, this skill comes at a cost.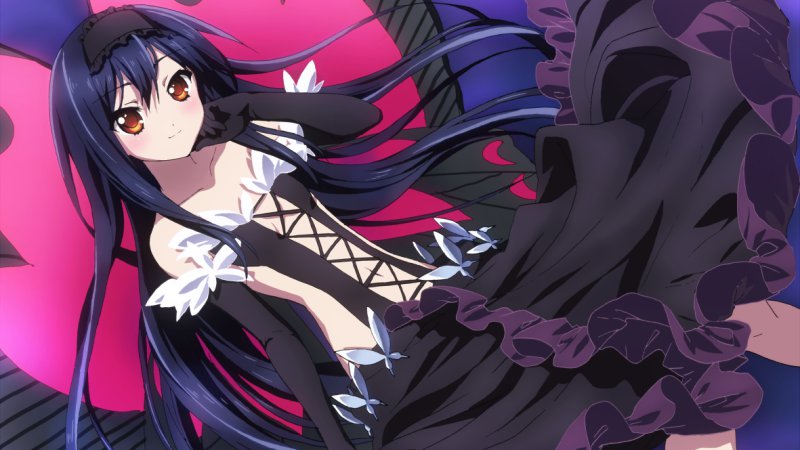 The best school manga
To complement the article I will recommend a list of the best school manga. The manga in the list below are available on Amazon Brazil, if you want to purchase a copy, just click and you will be redirected to the Amazon website.
This article is not about popular manga, otherwise the list would be very different. Since there are many promising school manga that are not available in Brazil and that have not won an anime adaptation.
Complete list of the best school anime
It's hard to recommend all the good school anime. Below we will share another list with some school anime that you might want to check out. It is very likely that with this list we reached more than 100 school anime.
Responsive Table: Scroll the table to the side with your finger >>
| | | |
| --- | --- | --- |
| Nome do Anime | Note | Year |
| Code Geass: Hangyaku no Lelouch | 8.74 | 2006 |
| Kimi no Na wa. | 9.07 | 2016 |
| Shigatsu wa Kimi no Uso | 8.82 | 2014 |
| Kill la Kill | 8.15 | 2013 |
| Another | 7.63 | 2012 |
| Koe no Katachi | 9.02 | 2016 |
| Shokugeki no Souma | 8.43 | 2015 |
| Charlotte | 7.85 | 2015 |
| Haikyuu!! | 8.61 | 2014 |
| Chuunibyou demo Koi ga Shitai! | 7.82 | 2012 |
| Nisekoi | 7.72 | 2014 |
| Ouran Koukou Host Club | 8.24 | 2006 |
| Kuroko no Basket | 8.26 | 2012 |
| Tonari no Kaibutsu-kun | 7.62 | 2012 |
| Mahouka Koukou no Rettousei | 7.64 | 2014 |
| Prison School | 7.80 | 2015 |
| Gekkan Shoujo Nozaki-kun | 8.07 | 2014 |
| Seishun Buta Yarou wa Bunny Girl Senpai no Yume wo Minai | 8.42 | 2018 |
| Nichijou | 8.50 | 2011 |
| Rakudai Kishi no Cavalry | 7.63 | 2015 |
| Danshi Koukousei no Nichijou | 8.30 | 2012 |
| Baka to Test to Shoukanjuu | 7.66 | 2010 |
| Lucky☆Star | 7.79 | 2007 |
| Ao Haru Ride | 7.74 | 2014 |
| Yamada-kun to 7-nin no Majo | 7.74 | 2015 |
| Sakamoto Desu ga? | 7.64 | 2016 |
| Orange | 7.66 | 2016 |
| Beelzebub | 7.96 | 2011 |
| Youkoso Jitsuryoku Shijou Shugi no Kyoushitsu e (TV) | 7.89 | 2017 |
| Grisaia no Kajitsu | 7.60 | 2014 |
| Tsurezure Children | 7.78 | 2017 |
| Little Witch Academia (TV) | 8.02 | 2017 |
| Seitokai Yakuindomo | 7.63 | 2010 |
| Saiki Kusuo no Ψ-nan | 8.49 | 2016 |
| Tokyo Ravens | 7.63 | 2013 |
| Chihayafuru | 8.27 | 2011 |
| Cardcaptor Sakura | 8.17 | 2098 |
| Gakkougurashi! | 7.66 | 2015 |
| Baka to Test to Shoukanjuu Ni! | 7.82 | 2011 |
| Tasogare Otome x Amnesia | 7.89 | 2012 |
| D-Frag! | 7.64 | 2014 |
| Hibike! Euphonium | 8.02 | 2015 |
| Bokura wa Minna Kawai-sou | 7.77 | 2014 |
| Special A | 7.62 | 2008 |
| Demi-chan wa Kataritai | 7.69 | 2017 |
| Sayonara Zetsubou Sensei | 7.93 | 2007 |
| Karakai Jouzu no Takagi-san | 7.85 | 2018 |
| School Rumble | 7.97 | 2004 |
| Yuru Yuri | 7.63 | 2011 |
| Free!: Eternal Summer | 7.76 | 2014 |
| Non Non Biyori | 7.98 | 2013 |
| Seto no Hanayome | 7.81 | 2007 |
| Sakamichi no Apollon | 8.39 | 2012 |
| 5-toubun no Hanayome | 7.61 | 2019 |
| Tanaka-kun wa Itsumo Kedaruge | 7.96 | 2016 |
| Azumanga Daioh | 7.99 | 2002 |
| Full Metal Panic? Fumoffu | 8.10 | 2003 |
| Little Witch Academia | 7.89 | 2013 |
| Clannad: Mou Hitotsu no Sekai, Tomoyo-hen | 8.04 | 2008 |
| Isshuukan Friends. | 7.61 | 2014 |
| Shijou Saikyou no Deshi Kenichi | 8.16 | 2006 |
| Haikyuu!!: To the Top | 8.53 | 2020 |
| World Trigger | 7.61 | 2014 |
| Girls & Panzer | 7.60 | 2012 |
| Asobi Asobase | 8.21 | 2018 |
| Kokoro ga Sakebitagatterunda. | 8.07 | 2015 |
| Saenai Heroine no Sodatekata ♭ | 7.84 | 2017 |
| Ballroom e Youkoso | 8.26 | 2017 |
| Danganronpa 3: The End of Kibougamine Gakuen – Zetsubou-hen | 7.60 | 2016 |
| ReLIFE: Kanketsu-hen | 8.28 | 2018 |
| Seitokai Yakuindomo* | 7.77 | 2014 |
| Slam Dunk | 8.53 | 2093 |
| Seishun Buta Yarou wa Yumemiru Shoujo no Yume wo Minai | 8.71 | 2019 |
| Tonari no Seki-kun | 7.63 | 2014 |
| Kareshi Kanojo no Jijou | 7.62 | 2098 |
| Diamond no Ace | 8.16 | 2013 |
| Minami-ke | 7.71 | 2007 |
| Yagate Kimi ni Naru | 7.98 | 2018 |
| Isekai no Seikishi Monogatari | 7.91 | 2009 |
| Eizouken ni wa Te wo Dasu na! | 8.27 | 2020 |
| Araburu Kisetsu no Otome-domo yo. | 7.68 | 2019 |
| Yuru Yuri♪♪ | 7.89 | 2012 |
| Jibaku Shounen Hanako-kun | 7.77 | 2020 |
| Kimi to Boku. | 7.74 | 2011 |
| Little Witch Academia: Mahoujikake no Parade | 7.83 | 2015 |
| Tennis no Ouji-sama | 7.94 | 2001 |
| School Rumble Ni Gakki | 8.06 | 2006 |
| Non Non Biyori Repeat | 8.20 | 2015 |
| Denpa-teki na Kanojo | 7.62 | 2009 |
| Little Busters!: Refrain | 8.27 | 2013 |
| Mairimashita! Iruma-kun | 7.81 | 2019 |
| High Score Girl | 8.01 | 2018 |
| K-On!: Live House! | 7.85 | 2010 |
| Baby Steps | 7.90 | 2014 |
| Sakigake!! Cromartie Koukou | 7.95 | 2003 |
| Zoku Sayonara Zetsubou Sensei | 7.95 | 2008 |
| Gakuen Babysitters | 7.85 | 2018 |
| Itsudatte Bokura no Koi wa 10 cm Datta. | 7.61 | 2017 |
| Coquelicot-zaka kara | 7.92 | 2011 |
| Hourou Musuko | 7.76 | 2011 |
| Cross Game | 8.47 | 2009 |
| Kono Oto Tomare! | 7.85 | 2019 |
| Prison School: Mad Wax | 7.63 | 2010 |
| K-On!!: Keikaku! | 7.86 | 2011 |
| Zan Sayonara Zetsubou Sensei | 7.93 | 2009 |
| Otome Game no Hametsu Flag shika Nai Akuyaku Reijou ni Tensei shiteshimatta… | 7.76 | 2020 |
| Yuri Kuma Arashi | 7.12 | 2015 |