the anime Nisekoi [ニセコイ] became popular for featuring a lie plot, but it's not the only anime of its kind. In this article, we are going to present all the anime in which we have some relationship or fake romance, forced love or arranged marriage.
Characters in these anime are in a fake relationship. They are in a fake romance for various reasons, like one person blackmailing the other or trying to make their true crushes jealous.
In some cases both don't love each other, or maybe one of them is in love. In many of these anime, the fake couple ends up falling in love, even those who were forced to marry. Have you read our list of romantic animes?
Nisekoi – Fake Love, Secrets and Yakuza
Raku Ichijo is a high school student and the sole heir to the head of a Yakuza family called the Shuei-gumi. 10 years ago, Raku made a secret promise to a girl he met. They promised each other that they would "marry when they meet again".
Since then, Raku has never let go of the pendant the girl gave him. Still, in high school he falls in love with a girl named Onodera, and ends up having bad experiences with a newcomer named Chitoge.
In the meantime, Raku and Chitoge are forced to maintain a fake relationship to keep the peace between the Mafia and the yakuza. It is a super hyper funny anime of romantic comedy unmissable with two seasons.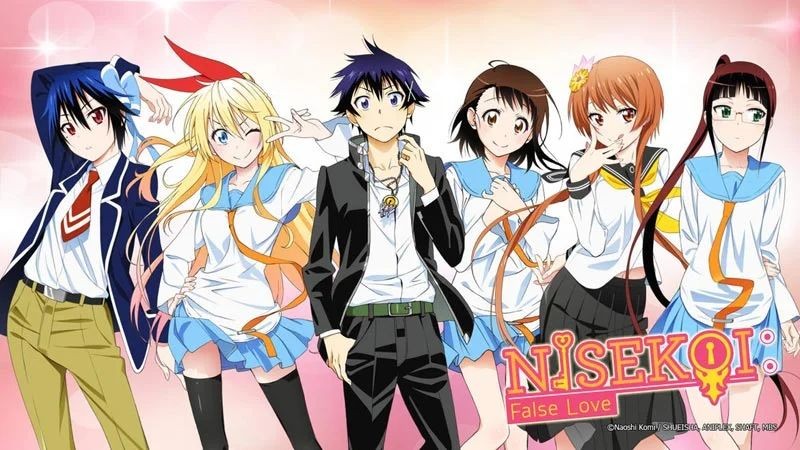 Rent-A-Girlfriend – Rent-A-Girlfriend
the anime Rent-A-Girlfriend or Kanojo, Okarishimasu tells the story of a young boy who recently ended a relationship, feels lonely and with strong sexual urges, decides to rent a girlfriend for rent.
This exists in real life, in Japan, loners can use online services that rent parents, children and even girlfriends! These rentals do not involve any sexual intercourse, just a date and flattery. Not even a kiss is present in the lease.
After renting a very pretty girl, an incident happens where he needs to go to the hospital to see her little voice, who believes he has a real girlfriend. In the midst of this confusion the two decide to continue this false relationship.
In the anime you find several girlfriends for hire and interactions with characters who work in this niche. A lot of romantic comedy, a little ecchi and twists involving his friends, ex-girlfriend and new characters.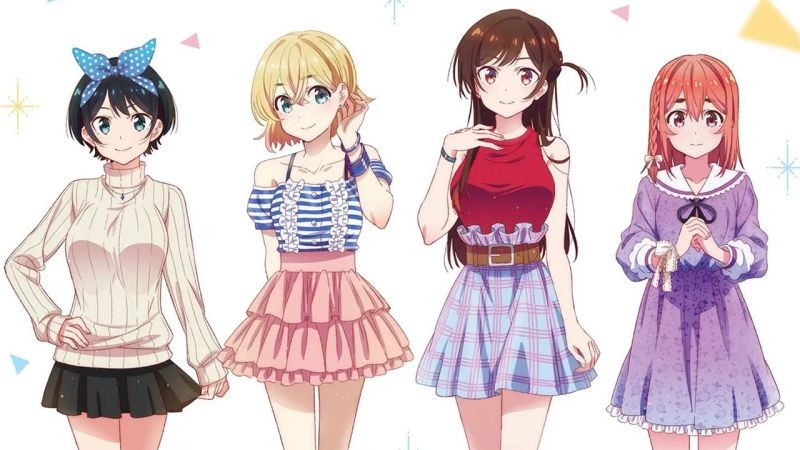 Kuzu no Honkai - The anime full of crazy people
Hanabi and Mugi are bathed in envious looks like a beautiful couple with excellent moral conduct. But these two seemingly perfect people in a seemingly perfect relationship share a secret they can't tell anyone.
Both are in love with their teacher friends who show no interest and are in love with each other. Hanabi and Mugi maintain a fake relationship in order to end their feelings of loneliness and fulfill their sexual and emotional desires.
In the meantime, several other naughty, liars and problematic characters appear in the anime to transform the work into a true chaos of false and unsatisfactory romances. A pretty adult anime with a little bit of forbiden love.
you can watch Kuzo no Honkai no Amazon Prime Video for only 10 reais monthly, in addition to enjoying numerous benefits such as Free Shipping on Amazon, Music Streaming, Free Games and much more. Click here to access Kuzo no Honkai on Prime Video.
R$ 7number_format_decimal_point90
-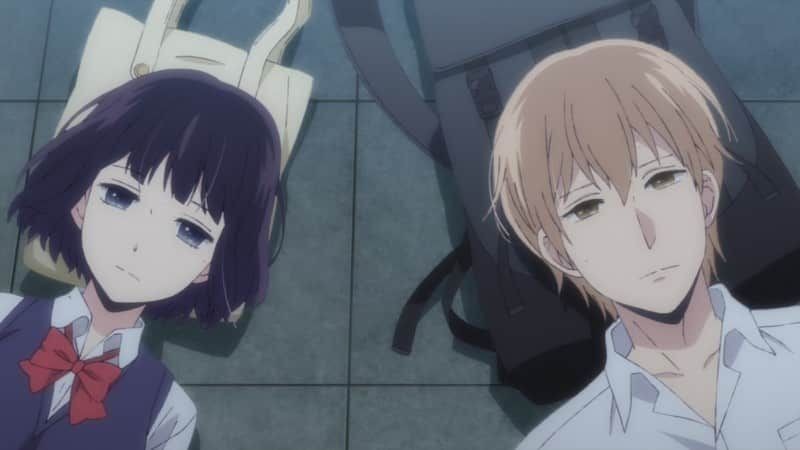 Pray no Kanojo to Osananajimi ga Shuraba Sugiru
Eita Kido enters high school with the goal of earning a scholarship to medical school. His parents divorced, formed new families and left him in the care of a relative. For these reasons he avoids anything related to romance or love.
One day, the prettiest girl in school, Masuzu Natsukawa, tired of being the center of attention, suggests that they both falsely date to end their problems. Jeez refuses, but is blackmailed to be fake boyfriends.
News of the new couple quickly spreads throughout the school and Eita's childhood friend Chiwa Harusaki, who is in love with him. The anime also shows the confrontation between his childhood friend and his fake girlfriend. The anime is also dubbed as OreShura.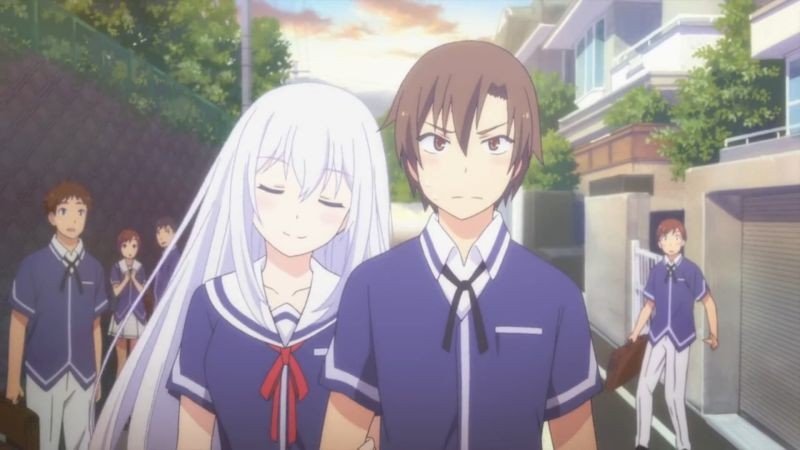 Koi to Uso – Government predetermines couples
In order to increase the birth rates, Japan implements a capacity calculation that assigns partners to young people when they turn 16. Those who deviate from their assigned partners are severely punished.
Yukari Nejima has been in love with Misaki Tazaki since elementary school and finally confesses to her on her 16th birthday, only to find that he was assigned to Ririna Sanada.
Originally unemotional, Ririna agrees to allow Yukari and Misaki to continue their illicit relationship in hopes of learning more about love. Things get complicated when love and lies start to intersect.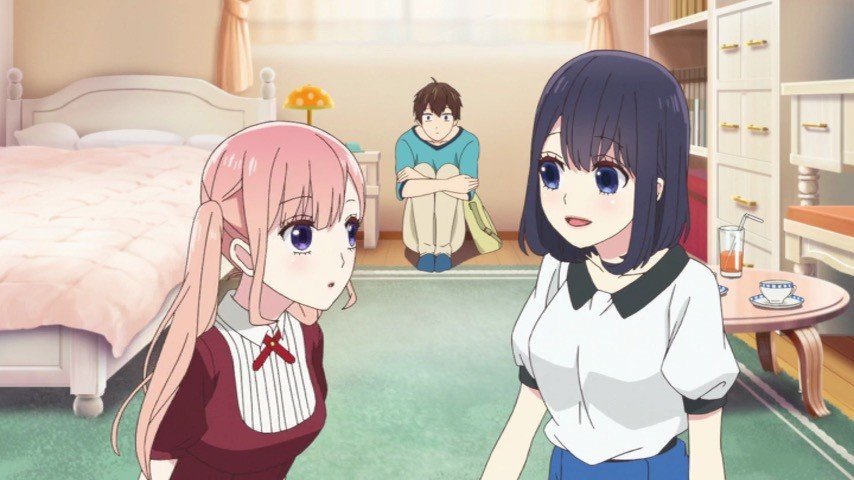 Soredemo Sekai wa Utsukushii
Nike, the fourth princess of the Principality of Rain and who holds the power to summon rain, travels to the Sun Kingdom to marry Sun King Livius at the request of her country, despite her own reluctance, the anime is about a beautiful and satisfying romance.
She soon discovers that the King, who conquered the world in just three years after his accession to the throne, is still a young child!! The 12-episode short anime has a very good plot, a beautiful soundtrack and a very cute romance.
Despite the age difference, and also the forced marriage, will the romance between the Rain Princess and the Sun King work? Will she be able to summon rain at the king's request? be sure to see Soredemo Sekai wa Utsukushii.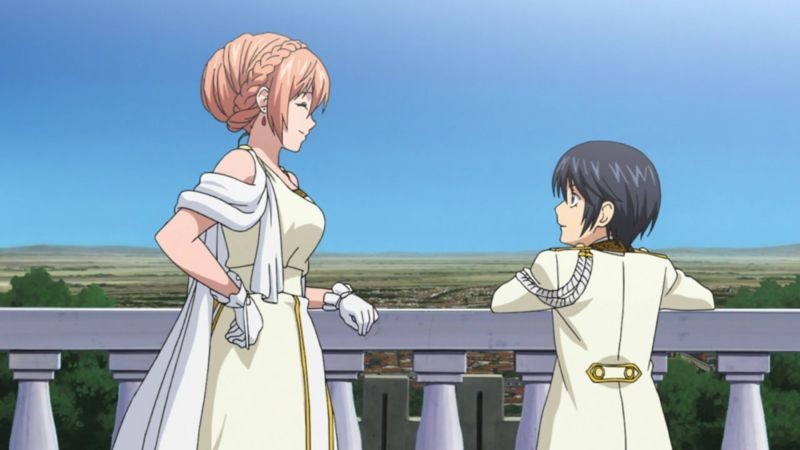 Seto no Hanayome – The Greatest Comedy
Seto no Hanayome is one of funniest animes that I've watched all my life. While visiting his hometown, student Michishio Nagasumi's life was changed forever when he nearly drowned and was saved by a mermaid named San.
Mermaid San's family is part of a merman mafia, and they follow a strict rule: If a mermaid is discovered by a man, either he or the mermaid must die. That is, unless the man marries one of the family!
Faced with such a decision, Nagasumi is forced to marry the Mermaid. Now, with a new school year approaching, Nagasumi must find a way to deal with his new bride, keep his true nature a secret, and most importantly, escape death.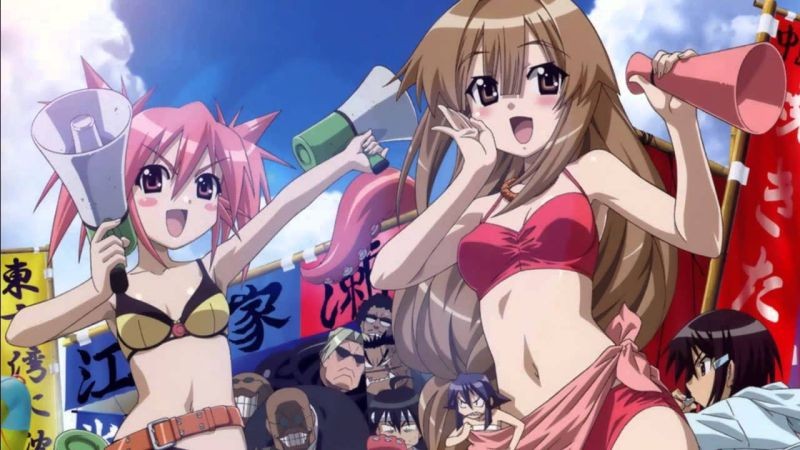 Kimi no Iru Machi: Tasogare Kousaten
Kimi no Iru Machi is an anime full of twists and quite interesting, but the fake love story is in both OVAs Tasogare Kousaten. Of course, if you like the fake love genre, you will also like the anime Kimi no Iru Machi, we recommend it.
How far would you go for true love? in anime Kimi no Iru Machi, Haruto falls in love and just can't seem to give up his love, the anime involves childhood romances, love triangles and a few twists.
The anime has 12 episodes and a few OVAs. I don't need the order of which OVAs to watch, but I believe the events of the aforementioned OVA take place before the anime. We recommend watching the anime anyway, to avoid confusion.
At OVAs Haruto travels to Tokyo on a school trip, where he hopes to meet Yuzuki, a girl who used to live in his house and for whom he has feelings. Things don't go according to plan when his classmate Nanami, who secretly loves Haruto, asks him to pretend to be her boyfriend.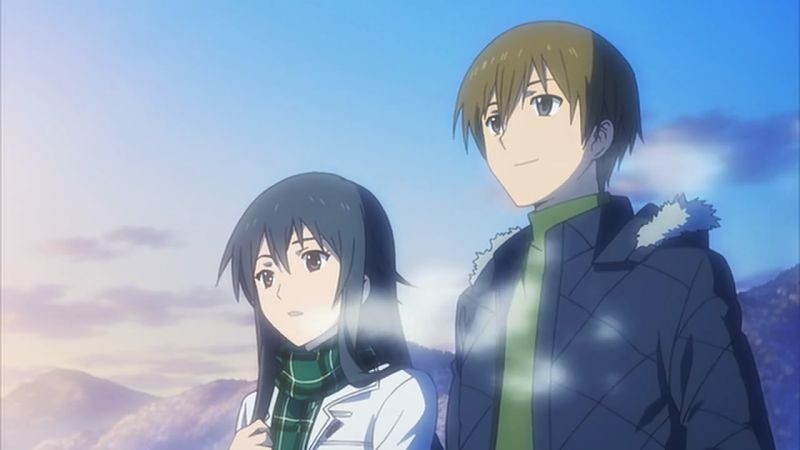 Other fake and forced love anime
Some anime don't fit well into the genre presented in the title of the article, but they do have plots and some related or similar things. See below briefly some of the anime and the events in question.
Kami nomi zo Shiru Sekai – He has to make girls fall in love with him to save his life, a lot of comedy. A young man who has never had romantic experiences except in online games is going to have this impossible task.
Mikakunin from Shinkoukei – A girl is surprised by her mother saying that her grandfather has arranged an arranged marriage for her. She needs to live her newlywed life together with her sister-in-law.
To Love Ru - One ecchi very popular where the protagonist is forced to marry the protagonist and many other romantic confusions. How the protagonist in love with another girl will treat his alien bride?
Akane-Iro ni Somaru Saka – When Junichi Nagase is forced by his parents to marry a rich girl he had saved from bullies in high school. The classic anime where the protagonist is forced to have a relationship without his consent.
We also recommend seeing:
Ramma1/2
Bringing the Nation's Husband Home – Guomin Laogong Dai Huijia
Warau Hyouteki
Geunyeoga Gongjagjeolo Gaya Haessdeon Sajeong
Nanoni, Chigira-kun ga Amasugiru