The Mount Fuji [富士山] affectionately called Fuji-san, is one of the most famous mountains in the world, as popular as Mount Everest. In this article, we are going to share the best places and places to see Mount Fuji in Japan.
Mount Fuji is one of Japan's hotspots, there are thousands of places where you can come face to face with the gigantic and unshakable Mount Fuji. unfortunately he likes to run away sometimes, needing caution when trying to visit him.
A little Fuji-san
Mount is located west of Tokyo near the Pacific Ocean coast of the island of Honshu, on the border between the prefectures of Shizuoka it's from Yamanashi.
There are three small towns that surround Mount Fuji, Gotemba to the east, Fuji-Yoshida to the north, and Fujinomiya to the southwest. In addition to these cities, there are several famous lakes that surround the giant, making the tour more exciting.
In this article, we are going to recommend the best places where you can take magnificent photos of Mount Fuji and still enjoy the sights of Japan.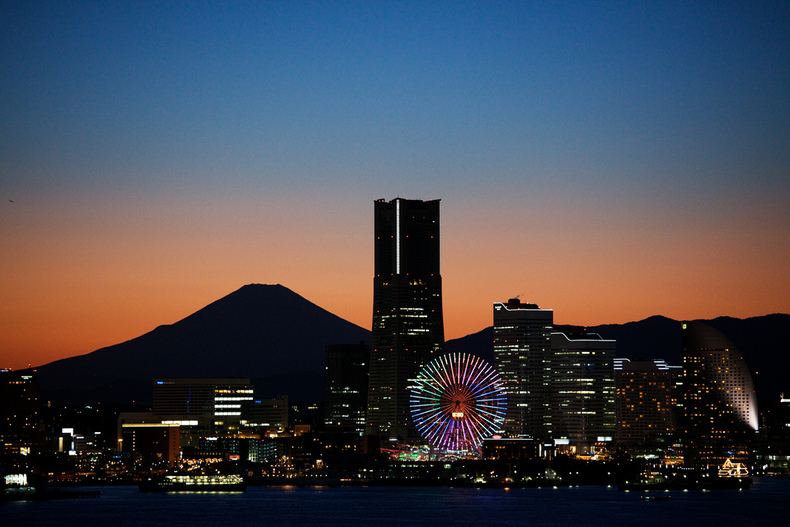 The cities of Gotenba and Hakone
The 4 cities that surround mount fuji can be a great option for taking pictures. Unfortunately you need good weather and no other mountains covering the shy Fujisan.
Gotenba It is one of the favorite cities that is close to Mount Fuji and that attracts thousands of tourists from all over the world. In this city you have access to the famous Gotemba Premium Outlets, a mall that has more than 200 stores and 50 restaurants.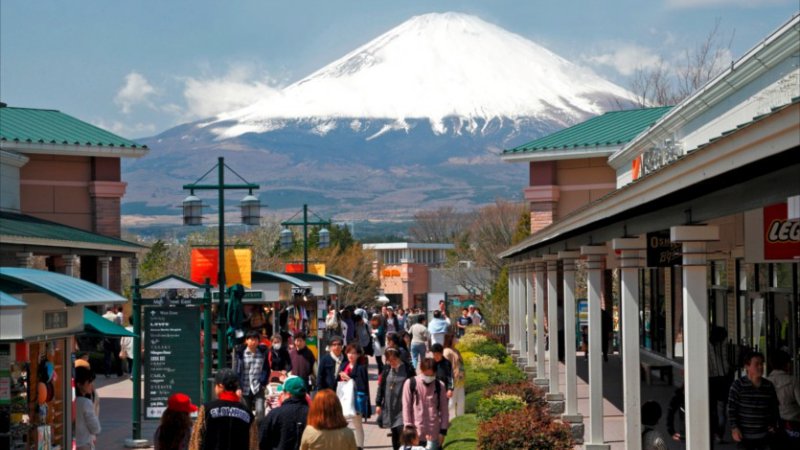 In this mall you have a beautiful view of Mount Fuji, in addition to being very close to Hakone, another very famous destination that has a cable car, a boat ride on the lake, a train ride, cable car and a beautiful view of Fuji-san.
Hakone it is also a resort town with many onsen and ryokan. It is in Hakone that you find the famous Gate (Torii) floating on the lake. Both Gotenba and Hakone are close to Mount Fuji and Tokyo.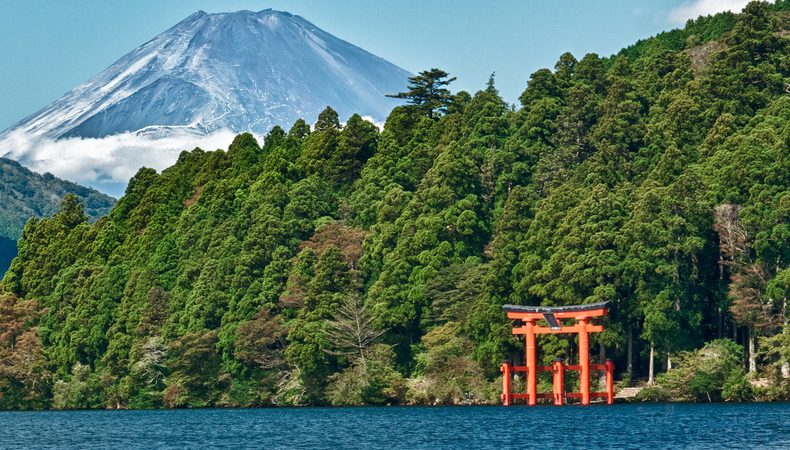 Izunokuni Panorama Park
It's not close to Mount Fuji, but it's a perfect destination to get a glimpse of the fujisan and climb one of the longest, tallest and fastest cable cars in Japan. The mountain is so big that you can even see the Japanese Alps from Nagano.
Izu no Kuni as the name suggests is located on the Izu Peninsula on the opposite side of the mountains near Mishima in Nagaoka in Shizuoka Prefecture. At the top of Mount Katsuragi you have a view of the region and still have trails and a mini zoo.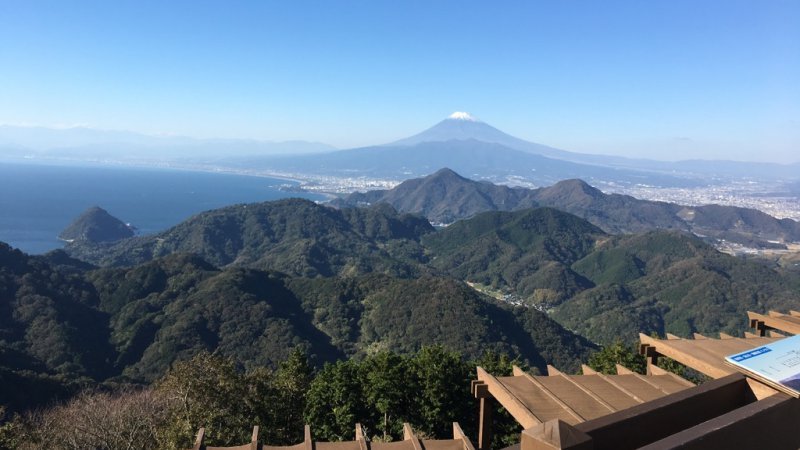 I had the chance to visit Panorama Park and really enjoyed the experience. The cable car is immensely long and tall, as well as being super fast and scary. The cable car travels 1.8 kilometers and climbs to a height of 411 meters in a duration of 5 minutes.
At the top of Mount Katsuragi you will also find a mini onsen for your feet and a place to rest and enjoy the beautiful view. The elevation of the hill is 452 meters.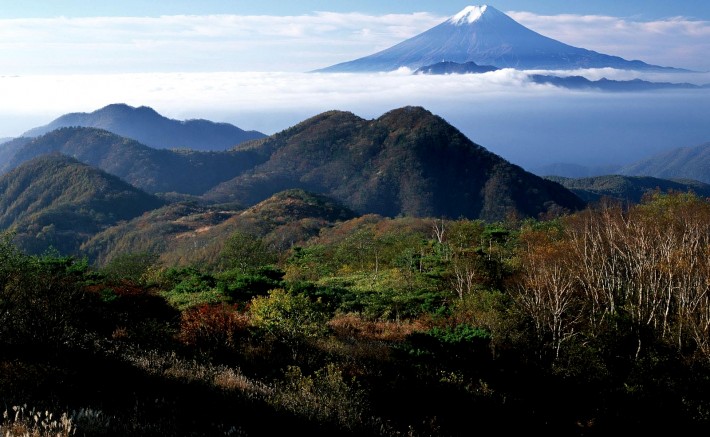 Besides Mount Katsuragi, you can find many other mounts that have beautiful views of Fujisan. Among them we have Mount Tenjo and the Cable Car Kachi Kachi, Shakushiyama, Hakone, Kenashi and others lesser known.
Below you can see a video of our little adventure:
Seeing Mount Fuji from the beaches of KAMAKURA and ENOSHIMA
There are some coastlines close to Tokyo for you to visit, enjoy the beaches and even take beautiful pictures of Mount Fuji if it is visible. The most famous beaches to visit are located in the city of Kamakura and Enoshima.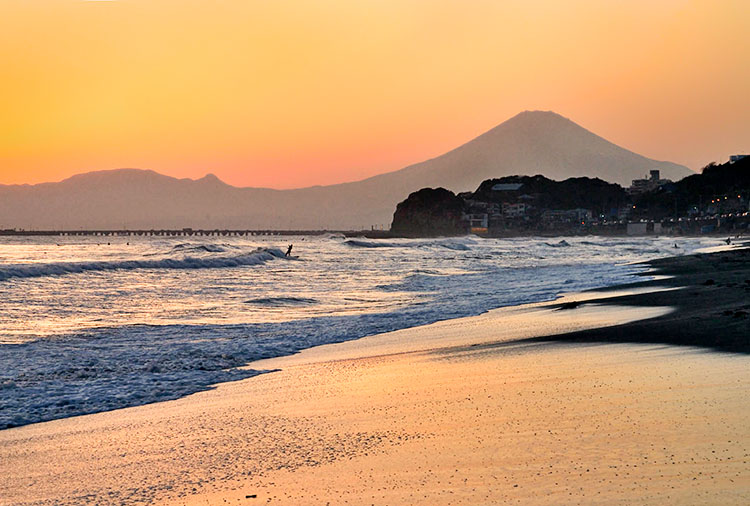 Kamakura is a coastal city an hour south of Tokyo, known for its giant Buddha, temples, shrines, historic attractions and surfing beaches. There is a good view of Mount Fuji from the beaches of Kamakura.
Enoshima is an island in Sagami Bay. It's a popular beach in summer, about an hour and a half from Tokyo near Kamakura. The view of Mount Fuji from Enoshima is often spectacular and a great option for tourists.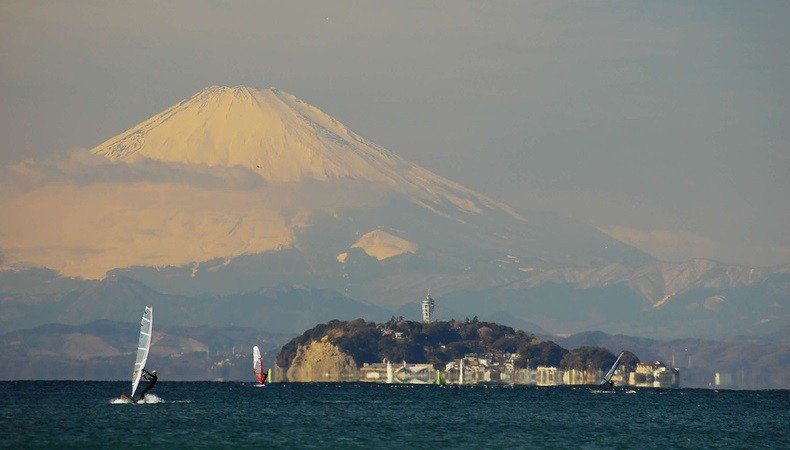 Which of these lakes do you plan to visit?
SELL mount fuji of the 5 lakes
There are very famous lakes that surround Mount Fuji and provide a beautiful sight and experience. We have Lake Kawaguchiko, Lake Yamanakako, Lake Motosu, Lake Shoji and Lake Sai in Yamanashi and also Lake Tanuki in Fujinomiya.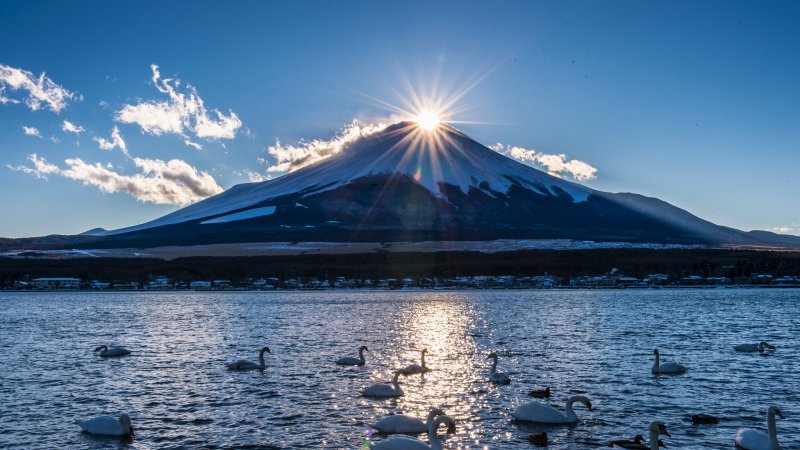 The 5 main lakes that surround Fujisan are called Fujigoko. On the lake Kawaguchiko you can see the rare Double Diamond Fuji where the sun sets over the summit of Mount Fuji and reflects on the lake which can also be seen in the lake tanuki.
We also have the Lake Yamanakako which is the largest of the 5 lakes that surround Fujisan. Next to the lake you can visit an Observatory, enjoy the onsen, fishing, yachting, water skiing and many others.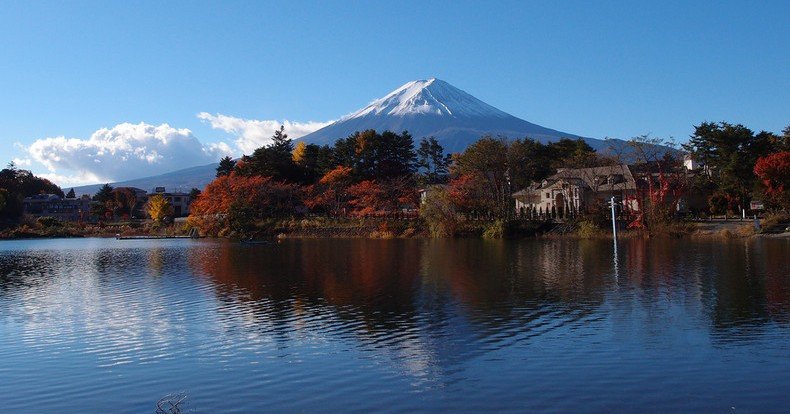 The lake motosuko It's the same one that appears on the 1,000 yen note, the ninth deepest lake in Japan. O Lake Saiko, which is surrounded by the famous Aokigahara Suicide Forest. O lake Shoji is the smallest and least popular among the 5.
Tokyo's Mount Fuji [Sky Tree and others]
If you want to see Mount Fuji from Tokyo, the best option is the giant tower Tokyo sky tree. On a clear day you can get a good view of Fuji-san, but keep in mind that Tokyo is about 100 kilometers from Mount Fuji.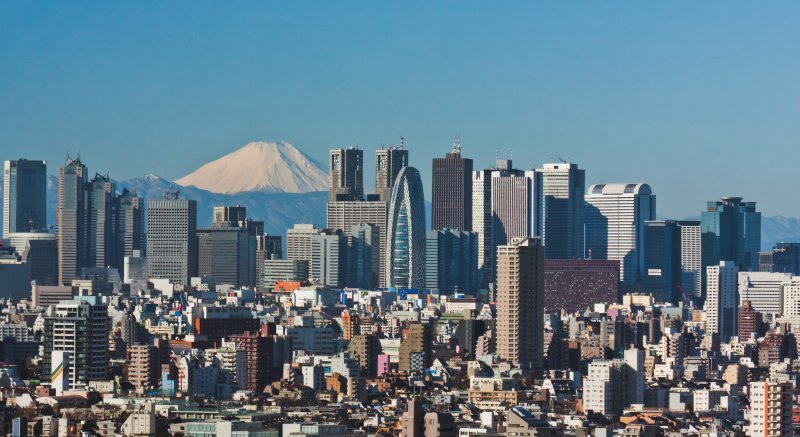 To not spend money on climbing the Sky Tree just to see Mount Fuji, make sure the sky is clear and it's not summer. To get a view of Fuji it needs to be covered in snow. Something that happens between October and April.
Bunkyo Civic Center is another option that makes it possible to see Mount Fuji among the buildings of Shinjuku. This government building has an observatory on the 25th floor that offers a panoramic view of the city, which allows you to see Fuji depending on the weather.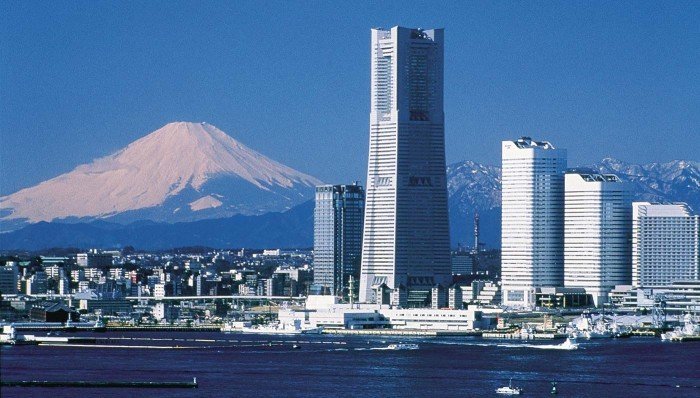 You can also visit the Mount Takao-san in western Tokyo, take a cable car and enjoy this historic and sacred place. There are other tall buildings in Tokyo like the Tokyo Metropolitan Government Building.
Other places to see Mount Fuji
Chureito Pagoda It is a pagoda on the mountainside overlooking Fujiyoshida city. The 5-story pagoda is part of Arakura Sengen Shrine, built as a peace memorial in 1963. It has a beautiful view of Mount Fuji.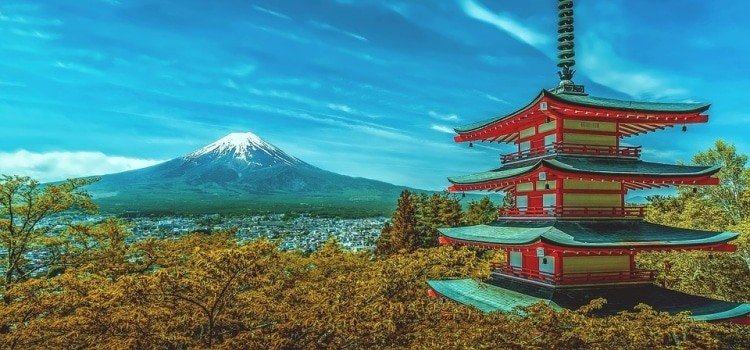 The Fuji Shibazakura Festival is held from late April to late May at Fuji Motosuko Resort in Fujikawaguchiko. The festival features 80,000 flowers that fill 6 hectares of gently sloping hills with red, pink and white flowers.
Iyashi no Sato is an open-air museum that recreates a traditional Japanese village. From here it is possible to imagine Fuji-san in the Edo period. Both places mentioned are perfect for taking pictures of Mount Fuji.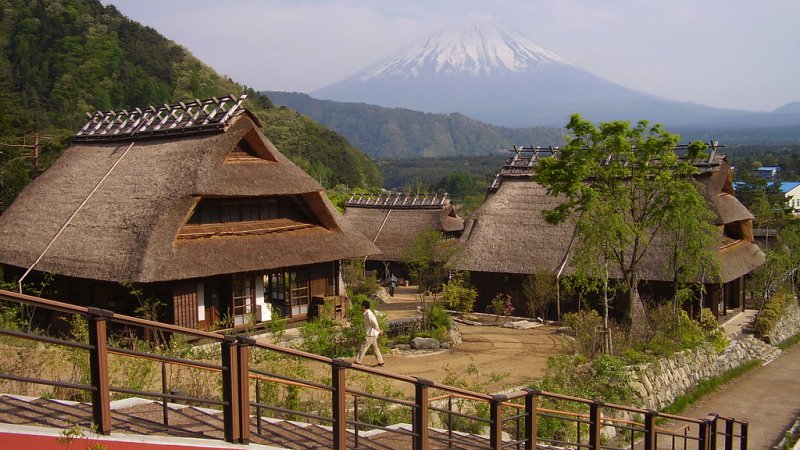 You might also want to visit the Fuji Q, an amusement park that features some of the fastest, tallest, longest and steepest roller coasters in Japan. What better way to see Fuji than from a roller coaster that is crashing at 172 km/h.
If the weather is nice you may be able to see Mount Fuji even from the trains and shinkansen that run the area. If you're traveling from Tokyo to Osaka, remember to sit on the right side to try to see Mount Fugiu.
These are some of the places where you can get a beautiful view of FujiSan. If you liked the article, don't forget to share and leave comments. In your opinion, what is the best place to see Mount Fuji?