On April 2, 2011 another Japanese viral was born that spread all over the world. The famous Nyan Cat also known as Pop Tart Cate appeared with its animation and repetitive music to addict and torment netizens. Have you ever stopped to think how this meme or viral came about? In this article, we are going to see a little more about the Nyan Cat and its popularity.
For those who don't know, Nyan Cat is simply an 8-bit animation that shows a cat with a cherry body that looks like a box flying through space. This animation is accompanied by an annoying but addictive music. This simple feat was able to make thousands of different versions appear, and also that youtubers, gamers and other internet creators to use in their projects.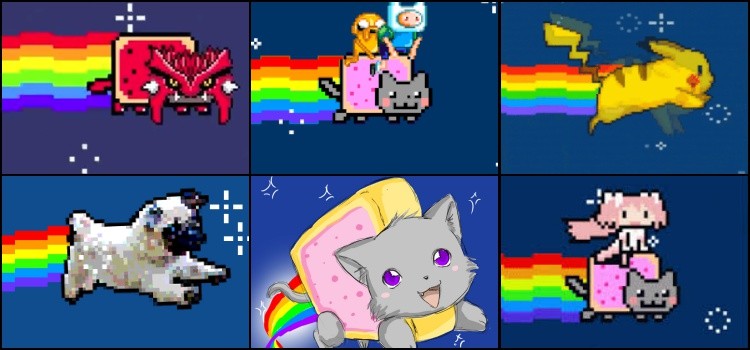 How did Nyan Cat come about? What is your origin?
Nyan Cat was posted on a comic website called LOL COMICS on April 2, 2011. It was created by Chris Torres known as prguitarman who was inspired by his own Russian cat. It was only posted as a gif animation, but on April 5th, 2011 a youtuber named Saraj00n posted a video with this gif animation accompanied by a japanese song made on vocaloid with the name of Nyanyanyanyanyanyanya.
It was precisely this song composed by the artist Daniwell-P with the voices of Utauloid Momo Momone (The previous idea was to use the famous Hatsune Miku). The video quickly surpassed millions of views. Several websites, blogs, and social networks have started to spread even more animation and music on the internet. Today the video has already exceeded 150 million views in an original video alone, it is believed that views may have exceeded billions. Nyan Cat was responsible for the appearance of several games, videos, fan art, memes and even other viral.
influence and trivia about Nyan Cat
On the 13th of April 2011, the official website of nyan.cat and several other sites appeared, where you can follow the animation and annoying music. There is even a timer to test how long people can listen to this song. Several games, applications, and other similar sites have started to emerge on the internet. Cat was a reference even in the mobile game Buffalo Bison Revenge.
There are reports that Slipknot used the rhythm of Nyan Cat's music in their psychosocial music. Which resulted in thousands of comments saying nyanyanyanyanyanya on Slipknot videos.
Even youtube got on the bandwagon, in June 2011 it put a progress bar on nyancat in your videos, but it was disabled on July 5th. In addition, several types of uploads on videos and operating systems received a Nyan Cat theme. Below we leave another video with many versions of nyan cat.
Even after years, this viral still appears and is usually remembered. What do you think of Nyan Cat? We appreciate the shares and comments.