In this article, we are going to see a list of Japanese Music Instruments words and vocabulary and also a list of musical terms for those who are learning to play a certain instrument and want to maintain a dialogue in Japanese.
It is said that Japanese people have a deep love for music and that their culture is greatly influenced by music. This is evident in the many different musical instruments used in Japanese music.
Japanese culture has a long and rich history of music and musical instruments. From traditional shakuhachi and taiko drums to more modern piano and violin, there is a wide variety of musical instruments that have been used in Japan for centuries.
We also recommend reading: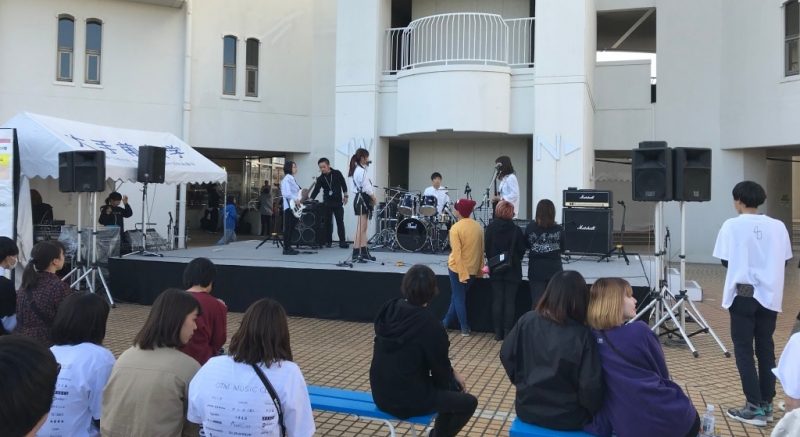 Playing an Instrument in Japanese
While in English we can simply use a play to refer to playing general instruments, in Japanese there are specific words for each type of instrument such as strings and others. Here's how to say play in Japanese:
kanaderu [奏でる] play an instrument (general);
I'm hiku [弾く] play a stringed instrument, including piano, organ, etc.;
fuku [吹く] play flute, wind instruments and etc;
tataku [叩く] play drums and percussion instruments, xylophone and the like;
souhou [奏法] way of playing an instrument;
Japanese musical terms
Below is a list of terms used in a conversation or article about music and playing musical instruments.
Responsive Table: Scroll the table to the side with your finger >>
| | | |
| --- | --- | --- |
| Romaji | Kanji | Meaning |
| anpu | 暗譜 | memorize or play a song from memory |
| wow | 合う | be in sync |
| baiorin | ヴァイオリン | violin |
| gang | バンド | band |
| biburate | ビブラート | vibrato for violin, singing, etc. [also ヴィブラー] |
| chiisai | 小さい | soft literally "small" |
| chochou | 長調 | main key |
| chouritsu | 調律 | tuning that fixes the pitch of an instrument |
| chouritsushi | 調律師 | tune a person whose job it is to tune instruments |
| choushi | 調子 | tone, tone, rhythm |
| choushihazure | 調子外れ | playing / singing out of tune |
| dramaa | ドラマー | drummer |
| doramu | ドラム | drum |
| doramusutikku | ドラムスティック | drumstick |
| tried | 演奏 | performance also 演奏会) |
| went | 笛 | whistle |
| furuuto | フルート | flute |
| gakki | 楽器 | musical instrument |
| gakkiten | 楽器店 | music shop |
| gakufu | 楽譜 | sheet music |
| gene | 弦 | rope |
| gitaa | ギター | guitar |
| gitarisuto | ギタリスト | guitar player |
| haammonika | ハーモニカ | harmonica |
| haapu | ハープ | harp |
| happyoukai | 発表会 | considering |
| henkyoku | 編曲 | arrangement |
| hibiku | 響く | touch, resound |
| ken | 鍵 | key |
| kennbann | 鍵盤 | keyboard |
| kyoku | 曲 | music often speechless |
| kyoku | 曲 | song |
| nero | 音色 | tone or color of the sound of a musical instrument violin, etc. |
| ongaku | 音楽 | song |
| ongakuka | 音楽家 | musician |
| onkai | 音階 | musical scale |
| onpu | 音符 | Note |
| yesterday | 音程 | break |
| ookesutora | オーケストラ | orchestra |
| ookii | 大きい | tall literally "big" |
| oto deru | 音が出る | a sound is produced |
| hello or no | 音 | sound |
| oto wo dasu | 音を出す | to produce a sound |
| pianisuto | ピアニスト | pianist |
| piano | ピアノ | piano |
| picchi | ピッチ | pitch |
| renshuu | 練習 | practice |
| resuun | レッスン | practice lesson |
| rizumu | リズム | rhythm |
| sakkusu | サックス | saxophone |
| sakkyoku | 作曲 | to compose |
| shikisya | 指揮者 | conductor |
| shinbaru | シンバル | dish |
| sokkyou | 即興 | improvise changes or create a song on the spot) |
| tanched | 短調 | minor key |
| time | テンポ | time |
| torayanguru | トライアングル | triangle |
| toranpetto | トランペット | trumpet |
| toronbohn | トロンボーン | trombone |
| uta | 歌 | music often with words |
| wow | 歌う | sing |
| zureru | ズレる | to turn off, divert sound, tuning, etc. |
Rhythms and Types of Japanese Music
Below we will leave a list of musical rhythms and types of music in the Japanese language nihongo:
Responsive Table: Scroll the table to the side with your finger >>
| | | |
| --- | --- | --- |
| Romaji | Japanese | Kind of music |
| orutanativu | オルタナtイヴ | alternative |
| garēji rokku | ガレージ・ロック | garage rock |
| guramu rokku | グラム・ロック | glam rock |
| guranji | グランジ | grunge |
| panku rokku | パンク・ロック | punk rock |
| saikederikku | サイケデリック | psychedelic |
| desu metaru | デス・メタル | death metal |
| nyūu~ēbu | ニューウェーブ | new wave |
| hado rokku | ハード・ロック | hard rock |
| buritisshu rokku | ブリtイッシュ・ロック | British rock |
| puroguresshivu rokku | プログレッシヴ・ロック | progressive rock |
| hevu~i metaru | ヘヴィ・メタル | heavy metal |
| rokkun roru | ロックン・ロール | rock n Roll |
| hausu | ハウス | Casa, Lar |
| doramun bēsu | ドラムン・ベース | drum 'n' bass |
| hippuhoppu | ヒップホップ | hip-hop |
| fanku | ファンク | funk |
| dabu | ダブ | dubstep |
| tekuno | テクノ | techno |
| poppu burito | ブリット・ポップ | Brit pop |
| poppu | ポップ | pop |
| rappu | ラップ | rap music |
| rege | レゲエ | reggae |
| āru go bī | アール アンド ビー | R&B |
| kantorī | カントリー | country |
| burūsu | ブルース | blues |
| fōku rokku | フォーク・ロック | folk rock |
| kurashikku | クラシック | classical |
| jazz | ジャズ | Jazz |
| suka | スカ | ska |
| soru | ソール | soul |
Musical Instruments in Japanese
Gakki [楽器] – musical instrument
Gitaa [ギター] – guitar
Gen [弦] – strings
Baasu [ベース] – bass guitar, bass
doramu [ドラム] – drums
piano [ピアノ/] – keyboard
keiiboodo [キーボード] – keyboard
maiku [マイク] – microphone
biiorin [バイオリン] – violin
chero [チェロ] – cello
ooboe [オーボエ] – oboe
toranpeeto [トランペット] – trumpet
sakkusufon [サックスフォン] – saxophone
haapu [ハープ] – harp
haamonika [ハーモニカ] – harmonica
tanburin [タンバリン] – tambourine
Japanese traditional instruments
[琵琶] – biwa
[三味線] – shamisen
[琴] – koto
[太鼓] – taiko drum
[尺八] – shakuhachi flute
[三線] – sanshin