One of the most beautiful things about Japan is its traditional gardens full of elements that provide an enriching, peaceful and harmonious experience. In this article, we are going to talk about the Japanese Garden, its elements and the most popular ones in Japan.
This article is probably going to be huge, so let's put a summary to help you navigate the subject you are interested in reading:
How is a Japanese garden?
The Traditional Gardens of Japan are called Teien [庭園] which can also mean park. Often a Japanese garden can be called a park or end with EN [園], or a variation. Even because most traditional gardens in Japan are usually part of a park, temple, palace, hotel, village and even Ryokan.
Read too: Ryokan - The charming Japanese inns
It is interesting to see that both the characters Niwa [庭] and sono [園] mean garden or park.
Many of Japan's traditional gardens were founded in the Edo era, during a period of peace that involved numerous tea parties and ceremonies. These gardens have a great exclusivity and involve arts and aesthetics from Japan, China and the West.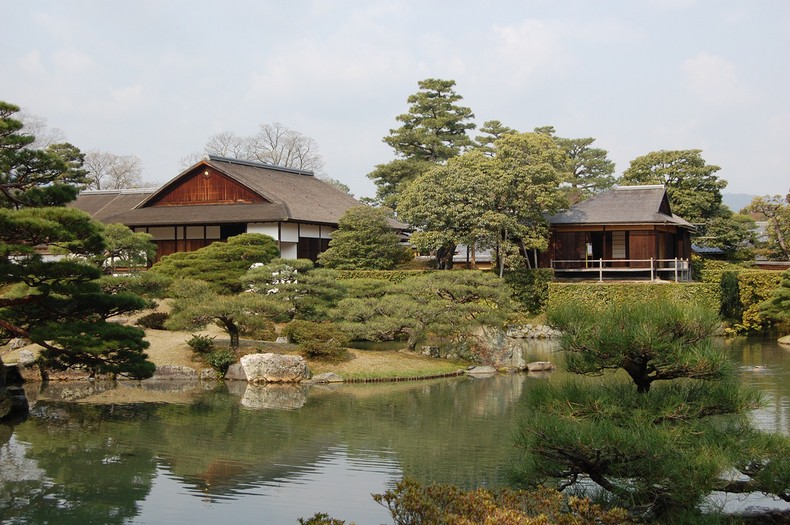 The Elements of a Japanese Garden
Have you ever wondered what makes a Japanese garden different from a western park or garden? There are elements that identify a Japanese garden, these elements are:
Water – Every Japanese garden needs at least to have a lake, river, well, waterfall or stream. Water symbolizes the cycle of life, birth and death.
carp – You can't have a pond in the Japanese garden without the presence of carp. Carp symbolize luck, prosperity and persistence.
stones – Stones complement rivers and lakes, often large stones are found in the middle of the lake as a path or on the side. Some stones even become Shinto deities.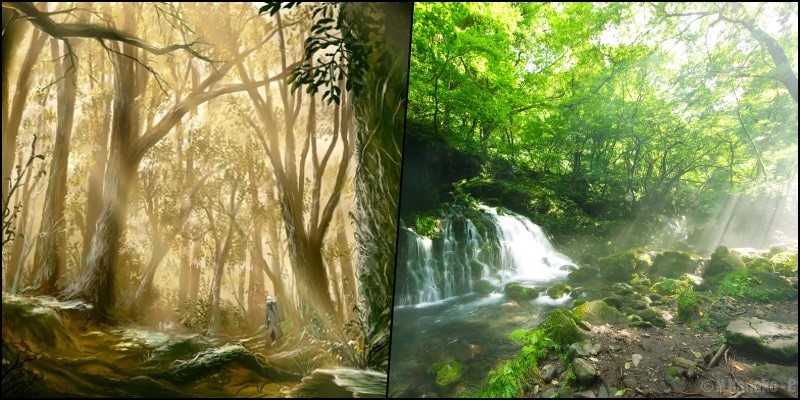 sand and gravel – Gravel is often used to designate sacred lands. They can also be used to make paths that represent the evolution of the human being throughout life.
lanterns – Japanese lanterns or lamps don't just light up gardens at night. They contrast with the natural elements of the garden and also signify the 5 elements in Buddhism.
See too: Japan's traditional lighting, lamps and lanterns
bridges – Every Japanese garden needs at least one wooden bridge to relax, enjoy the beauty and see the carp. Bridges can also symbolize the transition from mortal to sacred.
plants – Every garden needs plants, in Japan you can't miss a bonsai or a lotus flower that is quite iconic in Japan. Trees that bloom in spring and turn red in autumn are one of the highlights of the garden.
Read too: Bonsai - The Japanese Art of Miniature Trees
Tokyo's Best Japanese Gardens
Tokyo is the main destination for tourists, and even though it is a technological city, you can find many famous and beautiful gardens. Some are even free, others charge a very low fee to enter.
Shinjuku Gyoen – In Shinjuku and Shibuya
Shinjuku Gyoen is actually a park commissioned by the Emperor in 1906. In this park you will find a Japanese garden, an English garden and a French garden. Visiting this park you kill 3 birds with one stone.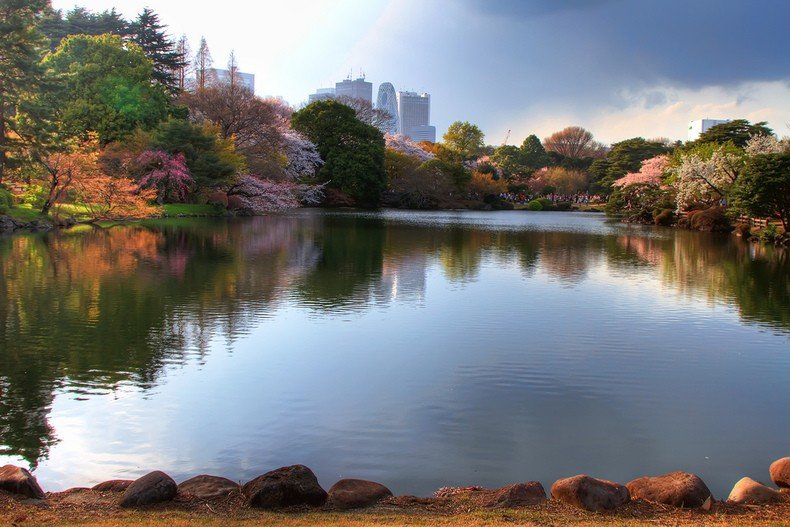 Koishikawa Korakuen – In Koishikawa, Bunkyo
This romantic Japanese Garden was made in 1629 in downtown Tokyo. At Koishikawa Korakuen you will find cherry blossoms, plum blossoms, iris, pines, bamboos and rice paddies. The garden has around 3000 trees and is considered the best in autumn.
It is right in the center of Tokyo next to the Tokyo Dome which is a great tourist spot full of shops and an amusement park. I had the opportunity to visit this park, it is really beautiful in Autumn.
See too: Kenrokuen, Korakuen and Kairakuen - The 3 Great Gardens of Japan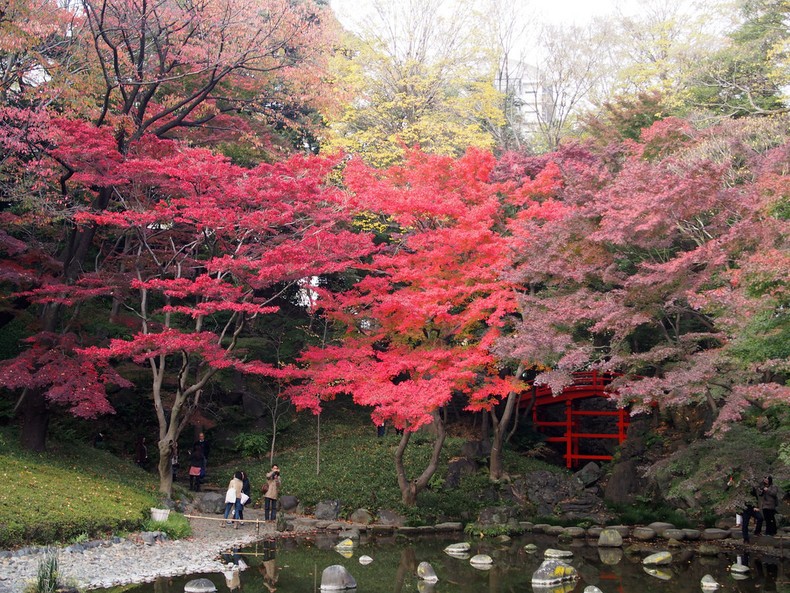 Rikugien Garden – In Bunkyo
A traditional garden founded in 1695 by order of Shogun Tokugawa Tsunayoshi. This garden helped to produce 88 classic poems. Rikugien Garden offers many seasonal plants and trees such as Sakura, and 2 tea houses are often open to the public.
Read too: Sakura – All about the cherry trees of Japan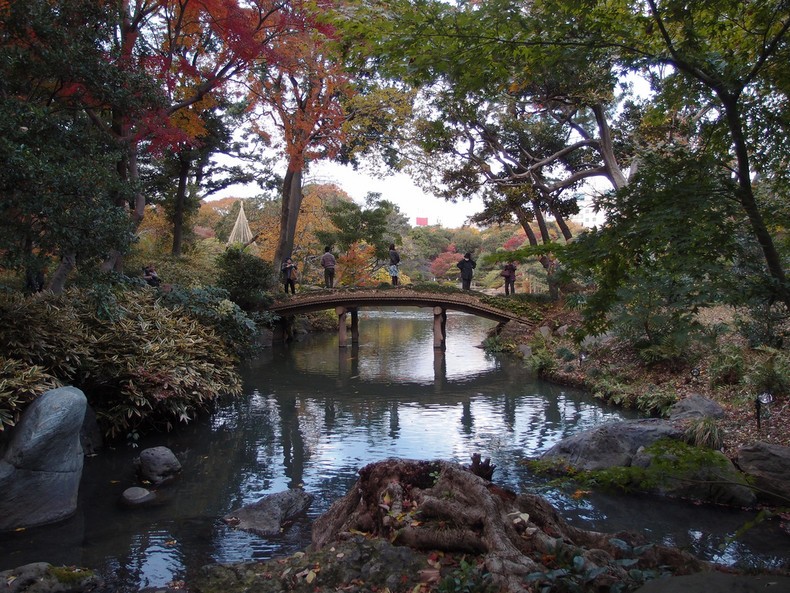 Hamarikyu Garden – Chuo
Hamarikyu is a Japanese garden located in central Tokyo, founded by a Shogun in the 17th century. The garden is popular for its central location and stunning flower fields that are occasionally illuminated at night.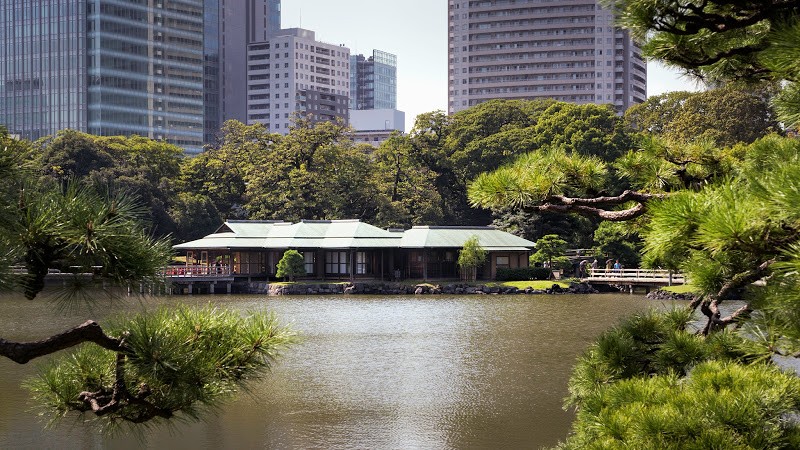 Sankeien Garden, Yokohama
Next to Tokyo, you will find the Sankeien Garden with a total of 43 hectares in the south of Yokohama. It was built by a wealthy merchant in the early 20th century.
The garden features famous buildings, relocated from locations across Japan. It's a unique chance to see different styles of architecture in a single garden.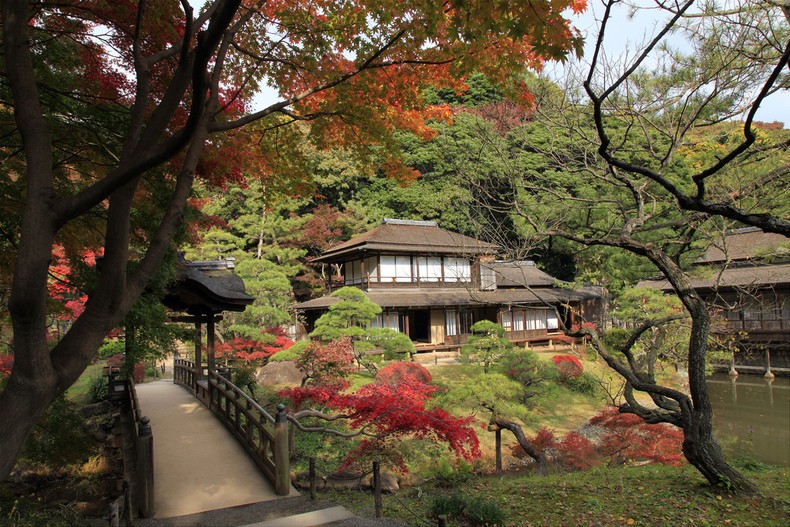 Tokyo Imperial Palace Garden
There is a large park next to the Imperial Palace that houses the ruins of the Castle of Edo and various gardens. The gardens have a wide variety of trees that were donated by each prefecture in Japan. There is also an exclusive garden that is only open to the public once a year.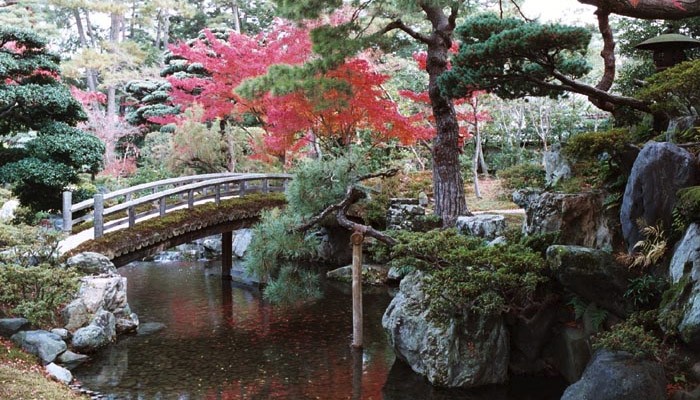 The Best Japanese Gardens in Kansai
The Kansai region is another prominent tourist spot. In this region you can quickly move between the cities of Kyoto, Osaka and Nara. There are some gardens in this region that are worth mentioning.
Sento Imperial Palace, Kyoto
The Japanese Garden of Kyoto Imperial Palace known as "Sento" has a lake with 2 teahouses built for Emperor Go-Mizunoo in 1630. In this garden there was once a palace burned down in 1854 and it was never built again. This Garden is next to the imperial palace park and has been bringing a unique experience.
Read too: Kyoto Imperial Palace Park and Garden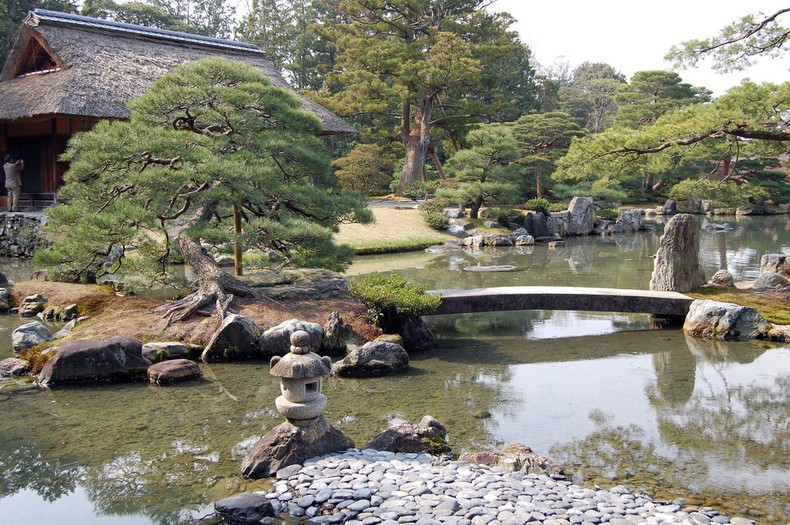 Isuien Garden, Nara
A strolling garden in Nara Park that uses borrowed scenery in its design. It is considered a classic example of shakkei, a method of capturing living nature.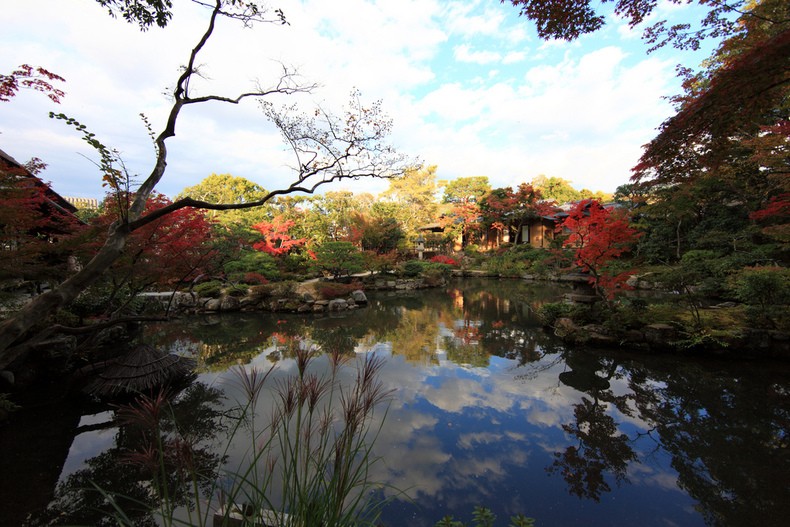 Yoshikien Jardim, Nara
A garden in Nara Park, which was once part of the high priest's residence at Kofukuji Temple. Yoshikien Garden offers a small tea house, a moss garden and a pond. The garden is in a quiet location in a tourist area that offers free entry for foreign tourists.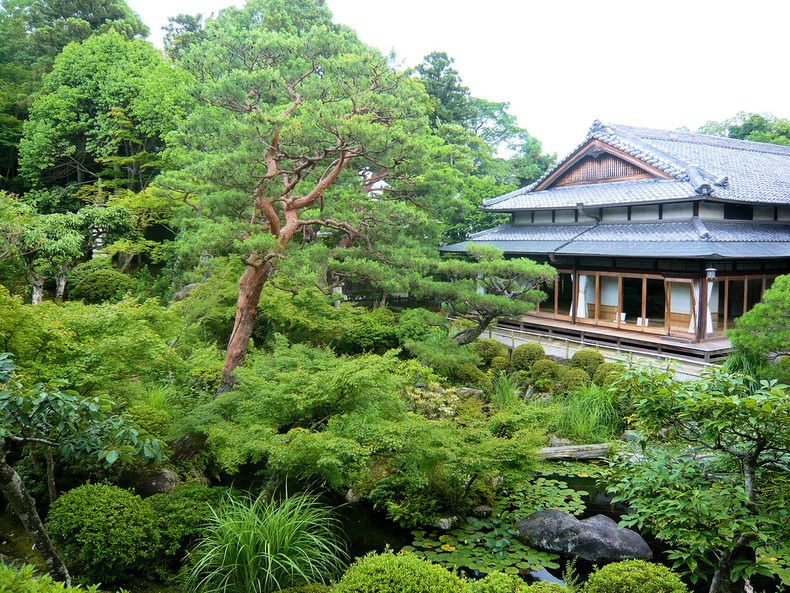 Kokedera – The temple of mosses
Kokedera is the Temple of Moss located in Kyoto, it has a garden with more than 120 different varieties of mosses. Visitors to the temple can walk through this spectacular garden.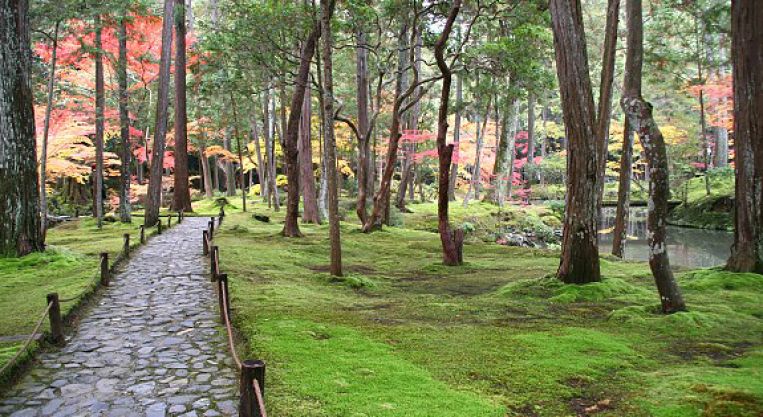 Heian Shrine Garden
The garden of the Heian shrine is surrounded by buildings that partially recreate the Heian Palace, the Emperor's home from 794 to 1227. The garden has rare species of tortoises.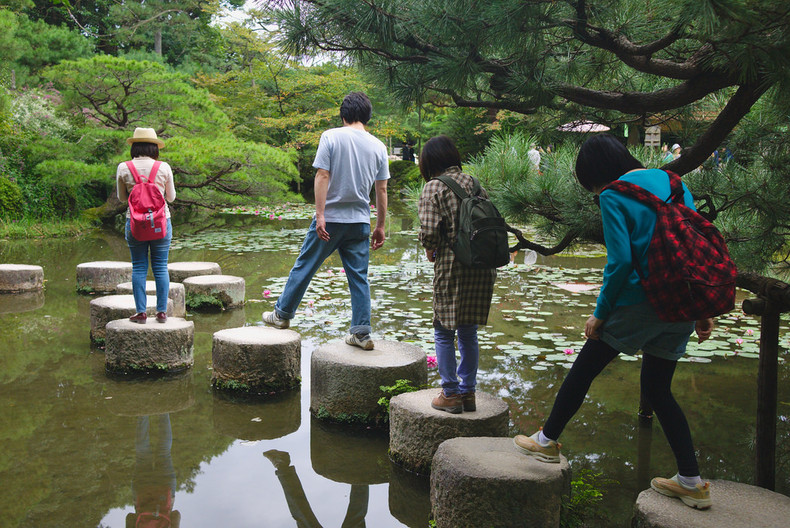 The best Gardens and Parks in Japan
Now that we've seen the best gardens in Tokyo and the Kyoto region, let's look at some famous gardens and parks all over Japan. If you are passing through any of these places, it is worth visiting.
Kokuei Hitachi – Hitachinaka, Ibaraki
The park Kokuei Hitachie It's a big park with hills full of flowers. The park has dozens of varieties of flowers and plants designed so that there is always something in the seasons. It also offers a number of themed playgrounds and small gardens.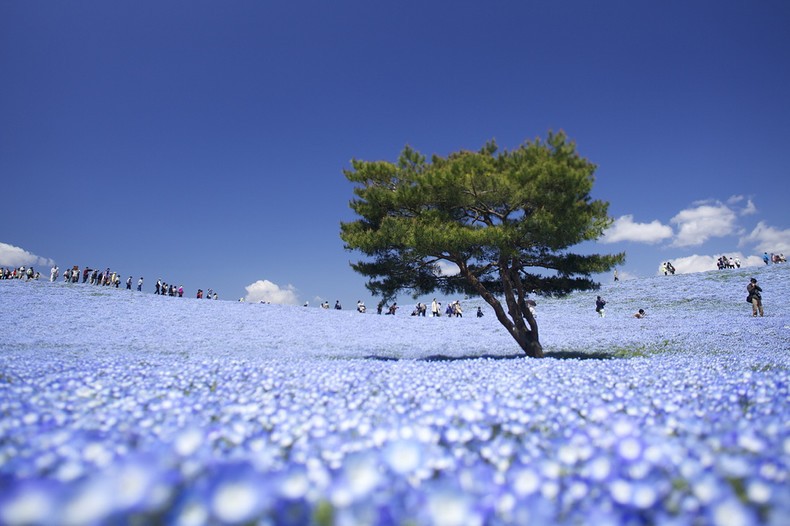 Ashikaga Flower Park
Ashikaga Flower Park is a garden located in Ashikaga-Tochigi, known for its large wisteria vines that have been suspended since 1870. It covers more than 20 hectares with wisteria, azaleas, hydrangeas, lilies and many other flowers.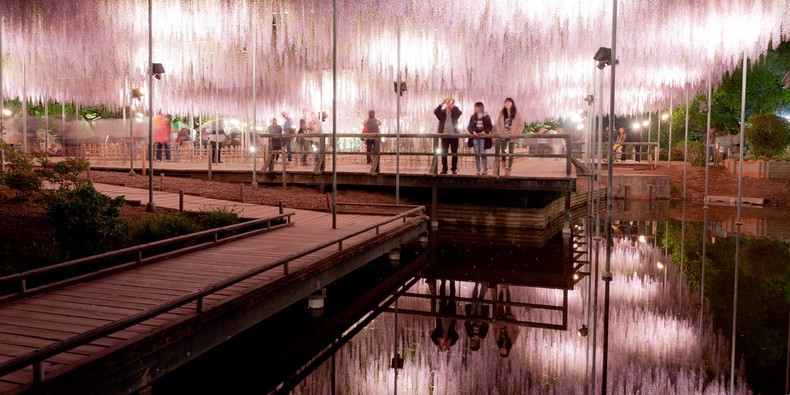 Kokoen Garden, Himeji
Kokoen Garden is one of the largest and most ambitious Japanese gardens built in the last 50 years. It is a collection of nine Edo-style gardens measuring 3.5 hectares and is located near Himeji Castle. The garden has beautiful waterfalls and its waters look like a mirror.
Read too: Himeji Castle – History and facts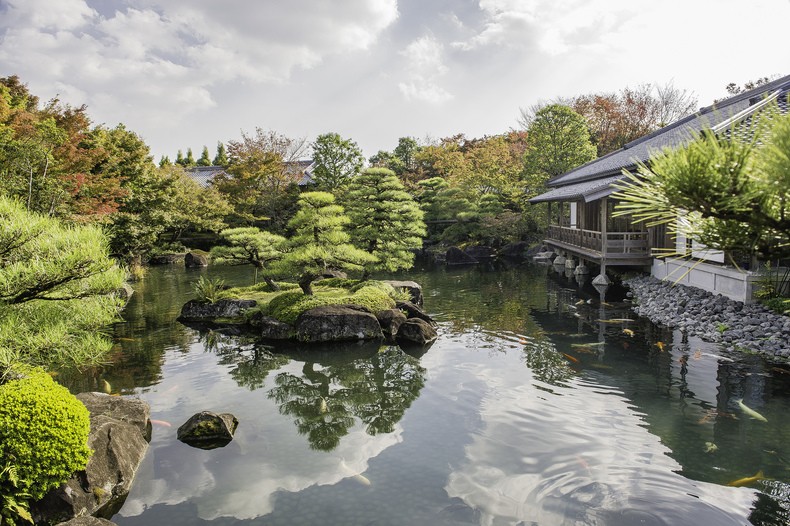 Adachi Museum of Art
It was founded by Adachi Zenko in 1980 as a way to combine his passions for Japanese art and gardens. He hoped that visiting gardens and works of art together would expand appreciation and interest in Japanese art. The Adachi Museum of Art is best known for its award-winning garden. It was already named the best garden in Japan in 2003.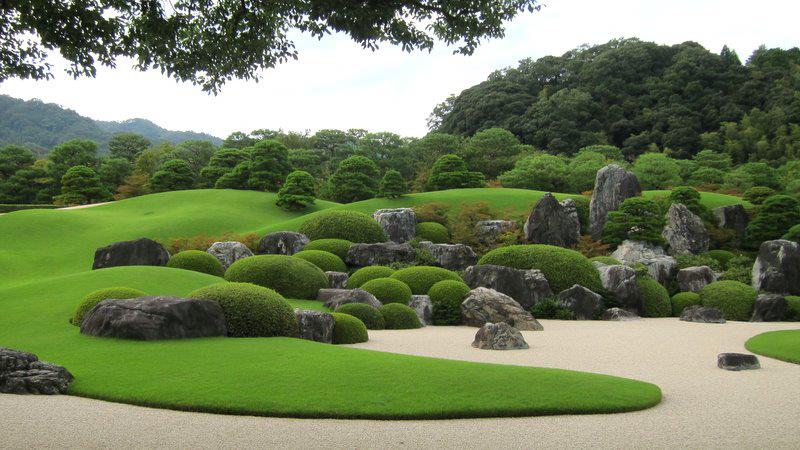 Ritsurin Garden
Ritsurin is one of the most famous historic gardens in Japan. The garden is situated in the city of Takamatsu and is considered one of its main attractions. The garden contains a tea house, exhibitions and the sale of art and crafts. The garden tour usually takes one to two hours. There are several bridges, paths and small hills that offer a beautiful view of the garden and the surrounding countryside.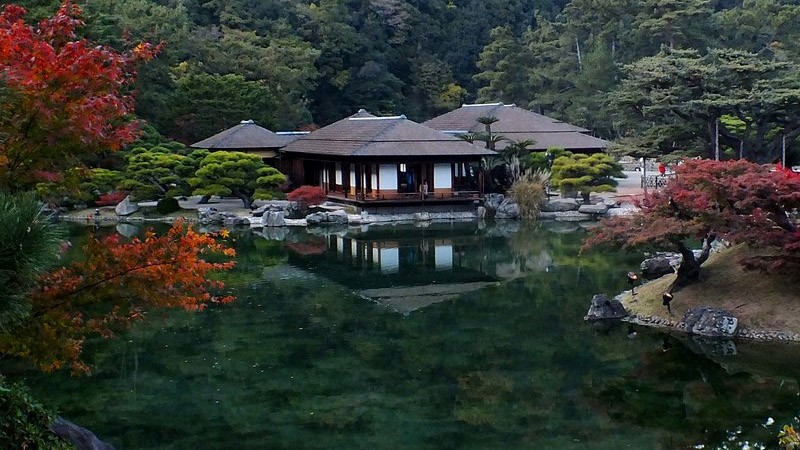 Kenrokuen, Kanazawa
Kenrokuen is a large garden with the oldest water system in Japan, which operates using natural water pressure. The garden took 200 years to complete. It is designed to change with the seasons. And one of the most attractive gardens when it's covered in snow.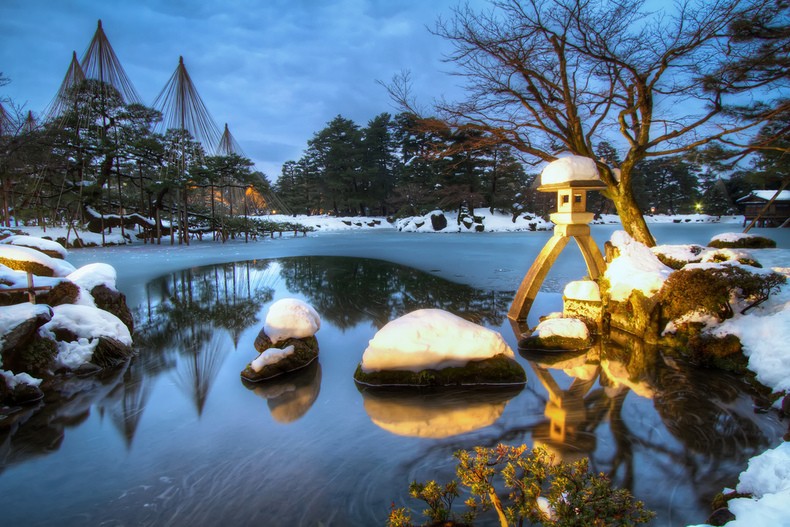 Acros Fukuoka
A building in Fukuoka designed with 15 floors of hanging garden. It is possible to walk through the garden from an observation deck at the top of the building. The garden has 50,000 plants of 120 species. Inside the building is a large atrium.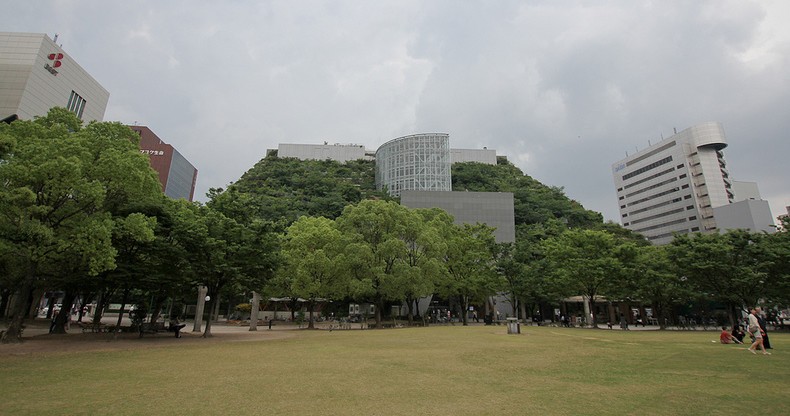 Hokudai Botanical Garden – Sapporo
Hokudai is the University of Hokkaido, which has its own botanical garden in the center of the city. The botanical garden of the city of Sapporof was founded in 1886. The garden has more than 4000 species of plants and a variety of historic buildings. The gardens also have greenhouses and a Natural History Museum full of odds and ends that Hokkaido University has collected over the years.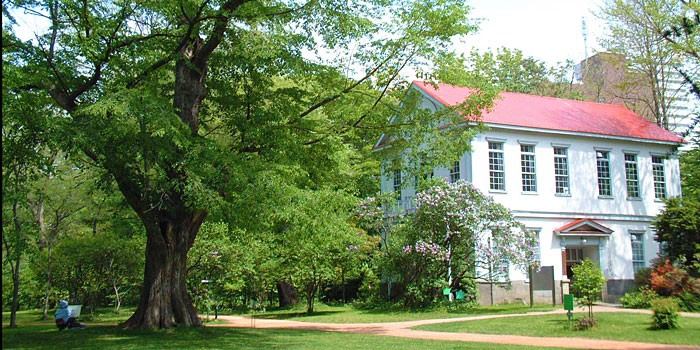 Ohori Park, Fukuoka
A large park in Fukouka City designed according to Chinese gardening principles. Its main feature is a large pond that was part of Fukuoka Castle's moat.
Read too: The Fukuoka Dialect – Hakata Ben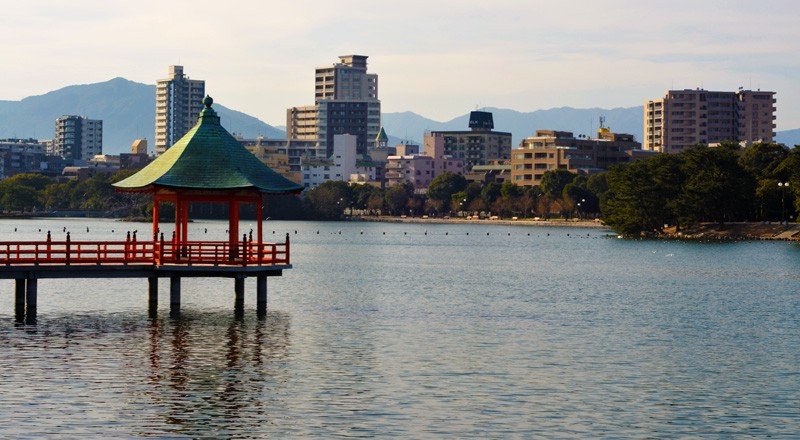 Hope you enjoyed the article. If you liked it share and leave your comments. Finally, I'll leave you with some videos showing these spectacular places: