Aso (阿蘇市) is a Japanese city located in Kumamoto Prefecture with over 30,000 inhabitants where Mount Aso is located.
Mount Aso is one of the largest volcanoes in the world – its caldera is 120 kilometers in circumference. An eruption 90,800 years ago released 600 km³ of lava and debris. An eruption of this size today would have devastating consequences that extend far beyond Japan's borders.
Mount Aso erupted in 2009 and 2011. Smoke is constantly growing from its giant water-filled caldera.
The highest of its five summits reaches an altitude of 1592 meters. Thanks to this volcano, the city of Aso provides hot springs and many attractions to tourists.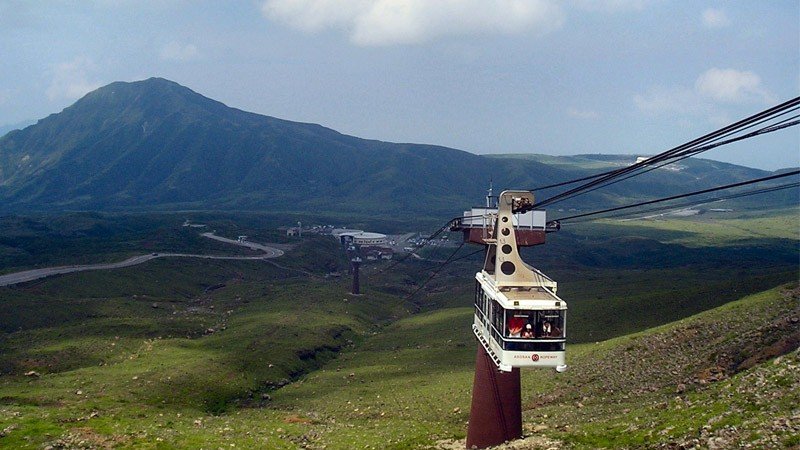 Mount Aso is home to Aso Kujū National Park, where you can enjoy the gardens, the beautiful volcanic landscapes and ride the cable cars. Aso Kujū National Park is centered between Mount Aso and the Kuju Mountains. Additionally, it includes Mount Yufu which overlooks Yufuin Onsen and Mount Tsurumi above beppu.
Mount Aso allows tourists to catch a glimpse of its active crater. The volcano offers hot springs not only to Aso City but to several other onsen towns across the country including Kurokawa, Yufuin and beppu.
Visiting Kumamoto Prefecture you will also find the beautiful Kumamoto castle and many other tourist spots, mainly onsen. Finally, I will leave a beautiful video showing the beauty of this volcano, perfect for taking a bath.