In this article, we are going to talk about some Japanese manga or comics that are focused on teaching specific subjects like biochemistry, physiology, molecular biology, physics, numbers, calculus, algebra and other fields of medicine, computer science and education.
These manga are available in English and can be a starting point for those who want to delve into various subjects, whether in high school or college, teachers or even a child in elementary school.
These mangas have enormous educational potential, innovating their concept of teaching through comics and have been widely adopted by several universities, schools and libraries as paradidactic and reference material.
Where to buy the Manga Guide?
I usually talk about it before releasing any product. But I believe that maybe you fell for this article just with interest in acquiring some of the manga. So first let's list where you can buy them.
All educational manga are available for purchase in English on Amazon Brazil. Just click on the manga in the list below to access the Amazon website and make your purchase for a very good price, if you are a Prime member, you get free shipping.
If you buy several books together, you get a discount. See below all 18 books in the Guia Mangá series for you to buy and learn while having fun:
The different subjects of the Manga Guide
If I were to address every subject present in the Guia Mangá series, this article would be huge. So I'm going to try to cover a little bit of each manga and then make a list with all of them, then talk about their authors and the companies behind the manga.
Databases
Regression Analysis
Statistic
Differential and integral calculus
Relativity
Classical Mechanical Physics
Linear algebra
Biochemistry
Molecular biology
Universe
Fluid Dynamics
Electric motors
Concrete
Physiology
Electronic circuits
microprocessors
Electricity
Complex numbers
All manga have characters and a backstory. See below some Synopses of some of the manga that we are going to present. You can buy it at.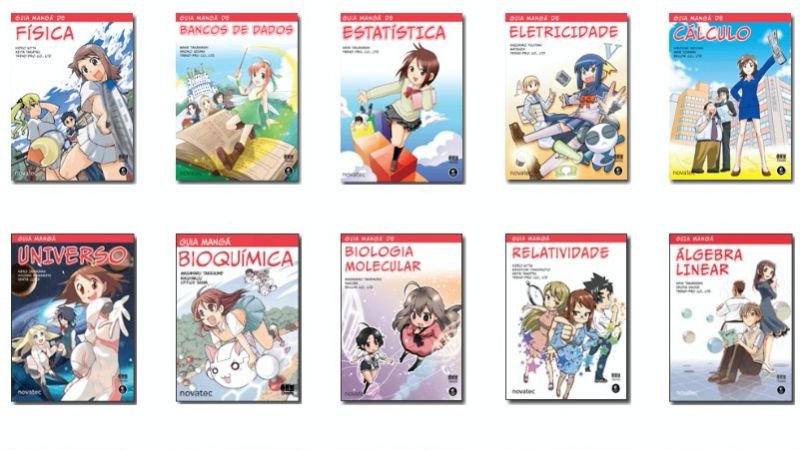 Real math! Romance! Karate!
Reiji wants two things in life: a black belt in karate and Misa, the girl of his dreams. luckily, the older brother de Misa is the captain of the university's karate club and is ready to make a deal: Reiji can join the club if he teaches Misa linear algebra.
Follow along in the Mangá Guide to Linear Algebra as Reiji guides Misa from the absolute basics of this complicated subject, through complex operations such as performing linear transformations, calculating determinants and finding eigenvectors and eigenvalues. With memorable examples such as mini-golf games and karate tournaments, Reiji transforms abstract concepts into something concrete, understandable and even fun.
By following Misa through her crash course in linear algebra, you will learn about:
basic operations with vectors and matrices such as addition, subtraction and multiplication;
dependence, independence and linear bases;
use of Gaussian elimination to calculate inverse matrices;
subspaces, dimension and generated vector spaces;
practical applications of linear algebra in fields such as computer graphics, cryptography, and engineering;
Real math, real romance and real action come together like never before in the Linear Algebra Manga Guide.
Kenji has just started his architecture course and has an unexpected meeting with Cybil, both of whom are passionate about architecture. Follow in this manga how Cybil's passion for concrete will also infect Kenji.
This book is an introduction to the most common of building materials: concrete. Although it is found everywhere, surprisingly little is known about it, is it? It has been used for thousands of years, and even today the development of various technologies advances daily.
In order to serve a variety of uses and functions and produce strong and durable concrete, research related to material, design, construction and maintenance management is carried out.
The field of concrete is mainly divided into raw material and structure. This book will focus on the raw material of concrete, bringing together the essence of research and engineering that deals with it.
It is aimed at: students from universities, technical schools and vocational schools who want to learn the basics of concrete; people interested in architecture, civil engineering and infrastructure; curious people who don't know much about concrete.
This book covers subjects related to the raw material of concrete, such as its history, the materials, the characteristics of concrete from its fresh state to the early years, the curing process (hardening), the deformations
Explore our solar system, the Milky Way and distant galaxies following our intrepid heroines, Glória, Kanna and Yamane, in the book Guia Mangá Universo. Together, you will uncover the universe's greatest mysteries: topics such as dark matter, cosmic expansion, and the Big Bang itself.
Traveling through the night sky, you will learn all about astrophysics and modern astronomy, as well as the most important discoveries and classical theories that underpin them. You will even discover why some scientists believe that the discovery of extraterrestrial life is inevitable!
You will also learn about:
theories of the origin, evolution and geometry of the universe;
ways to measure and observe celestial bodies and how astronomers calculate distances in space;
discoveries by Copernicus, Galileo, Kepler, Hubble, and other astronomers;
what is the relationship between the temperature, size and magnitude of a star;
the mystery of the cosmic microwave background and scientists' incredible predictions for the future of the universe;
So, prepare your spacesuit and take a fantastic journey through the cosmos in Guia Mangá Universo;
The Authors of the Manga Guide
The Guia Mangá series offers a fun and easy-to-understand teaching approach. It is published in Brazil by Novatec Editora in conjunction with the American publisher No Starch Press and the Japanese publisher ohmsha, one of the oldest and most respected publishers of technical and scientific books in Japan.
Each guide is written by Japanese scientists or mathematicians with extensive knowledge in the field and illustrated by manga professionals. Below we can see a brief description of some of the authors of some manga in the series.
List of Manga Guide Authors
Masaharu Takemura, PhD and an adjunct professor at the Tokyo University of Science. His specialties are molecule biology and biological education.
Shin Takahashi was born in 1972 in Niigata. He did his masters at Kyushuu University. Having previously worked as both an analyst and a seminar leader, he is currently an author specializing in Founded technical literature.
Mana Takahashi is a graduate of the College of Economics, University of Tokyo, Japan. She is an active technical writer and has published a few books on topics such as Java, C, XML, Information Engineering and Systems Administration.
Hiroyuki Kojima born in 1958. PhD in Economics from the University of Tokyo. He worked as a lecturer and is now an associate professor at the College of Economics at Teikyo University in Tokyo. Highly acclaimed as an economist and writer.
Hideo Nitta, PhD, professor in the Department of Physics at Tokyo Gakugei University. He has many studies and books published in Japanese and foreign publishing houses on subjects including Radiation Dynamics and Physics.
Masashi Ochi born in December 1964. Doctorate at Osaka University, became an assistant at Saga University in 1991. In March 2000, he acquired the title of Doctor of Engineering; in April of the same year, he became a professor.
Kenji Ishiwata is a technical and scientific journalist. His works cover areas such as electricity, mechanics, aviation, astronomy, devices, materials, chemistry, computers, communication, robotics and energy.
Kenichi Tanaka majored in Electrical Engineering at the Miyakonojo National Institute of Technology. He is currently Professor of Network Design at the Interdisciplinary School of Mathematical Sciences at Meiji University and a PhD in Engineering.
Etsuro Tanaka is a physician specializing in physiology and nutritional science. He is a professor at the College of Applied Biosciences at Tokyo University of Agriculture and has also written several physiology textbooks for nursing students.
Kazuhiro Fujitaki is a lecturer at the Tokyo Metropolitan Vocational Skills Development Center. He has written several books on electrical engineering and runs a website with information on qualifying exams for electrical technicians.
Masahiro Takei – Doctorate in the Postgraduate Engineering Department at Waseda University. He is currently a professor at the Graduate School of Engineering at Chiba University.
List of Companies behind the Mangá Guide
Office Sawa – Created in 2006, it has already produced numerous practical texts and advertising materials in the fields of medicine, computing and education.
TREND-PRO – Founded in 1988, it produces advertising newspapers and magazines that have incorporated manga to a wide range of clients, from government agencies to large corporations and associations.
Becom – Founded in 1998, it has produced several books and journals in the fields of medicine, education and communication. In 2001, Becom created a team of comic book designers, and the company has been actively involved in various projects that use manga, such as corporate guides, product manuals, as well as manga books.
Reviews and Comments on the Manga Guide
"I believe that children are much more likely to read this book and be interested in statistics than if they have to read a traditional theoretical book." – Geek Book
"This is by far the best book I have read on the subject. In addition to finding this material amazing, I also recommend it to anyone working in the field or simply interested in databases." – Geek at Large
"The book intentionally departs from traditional teaching materials and does it very well." – Dr. Marina Milner-Bolotin of Ryerson University
"It allows even a 10-year-old to develop practical knowledge about a topic that scares many college students." – SkepticBlog
"The art is charming and the humor captivating. A fun and enjoyable lesson on what many consider an unexciting subject." – School Library Journal
"The art is fantastic, and the teaching method is both fun and educational." – Active Anime
"The best way to present a subject that children would not normally be interested in is with a fun narrative and a good comic book." – make
"The Guia Mangá series has a reserved place on my shelf." – Smithsonian's "Surprising Science"
"The series is of undeniable quality. A great way to introduce children to the mysteries and vastness of the cosmos." – Discovery.com
"I found the approach to this manga so exciting, and the story so adorable, that I recommend it to every introductory physics teacher, both high school and college level." – American Journal of Physics
"Highly recommended." – Choice Magazine
"This manga does exactly what it is supposed to do: it offers a fun and interesting way to learn calculus concepts that would otherwise be extremely tiresome to memorize." – Daily Tech
"This is a complete manga and I wish there were others like it in the IT world." – slashdot
"Stimulation for the next generation of scientists." – Scientific Computing
"Suitable for parents who are trying to give their children something extra, or simply for children who are curious about electronics. The Mangá Electricity Guide should definitely be on your bookshelf." – Sacramento Book Review
"The Manga Database Guide was the most enjoyable technical manga I've ever read." – Rikki Kite from Linux Pro Magazine
"The Mangá Electricity Guide makes accessible a subject that scares many people, allowing the reader to have fun while learning what is necessary." – Blog Geekdad, Wired.com
"Any thirty-something biochemistry graduate who comes into contact with the Molecular Biology Manga Guide will surely regret sadly, 'Why wasn't this manga written while I was still in college? – The San Francisco Examiner
"A scientifically complete manga…and amusingly fantastic." – Chad Orzel, author of How to Teach Physics to Your Dog
"An incredibly fun and highly educational read." – FrazzleDad
"A very fun read. The interaction between the characters is relaxed and the setting as a whole has a style that will keep you reading for the simple pleasure of reading." – Hack a Day
"A genius mixture that makes relativity much easier to understand – even if you are no Einstein." – Stardate, University of Texas
"A great request, both in form and content. Recommended." – Otaku USA Magazine
Other educational manga and comics
In addition to the Guia Manga series, you may want to know other educational manga or comics that are available in Brazil: